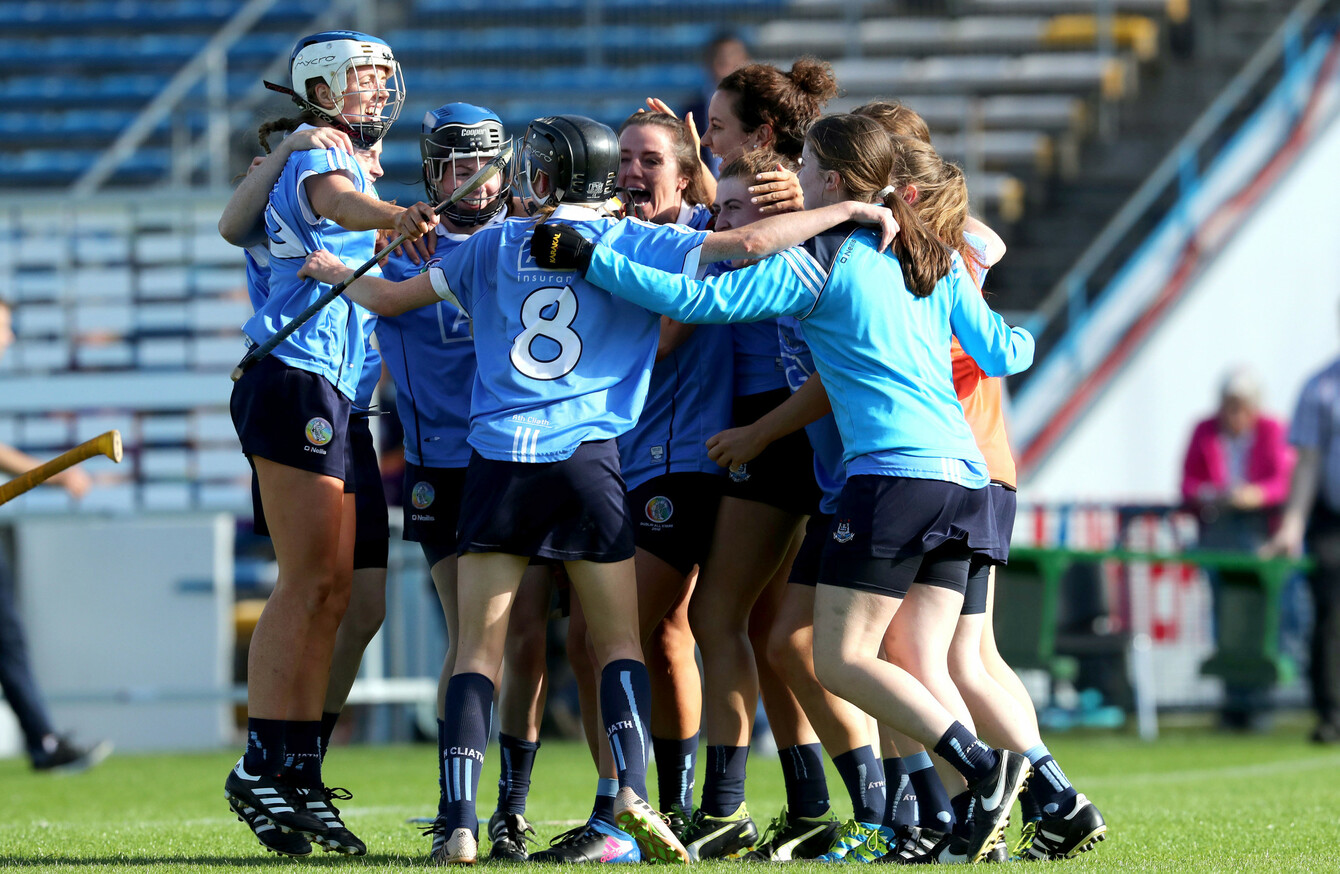 There's a camogie rising ongoing in Dublin at the minute.
Image: Bryan Keane/INPHO
There's a camogie rising ongoing in Dublin at the minute.
Image: Bryan Keane/INPHO
27 LONG YEARS.
Today the Dublin camogie side line out in their first All-Ireland semi-final since 1990.
Two weeks ago, they pulled off a stunning victory over the much-fancied Wexford in the quarter-final to create their own piece of history. Within five minutes of play though, the Yellowbellies had opened up a three-point lead and it looked like it was going to business as usual.
Last year, Dublin failed to progress from the group stages so to even reach the quarter-finals on this asking was seen as a success. But it wasn't enough for David Herity — five-time All-Ireland senior hurling champion goalkeeper with Kilkenny — and his troops.
They nerves were soon settled, and they played fearlessly against a strong Wexford contingent. Dublin drove on, with Faye McCarthy inspiring from between the posts, while Ali Twomey's 53rd-minute goal put an end to any hopes of a comeback, and cemented the upset in Thurles.
Next on the agenda is the powerhouse that is Kilkenny [Throw-in 5.15pm, Gaelic Grounds, live on RTÉ].
Make no bones about it, Ann Downey's forces mean business again this year. The reigning All-Ireland champions and back-to-back league winners have made no secret of the fact that they'll do everything in their power to retain their O'Duffy Cup crown.
And Dublin defender Aisling Carolan is aware of the mammoth task ahead.
"We gave Wexford a three-point head start before we even woke up," she tells The42. "We knew ourselves we just got off to a bad start, it was the same in the second half. It's something we've spoke about going forward into the semi-final.
"We can't afford to give Kilkenny any headstart. We need to be out of the blocks straight away. That's something we'll target.
"They're worthy champions and they deserve the respect for that. But we don't fear them. We believe in ourselves and we believe we can achieve anything. We can beat any team.
"At the end of the day it's 15 girls marking 15 girls. They don't have any superpowers," she laughs. "We've trained just as hard as I'd imagine they have. We're ready for them.
"We drew with them in the Leinster semi-final (Kilkenny progressed after extra-time) so we'll take confidence from that match and understand that we can beat them. It's a combination of self-belief and taking positives from past performances."
All eyes will be on Dublin manager Herity, as he faces his native county.
Involved with the set-up last year, the 34-year-old fully took the reins as manger last September following their disappointing campaign, and the Sky Blues have been making waves ever since.
"It's been wonderful," Carolan continues. "He'll tell you as it is, which is what we need.
"He's instilled so much belief in us. He has us convinced we're going to win the All-Ireland, which is what we need.
"His training's good, he has a really good backroom team behind him as well. Hopefully it will all come together again along with the playing on the pitch now on Saturday."
One player whose certainly been grabbing headlines over the last few weeks is goalkeeper Faye McCarthy. She had a dream quarter-final, pulling off crucial saves — including a penaly — and tagging on two points to ultimately be named Player of the Match.
The 20-year-old has been fortunate that her promotion to the senior ranks coincided with the recruitment of Herity, and his expertise has helped mould her into the star she is today.
The pair's working relationship has really paid dividends for the whole unit this year, Carolan smiles.
"She's very lucky in the sense that David played in goal for Kilkenny. What other team would you like to play in goal for? He has so much experience there. Before training, they would work together, doing a bit of a goalie session.
"I think people forget, it's only Faye's first year on the panel. She's only 20, she's young. There's a lot of pressure on her shoulders, but she takes it in her stride. She's absolutely fantastic. She's a great character on the team, as well as a great player on the pitch.
"Obviously I'm playing centre back so I have a good relationship with Faye. I have to listen to her and she tells you exactly what you're doing and when you're doing it. That's probably a combination of David and her own coaching growing up. She's fantastic."
There's a serious sense of a rising in terms of Dublin camogie at the minute. The underage scene is prospering, with both the minors and u16s reaching the final four of their respective campaigns.
The Premier Juniors meanwhile, have already booked their All-Ireland final date with Westmeath on 10 September, much to Carolan's delight: "Hopefully there'll be a double header in Croke Park for the Dubs on the 10th!"
If that were to be the outcome, it would be the Dubs' first All-Ireland senior final since 1986. But the focus is on today for now. The Oliver Plunketts clubwoman won't get too carried away.
With four of her clubmates on the junior side, she's the sole representative donning the blue jersey for the seniors.
"They're used to usually only supporting Bernard Brogan but they have a few more people to support this year," she laughs.
In terms of support, there's a huge buzz in the Dublin camogie circle.
There have been buses organised, their social media accounts are hopping and players have been inundated with well wishes over the past few days as they prepare for the semi-final double-header in Limerick's Gaelic Grounds.
"All these little things help. They add to the occasion. We haven't been in a semi-final (in their time) so we haven't got this kind of special treatment like the lads or ladies footballers even, would get. Hopefully we'll make it a common thing every year, that we're there in the semi-finals.
"Hopefully it will generate a bit of a crowd. Not necessarily for the Dublin team, but for camogie in general. A few neutrals might come down, and it'll be a good spectacle."
AIG were in Old Wesley Rugby Football Club in Donnybrook on Wednsday to facilitate a meet and greet with representatives from the New Zealand Black Ferns, Dublin Ladies Football team and Dublin Camogie team. The girls participated in a cross skills challenge involving gaelic football, camogie, and rugby.
AIG are Official Insurance Partner of the New Zealand Black Ferns, and local sponsors to the Dublin Ladies Football team and Dublin Camogie team.
Subscribe to The42 podcasts here:
Source: The42 Podcasts/SoundCloud