IT HAS BEEN quite the month for Alan Bennett.
After captaining hometown club Cork City to their first league title in 12 years, the vastly-experienced centre-half led the Leesiders to a first-ever double last Sunday — via a penalty shootout in the FAI Cup final.
Yesterday, the 36-year-old added to his trophy haul after being named SSE Airtricity/Soccer Writers' Association of Ireland Player of the Month for October for his commanding displays during the business end of the season.
And if that wasn't enough, City announced last night that they have handed Bennett a new two-year deal.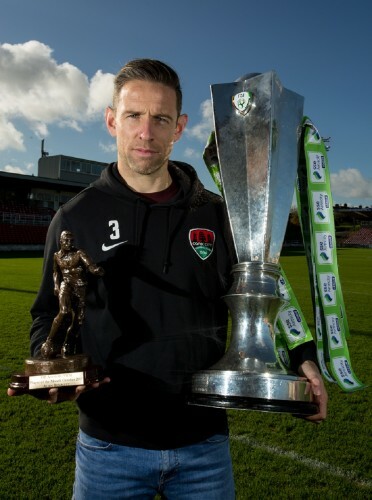 SSE Airtricity League Bennett with his Player of the Month award and the league trophy. SSE Airtricity League
When Bennett agreed to return in 2015 after a nine-year spell in England — which included stints at Reading, Southampton, Brentford, Wycombe Wanderers, Cheltenham Town and AFC Wimbledon — surely he couldn't have imagined this level of success in his wildest dreams.
"The last three years have gone better than I ever could have expected," Bennett said yesterday.
"I came home and wanted to help the club progress but the success we have had has just made this even more special. The work John [Caulfield] has done driving everything forward, getting people to buy into the club and the feeling around the city. I said it after we won the league — he is relentless, the work he does is incredible really."
Bennett was part of the 2005 side that claimed the Premier Division title before losing out to Drogheda United in the FAI Cup final that December and reveals that some of his former City team-mates have been in touch in recent days.
"Two different times, different lifetimes really," he explains. "I actually had some messages from the '05 lads after Sunday saying 'That's it, 2005 is banished now, people can move on. It's dead. Your team has taken over'.
"I feel bad even talking like that but that's what they were saying – Billy Woods, Colin O'Brien Joe Gamble, John O'Flynn were in touch."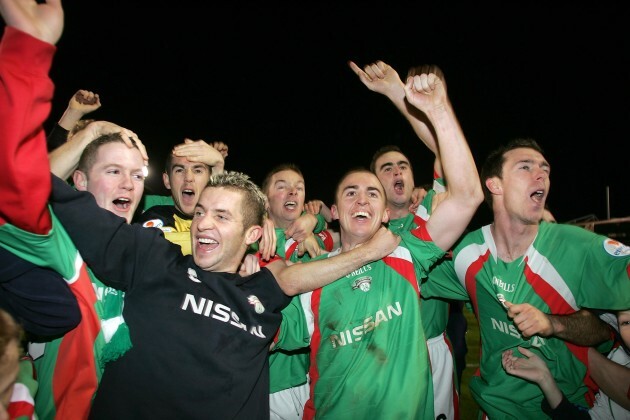 Andrew Paton / INPHO The Cork City players celebrate winning the title in 2005. Andrew Paton / INPHO / INPHO
"I still have a lot of loyalty to those lads," he adds, before going on to talk about the togetherness in this current group. "I was a young man coming through then, I was only learning. It's totally different now. I saw Greg Bolger said this was the best dressing room he was ever involved in and he is right.
"It's so tight, and that comes from John and making sure people who sign here and aren't from the area move down.
"They have to move down and be around the place. That creates more unity, it's not fake or false when lads say everything is great. If we have a couple of days off, the boys will honestly come back into the dressing room saying 'Jaysis boys, I missed ye all'."
With his contract extension signed, 'Benno' plans to take a well-deserved break with his family during the off-season before returning to prepare for their title defence in 2018.
"I'm going to New Zealand with my wife," he says. "Her sister lives out there so we'll have a month there just relaxing, taking it easy — completely switch off.
"She's in Auckland so we'll stop off in Sydney on the way and catch up with some old friends who have moved there over the years. Itll be nice."
Subscribe to The42 podcasts here: