"MARRIAGE IS SUPPOSED to be a partnership," Alan Bennett once said. "Good-looking people marry good-looking people and the others take what's left."
We're referring here to the British writer and actor, as opposed to his namesake in the Cork City defence. Nevertheless, it's a quote that could suitably be used to describe the recent landscape in the League of Ireland.
Dundalk and Cork City have established themselves as the top two teams in the country, leaving little for the chasing pack to pursue. But in their battle for dominance, it's clear who's been calling the shots in this particular relationship.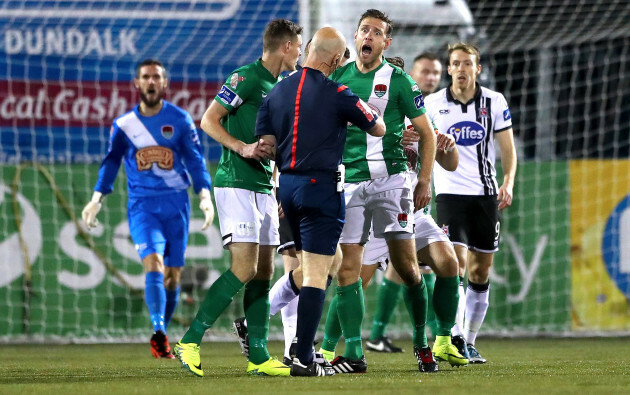 James Crombie / INPHO Alan Bennett exchanges views with referee Tomas Connolly during Cork City's defeat to Dundalk last October. James Crombie / INPHO / INPHO
Last season yielded four wins for City from their five meetings with the Lilywhites, including November's dramatic extra-time triumph in the FAI Cup final. However, the ultimate prize continues to elude the Leesiders.
Dundalk have been Premier Division winners for the past three seasons, with City second-best on each occasion. An intriguing rivalry has subsequently developed between the two clubs, which Alan Bennett hasn't experienced the likes of at any other stage in a senior career that began 16 years ago.
After Dundalk were crowned champions in 2014 for the first time in 19 years, Bennett returned to Cork following an eight-year spell in England, which included stints with Reading, Southampton, Brentford, Wycombe Wanderers, Cheltenham Town and AFC Wimbledon.
His goal then was to push his hometown club to go one better and win the league title. As he prepares to begin his third season back at Turner's Cross, that box has yet to be ticked. The objective remains the same.
"We had good rivalries with Derry and Shels back in the day but I don't really remember there being that much of a clash with them. This is definitely a bit different," says Bennett, who was part of the last Cork City team to clinch Premier Division honours — at the expense of Derry City and Shelbourne — back in 2005.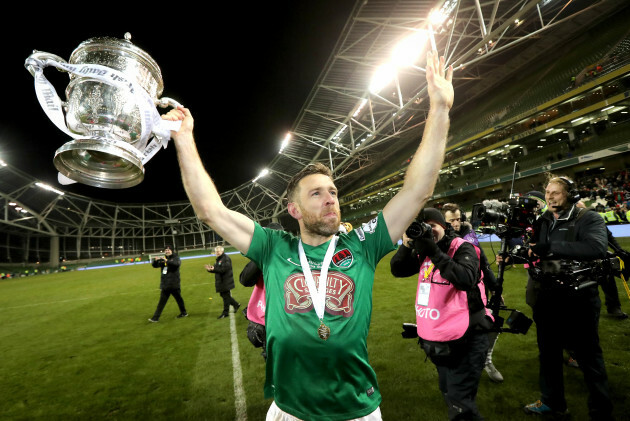 Ryan Byrne / INPHO Bennett celebrates after Cork City's victory over Dundalk in the 2016 FAI Cup final. Ryan Byrne / INPHO / INPHO
Although they came up short in the league again last season, the feeling in Cork is that significant progress was made. The 2016 campaign began and ended with silverware at Dundalk's expense.
The President's Cup win 12 months ago ended a run of 10 games without a victory over the Oriel Park outfit, while the FAI Cup success at the Aviva Stadium in November saw John Caulfield's side avenge their defeat in the previous year's decider.
Bennett was moved to tears on the pitch after the final whistle. It was his third time playing in the FAI Cup final but the previous two attempts had only earned him runners-up medals. He had no interest in collecting another.
"I was teetering on desperation, and you have to contain that in sport. Being desperate is like cyanide to a sportsperson. I'm comfortable saying it now but, fuck it, I really was," Bennett admits.
"The thought of losing a third final really played on my mind in the build-up to the game. You obviously don't say it beforehand and you don't really think about it during the game, but afterwards it might have been a bit different if we had lost.
"Thinking about all of that is what probably caught me at the end. I've said many times before how much this club means to me so that obviously adds to it as well."
The result was also a realisation of a boyhood dream for Bennett. Cork City Football Club has been close to his heart since the perimeter of Turner's Cross consisted of grass banks instead of all-seater stands; since he travelled with his father on buses to away games around the country; since he was a ballboy during their brief stay in Bishopstown: "The pitch was like a bog, horrendous, but to me it was like Old Trafford."
And he still can't forgive his dad for not giving him a half day from school to attend the club's memorable European games against Bayern Munich and Galatasaray in the early 1990s.
"Even now when I meet some of the former players like Deccie Daly and Philip Long, I can't even be myself around them," Bennett laughs. "It's weird."
The hope in Cork is that the FAI Cup final win has tipped the balance in their favour heading into the new season, yet much of the post-match analysis focused on how a jaded Dundalk team — who played a Europa League game in Russia three days earlier — ran out of gas. If the proponents of that theory sought to discredit City's achievement, Bennett didn't pay attention.
"I couldn't give a fuck," he insists. "They could have played in Russia that morning. I really didn't care. People can say whatever they want about it, but for me, that was my third final. No one can take that medal away from me.
"I probably had one of the best games of my career in the final the year before and I don't have anything to show for it. People can say whatever they like but that was a magic day for me and for the club."
Dundalk won their third consecutive league title last season, but what made 2016 so special for Stephen Kenny's side was their unprecedented achievements in Europe. The Lilywhites were rightly lauded for their remarkable results against BATE Borisov, Maccabi Tel-Aviv and AZ Alkmaar.
Cork City enjoyed a memorable Europa League campaign too, eliminating Swedish Cup holders BK Hacken before being narrowly beaten by a Genk side whose quality has since been illustrated by their accumulation of €35million in transfer fees from the sales of Leon Bailey, Wilfred Ndidi and Neeskens Kebano to Bayer Leverkusen, Leicester City and Fulham respectively.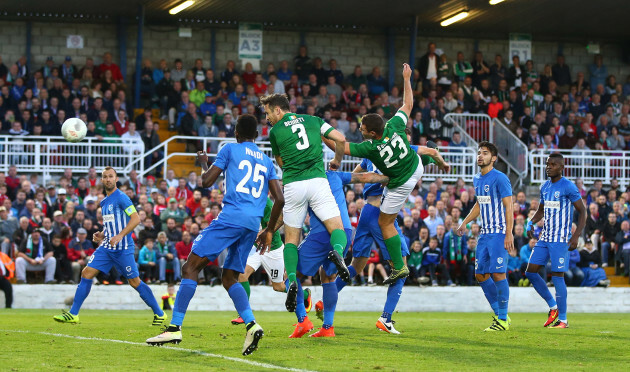 Cathal Noonan / INPHO Bennett scores for Cork City in their 2-1 second-leg defeat to Genk. Cathal Noonan / INPHO / INPHO
But as Dundalk became the darlings of Irish sport, City's European run paled in comparison. Bennett is "absolutely, 100%" full of admiration and respect for their rivals' achievements, but there was certainly some frustration to contend with.
He explains: "What was frustrating was that I was jealous, I suppose. On one hand I'm a League of Ireland fan and any credit the league gets is brilliant, because there are enough people out there knocking it. But on the other hand I really wanted that to be us.
"I couldn't sit down and watch their games right the way through. I'd watch a bit, get up and make a cup of tea, watch another bit, go away, check the score online, watch something else. It wasn't in a begrudging way, but I was being a bit childish about it really."
Bennett adds: "Ourselves and Dundalk have had good battles. I've enjoyed them. We beat them several times last year but they were worthy champions in the end. That's the level we have to get to in terms of the season overall.
"When we came out of Europe we dropped five points in our first two games. That's not the mindset of champions. That's what we have to learn. We're closing in. The boys are hungry, they really are. Most of them don't have a league medal and they want one.
"John has got a drive that I've never seen in a manager before, to be honest. It might lead him down the wrong way sometimes, but he's relentless. That feeds into the players.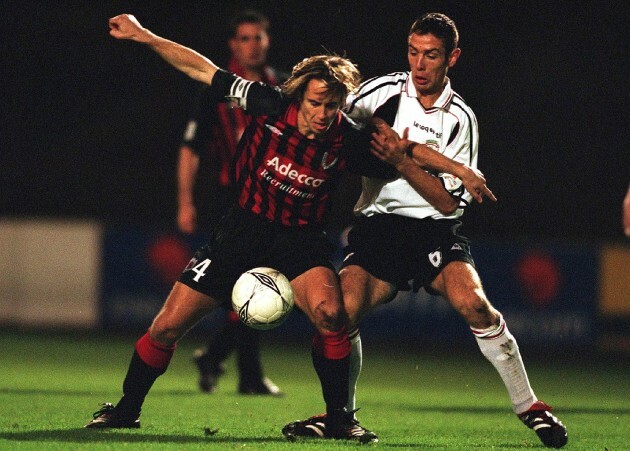 INPHO Bennett tussling with Kevin Hunt of Bohemians in October 2001. INPHO
"I think the squad this year is really high in quality. You're looking at training and saying to yourself: 'How is he going to pick this team?' He's probably cut down his numbers but he's really upped the quality. Hopefully that can help to make the difference.
"Dundalk are a good team. We respect them and I think they have respect for us. But if you look back at the Oriel game, there were a few things that happened that night that pissed me off."
Although the night in question left a sour taste, Bennett opts not to go into specifics about last October's 2-1 defeat at Oriel Park, which ultimately gave Dundalk the upper hand in the title race.
City are driven by the determination to reach the summit in 2017, regardless of whether Dundalk are the team to beat again. A new-look Shamrock Rovers will be among the other sides hoping to have their say in the shake-up.
Bennett: "Does the thought of Dundalk push us on? For some lads more than others, it probably does. It definitely pushes the fans on. It's not that way for me personally. Yeah, we talk about them, but we also talk about other teams, other signings, other results. We don't talk about Dundalk every day. What we do talk about every day is winning trophies."
This Friday evening's President's Cup meeting of Cork City and Dundalk at Turner's Cross will mark the beginning of what could very well be Alan Bennett's final season as a footballer.
Aside from the increasing presence of grey hairs in the beard, there's little to suggest that Bennett is nearing the end of a career that he began as a right midfielder under Liam Murphy in 2001.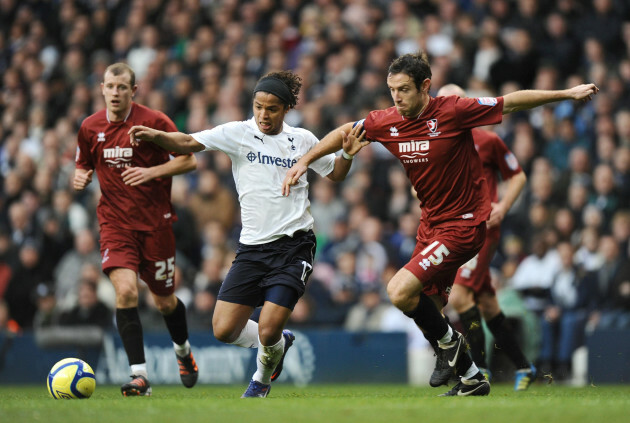 PA Archive / PA Images Bennett challenges Tottenham's Giovani Dos Santos during an FAI Cup game for Cheltenham Town in 2012. PA Archive / PA Images / PA Images
He was consistently excellent for Cork City last season, culminating in an FAI Cup display which would undoubtedly have earned him another man-of-the-match award were it not for the equally impressive contribution of Dundalk's Ronan Finn.
Beneath the surface, however, Bennett feels that the finish line is in sight. He played over 250 games in England, most of which were in League Two, where life as a central defender isn't for the faint of heart. That slog took its toll, to the extent that he admits he'd now be retired had he decided to stay in England.
"I probably would have burnt out by now. It was coming towards that when I was 31 or 32 at Wimbledon," he says. "You're playing every Saturday and Tuesday; there's never much of a chance to take a breather. Moving to summer football and Friday night games is the best decision the League of Ireland ever made."
Bennett will be 36 and out of contract by the time this season ends. Last year he was advised to reduce his involvement during training sessions in order to ensure that he's at his best on matchday. That adjustment didn't come easily for a player whose all-or-nothing approach has already guaranteed his status as a legend on Leeside.
He's astute enough to know that holding out for a fairytale ending wouldn't be the wisest course of action, but Bennett admits that what Cork City achieve this season is likely to be a factor in whether he decides to take his playing career beyond 2017.
"I've always been a take-every-day-as-it-comes kind of person. In football you can usually only afford to look a couple of days ahead," says Bennett, who was capped twice by the Republic of Ireland under Steve Staunton in friendlies against Bolivia and Ecuador in the US in 2007.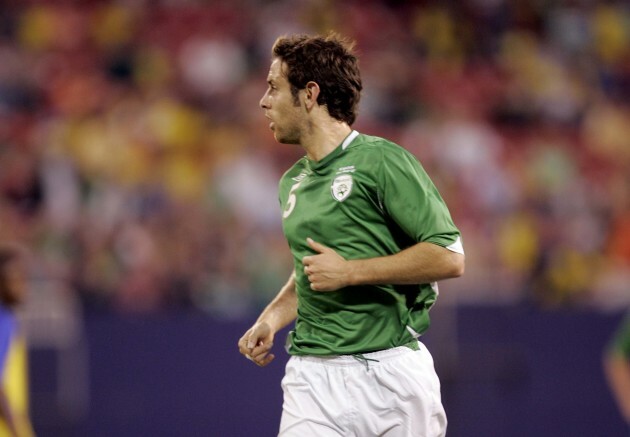 Donall Farmer / INPHO Bennett has won two senior caps for the Republic of Ireland. Donall Farmer / INPHO / INPHO
"How do you plan a retirement? Do I say now that I'm finishing at the end of the season? Would John [Caulfield] look at me differently then, thinking maybe I've already checked out? Would people be saying goodbye every time I leave Turner's Cross?
"I really don't know for now. By the end of the year the picture should be a bit clearer. If we have the season I hope we're going to have, maybe it'll be easier to step aside at the top."
Although they'll miss him when he's gone, Cork City supporters might welcome Alan Bennett's retirement after all.