WHEN HE BURST on to the senior scene in 2002 as a 20-year-old, Alan Brogan was a breath of fresh air for Dublin supporters who were becoming suffocated with disappointment.
It was seven years since the Dubs had won a Leinster and All-Ireland title and they were far from convincing in beating Kildare 2-13 to 2-11. But none of that mattered as Coman Goggins lifted the Delaney Cup to the relief of thousands in the capital.
Tommy Lyons' side were trailing 2-8 to 0-12 after 53 minutes and the game was in the balance.
Arise Alan Brogan.
He had been impressing in his debut season up until then but this was the day people in Dublin realised they had a special footballer on their hands.
The Dubs rattled the Lilywhites with two goals in a minute through Brogan and Ray Cosgrove.
'Come on you boys in blue' was belted from the Hill with confidence like the good old days – they had a complete forward once again; one with two feet, intelligence and an eye for goal.
Plenty
There must have been plenty of times when Alan Brogan thought he'd never get to play in an All-Ireland final, let alone win three of them.
Dublin might have been dominating Leinster football for the mid-to-late 2000s but they were so far off an All-Ireland title it was hard to see one on the horizon, even for fans in the capital wearing rose-tinted glasses.
Ciarán Whelan had to retire without an All-Ireland medal, for quite a while it looked like Brogan would end up as another Dublin great to have the game's greatest honour escape his grasp.
Time and time again Dublin swatted Leinster rivals aside with metropolitan swagger only to be taught lessons by the likes of Tyrone and Kerry. Brogan and Co were stuck on a hamster wheel.
Their heartbreak was so regular you had to wonder how much more emotional turmoil these players could take.
When Dublin won the All-Ireland in 2011, that all changed. And while the Dubs are not always the most popular champions around the country, true fans of football cannot begrudge someone of Brogan's talents and dedication reaching The Holy Grail.
And that is the measure of the impact he made as a footballer – there was never any danger of Alan Brogan polarising opinion; he was a gifted athlete who played the game in the right spirit and conducted himself with integrity.
Luck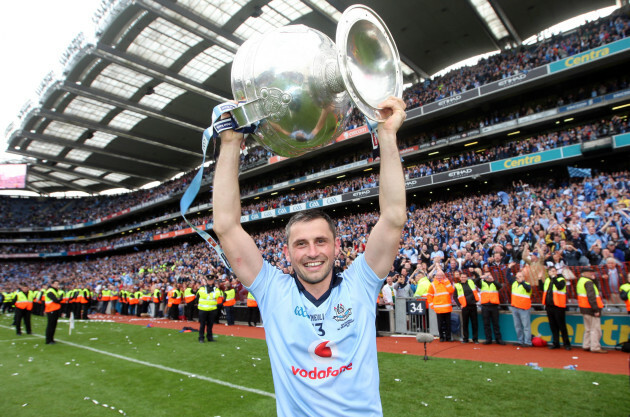 Donall Farmer / INPHO Donall Farmer / INPHO / INPHO
As Footballer of the Year in 2011 and an All-Ireland winner he probably couldn't believe his luck after so many years of disappointment.
The arrival of his brother, Bernard, on the senior team had a massive impact on the role of Alan.
For years Dublin lacked a true centre-forward with the vision and intelligence to lead an attack. With Bernard and others taking some of the scoring pressure off Alan, his football brain could now be used to devastating effect, further out the field.
Over the past couple of years he became a fringe player but he has still managed to bow out at the top of the game with respect from all corners.
Maybe now he will focus on the one honour that has eluded him so far – a Dublin county title with St Oliver Plunketts Eoghan Ruadh.
His inter-county career certainly couldn't have finished on a higher note. Coming on in the All-Ireland final, he created and scored one of the best points on All-Ireland final day in recent memory. And to seal the win no less.
It's rare in sport that players can finish on such a high and on their own terms. Brian O'Driscoll's Ireland farewell comes to mind. But few can have any problem with Alan Brogan being afforded such a fairytale ending; his dedication, integrity and ability were impossible to ignore.
officialgaa / YouTube