IT WAS CUALA sensation Con O'Callaghan who set the tone in the fourth minute of this year's All-Ireland semi-final as Dublin ripped Tyrone to shreds.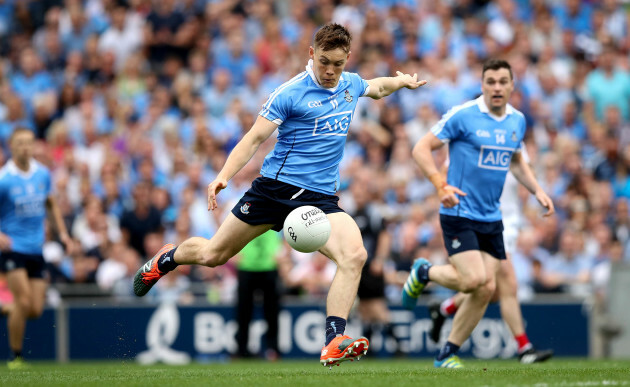 Ryan Byrne / INPHO Ryan Byrne / INPHO / INPHO
A clinical 2-17 to 0-11 win booked their decider spot, while Mayo and a 70-minute battle now stand between Jim Gavin's charges and a third title in succession.
Twenty-one-year-old O'Callaghan grabbed the headlines yet again that day as the dual diamond's star continued to rise, backing up his glittering Leinster final display.
And Alan Brogan is the first to sing his praises. From playing against him at club level and watching him rise through the underage inter-county ranks, the 2011 Player of the Year is well versed to do so.
"He's been coming for a few years," Brogan said, speaking to The42 at a SuperValu GAA event last week.
"His name has been talked about since he was a minor. The thing that's surprised me about him is how well he has physically developed.
"Usually when young guys come into the Dublin panel, they aren't as big as some of the guys that are in there already because they have a few years of strength and conditioning under their belt.
"Con has come in and slotted into that centre-forward position, he's a big man and well able to handle himself so he's able to slot straight in. His football speaks for itself.
"We saw his finish against Kildare, saw his finish [against Tyrone]. He's been excellent. I think it's important not to put too much pressure on him as well. Obviously he's in his first season. It's a big game for him now. If he just does different things, kicks a couple of scores, that's all that will be expected of him.
"He's that type of fella, he's very unassuming. He obviously comes from a good family background so all that stuff helps him. He has good guys around him that can mind him, that he can talk to about what to expect.
"He has taken it in his stride. He was always destined to play senior football with Dublin. It's just a question of how well he can do over the few years. There's no question, he probably will become one of the Dublin greats yet.
Morgan Treacy / INPHO Morgan Treacy / INPHO / INPHO
This summer has really brought the changing of the guard in the Dublin attack. While O'Callaghan has well and truly announced his arrival, veteran Bernard Brogan has been held in reserve and unleashed as an impact sub as the clock runs down.
In the Leinster final, the 'King of the Hill' stormed from the bench to bag five points from play and gave a stark reminder that there's plenty left in the 33-year-old sharpshooter yet.
Gavin again opted against starting him in their semi-final victory over Tyrone, but surprisingly didn't introduce him.
Alan, who played a similar role in his latter days with the Sky Blues, says that his brother is content to do whatever job Jim Gavin hands him and that he expects to see him feature against Mayo on Sunday.
"Look, that's the role he has to play, Bernard's happy to play that role. He knows he's not bigger than the team, he'll do whatever he has to do to get them over the line.
"I'm sure he was disappointed not to get in the last day as was the likes of Mick Macauley and anyone else who was on the bench.
"Bernard will be chomping at the bit I'm sure to make sure he gets up that pecking order to make sure he can come in against Mayo.
"I think the Mayo game is probably a game that will suit him a little bit better than playing against Tyrone — they play with a lot of men back behind the ball and there wasn't a lot of ball kicked in, a lot of hand passing around the middle and running through.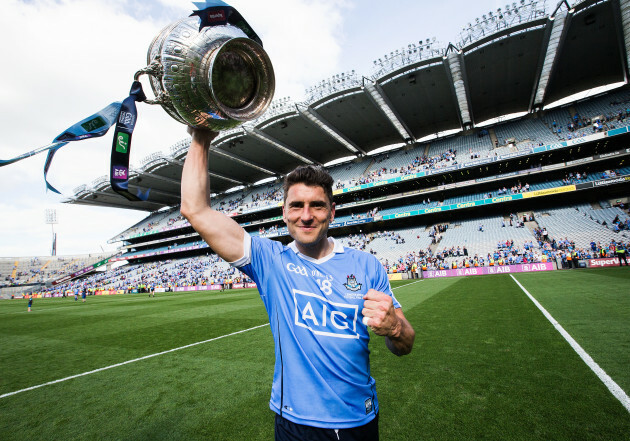 Tommy Dickson / INPHO Tommy Dickson / INPHO / INPHO
"I think against Mayo they'll get more opportunity to kick the ball in and that's the type of game that Bernard thrives in. I'd expect to see him at some stage against Mayo. He has a good record against them over the years, it'd be good to see him kick a few scores."
Another player the Dublin forward line have been forced to plan without for much of the summer is of course Diarmuid Connolly.
The St Vincent's man's 12-week suspension ran out the night before the semi-final and while there was plenty of discussion surrounding his return, and whether he should start or not, Gavin decided to spring him from the bench instead.
The game was long over by the 69th minute when he was summoned in place of O'Callaghan, and the roars around Croker said it all.
Brogan adds that he'd be surprised if Connolly doesn't start on Sunday.
"The strength Mayo have in their half-back line with the likes of (Lee) Keegan and Colm Boyle, they'll need Diarmuid's legs and scoring ability if they have any interest in cancelling that," he continues.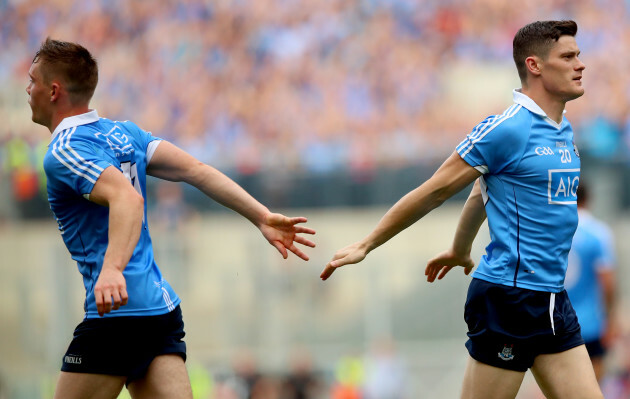 James Crombie / INPHO James Crombie / INPHO / INPHO
"I think the fact that Jim brought him on towards the end of last week's game for the last couple of minutes was just to get that circus out of the way. When he came back, that rock from the crowd, that's done and dusted with now.
The service can resume. I'd be surprised if he doesn't start."
Looking at Stephen Rochford's Mayo side, Brogan insists that they'll hand his native county nothing short of a fierce challenge this weekend.
"A few weeks ago, nobody would've thought that they'd be in an All-Ireland final, knocked out of the Connacht championship. But in fairness to them, they're a great footballing county.
"There's no questioning that the team has a great spirit considering what they've been through over the last number of years. They just keep coming back.
"It's their third All-Ireland in five years, that's a great record and they'll want to get over the line. They're due to win one at some stage. We're hoping it won't be on Dublin's watch.
"They've mixed it up pretty well over the last number of games. They've the running half-back line in Lee Keegan, Colm Boyle, Donal Vaughan. Obviously, Andy Moran, Jason Doherty, Cillian O'Connor at the other end winning the ball. Moran's going very well.
"They've a good mix. A few years ago maybe they probably relied a lot on their running game, where they've added this diagonal kick-passing game now.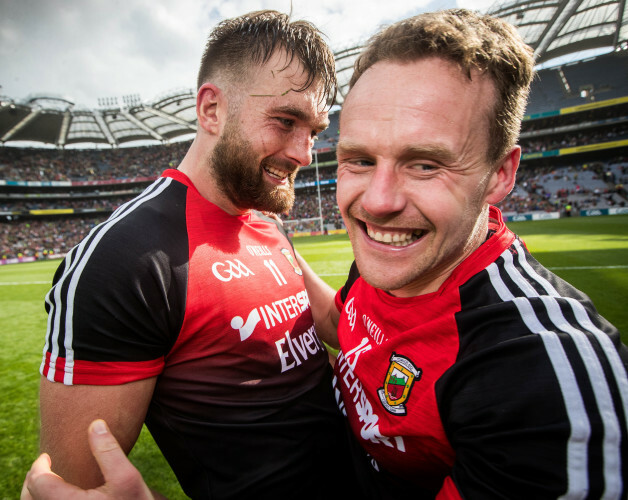 Ryan Byrne / INPHO Ryan Byrne / INPHO / INPHO
"I'd expect a great game. These are two teams that will push up on each other and go hammer and tongs at each other."
And now, with the biggest day in Gaelic football rolling around, does he still stand by his decision to hang up his boots when he did?
"So far, I've been happy enough with the decision," he smiles. "Coming into last weekend, Dublin and Tyrone in an All-Ireland semi-final, you'd love to be out there for that.
"But overall, I've been happy to enjoy the time back with the family and that. I was lucky enough to play for 14 years, I knew when my lease was run.
"When you see Bernard and Mick not getting into the team now, I'd probably be sitting up beside them somewhere. I'm happy enough to have called a halt when I did."
Alan Brogan was training parents and kids at SuperValu's #BehindTheBall Volunteer Camp at Skerries Harps in North County Dublin. SuperValu's volunteer camps are taking place nationwide and are designed to encourage more parents to lend their support and get involved in their local clubs throughout the country.
Subscribe to The42 podcasts here: