REWIND TO 9 April 2016.
Alan Judge was in the form of his life. That season, the attacking midfielder registered 12 assists — more than any other player in the Championship — and finished the campaign with 14 goals from 38 games.
His Brentford team were in contention for promotion to the Premier League.
Regardless, it felt as if he would likely be gracing the English top flight sooner rather than later, with the likes of Swansea, Bournemouth, and Leicester expressing interest in the player around that period.
Better yet, just over two weeks earlier, after a clamour to see him in the team, Judge had finally made his long-awaited Ireland debut in a 1-0 friendly win over Switzerland.
Barring a disaster, he would almost certainly feature in Martin O'Neill's squad for Euro 2016 in France.
But on that day, early into a match away at Ipswich, misfortune struck. A poor, mistimed tackle saw Judge depart the action injured. His worst fears were later confirmed when scans revealed he had suffered a broken leg.
In an instant, his dream of playing at the Euros and in the Premier League had essentially been taken away from him.
Might Ireland have fared even better in the tournament that summer had they been able to call on the creative brilliance of the Dubliner?
Instead, a long road to recovery ensued. It was almost two years later when he made his return, in January 2018, during an FA Cup game — a forgettable 1-0 loss at home to Notts County.
That season, he made 13 Championship appearances for the Bees, but only three of those were starts.
He was in need of a boost and received one in the form of an Ireland call-up. He made his comeback in a 1-0 friendly defeat to Turkey.
Two months later, Judge was called upon again, as Ireland were outclassed 2-0 away to a superior France outfit who were a little over a month away from winning the World Cup.
Looking back at Ireland's starting XI that night, it emphasises the degree of change that has taken place under Stephen Kenny.
Just two players who played from the outset that night — Callum O'Dowda and Alan Browne — featured in the XI against Latvia on Wednesday. Although Seamus Coleman, James McClean, and Matt Doherty, all of whom were in the matchday squad, could potentially play this Monday.
France, by contrast, had several players who remain stalwarts in their side, including Kylian Mbappe, Olivier Giroud, and Antoine Griezmann.
"I was delighted to be back involved in the Irish setup," Judge tells The42, reflecting on the game almost five years later. "That was one of my main objectives when I got injured, to get back playing with Ireland.
"I did feel like I would have gone to the Euros if I didn't break my leg. Every time I stepped onto the pitch for my country, it was a real honour. I remember every game I played, and it was brilliant to step out on that pitch. It was the Stade de France, with over 80,000 fans. So why wouldn't you remember that later?"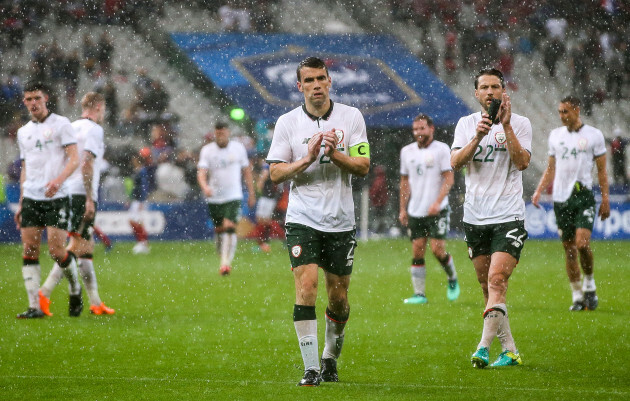 Ryan Byrne / INPHO Seamus Coleman applauds the travelling fans after Ireland's 2018 encounter with France. Ryan Byrne / INPHO / INPHO
Judge says the biggest challenge of playing against a team of that calibre is simply getting the ball off them.
"They just keep it for ages. So if you lose it, you can maybe not touch it for the next 10-20 minutes.
"I think that's what international football does a lot. If you do give the ball away to any international team, it does take a while to get it back.
"Most teams are possession-based and they like to keep it, and try to sap the energy out of other teams by making them move around, defending their box."
So against the odds, despite his considerable injury troubles, Judge won nine Ireland caps — eight of which were after the broken leg.
Undoubtedly his best spell was during Mick McCarthy's brief second stint in charge.
And the most memorable moment saw him come off the bench in a European Championship qualifier away to Denmark before his pinpoint free-kick five minutes from time was headed powerfully home by Shane Duffy to earn Ireland an important 1-1 draw.
"The minute Mick was appointed manager, he brought me back in straight away," Judge remembers.
"And I know I didn't start under him all the time. But I was more or less his first sub every time to come on, which was nice. Obviously, I came on against Denmark, and I set up the goal, but then my luck again, I got pushed over [late in the game].
"And I just thought I was back in. I was thinking I might start the next game — I go and break my wrist. So I think it was Mick that said if I didn't have bad luck, I'd have no luck at all."
Judge's last Ireland appearance came during McCarthy's penultimate game in charge — a 3-1 friendly win over New Zealand.
He was left disappointed by the manner his Ireland career effectively ended after Stephen Kenny took charge.
"I felt I was part of the qualification team that got us to the playoffs. And then obviously Stephen was making it his own [ahead of the all-important Slovakia game]. When he came in, he was taking the playoff game. He selected his own team, which is fair enough, but he gave me the reason that I hadn't played in a few months, but I just said to him, nobody had played in a few months, it was Covid.
"So I didn't really like that excuse, to be honest with you. If he just didn't want to pick me, that's fair enough. I would totally take that. But when I saw that other players had been picked that had not played a longer time than me, I get a bit annoyed with that kind of answer.
"I felt like I deserved to complete the qualification campaign after being part of it from the start."
***
ACL all done. Long road ahead as I know from previous injuries but head down and we go again.
Thank you Emma doin everything she can for me while looking after three crazy kids ❤️. Thank you for all the messages in advance. ⚽️🇮🇪 pic.twitter.com/C8D4GXtrlt

— alan judge (@10judgey) March 12, 2023
Judge is chatting with The42 just two days after tweeting out a picture of himself (see above) in a hospital bed.
The 34-year-old has just undergone surgery for an ACL (anterior cruciate ligament) injury.
Just like in 2016, he faces a long road to recovery.
The significant setback occurred back in December, playing in League Two for Colchester away to Sutton United.
"I was just defending a cross, the ball came in, and I was just about to go jump for it. But one of the Sutton players ran into the back of me. I think he might have got a nudge off our right back.
"And just before I could get off the ground, the guy looked like he weighed about 100 kilos or something. I just couldn't get off the ground in time and my body went one way and my knee went the other and the minute it happened, I could hear a few pops. It was quite sore."
He continues: "I had to wait three months to have the ACL done because I did a small bit of damage to two other ligaments, the MCL (medial collateral ligament) and the PCL (posterior cruciate ligament).
"So they needed a bit more time to heal without an operation, which was good. And then, I let them heal and had the ACL three months later, so everything can be rehabbed together, which is a bit annoying. I just got back to walking properly a few weeks ago, I've been in the gym, everything, walking around normally, all I couldn't do was run, but now I'm back to square one. It's quite weird.
"I probably am one of the unluckiest players — my injuries have all been contact. None of them have ever been calves, hamstrings, or quads. 
"I'm going to head the ball, and someone falls on the back of me. There's nothing I can do."
Judge has experienced emotional as well as physical turmoil in recent years.
Having started just seven games for Brentford after the leg break, he joined Ipswich in search of regular first-team football halfway through the 2018-19 campaign.
The Dubliner could not arrest the Tractor Boys' slide and they ended up relegated from the Championship.
On an individual level, however, Judge was doing well. QPR subsequently tried to sign him — the prospect of returning to the Championship appealed, as did living with his family, who were still based back in London.
However, Ipswich's owner told Judge he was going nowhere and the player was willing to acquiesce, particularly given the faith the club had shown by offering him a contract on the back of such a serious injury.
But two and a half seasons into his spell in Suffolk, after starting in a 3-0 defeat by AFC Wimbledon, Judge was abruptly told he had played his last game for the club.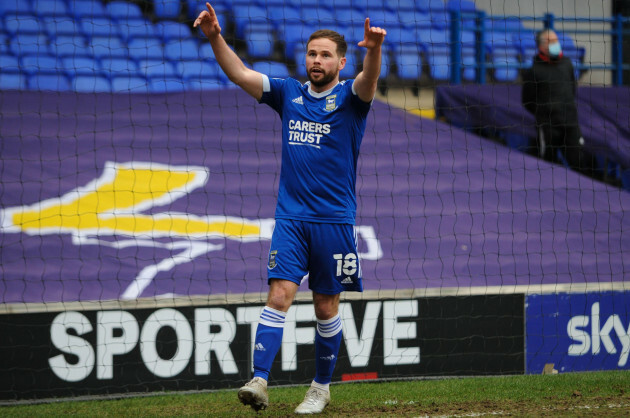 Alamy Stock Photo Ipswich's Alan Judge points to the sky after scoring during the League One match Bristol Rovers. He would be informed less than two weeks later that he had played his last match for the club. Alamy Stock Photo
One more start would have triggered a one-year extension on his contract.
The timing could hardly have been much worse, as just two weeks earlier, his mother had passed away from cancer.
"The thing at Ipswich wasn't so much that they let me go," he explains. "It was the fact that my mother had cancer. And I would play on a Saturday, I would fly home on a Sunday to be with her until the Monday, come back to play Tuesday night, then fly back again, to see her until the Friday, come back and play again on Saturday.
"I just felt like that situation could have been handled better. And the thing was, I was probably playing my best football for Ipswich at that time. So I think for anybody, it was a bit of a surprise that I was let go because I played every game [until after the Wimbledon match]. And I think there were [a couple of] games still to go.
"But again, I did a post saying: 'Nothing surprises me in football.' It is the way it is.
"I don't hold any gripe over it. Ipswich is under new management. At the time, the manager was Paul Cook, maybe Paul just didn't want me. That's fair enough, it had nothing to do with the owners probably."
Judge is hoping to be back from his latest injury by around November "so long as I do everything right".
He is unsure where his future lies with Colchester.
"I have something in my contract where I could be there next year, or I could not be there next year. But we'll just wait and see. I'm going to talk to the club over the next few weeks, see what they're thinking, what I'm thinking, and just kind of go from there."
While acknowledging there will be testing days ahead, Judge is adamant there is life in his career yet.
"I just know to not rush anything, not to really get downhearted," he says. "I'm not going to set myself a target. I'm just going to go with it and just go with progress as well as I see fit really.
"Most importantly, I want to give it a go. Obviously, I know it's going to be hard times ahead. But I've gone through this before. I had two years out with a broken leg.
"So one year is not so bad if I'm trying to look at the positive side of it, because I've had people saying: would I not just retire? No, I want to give it a go. There's no point in giving up on something that I think I can get back from.
"I think my career deserves better than to finish with Sutton away. I think I deserve a bit better than that."
He adds: "I'm lucky enough, I'm one of those that enjoys going to the gym. But there will be days where, I think if anything, it's mostly the start of the rehab, the tedious stuff, the smallest things that you think: 'What am I even doing this for?'
"But I've got a good team around me. I've got my kids and my family. And obviously, my partner does everything for me. Really, I'm lucky she's been through so many of these injuries with me that she knows everything to do."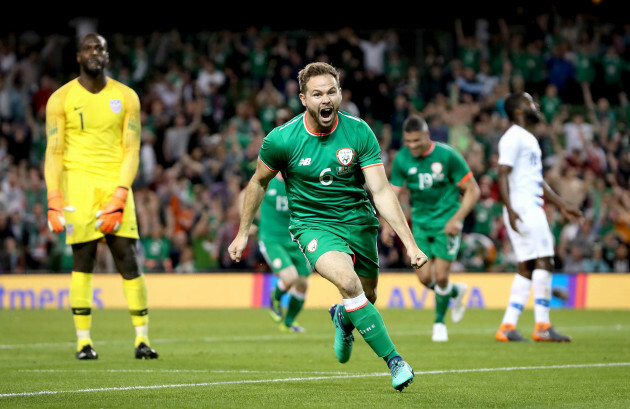 Ryan Byrne / INPHO Ryan Byrne / INPHO / INPHO
Judge has availed of a sports psychologist in the past and found it particularly helpful around the time of his mother's death coupled with being released by Ipswich.
"Obviously, you start thinking: why am I bothering to play football when I did what I did for Ipswich and then, they let me go the way they did.
"But then I always say, that's football. I don't hold any grudges against Ipswich for that. Sure, my son plays for them now as well. It's crazy.
"He's seven. But he's playing in their pre-academy. He's doing really well. And that's one of the other reasons why I'm not giving up because I don't want him to see me give up on something. I want to show him that you can't give up on setbacks.
"By looking at him, I think he might even be better than me, which would be nice."
Moreover, in the often ultra-macho environment of professional football, seeking help can still seem somewhat taboo. Judge is hoping to help change that perception, with problems like long-term injuries often exacerbating the pressure and stress levels on a footballer.
"I would encourage especially players that are on their own and don't have people to talk to, make use of the stuff that's there for you.
"If they're not feeling good, one day or two, don't let it linger.
"When I came through the academies et cetera, I'd come from the older [mentality], so you've got to move with the times and I think it's important for players, if they're not feeling right, they need to speak about it because then that will help you perform on the pitch or get back from injuries. I don't think there's a point in holding things back and thinking: 'I should have said this, I should have said that.'"
As for the future, Judge says it "would be nice" to follow in the footsteps of his father Dermot, an ex-Shamrock Rovers and Bray Wanderers footballer, and have a stint in the League of Ireland.
He had planned on starting his coaching badges this summer, though that may now have to go on the back burner as he primarily focuses on rehab.
Judge is philosophical, meanwhile, when reflecting on his career at large.
"I think I've been one of the unluckiest in football in certain terms. I've been lucky with what it's given me in life. But for those little things that could have gone my way, they didn't. But you kind of just get up and get on with it.
"You've got to take the ups with the downs because there are going to be more downs than ups. 
"You've just got to be made of thick stuff because stuff happens in football that you'd never see anywhere else, in any walk of life. And you've just got to apply yourself as much as possible. Do everything you can. It literally just comes down to 'work hard,' that's it. You work hard, you get your rewards."