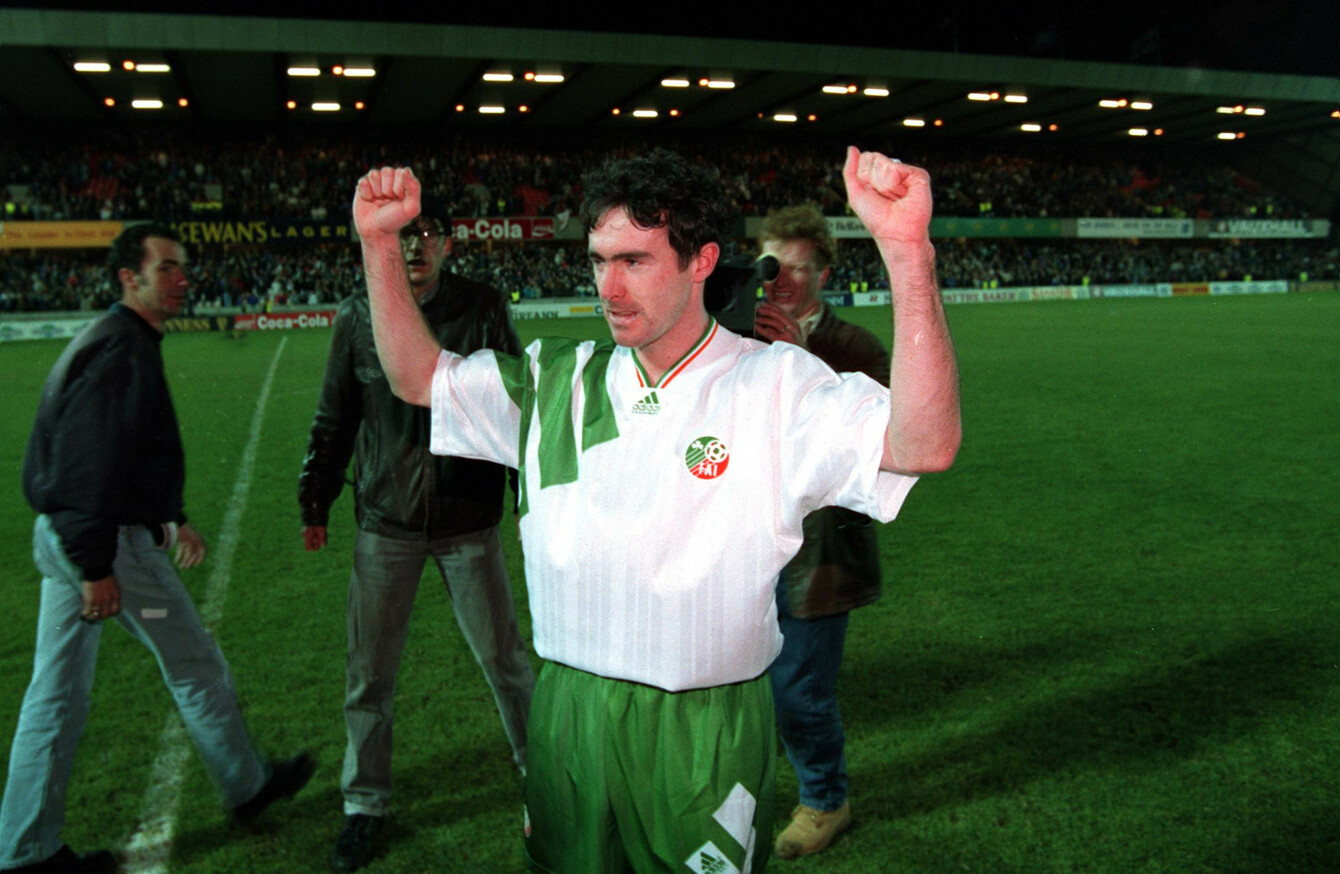 Alan McLoughlin pictured after that famous World Cup qualifier against Northern Ireland.
Image: INPHO
Alan McLoughlin pictured after that famous World Cup qualifier against Northern Ireland.
Image: INPHO
REPUBLIC OF IRELAND legend Alan McLoughlin says the FAI made "a very genuine" apology to him for what has been described as "an oversight" in not inviting him to the friendly against Northern Ireland on Thursday.
McLoughlin initially revealed to Vincent Hogan of the Irish Independent that he had not been invited to the game by the FAI.
The interview was published on Saturday ahead of the friendly which takes place on the 25th anniversary of a World Cup qualifier between the two sides in Windsor Park where McLoughlin scored a famous goal to send Ireland through to USA '94.
The Independent subsequently reported that the FAI contacted him to apologise for the 'oversight' in not inviting him to the tie at the Aviva Stadium.
"I was honest [with Hogan] and said I hadn't really been invited to the game," McLoughlin said on Wednesday's OTB AM.
"That started the ball rolling with the FAI trying to contact me on Saturday and Sunday.
"To be fair, I sort of resisted taking the call. I listened to the voicemails and they were genuine. I decided to take some time and speak to my wife and my family and some close friends from the squad back then before I decided to actually take the step and speak to the FAI on the Monday.
They were very genuine. Various people called me, John [Delaney] as well made contact just to apologise for an oversight which is probably the best way to put it. There's not much more I can do about it. It is what it is and I'd like to think moving forward, significant events can be thought about properly.
McLoughlin continued:
"Not just myself. What I was trying to say was it was about a squad of players. I played a very small part in that campaign, although a significant part in the end but a small part in the campaign.
"I'd class us all as one squad. Maybe something should have been done with the anniversary of the goal, and it wasn't just about me scoring the equaliser.
"I think it was generally about the difficult campaign that it was and the achievement of getting to the World Cup in '94 should have been recognised in my opinion.
"But I have spoken to them, they were genuine in what they said to me which was nice.
The42 has contacted the FAI in relation to the apology but had not received a response at the time of publication.
McLoughlin concluded that he will not available to attend the game on Thursday due to his work commitments with Swindon Town FC, who have just appointed a new manager Richie Wellens.
McLoughlin says that this is his primary focus at the moment but added that he has accepted an invitation from the FAI to attend future games.
"There's been a development since then. Swindon have appointed a new manager, I found out on the Sunday evening, so my time is going to be tied up with Richie Wellens and Noel Hunt [Wellens' assistant], and helping them between now and Saturday.
"The goalposts have changed slightly and I'll be unable to make the game on Thursday. The FAI did extend a hand and asked me to come to future games which I've accepted.
I'm not sure when that game will be because I can't exactly say with work commitments, but I will certainly be visiting before next summer time anyway."
You can watch the full interview here:
Source: Off The Ball/YouTube
- Originally published at 12.00
Subscribe to our new podcast, Heineken Rugby Weekly on The42, here: