Updated at 08.54
PICTURE THE SCENE: you're a young up-and-coming footballer.
It's the eve of the biggest game of your career so far — a final at Wembley.
You receive an unexpected call — it's the Ireland assistant manager, saying you've been called up to play in the World Cup, despite never having been capped at senior level before.
25 years ago, Alan McLoughlin was in that exact situation. Aside from a single B international, he had never represented Ireland before and yet, on the eve of Swindon's crucial playoff final against Sunderland, the youngster received the call from Maurice Setters telling him to join up with the squad promptly.
At first, thinking it was one of his Swindon teammates having a laugh, McLoughlin refused to take Setters seriously and promptly hung up the phone. It was only after the assistant called for a second time that he managed to convince the midfielder that he genuinely had earned a place in the squad. It's consequently no surprise that McLoughlin describes the moment as "quite surreal".
And while lesser players may have been distracted for the game that took place less than 24 hours later, McLoughlin positively thrived, scoring the solitary goal that sealed his side's win.
One of the reasons for McLoughlin's initial incredulous reaction was that the Ireland squad for Italia 90 had already been previously announced — or at least, the provisional one had — with the Swindon player's name nowhere to be seen.
"I didn't understand the circumstances," he tells The42. "I didn't know the politics and hadn't read into it then. There was no social media, so it was a case of being at a distance and thinking the squad was picked. I didn't get into it and [thought] that was the end of it."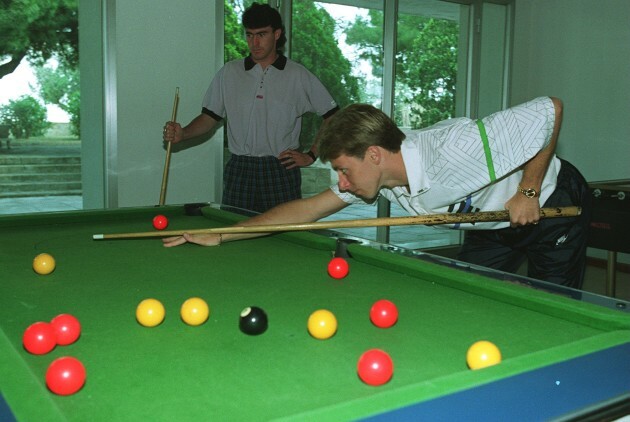 EMPICS Sport EMPICS Sport
(Ireland's David Kelly and Alan McLoughlin enjoy a game of pool in Malta prior to the tournament) 
McLoughlin's call-up was not without controversy, however. Gary Waddock, who had originally been picked in Ireland's World Cup squad, was taken to one side by the management one day and unexpectedly told that he would have no part to play in Italia 90. The decision was so sudden that McLoughlin arrived in the hotel at which the team were stationed literally as a distraught Waddock was leaving.
"Obviously Jack had a change of heart," McLoughlin recalls. "It was quite brave on his part to make that decision. When I got into the hotel, I slowly understood what had happened and Gary had left in the same taxi I arrived in.
"I'm sure Gary doesn't hold it against me. It was Jack's decision. That's just the way it is. It wasn't a case of me phoning up and demanding to be part of the squad."
The move didn't initially sit well with certain players, some of whom had grown quite close to Waddock — a much more experienced player than McLoughlin who had earned 21 caps at that point.
Therefore, upon his arrival, McLoughlin received a somewhat frosty reaction from certain players.
"It took a while for one or two of the players to accept the situation — I could understand that. They were obviously close to Gary as he had been involved in many squads before. I'm not sure if anything was said within the group but eventually I settled in.
"It was such a shock. It would be such a huge thing now. It created headlines in Ireland but it barely registered anywhere else. With social media now, it would be more widely recognised.
"I'm not big-headed. I wasn't going to prance around the place telling players what to do et cetera and make an idiot out of myself. I was nice and quiet, got on with the job and hopefully what I did on the training pitch was enough to justify being there."
EMPICS Sport EMPICS Sport
(Alan McLoughlin in training prior to the World Cup)
The Manchester-born former player even admits he found this new environment somewhat intimidating at first.
"It wasn't playing on the world stage [that I was worried about], it was more being used to playing with a bunch of guys I hadn't really met before. I was more nervous in training than in games.
"For games, I just went out and did what I hoped I could do well. I had played in front of big crowds, playing in front of Wembley and scoring the winning goal. I wasn't going to be phased playing in the World Cup.
"It was more getting used to playing with world-class players, like Ronnie Whelan and Ray Houghton — all players that I'd watched and admired, and suddenly, I was right next to them. Suddenly, I was trying to impress them in training, trying to show that I was good enough to be there. I found that more of a challenge than the games themselves."
Clearly, McLoughlin impressed someone though, as not only did he feature as a sub in the World Cup games against England and Egypt, he went on to become a regular presence in Ireland squads for the next 10 years, earning 42 caps for the Boys in Green in total.
Going from playing football in England's lower leagues to suddenly competing on the world stage in front of millions was quite a leap, yet McLoughlin's innate humility ensured he recognised what a privileged position he found himself in.
"It was like winning the lottery as a player," he says. "To be chosen to go in the select few and to be surrounded by people that I admired so much — Paul McGrath, Packie Bonner, Dave O'Leary… All these guys I admired from afar.
"I was just there to potentially fill the subs' bench, or sit in the stand. It was different to World Cups since, because there were five subs nominated, so there were four or five players not involved."
gr8footy / YouTube
Liverpool's Ronnie Whelan, considered one of the top midfielders in England at the time, was struggling to be fit for the opening game against Bobby Robson's side, paving the way for McLoughlin's selection on the bench at his more illustrious colleague's expense.
"Obviously he was disappointed and upset by not being on the bench and I think he felt he should have been on the bench. Given the player he was and what he'd achieved, he was rightly miffed and I was elated.
"I didn't understand the format until I got there. I didn't understand there'd be five subs and four or five would sit it out. But I was quite happy to just be involved."
After 64 minutes, McLoughlin replaced John Aldridge with Ireland trailing 1-0 after Gary Lineker's early opening goal. Eight minutes later, the Boys in Green were level, as Kevin Sheedy fired the ball into the English net.
"The game was obviously a cagey affair. I was brought on to make some forward runs. England countered that by bringing on Steve McMahon to counter my runs. He lost possession and Kevin Sheedy scored with a wonderful goal. I was actually about a yard offside [for the goal], but I managed to get away with it."
Following this positive result, the culmination of Ireland's next game was met with far less optimism, as they played out an uninspiring 0-0 draw with Egypt, who were widely considered to be the worst team in their group.
"It was difficult against people who were able to get round the pitch while still not being technically as good," McLoughlin explains. "They managed to make it a tough afternoon but ultimately we got through."
gr8footy / YouTube
The outcome went down particularly badly in the RTÉ studios, prompting an impassioned and angry response, most notably from pundit Eamon Dunphy. So just how aware were McLoughlin and his teammates of the now-infamous 'pen-throwing' incident?
"I wasn't aware of them because I'd just been introduced to the whole thing. I knew there'd be some sort of panel, but I wasn't aware who was even on the panel. Word came through that something quite disparaging had been said after the Egyptian game. 'We weren't quite good enough. We should have beaten the Egptians.'
"But it was the heat. The players are not used to that. They were a team of dogged players and yeah it wasn't great, but we didn't get beaten. We were only hearing things second hand and third hand: 'Something happened in the press conference and Jack said this, and was with the press officer…' We were elsewhere.
"[The criticism] was water off a duck's back… It was obviously something that has served everyone well on the panel. They were giving their opinion and they were quite right to. Former players have all types of opinions — some are valid, some not so valid, but that's what it's about. It's about creating opinion and people talking, and agreeing and disagreeing with different things.
"Obviously, if you're a player, you're not going to agree with most things. In the main they're quite touchy, because they don't go out to play poorly or not to perform to the standards. Teams just don't play well at times. We've all been through the experience and ultimately, when we got to the quarter-final, I'm pretty sure the RTÉ panel changed their mind slightly."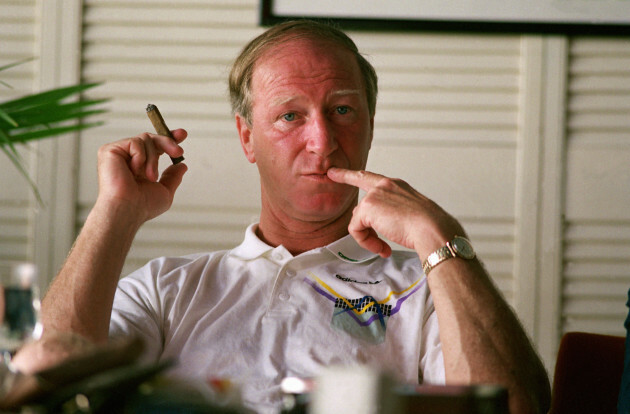 Claire Mackintosh Claire Mackintosh
(Ireland manager Jack Charlton relaxes with a cigar at Italia 90)
And does McLoughlin understand why certain critics have expressed reservations about the extremely direct (and some might say 'ugly') football that Charlton favoured?
"Jack had decided that was the way we were playing. It went on for another four years into America. He got success in 88 with that way, so why would he change it then? He went with what he was comfortable with. He kept it simple for the players.
"There was method to what we did. It wasn't just 'crash, bang, wallop'. I had a specific role to perform and it was taught and spoken about to me by Jack and Maurice and the other players. It worked… No matter what anybody says about it, it worked.
"Obviously, when we went to America [for the 1994 World Cup], that high-pressing tempo game in Orlando in 34 degrees was not going to work, so maybe it pointed out that football was evolving and you have to adapt and change.
"And that's what Mick McCarthy did when he came in. But no one can criticise Jack Charlton's achievement — to take a nation who were really scratching around the periphery, to performing at the highest level and taking them to their highest position in the Fifa World Rankings."
Following the Egypt game, McLoughlin lost his place on the subs' bench to the now fit-again Whelan.
"Once Ronnie was fit then and his thigh had cleared up, I wasn't going to be good enough. Ronnie Whelan was a world-class player. If I'd come on and scored a couple of goals, it would be difficult to leave me out, but going into the Holland game, experience was required and that's why he picked Ronnie and not me."
Rather than sulking, however, McLoughlin epitomised the fine spirit within the Irish squad by continuing to cheer on his teammates as enthusiastically as ever, despite not being directly involved in the subsequent matches.
The midfielder was feeling as nervous as everyone else in the country, while watching on when the last-16 match against Romania went to a penalty shootout, and he was equally taken aback when David O'Leary stepped up to take a potentially match-winning kick.
wwwallworldcupgoals / YouTube
However, Irish ecstasy ensued amid the then-Arsenal player's successful penalty conversion.
"I made it to the group [of celebrating players] and Dave managed to worm out of the group and he just walked straight into me. That emotion that he had and the emotion I had of being there and being involved in the World Cup and the significance of it, because of what Dave had just done and what the team had just done, because it was a good Romanian team with the likes of [Gheorghe] Hagi in it…
"For us to get to the World Cup quarter-final was a huge thing. Judging from the emotion on Dave's face, I don't know he could quite believe he'd scored.
"There's a nice picture where I'm grabbing him by the head and he's virtually in tears by that point, because that's what it means. It's more relief that you haven't missed because everyone would always remember. Dave O'Leary's career was phenomenal, but there would have always been someone who said: 'Oh yes, he missed the penalty.'"
McLoughlin, of course, knows all too well what it's like to be associated with an isolated incident. He is best remembered by Ireland fans for scoring a famous goal against the North that ultimately secured his side's place at the 1994 World Cup. Portsmouth fans, on the other hand, tend to recall a less positive incident.
"I had over 300 games for Portsmouth and hit the bar in a semi-final [in the 1992 FA Cup against Liverpool] in the last 10 minutes from about six yards. If I meet anyone, they always talk about that. They don't talk about the hat-trick at Blackburn. The 45 games I played nearly every season. The consistency over eight years. They don't talk about that — they mention: 'You hit the bar from six yards out.'"
gr8footy / YouTube
Ireland's World Cup journey eventually came to an end against Italy in the quarter-final, as Jack Charlton's men lost 1-0, despite producing a highly creditable display.
"I think the odds were always going to be stacked against us. They had some world-class players and if I'm honest, maybe one or two more than us. If you think of the location, in Rome, I don't think we were ever going to get many favourable decisions from the ref. I think John Aldridge scored a header and it was disallowed. It looked perfectly good to me.
"But they took their chances when they came along. [Roberto] Baggio, [Toto] Schillaci and [Franco] Baresi all played, and they had the whole nation behind them. The players did as well as they could, and listen, it was 1-0. It wasn't a case of Italy walking all over us. They had to sweat every moment to gain their place in the semi-finals. Overall, everyone was proud of what we achieved and what we did."
While Ireland managed to qualify for the following World Cup in 1994, it proved to be a less satisfactory experience despite the Boys in Green gaining partial revenge on the Italians by beating them 1-0 at Giants Stadium in their opening fixture. Did McLoughlin sense then that the team had reached their peak in terms of success by the end of Italia 90, or did he expect the good times to continue for the foreseeable future?
"I was just thinking about being part of the group, trying to stay in the squad and being selected by Jack, and that's what my focus was. If the rewards came in the form of [qualifying for] European Championships and World Cups, then that would be absolutely amazing. But you don't think too far ahead. You don't think: 'I'm going to be playing in the next three Euros or the next three World Cups.'"
EastTerracer / YouTube
And while McLoughlin and Ireland may have not emulated those incredible heights since, it was certainly fun while it lasted.
"The fans we met [in Italy] were excited, but it was obviously a small percentage of the people, because most of them didn't make their way out to the hotel we were staying in. A VHS tape was sent to us in between the Romania game and the Italy game. We saw the reaction in Dublin and around the country, and that was the first sense of: 'Oh Jesus, something's happening.'
"Then it was the airport back at Dublin [where thousands of fans gathered] that we got a real sense of the magnitude of what had just happened.
"I certainly was proud to be called up and be involved in it. To be involved with a group of players that were so good. And they proved it."

Originally published Friday at 21.00