THERE WERE WORRYING scenes in Thurles yesterday when Tipperary's Alan O'Riordan sustained a serious injury during his county's Munster junior football semi-final defeat to Kerry.
The 21-year-old JK Brackens man, older brother of Tipp senior star Colin, was stretchered off following a nasty collision with Kerry's Tadhg Morley, who suffered a suspected broken nose.
Thankfully, Alan was well enough to speak to The42 this morning, admitting that he can remember little about the high-impact smash.
Play was delayed for seven minutes while O'Riordan was attended to and while he played no further part in the game, he did watch the closing minutes of the junior game and the entire senior match between Tipperary and Kerry.
O'Riordan is due in Clonmel today for follow-up scans and admitted that if he wasn't wearing a protective mouthguard, the damage could have been far worse.
O'Riordan escaped with just a sore head and a scratched nose and Morley was forced off at half-time following the impact.
While Alan was being looked after by medics, Colin came to check on his wellbeing before returning to the senior camp to prepare for the Kerry tussle.
"He actually came into the dressing room when I was there at half-time," Alan said.
Donall Farmer / INPHO Colin O'Riordan checked in on his older brother. Donall Farmer / INPHO / INPHO
"He came in to see how I was. He was there for a couple of minutes, and I was able to see and know what was happening."
The sickening thud could be heard from high in the Old Stand press box at Semple Stadium and Alan was knocked out cold.
He doesn't remember being fully lucid until reaching the first aid room.
"Dad was telling me this morning that when they put me in the neck brace I said that I didn't need it.
"I don't remember that at all. I fell straight back like a statue falling down.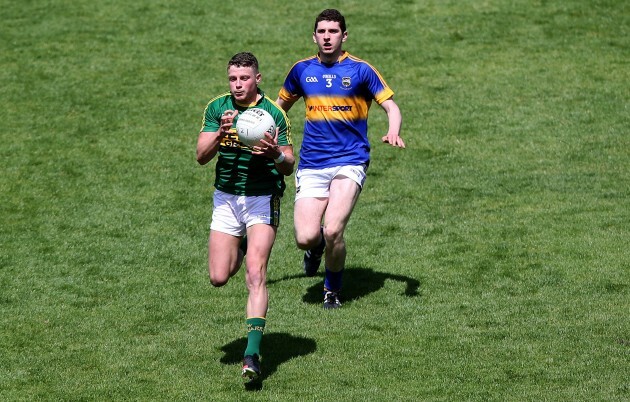 Donall Farmer / INPHO Kerry got the better of Tipperary in yesterday's Munster junior football semi-final. Donall Farmer / INPHO / INPHO
"I'll be down to Clonmel today for scans and I'll see Doctor John Hynes after that.
"He said that if I felt any worse after the senior game, to go down to Clonmel straight away.
"He rang me this morning wondering how I was and I have a bit worse of a headache.
"I was sort of in a daze when it happened and for the second half of our game, I wasn't really clued into that. I watched the last ten or 15 minutes of it."
Mouthguards were made compulsory for Gaelic Football players from 2013 and O'Riordan is thankful that he was wearing one.
"My teeth would have been knocked out only I was wearing a mouthguard.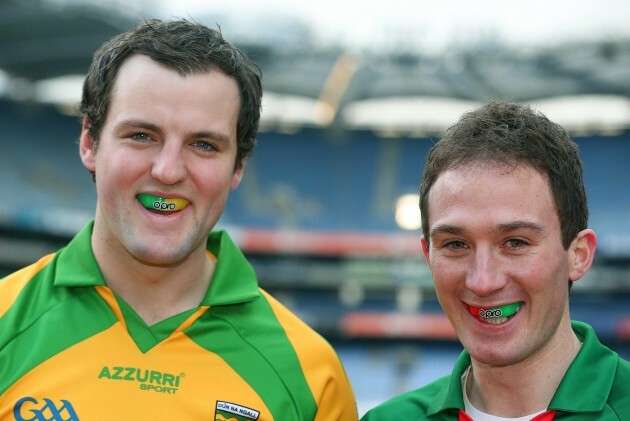 Lorraine O'Sullivan / INPHO Donegal's Michael Murphy (left) and Mayo star Alan Dillon at announcement of compulsory mouthguards in 2012. Lorraine O'Sullivan / INPHO / INPHO
"They're fairly sore now but two or three would have been knocked out. My nose is grand, just a little scratch on it.
"I saw the other lad (Morley) and his nose was broken, in bits. He asked one of our selectors how I was and came looking for me. He was sound out about it. It was a pure clash of heads, from what I hear."