WHEN ALEX AULD — the Canadian ice hockey star — was first approached about coming to Ireland, he wasn't quite sure what to expect. He'd never heard of hurling, so it was a bit of a leap into the unknown; but that was part of the appeal.
Four years after calling time on a 237-game career which spanned over a decade, Auld was up for the challenge. It offered him the chance to get back into competitive sport, albeit for a week as part of AIB's The Toughest Trade documentary.
The former goaltender swapped places with Wexford hurler Lee Chin and spent time with Faythe Harriers before lining out for the club last Sunday.
"I tried not to see too much before coming over because I really just wanted to learn on the ground," Auld, who enjoyed a professional career with eight different clubs, said.
"Part of it was that I miss competing and I liked the fact that it would be a challenge. It wasn't something that I felt I knew enough about. I suppose I didn't have any prejudice or preconceived ideas about it at all."
And with an open mind, Auld was impressed by what he saw, so much so that he's a little taken aback by the lack of global recognition hurling — regularly pushed as one of the best field sports in the world — receives.
"Yeah, I'm really surprised by it," he said. "After playing it and loving it I'm a little bit shocked in a way that it doesn't have (a global impact). And I say that to people and they're like 'oh, but there's teams here and there'.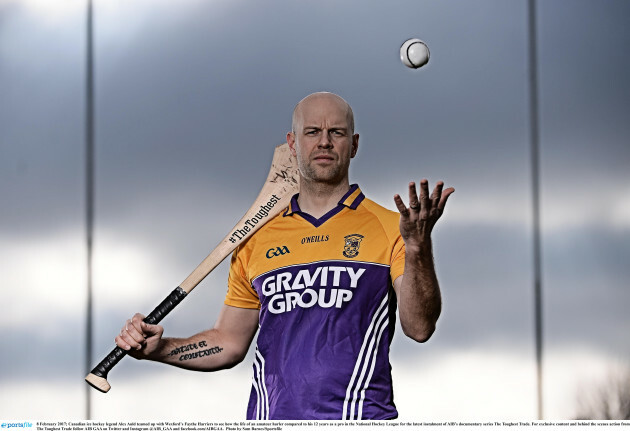 Sam Barnes / SPORTSFILE Sam Barnes / SPORTSFILE / SPORTSFILE
"But what I feel is like….I found out after the fact that there's a GAA (club) in Vancover but I think it's like, I don't know, I get the impression that it's a members only thing and you either know about it or you don't. It's not like they're advertising it to get more members or anything like that.
"I'd just love to see some way for it to get more international exposure."
As for the experience itself, Auld admits it was one he will remember fondly.
Having spent all of his sporting career between the posts, the 36-year-old wanted to try his luck outfield with Faythe and while it took time to become familiar with the rules and skills, he was happy with the decision when he saw the protection — or lack of — for goalkeepers.
"I didn't want to play goal without any equipment," he laughed. "I think I wanted to get running too and feel the contact of the sport as well so…but the one thing I found fascinating about the goalkeeper was that, in hockey, the goalkeeper is a very defensive position but in hurling it's a big part of the offence, with the puck outs and moving the ball up the field. That was interesting to me. I thought that was a big difference.
"I joked because the goalkeeper had long sleeves on his jersey, 'wow, thank God you're padded!' I'm like, 'you don't even give the fella a nice leather golf glove or something!?' It's insane.
"In North America we have Field Lacrosse which is, there are similarities there as well. They don't have a tonne of stuff but they'll have key areas protected as well. There's nothing (in hurling) and on top of that you'll have basically the shortest shorts in the world! The first day in training I'm like, 'I don't know if I have shorts short enough for this'. They're like, 'they'll give you some, don't worry'."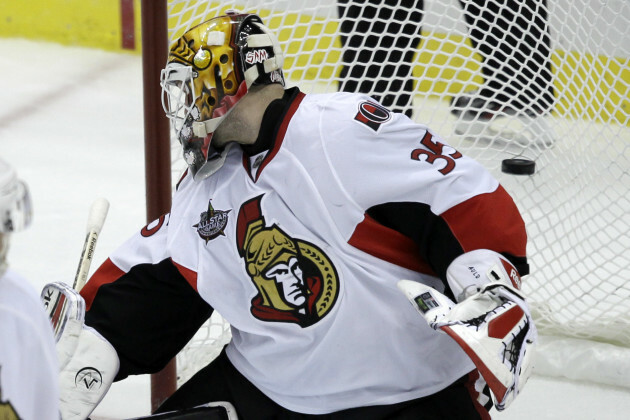 Gene J. Puskar Gene J. Puskar
There were also similarities between the sports, particularly when it came to the speed, intensity and aggression.
"I think it's actually very similar," Auld continued.
"At first, when I first watched hurling, I thought it seemed crazy but you guys would probably all say the same about hockey. The more you get to learn the rules of what is and isn't allowed it's actually very similar, of what you can do and can't do. The physical play, a lot of it is about trying to get the ball or the puck back, change possession, things like that. So a lot of the things with body position and using your body to shield the puck or the ball, a lot of it is very similar. So there's a comfort level in that for sure.
"On the flip side, I think the biggest difference is you're linked basically from birth through to the top level because of where you live. In North America it's the complete opposite of that because you're almost bought and sold, you're a commodity, you're drafted and things like that. That's something that is a huge difference.
"Meeting Lee Chin's family and they talk about..he's basically going to play for one club his whole life and I played for eight in 12 years and it couldn't be more different. His Mom was just blown away. 'How many times did you move and did your family go with you?' and all this type of stuff and she couldn't imagine leaving home. That's a major difference."
And will Auld keep an eye on hurling and Wexford's progress in this year's championsip back home in Vancouver?
"Yeah, I will, I definitely think so. I told some of the guys that I'd come back when Wexford were in the All-Ireland so we'll see."
The42 is on Instagram! Tap the button below on your phone to follow us!