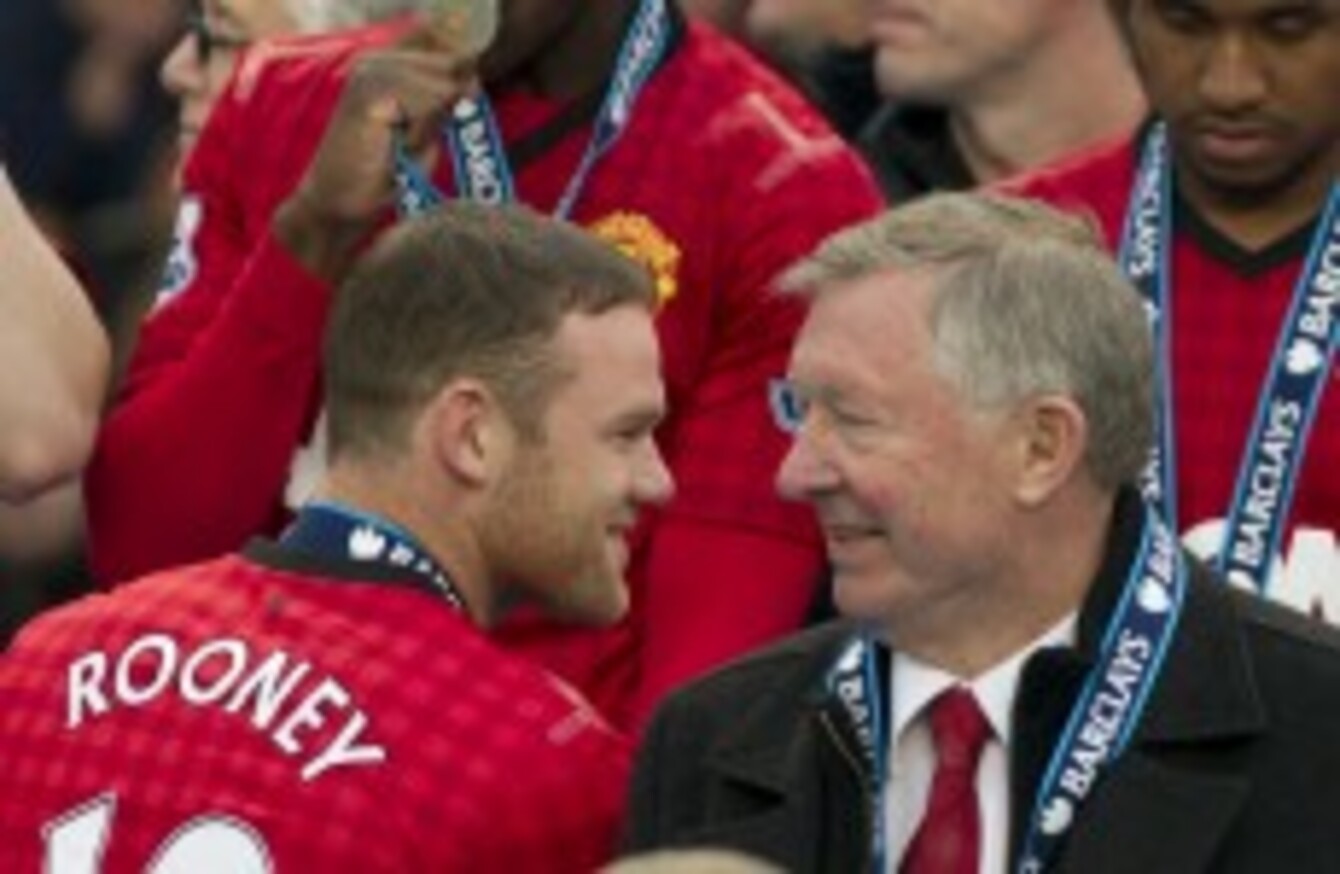 Image: Jon Super/AP/Press Association Images
Image: Jon Super/AP/Press Association Images
A few years ago Manchester United introduced a new rule that stipulated any player writing a book had to run it by the club first. Roy Keane had been banned for a passage on Alfie Haaland's right knee that read more like a scene from a Guy Ritchie film. Jaap Stam had embarrassed Sir Alex Ferguson with a number of claims, among them that the manager encouraged players to dive. Enough was enough and the message came down from the top of the club that it was time everyone reverted to a bit of reassuring blandness.
Since then, the books emanating from Old Trafford have been vapid, to say the least. Cristiano Ronaldo's Moments has almost as many photographs as words, like a hardback version of Hello!, Paul Scholes's autobiography never gets any more controversial than revealing he doesn't like the team's blue away kit. Ryan Giggs starts promisingly, with an anecdote about punching Martin Edwards's son, but quickly settles into the usual formulaic stuff. It is all very different to the days when Stam described the Neville brothers as a pair of "busy cunts".
Unfortunately for United, Ferguson likes to go by his own rules. His new autobiography, 14 years since the last one, is out on 24 October, with a press conference the previous day to launch it and a tour featuring theatre and music-hall dates in Manchester, Glasgow, London, Aberdeen and Dublin. He might be gone but you will be hearing an awful lot about Ferguson over the next couple of months and it is probably no surprise that at Old Trafford they are wondering whether a storm of locusts is about to head their way. Or that one question, more than any other, is being asked: is Ferguson about to blow apart the Wayne Rooney peace process?
He can hardly ignore what has happened, the breakdown of their relationship, the transfer request, the cow looking into the next field and all that, and when Ferguson makes it his business to get in the final word it is a potent pot of poison in which he dabs his quill. Just ask Gordon Strachan and Brian Kidd, among others, after the literary kicking they took in his 1999 book. Or consider its account of finding out an old Rangers man, Willie Allison, someone he had come to regard as a mortal enemy, had been diagnosed with cancer. "I know it is a terrible thing to say," Ferguson writes, "but I did not have a crumb of pity for him."
The less-read 6 Years at United is possibly even more caustic. This is the book, to give you a flavour, in which Ferguson reflects on Emlyn Hughes's move into the media. "I don't know anyone in the game who has any time for Emlyn Hughes," he points out. "He is a disappointing character." Ferguson talks about Frank Stapleton "bordering on the morose". Tommy Docherty doesn't get off lightly either. "We all know about the Doc. He is what he is, a bitter old man."
It is probably fair to assume that Ferguson's latest epic, earning him a reputed £2m advance, is going to take up an awful lot of headlines next month and that the list of people he chops down in print will be considerable.
Keane is just one of them, bearing in mind Ferguson has never been through what was said in that infamous, never-seen episode of MUTV's "Play The Pundit" and the precise reasons he drummed him out of the club. The fall-out with Ruud van Nistelrooy needs an explanation, as does the time Ferguson split open David Beckham's forehead with a flying boot.
Will Ferguson dare take on John Magnier and JP McManus over the Rock Of Gibraltar affair? It would be a surprise if he goes too far into it. But consider all the words that might have been reserved for, in no particular order, Luis Suárez, Gabriel Heinze, Peter Kenyon, Owen Hargreaves, the Football Association, Mark Bosnich, Manchester City, Martin Atkinson (his least favourite referee), Carlos Tevez, Kia Joorabchian, José Mourinho, Rafael Benítez and many others.
Ferguson has been putting together his memoirs over the past four years. Just don't expect a forensic deconstruction of the Glazer family's takeover and any late admission that the fans were right, after all. On the contrary, if he goes after anyone from that saga it will be the supporters who set up FC United of Manchester.
But it is Ferguson's views on Rooney that threaten the most damage and it is easy to understand why, behind the scenes, United are worried about it undermining David Moyes and creating all sorts of new issues. Rooney, as if it needs recapping, has just spent the summer trying to get a move to Chelsea only for his current employers to make it clear he can think again. Now they are going through the process of trying to convince Rooney he can start enjoying life at Old Trafford again, working on his ego, trying to demonstrate they still value him highly.
The situation is delicate enough without Ferguson providing another round of damaging publicity – but that's exactly what United expect. At the very least, he has to address the Rooney issue because the alternative is the book losing credibility. But, Fergie being Fergie, it is not a huge assumption to think there will be a warts-and-all version of why he thinks Rooney fell out of love with United and why, on his final day as manager, two men who have shared so many joys ended up looking like strangers on a bus. Paul Stretford, Rooney's agent, might feature prominently, too, bearing in mind Ferguson has already described him as "not the most popular man" at Old Trafford. And it's not difficult to imagine why there are people at Old Trafford dreading it. The timing, two months into Ferguson's first season of retirement, could hardly be much worse. With all the politics that are involved, it is the last thing United – and Moyes – need.
The book promises to be tremendous and he has certainly appointed a superb writer in Paul Hayward to fall in line with the job Hugh McIlvanney completed in 1999. Whatever Ferguson reveals, bear in mind he is not always acknowledged as the most scrupulous truth-teller – Kidd's response to his pummelling in Managing My Life memorably concluded that "Walt Disney is trying to buy the film rights as a sequel to Fantasia" – but it will be fascinating to know, among other things, whether he did regard Rooney as having fitness, attitude and weight issues, why he brought in Robin van Persie to take over as principal striker and what, in short, went wrong between manager and player.
All good fun for the readers. Not, perhaps, for the people involved. Could Ferguson maybe just have hung on a little bearing in mind Moyes is still feeling his way into the job? The book has certainly been rushed out with remarkable alacrity and Ferguson, lest it be forgotten, created a lot of the problems in the first place by going against everything he said he once stood for and announcing, live on television, that Rooney had been to see him for a private conversation and requested a transfer.
That has always been disputed and United now accept it is not quite how it went. But the damage was done and, all summer, Rooney's camp have cited Ferguson as the main reason why their player wanted to go, and that he still suspects his former manager has great influence at the club in his new roles as a director and ambassador.
Rooney and Stretford, as this column has already noted, probably need their heads banging together, but they are entitled to wonder whether that television interview in May was Ferguson at his worst.
It is a mess Moyes could easily have been spared and it would certainly be strange, given Ferguson's affinity to the club and everything he has said about supporting the new manager, if he is about to throw another can of petrol on the flames, then stand back, admiring his work.
Alan Shearer symbolises all that's bad about MoTD analysis
The confirmation that Alan Hansen will be standing down from Match of the Day next summer came as no surprise and is probably for the best if the BBC is serious about bringing the show up to speed.
Hansen's analysis had started to feel lazy, which is a pity because he was very good a few years back, and if the BBC is to catch up with Sky it needs to move away from the 19th-hole chumminess and understand that viewers want real insight.
It is not as easy as a lot of people imagine but Sky have shown with Gary Neville, Graeme Souness, Ruud Gullit and now Jamie Carragher that there are qualified people out there and at least the BBC has shown the first signs that it appreciates the need for change. Not enough, however.
Mark Lawrenson has been marginalised but a personal view is that Alan Shearer is the man who really symbolises the programme's shortcomings. Punditry is not about repeating what you see, it is about providing opinion, an eye for detail, with the ability to articulate what you mean and the evidence to back it up. Shearer has been on the sofa for seven years and, after that amount of time, it is unlikely to think he will ever get it right.
The other problem is Match of the Day's news judgment and the number of times something noteworthy has happened in a match but the people at editorial level are not savvy enough to realise it. The whole approach needs a shake-up (the less said about The Football League Show the better, by the way).
The BBC finally appears to realise that something has to be done – the addition of Danny Murphy, for example, is a good idea – but it really isn't rocket science.
Frank Lampard defies critics to join 100 club
Frank Lampard will become the third England footballer in the space of 10 months to reach his 100th cap – joining Steven Gerrard and Ashley Cole – when Roy Hodgson's team play in Ukraine on Tuesday. The sudden regularity of it has made it feel like a habit, but that should not diminish the scale of the achievement when only five other players have reached this landmark in the past century.
Lampard, like Cole, has had some difficult moments. "Fat Frank" is what the perfectly toned ladies and gentlemen in the Wembley crowd called him when the sureness of touch was not there and the midfield partnership with Gerrard was stuck in treacle. Lampard simply set about showing us what a wonderfully gifted footballer he is and, no matter how comfortable his life, what dedication he has to his trade.
He has confounded opinion in many ways because there was a time when it seemed as though age was catching up with him and he might have to reinvent his game. No more.
With 29 goals in his 99 caps, Lampard needs only one more to pull level with Alan Shearer, Nat Lofthouse and Tom Finney as the joint sixth-highest scorer in the England team's history.
The Chelsea player will be 36 during the next World Cup, but, providing England get there, nobody worries any longer about him being up to the challenge.
This article titled "Sir Alex Ferguson's book could blow apart Wayne Rooney peace process" was written by Daniel Taylor, for theguardian.com
© Guardian News & Media Limited 2014