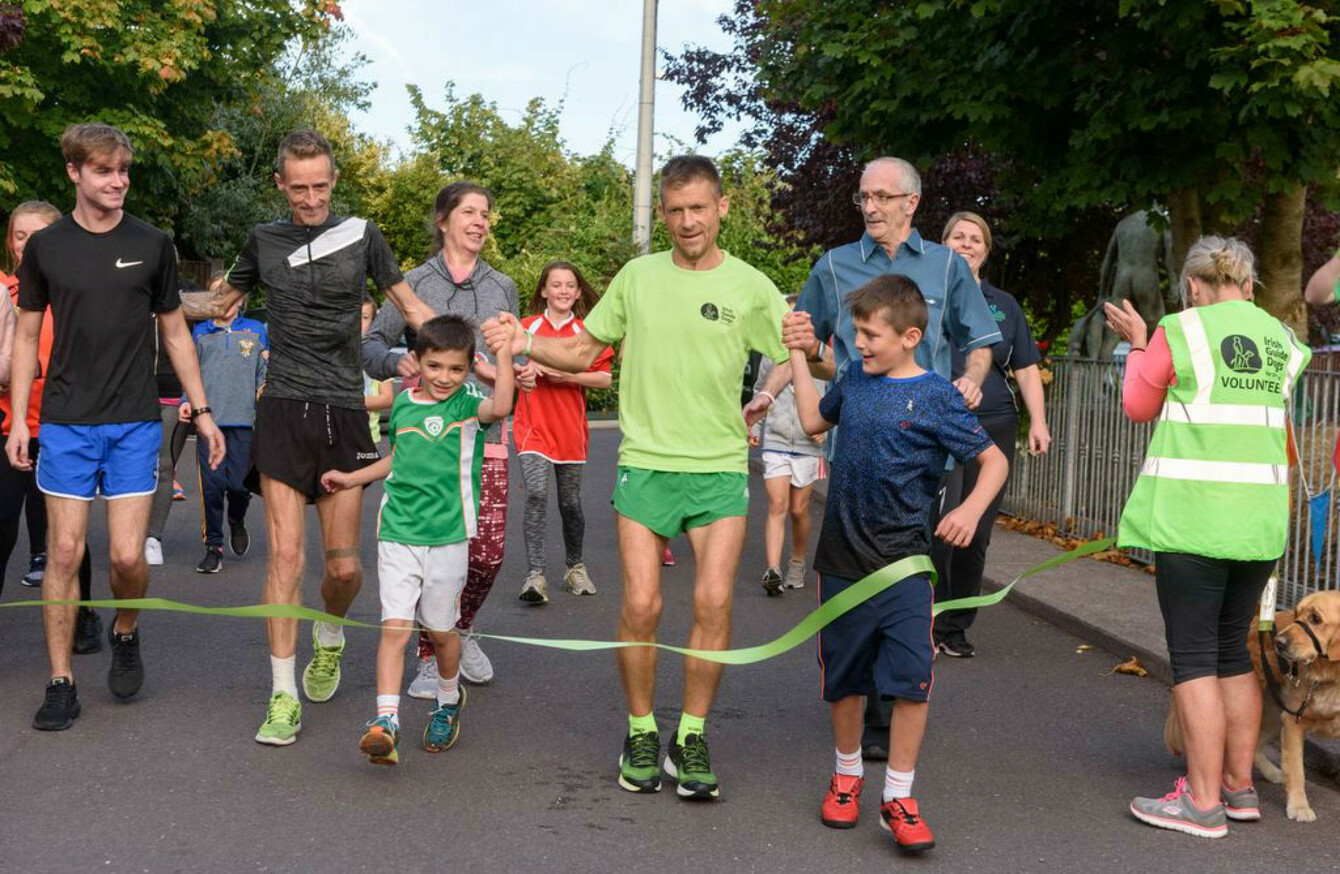 Irish runner Alex O'Shea on his way to completing his 32-marathon challenge.
Irish runner Alex O'Shea on his way to completing his 32-marathon challenge.
THE LIFE OF an Irish guide dog can be long and arduous.
The cost of training a single dog is €38,000. They aren't adored the way other domesticated companions are, but people understand their vital role in aiding those who suffer from visual impairment.
After a 10-year career, they are retired and can enjoy their twilight years knowing they had done their duty. Most pass away between the age of 13 and 14.
But what happens when the person that they service passes away first?
"You always think of the visually impaired person outliving the dog because of the service dog's shorter life span," Irish ultra-runner Alex O'Shea tells The42.
"I was told of a girl who passed away due to a brain hemorrhage who was visually impaired and the dog is now part of the family. The parents pet the dog, but every time they do they think of their daughter.
"It's stories like that that leave an impression with you."
The Cork native recently completed the challenge of running 32 marathons in 16 days in aid of Irish Guide Dogs and stressed that it was stories like these that drove him on.
O'Shea began racing back in 2014 when he completed his first marathon wearing full fire gear in aid of Irish Guide Dogs, breaking a world record and taking nearly an hour off the established time. A fire fighter by profession, the 44-year-old arrived late to his career in long distance running.
"I ran a little bit as a child but my sister would have been the runner in the family, she was the one who got all of the medals," he explains. "I always had the potential to be a long distance runner but it was never really spotted.
"I gave it up for a few years and came back to it as a way to keep fit."
After achieving his record feat, people began to challenge Alex to push himself further. A career in ultra-running beckoned.
"People said that was your first marathon, this is what you can do with all the gear on you. Imagine what you can do without it?"
So he trained. Slowly but surely, his time came down. He ran in ultra-running qualifying events in an effort to represent his country.
"When I did the run in fire gear, I was delighted with myself and that I got the Guinness World Record. But there comes that moment where you ask yourself, what's next?
"When you're 40 years of age and somebody says to you if you work hard, you have a chance to represent Ireland, the chance won't come again. Not in your 40s.
"I went for it with everything I had. I started learning what these races were and I started learning which ones to go to to make myself stand out and to get on the right path as it were.
I went chasing an Irish vest."
In just four years he went from his first marathon to representing Ireland in a 100km World Championship event to then donning the green singlet as part of the Irish team that challenged at the 24-hour European Championships.
At the end of it all, the itch returned. What would be next?
Following the lead of Gerry Duffy in 2010, who ran 32 marathons in 32 counties in as many days, Alex found inspiration.
"I said it to someone a year ago that I'd like to take that on. I couldn't get 32 days off work and it would be selfish of me to stay away from my family that long."
More than just a fireman, Alex is a father of four and knew his absence would be felt if he was away for more than a month. So, he decided to do it in half that time.
"The seed started growing. I was pulling out atlases, mapping routes and working out logistics county to county.
"I wanted to be the first to break the glass ceiling and see if it was possible."
Alongside friend Ollie O'Sullivan, they began making the necessary preparations.
"We worked on it for about a year. He crewed and did all of the driving. I turned my six-seater van which was in 'family mode' into a support vehicle.
"We pulled seats out, made a day bed. Shelved all the back of it and put in hanging rails and all the food. It had to be converted completely. We looked at the map and we went from county to county. Some things we made a little bit harder on ourselves.
"We started in Dingle which was a registered marathon. It was quite hilly but we wanted to start off with a real marathon. That gave us a starting point and a starting date."
Including registered marathons in Dundalk and Kilkenny kept them to a strict schedule.
"We had to find the best route to get us there. After that, you're looking at different counties. Where can you get to a park? I ran mostly in parks, greenways or along canals.
"It was a safe environment if anyone wanted to come out and join us for the company. We wanted to make sure we had a safe place put in place for them. As well as that, it gives people the opportunity to join you for 5km, a half marathon or a marathon.
"They could come and go as they please if they were going to do loops."
Stumbling blocks did exist. Overcoming the obvious physical demands of the challenge was one aspect, local councils proved to be another.
Be part
of the team
Access exclusive podcasts, interviews and analysis with a monthly or annual membership.
Become a Member
"We wanted to make this far bigger and put the word out nationally that we would be in 'your park', in your county, and garner as much support as we could. What we found was one council would embrace you with open arms and do absolutely everything for you. They'd be thrilled you chose their location to represent the county.
"Other councils wouldn't be as familiar with running and as soon as you tell them you're bringing a 32-marathon challenge to their county, you frighten them.
"They think you're bringing Dublin City Marathon with you. We had to put indemnity for two-and-a-half million in place for some parks.
"We had to give them safety statements, medical statements. The amount of paperwork that followed for some of the parks was unbelievable. They wanted specific numbers of how many people would be joining us.
"As a result we didn't want to overly advertise for fear that too many people would show up and that we'd be shut down. We had to go around the country a little bit over the radar without overly publicising it."
Once it had been decided that the challenge was feasible, he decided on a cause.
Being a fireman you get a glimpse of what it's like to be visually impaired, when you go into buildings full of smoke. That gave me a small glimpse of what visually impaired people are going through.
"Then you see someone with a guide dog, how mobile and confident they can be, I thought it was a brilliant charity."
And so off they took off from Dingle. They checked off Dundalk, made it to Kilkenny in time. Derry saw 50 runners finish alongside him after beginning with only six. In Wexford and many other stops along the way, local hotels fed them and gave them a bed for the night.
They traversed the country covering hundreds of kilometres by car and always completing 84.4km by foot.
To do so is not only a staggering physical feat, but one which required significant scientific nuance.
"We had to look heavily at the science. I worked with the sports department in UCC and ran on the treadmill with all the leads at different speeds.
"We worked out that if I was to run one single marathon and race as fast as I could, I'd be able to do it in two hours and 34 minutes but I'd only burn carbohydrate.
"To do this challenge, if my body was performing like that, I wouldn't be able to eat enough, my body wouldn't be able to store enough or produce enough glycogen from it.
"At some point you would start eating your own muscle mass, causing your body to break down. That's where all the injury and illness springs from."
In order to best protect his body, he worked out the magic numbers so that his body would burn both fats and carbohydrates. Four and a half hour marathons would be necessary to turn his body into "a hybrid engine".
To best sustain him, he no longer viewed food as something to be savoured. "There was no such thing as food on this challenge," he explains, "only calories."
A breakfast of scrambled eggs, beans and mushrooms was topped up by a Danish pastry and two slices of toast. A bowl porridge covered in muesli and honey was washed down with two glasses of orange juice.
A pot noodle or army-style dinner before his second marathon of the day was topped off with a "normal dinner". The cycle was relentless.
I was like a pot-belly stove that you put a block of timber in every 20 minutes."
After 16 days, thousands of kilometres and hundreds of messages of support, the challenge was complete. Recovery boots were no longer required, blisters would be allowed to heal without disruption. Food could once again be enjoyed.
Most of all, Alex savoured the return to his family. He admits the challenge was a case of "heading into the unknown" but he never feared he would put himself at serious risk.
"From a medical point of view I had check-ups beforehand. A urine analysis was done to rule out any kidney infection. I went into it with my eyes open. I had four years experience in ultra running.
"I had my goal and I knew my limits. I had banks and banks of tests done.
"There was always a risk that you would incur injury, but it was a calculated risk. I had no fear for my heart because of the testing I had done with cardiologists over the years."
And with that he came home, with what he expects to be more than €10,000 in donations raised. Sponsorship cards continue to return in drips and drabs and small cash donations from his travels are still to be accounted for.
"Medals come and go, but it's the physical and mental challenge [that drove me]. You're always looking for the next challenge.
"There's no record in the 32 marathons in 16 days. They won't be recognised by Guinness World Records or Athletics Ireland. But my peers that I respect in running will stand up and shake my hand."
Above all he knows the impact this will have on those who require the services of guide dogs to go about their daily lives. The stories of those who have suffered loss of loved ones.
The difference one dog can make, if only for a few years.
You can make your donation to Alex O'Shea's funding drive by clicking here or you can text 'WOOF' to 50300 for a cost of €4.
The42 is on Instagram! Tap the button below on your phone to follow us!