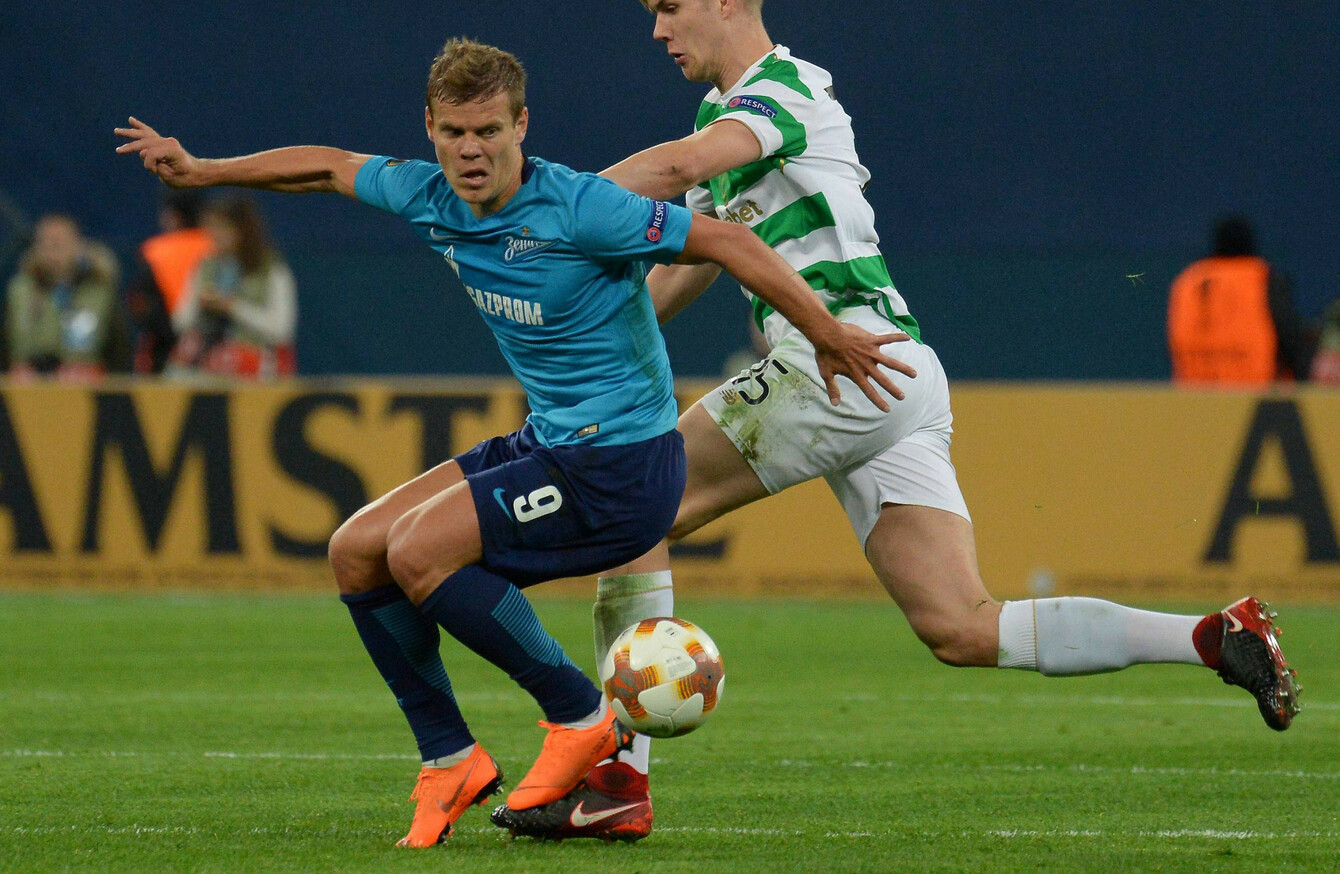 Kokorin (left) in action against Celtic during last season's Europa League.
Image: Imago/PA Images
Kokorin (left) in action against Celtic during last season's Europa League.
Image: Imago/PA Images
THE RUSSIAN PREMIER League has condemned disgraced players Pavel Mamaev and Alexander Kokorin for allegedly assaulting a government official and said they should face "severe" punishment.
On Monday, Krasnodar midfielder Mamayev and Zenit Saint Petersburg forward Alexander Kokorin attacked a Russian trade ministry official in a Moscow cafe after he complained about their behaviour.
The assault by the players — both former Russian internationals who have courted controversy in the past — has sparked outrage, prompting the interior ministry to open a criminal probe.
"The Russian Premier League expresses its outrage and strongly condemns their [players'] rowdy behaviour," the Russian Premier League said in a statement.
"This act not only casts a shadow over the glorious names of FC Zenit and FC Krasnodar but all of Russian football.
We believe that those responsible should be punished in the most severe way. There is no place for hooligans in football!"
Russian Premier League club Krasnodar pledged to do everything to terminate Mamaev's contract, while Zenit said Kokorin's role in the incident was "disgusting."
"We are currently looking into how to terminate a contract with the player," FC Krasnodar said in a statement.
The club said Mamaev, 30, would have to pay "the largest possible fine" and would be barred from training with the first team for the time being.
Internet video footage showed Kokorin, Mamaev and their friends throwing chairs at trade ministry official Denis Pak, who sought medical assistance before reporting the incident to the police.
"What we saw in the video is outrageous," Krasnodar added.
FC Zenit said Tuesday Kokorin, 27, would be disciplined pending the outcome of the police investigation.
"Zenit management and fans feel nothing but disappointment that one of the country's most talented footballers behaved in a disgusting manner," the club said in a statement.
Russian President Vladimir Putin's spokesman Dmitry Peskov said the Kremlin — "just like the whole country" — was aware of the incident and described the video as "rather unpleasant."
It is not the first time the players' behaviour has raised eyebrows.
Russia's Football Union suspended the pair in July 2016 after a video emerged from a Monte Carlo nightclub where Mamaev and Kokorin allegedly spent €258,000 on a champagne-fuelled party following Euro 2016, where Russia flopped.
Kokorin, who sat out this year's World Cup with a knee injury, later apologised for his behaviour and was welcomed back into the national team.
Mamaev last played for the national side at Euro 2016, when they finished bottom of their group.
Comments are closed for legal reasons
The42 is on Instagram! Tap the button below on your phone to follow us!