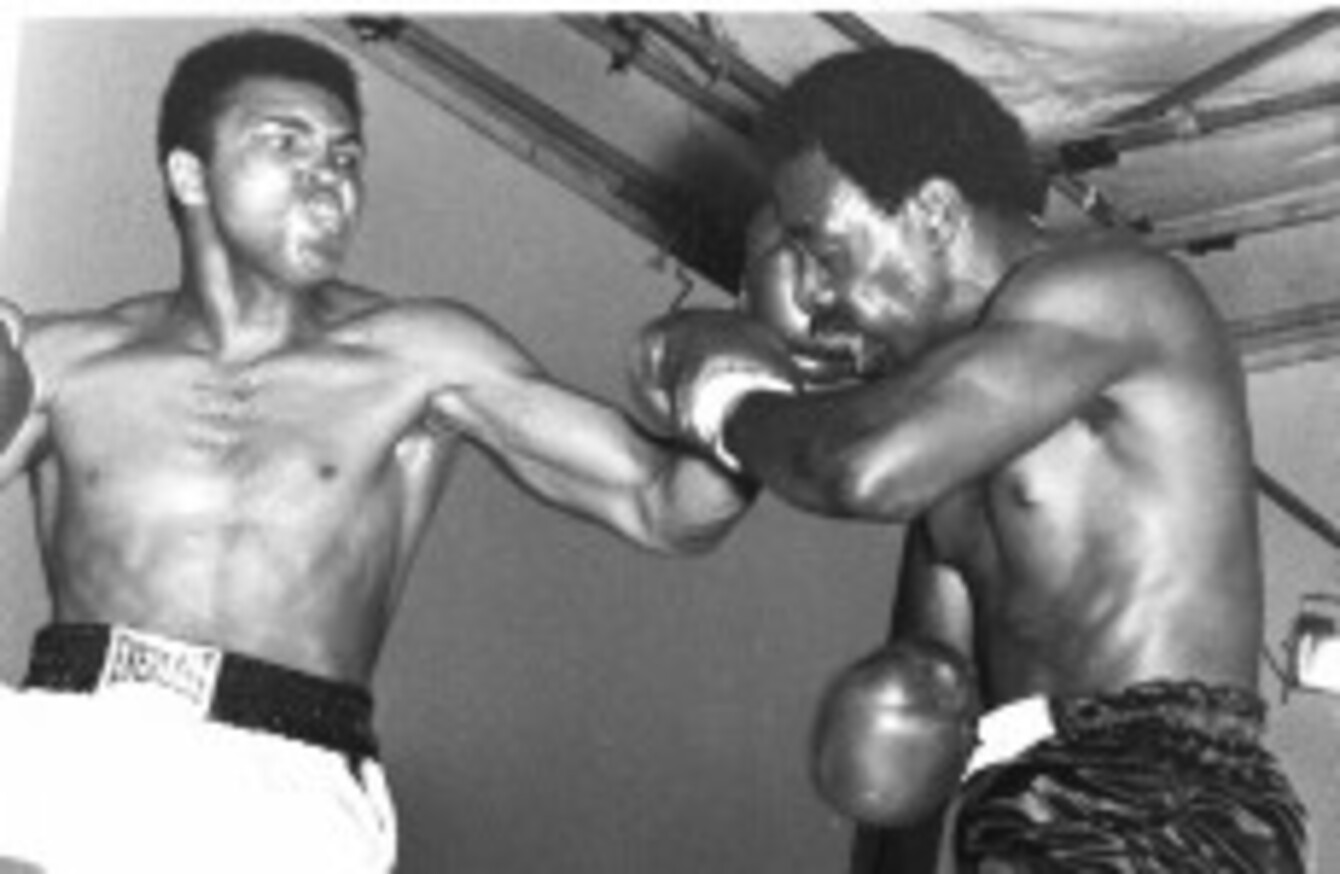 Muhammad Ali slams a left hook into Al "Blue" Lewis during their fight in Croke Park.
Image: AP/Press Association Images
Muhammad Ali slams a left hook into Al "Blue" Lewis during their fight in Croke Park.
Image: AP/Press Association Images
ON 11 JULY 1972, the Muhammad Ali show rolled into Dublin.
Eight days later, the self-proclaimed "Greatest" would go to Croke Park and beat Al "Blue" Lewis with a 11th-round knockout in front of a crowd of 25,000 Irish fans – many of whom didn't even pay for the privilege of seeing him.
Reflecting on Ali's career, boxing writers have often seen the Dublin bout against Lewis as part of Ali's "comeback" phase – the years following his defeat to Joe Frazier in Madison Square Garden, a period when he called on his global appeal to help reinforce his superstar credentials and repair an image that had been somewhat tarnished by his decision not to fight as part of the US force in Vietnam.
Ireland was just one of a number of stops on this itinerary, which saw Ali travel to fight in countries as distant as Japan and Indonesia before he got his shot at redemption against Frazier in 1974.
The "tour" was, for all intents and purposes, a mish-mash of state visit and rock 'n' roll extravaganza. From the moment he stepped onto the tarmac at Dublin Airport, proclaiming himself the descendant of a distant Irish relative, Ali thrust himself into the limelight.
YouTube Credit: fitz303
In his mind, the fight against Lewis was just one of many things he hoped to achieve while in Ireland, way down the list of priorities.
Before that, he other business to take care of – business like rubbing shoulders with Taoiseach Jack Lynch and Bernadette Devlin among others to discuss the Troubles in Northern Ireland.
As a black 20th-century American, Ali knew that his personal narrative of life in the civil rights era would resonate with a country reeling from political conflict.
Never one to shy away from controversy, he spoken openly and at length on the violent struggle in the North, particularly during an hour-long interview which he agreed to do with RTÉ's Cathal O'Shannon.
Be part
of the team
Access exclusive podcasts, interviews and analysis with a monthly or annual membership.
Become a Member
YouTube Credit: sabbathian
But alongside the political activism and cult of the celebrity, Ali was still a fighter at the core, itching for a shot against Frazier. During his eight days on Irish soil, not once did he miss an opportunity to call out his dear rival, taunting and baiting as the circumstances allowed.
When all the name-calling stopped though, the best way to get Frazier's attention was in the ring.
An original ticket stub from the fight (courtesy of ChampsPastandPresent.com)
Ticket sales ahead of the fight in Croke Park were slow, with an estimated 20,000 shifted before the event. As the national anthems played, an extra 5,000 or so somehow managed to wangle their way in to catch a glimpse of one of the most famous heavyweights of all-time.
Had it not been Ali in the ring, they might have regretted that they even bothered. The fight itself - ostensibly the whole reason for his presence in Ireland - was a damp squib, with Lewis never really troubling Ali before the referee waved the contest off in the eleventh.
Not that the fans minded. With the fight done, they swamped the ring, eager to congratulate one of boxing's true legends. It took over a half-an-hour to clear a path wide enough so that the fighters could make their way back to the dressing rooms.
His name might still have been mud among some sections of the American public but, on these shores at least, Ali was very obviously still "The Greatest."
YouTube Credit: boxingatitsbest