SCHOOL MAY NOT be out for summer much longer but Alice Cooper is still enjoying his holiday to England.
It is 40 years since the rock singer's hit song, about an educational facility being on a break from June through August, hit the charts.
To mark the occasion, Cooper has flown to Europe, performed gigs, showed up on-stage at Rock of Ages: The Musical, and dropped into Lords for a spot of afternoon tea and, ahem, cricket.
Not content with being a rock legend, making TV and movie cameos, being the host of a successful radio show and owning Cooperstown sports bar and restaurant – 'Home of the Big Unit' – the 64-year-old turned his hand to some cricket commentary.
Cooper dropped into the broadcast box of BBC Radio's Test Match Special on Friday and attempted to get his head around a game that takes in five lunch breaks and tea-breaks before a result can be decided.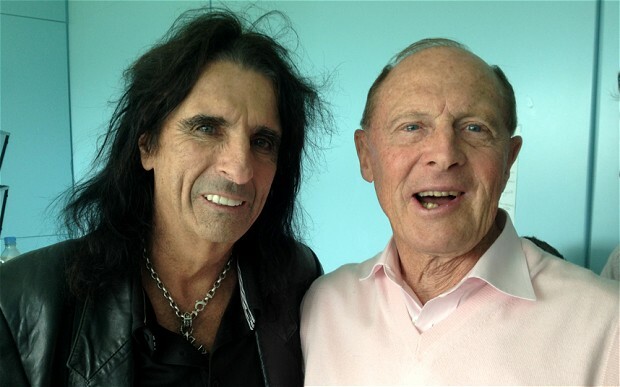 'Coops and Boycs': Alice meets Geoff Boycott. (Credit: Telegraph.co.uk)
Before Cooper could don the head-set, however, he had the immense pleasure of being introduced to former England and Yorkshire batsman, Geoff Boycott.
'Boycs', ever the astute citizen, was introduced to Cooper and his wife, Sheryl Goddard. Upon being told 'Alice' was there to say hello, Boycott rose and shook hands with Goddard, leaving Cooper perplexed.
And the cricket, between England and South Africa, had yet to begin.
Chatting to the show's host, Jonathan Agnew, the singer had his cricket jargon ready to go. He opined:
I like the idea that your midfielders in here are trying to keep the ball from going out and getting the four pointers and the six pointer. I'd like to see a six pointer though.
Referring to the field position of 'silly' (as in silly-point or silly-midwicket), Cooper jested, "They should have big red noses. That'd be silly."
You can listen to more of Cooper's commentary here.
The rocker, and star of Wayne's World, now understands more about cricket than 98% of the planet.
The Third Test between England and South Africa continues at Lords today.