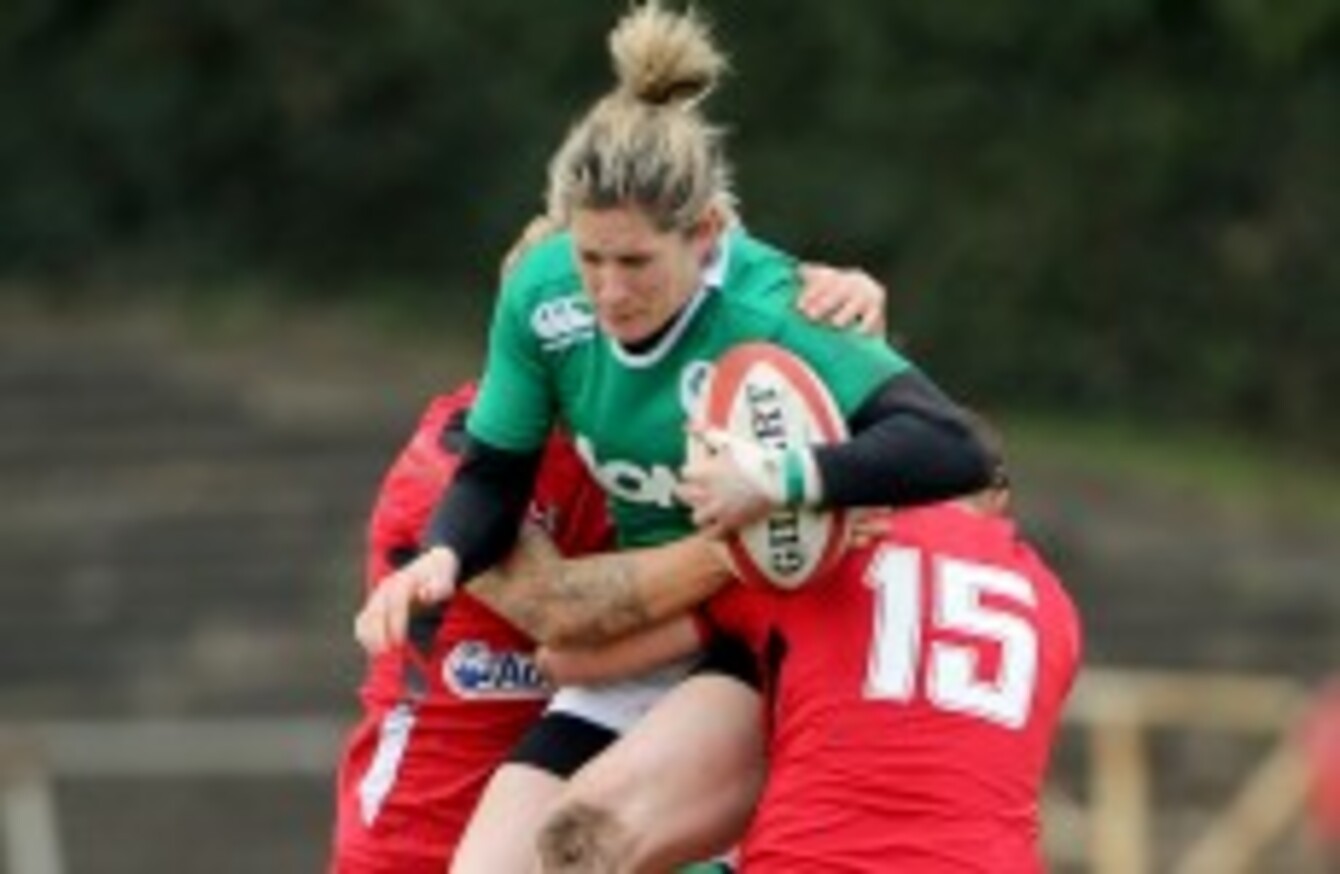 Image: Crispin Rodwell/INPHO
Image: Crispin Rodwell/INPHO
IT'S A TRUISM of rugby in any form that an open expansive game makes the sport more accessible.
The players are less embroiled in hand-to-hand combat and so their athletic attributes are more visible the more chances they get to run in open field.
It's for that reason that prolific Ireland wing Alison Miller took satisfaction from the way her side sealed the Women's Six Nations Championship on Sunday.
Needing a 27-point win over Scotland, Miller's hat-trick of tries helped Ireland Women to a record 73 – 3 victory. Live on RTE 2 at lunchtime on Sunday, it made for a superb platform to promote the game.
"2013 was a shit fest to say the least," Miller says with a winger's disgust at the memory of the mud-soaked Grand Slam sealing win over Italy.
"So people probably think you are crap and you can't catch a ball. I was at the match and we got the cup and I heard two men going 'sure they can't pass the ball, like'.
"I was like, I challenge the men's senior team out in those conditions and they wouldn't know what to do. They wouldn't be used to playing in those conditions and neither were we. We never played a club match in those conditions. It was like trying to handle a bar of soap.
"So to play in those conditions, it shows what we can do. We can play ball: that 2013 year, all the games up to that point were quite expansive, they would have been great to televise."
Miller isn't complaining about lack of coverage, she's just thrilled to be able to put on a good show this time around.
Aside from the sunshine over Broadwood Stadium, the pitch played an important role in that too: a 3G artificial surface that is made for clean ball, crisp passing and fast running. As a key part of the Ireland Sevens programme, Miller is used to 'plastic' pitches. So even when the clock was red, she was urging out-half Nora Stapleton to keep the ball alive so they might run one last play.  If only Ireland Women had the opportunity to play a home fixture on such a state-of-the art surface. Like the one a stone's throw away from Lansdowne Road.
"Obviously Ashbourne, with the support there, has been fantastic but it's not the handiest place for people to get to," Miller says.
"We would play there any day, we get great support but it'd obviously be nice to play in Donnybrook there. Even if it was a mixture of both it wouldn't be too bad – if we play there once – it is obviously great to play on that surface. It's easier to make breaks. For the footwork, the surface is better underneath."
What are they
really like?
Rare insights on sport's biggest names from the writers who know them best. Listen to Behind the Lines podcast.
Become a Member
Source: hick726/YouTube
The underfoot conditions clearly benefited Miller at the weekend as a step off her right foot after a line-break left the Scottish fullback Chloe Rollie for dead. Another one for the highlight reel alongside that magnificent finish to give Ireland the edge over New Zealand last summer.
Successes like Sunday brings coverage, and the more her name is mentioned on the national airwaves, the more the hat-trick hero is becoming a household name having once struggled to explain what exactly she gets up to between the white lines.
Real Rugby
"When people would ask 'do you play rugby?' They would always go, 'is it tag rugby?'
"I would be saying: 'Eh, no, it's not tag, it's real rugby. Now there is a huge difference.'
"Now if you say you play rugby they talk about the Irish Women's team. They see it on TV, There have been huge changes…"
Miller stops herself mid-sentence to make an important point about what, for the most part, was an amateur operation in the Grand Slam year.
"Not at lot has changed from our setup. There was huge work being put in by players, coaches. Standards obviously improved a bit, but it wasn't hugely different in terms of preparation. It was professional in the setup then, but everything outside it changed – the media and people know about it.
"In women's sport you have to really succeed to get the attention, like Katie Taylor. You have to win something to get the attention and once you are out there, they know about you.
"My boyfriend and his friends play rugby and once we won, they couldn't believe the standard we were playing. People have to see it to realise what it's like. Once they see it and they are educated on it, they realise it is quite a good standard.
"It makes a huge difference to put it out there. It is like anything, if you don't know it's around, you are not going to know anything about it.
"We don't play for fame. We play it because we enjoy it."