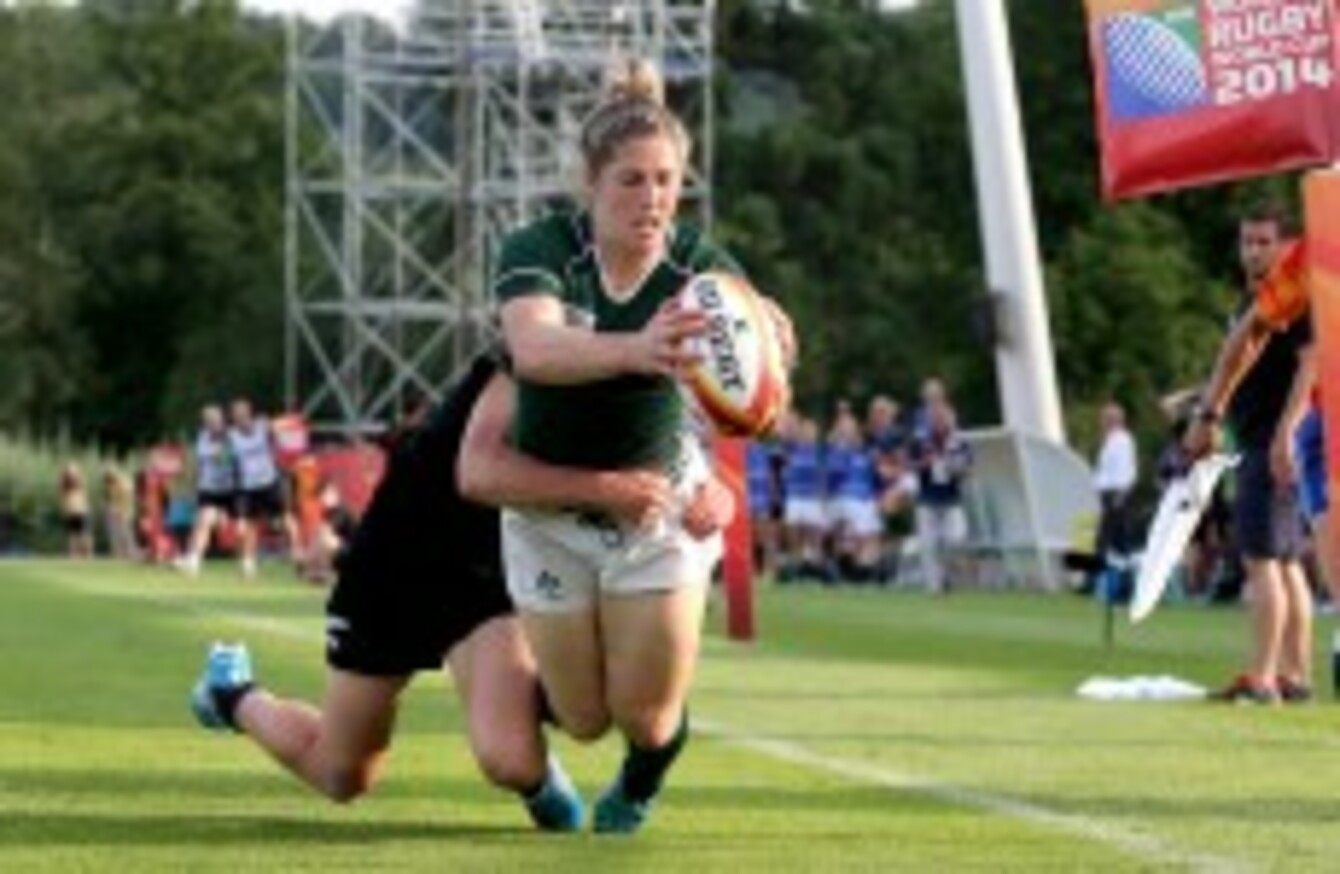 Miller dives over for a superb try against New Zealand.
Image: Dan Sheridan/INPHO
Miller dives over for a superb try against New Zealand.
Image: Dan Sheridan/INPHO
SPEAKING TO THE players who have driven Ireland into a World Cup semi-final in France, a repeated pattern swiftly emerges.
Several of this Irish squad are crossover stars, athletes who took up rugby after formative years spent playing other sports. This ambitious group is a case study in multilateral development, nowhere more strongly than in the case of Alison Miller.
The Laois wing is a former inter-county footballer and has competed in athletics [mainly 400m hurdles, heptathlon and long jump], basketball, hockey and volleyball, as well as practising ballet and gymnastics along the way.
Miller is firmly of the belief that the breadth of that sporting background stands her, and others, in good stead.
I definitely feel that playing other sports helps. From gymnastics, you're flexible and that's important in general movement and preventing injuries,"says the 29-year-old. "From athletics, you have that running technique, a more efficient running style.
"Playing Gaelic football improves your hand-eye coordination, basketball too. I think that's the key for a lot of kids. They should try as many sports as they can. You might be a good Gaelic footballer, but even better at something else. You really do use all those skills in the future."
Miller had "a first taste" of rugby in 2007 while studying at the Waterford Institute of Technology, playing in a team that also included Niamh Briggs. After a year-long break, she returned to the oval ball game with Portlaoise RFC and has not looked back since.
Ireland head coach Philip Doyle must count himself fortunate that Miller came back to rugby and worked her way towards international honours. The wing was superb in the pool victories over USA and New Zealand, before sitting on the bench for the win against Kazakhstan.
Miller, who plays provincial rugby for Connacht, and right wing Ashleigh Baxter are two of the most dangerous players in the entire tournament when in possession, but their work off the ball has been equally impressive. Vikki McGinn and Hannah Casey showed up similarly well out wide against Kazakhstan.
"I suppose we would try to be well-rounded as wingers, and enjoy doing the hard work just as much as the 'pretty stuff' wingers do," explains Miller. "The more strings you can have to your bow, the better.
We just do whatever we need to do in each situation, whether it's rucking or whatever."
Be part
of the team
Access exclusive podcasts, interviews and analysis with a monthly or annual membership.
Become a Member
Miller, currently a student of History and PE at UCC, and Baxter often team up for 'extras' after squad training sessions, focusing particularly on their fielding and kick chase, "shortening our stride just before the tackle."
The 29-year-old has also linked up well with fullback Briggs, someone she has "always had a good relationship with on and off the pitch," from the very earliest days at WIT. There was no better illustration of that than Miller's try against New Zealand [below].
"She's a very dangerous player," says Miller of Briggs. "You know when she gets the ball in her hands that something can happen. I work well off her and she's very good to play off.
"I know that when she gets in space, I need to get with her because she can do something dangerous at any point. It's brilliant for a winger that your fullback is like that."
Miller admits that she tends not to follow coverage of Ireland's World Cup progress back at home, instead concentrating on what she can do to affect their progress on the ground in France.
That said, she is hopeful that the interest in women's rugby that was kick-started by 2013′s Grand Slam moves a step further after this World Cup. Miller's experience in Portlaoise is that the game is continuing to grow all the time.
There's a huge interest in the girls section, great numbers and it's great to see that in the club.
"After we won the Grand Slam, there was an increase in the number of girls playing and it probably helped in our club that I was playing. It's great that young girls have visible role models and they're playing rugby, it's on the television."
How a win over England in tomorrow's semi-final would accelerate the positive work done by Miller and her teammates in recent years.