PRECOCIOUS KIDS HAVE an unshakable habit of showing up anybody, no matter how accomplished, who happens to drift into their orbit.
And the young rugby players at Seapoint RFC were no exception this morning.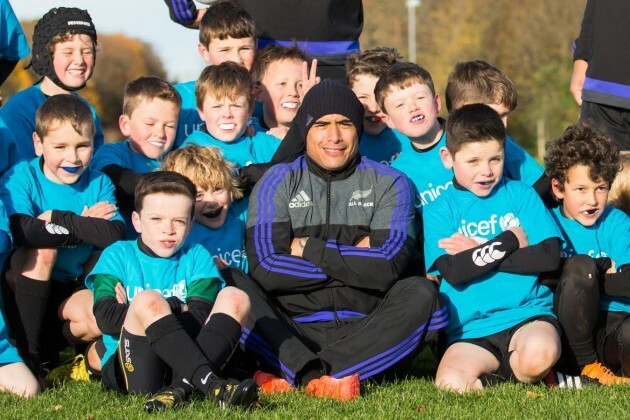 Naoise Culhane Naoise Culhane
Four All Blacks went along to the south Dublin club in conjunction with Unicef Ireland. In a biting wind, hours before their Captain's Run at the Aviva Stadium the world champs conducted drills, they posed for pictures, they were pushed and shoved and heckled yet were calm and smiling throughout.
After The42 had a lightning round of questions with Sam Whitelock and Charlie Faumuina, the Seapoint crew gathered and showed us all how to truly drill down to the important points that need addressing before a big November Test.
"What's the most common line-out call?"
"Eh…" Whitelock was buying time. The cameras were rolling and he was deep in enemy territory. Even though he's short on match practice, he managed to compose himself and eventually controlled the controllables.
I'll tell you after the game. Good try though."
Standing nearby, Joe Moody only stepped in after Whitelock had stood up to the line of questioning: "Does your dad play for Ireland or something?"
The easy questions would come later: How do you grow so big? "Eat your vegetables, do as you're told." Who takes longest in the changing room? Careful now, it's actually "Julian Savea, by far – grooming, dancing and looking at himself".
But the second interrogator out of the traps stumped the Kiwis again: Who was your favourite player… and they can't be from New Zealand!?
If there's one thing All Blacks are not good at, it's naming northern hemisphere players, but Aaron Smith stepped up to break the silence.
"I actually did like Brian O'Driscoll. He was the man. When I was young I wanted to be a midfielder…"
Smith continued, unaware of one young man's disapproval of the choice – 'what about Paulie?'
Minutes earlier, the scrum-half had been abandoned by his three burly team-mates, weighing more than 340 kilogrammes combined, and left to defend a Seapoint maul by himself.
As he planted his feet and made sure not to turn his ankle any unnatural way, he must have pictured TJ Perenara waiting excitedly in the wings to fill the number nine jersey if anything untoward were to happen.
Smith survived though, and Steve Hansen won't be forced into any late changes despite the marker laid down in Kilbogget Park.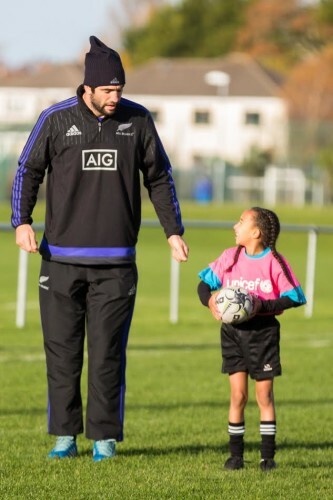 Naoise Culhane Naoise Culhane
Charlie Faumuina enjoyed himself at least, the prop will again line out among the replacements for tomorrow's rematch having been unable to turn the tide in Chicago.
"Something besides… well it is rugby, but seeing the kids and giving back to the kids, it takes your mind off the big thing tomorrow at five o'clock.
"Looking forward to that, it's been a good week. The boys have prepared well and looking forward to it."
These All Blacks are in an unusual position, not just because they were being outmuscled by a pack of under 10s. Defeats have been few and far between in the Hansen era, and tomorrow they will be railing against another dent in the history books: the 2009 Springboks are the last team to win two games in a row against the black jersey.
They have a point to prove, and even the laid-back exteriors couldn't altogether mask that.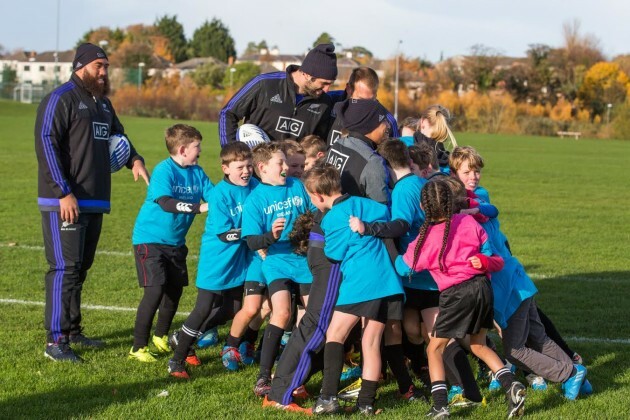 Naoise Culhane Naoise Culhane
"Every week we go about and try to have a point to prove. This week, against an Ireland team who played well in Chicago, I guess it's a little bit more," admits Faumuina.
Whitelock had his laces a little straighter, playing down the importance of his own presence alongside Brodie Retallick in the second row after the duo missed their nation's first ever loss to Ireland through injury.
"Everyone's just keen to go out and play as well as they can."
Next time, we'll give our interview time slot to the Seapoint minis so they can grill the All Blacks a little longer.
Small lady Maya Keegan meets large man Charlie Faumuina.
Unicef Ireland partner with the All Blacks to shine a spotlight on the importance of physical activity in children's lives. Sport and play are crucial elements for childhood development and furthermore are the right of every child, as stated in Article 31 of the UN Convention on the Rights of the Child.
The All Blacks, All Blacks Sevens, New Zealand Women's Sevens, Black Ferns, Maori All Blacks and New Zealand Under 20 teams continue to contribute and interact with Unicef's work as they play rugby around the world.