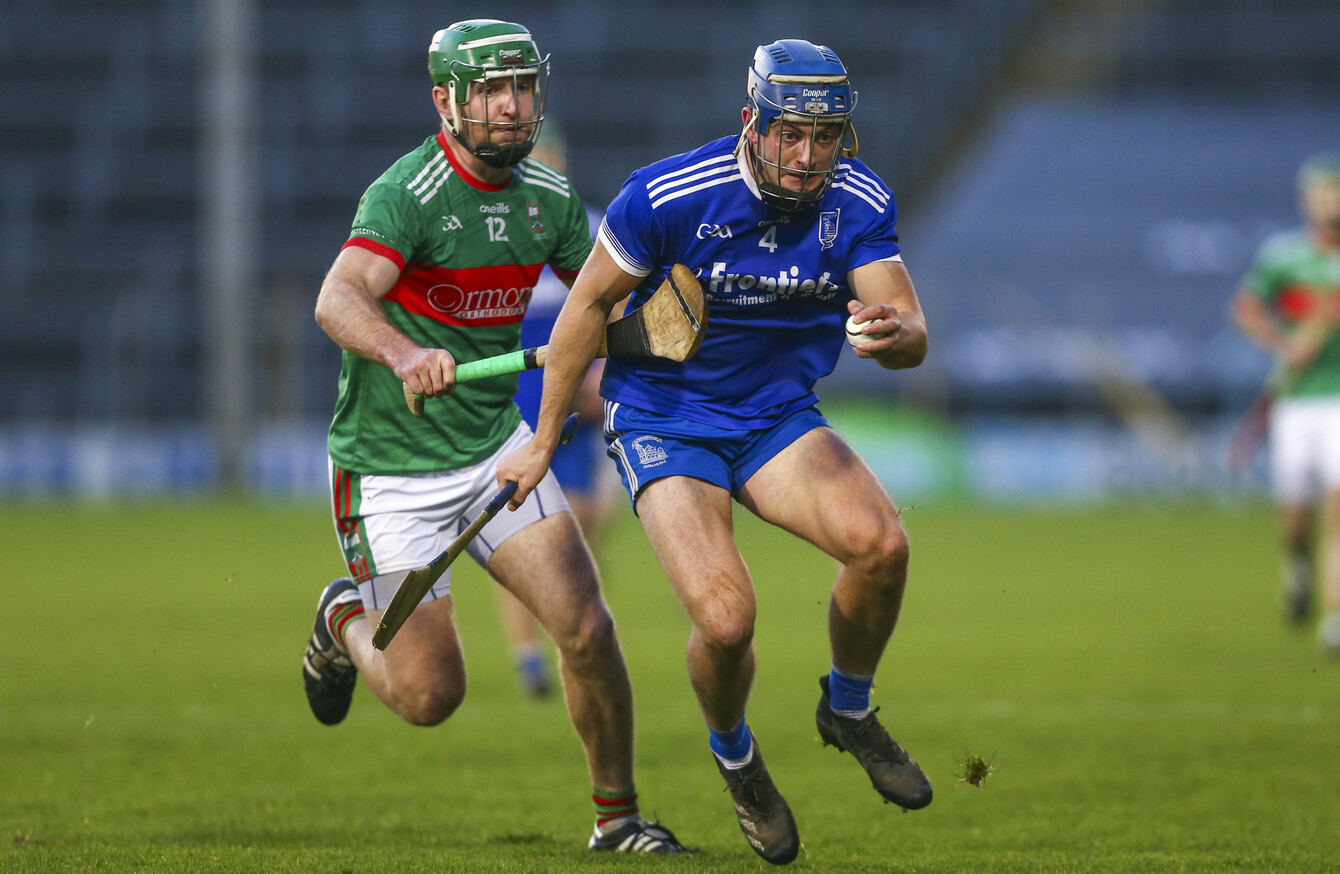 Loughmore-Castleiney's Noel McGrath in action against Seosamh Ryan of Thurles Sarsfields.
Image: INPHO/Ken Sutton
Loughmore-Castleiney's Noel McGrath in action against Seosamh Ryan of Thurles Sarsfields.
Image: INPHO/Ken Sutton
THE ALL-IRELAND club championships are back on TG4.
This afternoon sees the Munster senior hurling quarter-final (Ballyea v Ballygunner, 1pm) and the Tipperary senior hurling final replay (Loughmore-Castleiney v Thurles Sarsfields, 3.10pm) up for decision.
GAA Beo presenter Micheál Ó Domhnaill speaks to The42′s Kevin O'Brien about how far the station has come with its coverage… 
MICHEÁL Ó DOMHNAILL was there right from the start in 1999 when TG4 began broadcasting live GAA.
A native of An Rinn, the Gaeltacht region in west Waterford, Ó Domhnaill first cut his teeth presenting the station's Spanish football show Olé, Olé while living in the Spanish city of Pamplona.
When TG4 acquired the rights to air club championship games around the country, Ó Domhnaill moved home to head up the coverage and he's been a mainstay of it ever since.
"We were given the contract for some time and it was a wait and see for the GAA, to see how the response to the matches was," he tells The42.
"And thankfully that was positive and those contracts rolled out. Now we've arrived at the point where more matches are being broadcast on TG4 than any other platform.
"It was a challenge for TG4 to get noticed, a new channel and in a language that a lot of people didn't speak or weren't that comfortable with. The GAA is brilliant for that because you don't need a lot of Irish to understand what's going on.
"That's one of the reasons why matches took off so well. As the years have gone on, the numbers have gone up. We even notice now on the ground that a lot more people come up to us talking about the matches.
There's an expectation now on a Sunday afternoon in the middle of winter, you don't even need to think about it anymore really you know there's going to be a match or two on the television and that TG4 are at some club game down the country."
These days their slate of GAA coverage extends to the National Leagues, underage games, ladies football and camogie, in addition to the All-Ireland Gold games, plus shows like Underdogs and the popular long-running Laochra Gael series.
However, the club championship remains at the heart of their programming.
"The club is special. It's where we started and it's been the mainstay of all our coverage over the years.
"The thing about it is every Sunday when you go to a match you just never know what's going to happen. You're like the kid in the sweet shop really, the excitement never dwindles, never lessens. It's always expect the unexpected."
Covid meant that the All-Ireland club championships didn't take place last season and Ó Domhnaill is excited for its return. 
"The big thing for us this year by comparison with last year, we're now into (All-Ireland) club championship season and that wasn't there last year.
"That was a disappointment for everybody but we can understand the reasons why. From this part of the campaign on, right the way up to the week before Christmas we're in club championship mode.
"Then after Christmas we'll be into the latter stages of the provincial championships, All-Ireland semi-finals and final.
"So they're our big thing now, they're what we're putting the focus on."
No games were aired on TG4 until the inter-county league resumed in May, but when coverage finishes for year, they'll have aired over 100 live & deferred games.
That's unbelievable," he continues. "I don't think we've ever had a year where we've covered 100 plus games."
Pre and post-game interviews remain a stable of their broadcasts.
"I hope they add to the coverage because they're an important part of what we do," says Ó Domhnaill.
It's the interviews after club games where he feels "you get an honesty and an immediacy", particularly after county final successes.
"Somebody wins a county title having not won one before, you get that joy and that whole having done it for the parish feel," he adds.
Many players are also comfortable giving interviews as Gaeilge, as Dublin stars Con O'Callaghan and Ciaran Kilkenny have done in the past.
"There are different levels of Irish," he explains. "You've Con and Ciaran Kilkenny and others from the Dublin team. There's probably half of the players involved with the Dublin panel in recent years who have fluent Irish and that is just brilliant. The more of that that goes on the better.
"We would like to do every interview in Irish. For those people who have some Irish and who'd like to make the effort, we also encourage that. So we've done interviews bilingually, so you might start and get the first comment from them in Irish and then you just know that might be the extent of what they have to say and then you move into English. That's quite common too.
Our first priority is to cover as much of the match in Irish as we can."
This weekend's action will see Clare champions Ballyea face Waterford's Ballygunner, before Loughmore-Castleiney attempt to complete the Tipperary hurling and football double when they take on Thurles Sarsfields in a replay.
"For Loughmore to have had the dramatic finish to the football final last weekend where they were led for nearly all of the game and got John McGrath's goal at the end, it just sets them up now.
"I'm sure they got a massive lift from doing that and if they could do the double it would be just incredible for them.
"They tried to do both last year and fell at the final hurdle both times. So now they've one up and could be creating that bit of history for themselves. But you know what Thurles are like, they're the kingpins down in Tipperary and probably have learned a good bit.
"You'd wonder then for Loughmore, going week after week in football and hurling, they've been going for months at this stage," he adds.
"It'll be hard, at some stage they're going to run out of gas and they'll hoping this Sunday isn't going to be it."
Watch live coverage of the Munster senior hurling quarter-final (1pm) and the Tipperary senior hurling final replay (3.10pm) on TG4 or worldwide on TG4 Player.