THE GAA GOT it right, you know.
Their mantra: "Nothing beats being there" — hardly four truer words have been spoken; they've haunted me for years.
A passionate Dublin GAA fan I may be, but I've got a confession to make: this is my first senior All-Ireland final in the 21 years I've been following the Boys in Blue.
Ah, 1995. A time when a full kit; shorts, socks, the works, could be worn without fear of ridicule. The year I fell head over heels — with flag and autograph book in hand  –  with Dublin GAA.
Forget Eric Cantona and Co, it was all about the likes of Charlie Redmond, Paul Clarke, John O'Leary and a bootless teenager shooting to stardom with a goal for the ages in the Leinster semi-final against Laois.
Classic GAA Channel / YouTube
'Jayo', a nippy forward just 11 years my senior, whose name blended into the summer anthem of your choice.
It was a simpler time, 1995, a time when tickets could be sourced by politely sending a letter, with a cheque and return address enclosed, to Leinster GAA HQ in Portlaoise.
What a service it was — the tickets of your choice for the next round would be in your postman's hands in a matter of days.
In the Leinster final, Dr Pat O'Neill's Dubs swatted Meath aside in glorious sunshine, the kind usually reserved for state exams.
Dublin had 10 points to spare, their largest win over the Royals in 40 years, and against a Meath outfit containing the likes of Tommy Dowd, Graham Geraghty and Trevor Giles, a team Sean Boylan guided to All-Ireland glory just over 14 months later.
The Leinster win was particularly special, even to this day, but the victory against Cork in the semi-final matched it.
Knowing that my hero Charlie Redmond would have the chance to put his penalty demons from '92 and '94 to bed in another All-Ireland final calibrated perfectly with an eight-year-old's rationale. It was only fair.
Seeing Jayo cause chaos in the Cork defence was exhilarating, for it was the same Jayo who only weeks before had turned up at the club summer camp and taken our group of eight awestruck lemmings on a skills drill, before burying a penalty in the top corner for his encore, in his socks of course.
You wouldn't see that nowadays, a metatarsal injury waiting to happen.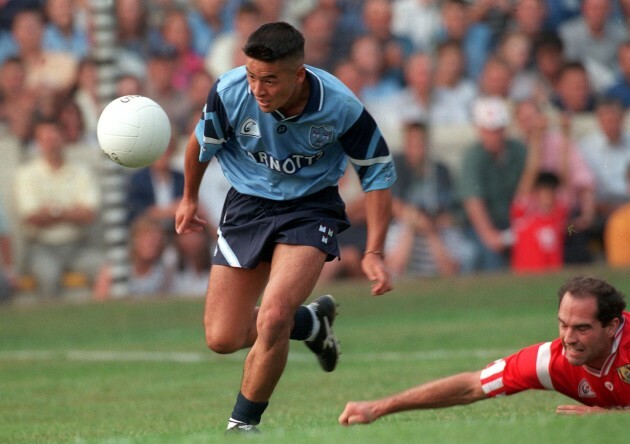 INPHO Jason Sherlock in action against Cork in 1995. INPHO
My first serious, first-hand sporting odyssey, and I was hooked. A naive nipper awash in a sea of blue and I couldn't get enough. Young but not stupid, even I knew something special was brewing.
There was an obvious sense of expectation, a desperation for hurt to end. And a belief that it finally would. Grown men were crying too, just in case you were struggling for clarity.
The summer of '95, talk about landing on my size-two feet.
But then, as Dublin turned their attention towards Tyrone and Peter Canavan, my world turned upside down.
Tickets had dried up, as is often the case in September (some things never change, eh?), and I was couch-bound, essentially under house arrest, for the final. I'm sure there were tears. Selective memory can be a blessing at times.
Game-day wasn't the same. The sun was out yet again, sure, but there was no stroll across the waste ground at the back of the house to get the bus to Drumcondra.
Sitting on the sofa, I desperately craved the smells of second-hand smoke, chips and burgers, the rhythmical screams of "hats, scarves and headbands", and the shuffling through the hordes of pensive supporters.
It was all part of the Croker experience. That was the winning ritual, the tension was half the fun, still is.
Seeing cigarettes being puffed more furiously by the minute, pints being gulped with extra fervour, as we tried to meander through the crowds and get seated in time to the give the match programme a good read. But not today.
I was still kitted out to the nines at home, of course, and ecstatic at the final whistle, no doubt, but it didn't come close to the adrenalin hit that a stadium atmosphere forces upon you.
The Dubs had ended their 12-year wait for an All-Ireland, and eased the pain of losing their previous four finals, but I wasn't there to see it or share in the joy. We'd been in this together, after all.
For all the delight I felt by seeing Dublin crowned All-Ireland champions, and O'Leary raise Sam Maguire, the same man who had signed my semi-final programme under the Hogan Stand just weeks before, as he juggled a baby in one hand and a pen in the other, it didn't feel right. Bittersweet, hollow, call it what you like.
"Don't worry, there'll be more All-Ireland finals."
I know many across the country have never seen their county in an All-Ireland final, and possibly never will.
This isn't a tale of woe but one of reflection, and an appreciation for a special occasion that I once feared could escape me forever.
Losing to Meath in Leinster in '96 was particularly hard to stomach but the All-Ireland semi-final loss to Mayo in '06 probably hurt the most. Hopefully '16 doesn't continue in that vein.
At least in '06 the Dubs appeared to be on the up, it was just a shame the country was heading in the other direction.
As one of many who found themselves forced to emigrate to find genuine employment opportunities, in 2010 I said goodbye to the Dubs, Croke Park and my hopes of seeing the Boys in Blue in an All-Ireland final any time soon.
I felt settled in my new surroundings within months but come championship time, while sitting on a bar stool in the wee hours of a Monday morning, in a different hemisphere, I felt a world away.
Ah, 2011 — it should have been the best of the lot, and boy did we party in Auckland. Not that we needed much of an excuse, Dublin's victory coming just over 24 hours after seeing Ireland's famous Rugby World Cup win against the Aussies.
But it wasn't right. Nothing went to plan, it was even worse than '95.
They couldn't get GAA on satellite TV in New Zealand, just unreliable streams. The internet was poor, and smartphones still a rarity.
There was just one pub showing the Dublin-Kerry game that night, and with thousands of Irish in town for the rugby, something had to give.
We arrived about four hours ahead of the throw-in but there was already a line of keen punters outside the brimming boozer that Beyonce would have been proud of. Not a hope of getting in, and my backpacker budget wouldn't cover a bribe for the bouncer.
The alternative was organising a last-minute stream in another Irish bar; although that didn't go much better. It was all set up just in time for the last few lines of Amhrán na bhFiann – we were in business, or so we thought.
It was painful to watch and not due to the tension of the occasion. For every three seconds of play, there were 10 seconds of pause.
Kevin McManamon was heading towards goal and then … frozen screen. Twenty seconds later, we're back online, and the Hill has already stopped its wild celebrations by the time we realise he had found the net and turned the game on its head.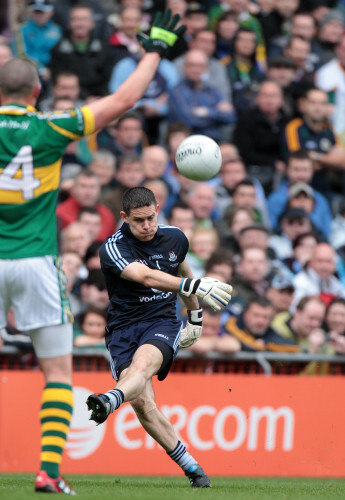 Cathal Noonan Stephen Cluxton against Kerry in 2011. Cathal Noonan
Likewise with Stephen Cluxton's winning free, we saw the run-up and that was it. The horror at not knowing the result for almost a minute, whether it was a win or a replay, was something I'll never forget.
Friends still talk about 2011 with wild enthusiasm; the mad parties, the days off, so and so, a 6ft 4in bruiser, dancing on a rickety table no wider than four pints.
"It had to be seen to be believed."
I bet.
Exclusive Six
Nations Analysis
Get Murray Kinsella's exclusive analysis of Ireland's Six Nations campaign this spring
Become a Member
It's that party-of-the-century that you missed in your teenage years, that one time you stayed in, only to find out it was the greatest night of all time. It will never be rivalled, and never forgotten.
The one people still talk about — all you can do is laugh along, and try and piece it together in your head, while thinking: 'you weren't there man, you weren't there'.
Two years later was a bit better, still in Auckland, but on this occasion the Irish pub showing the GAA, understandably, was in considerably less demand.
A solid stream on a wide projector screen, lovely. Throw-in at 12.30am, a decent crowd of Dubs, a sprinkling of Mayo supporters, and some locals setting themselves up for a Sunday session with a difference.
Again, it was great to see Dublin win it, but boy did it stir up pangs for home.
It's not just the football and the hurling you miss — it's the sights, sounds and smells of match-day. The traditions are tribal and sub-tribal.
Certain clubs and counties have their specific watering holes pre- and post-game. You see old faces, many you can't place. You might have scrapped with them for a breaking ball many years ago while you both shared the same dream, in different club colours, of playing in the blue of Dublin.
Pointless post-game analysis goes on into the night but half the fun is in the heated debate, with the ballads or The Sunday Game in the background a soothing distraction.
You see former team-mates you haven't met in years, and reconnect over how you formed the bond in the first place.
This time last year, while I made my way back to Ireland via an overseas trip of a lifetime, I found myself watching the All-Ireland final in a hostel on a five-inch smartphone screen, shared with a girl from Kerry and two other Dubs. 
I was let down by the internet once again, despite countless smartphones and laptops seeking a flawless stream, and a lack of genuine Irish watering holes in Buenos Aires, one of the world's most famous cities and the capital of a country with a sizeable Irish community.
Never again, I promised myself, would I leave it to chance. I immediately regretted not skipping my last month of travel in the sun of Brazil, I'd rather get drenched by a September shower for a couple of hours on Jones' Rd.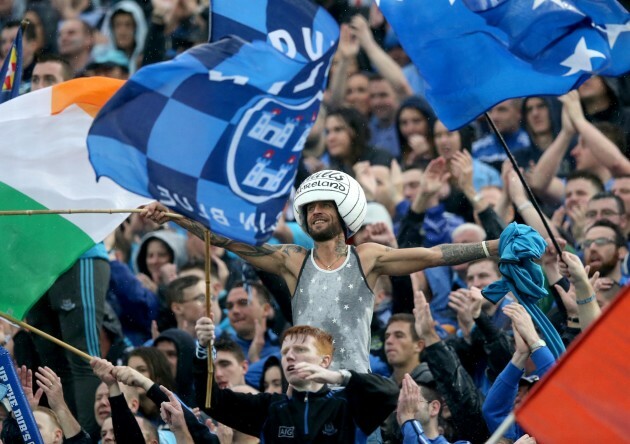 Ryan Byrne / INPHO Ryan Byrne / INPHO / INPHO
"Ah, sure Dublin will be in plenty more All-Ireland finals in the next few years," they said.
"Yeah, you're probably right."
But they said that in 1995, too.
Thankfully, they were right. And tomorrow I'll finally see Dublin play in a senior All-Ireland final.
Excitement levels are almost at a point my eight-year-old self would be embarrassed by.
The match ticket is safe at home, the Dublin top is washed, the only thing that can ruin this All-Ireland final for me is the men in the green and red.
But right now, what matters more than anything is knowing that I'll be there. Better late than never.
I've waited 21 years for this. Tomorrow can't come quick enough.
The42 is on Snapchat! Tap the button below on your phone to add!