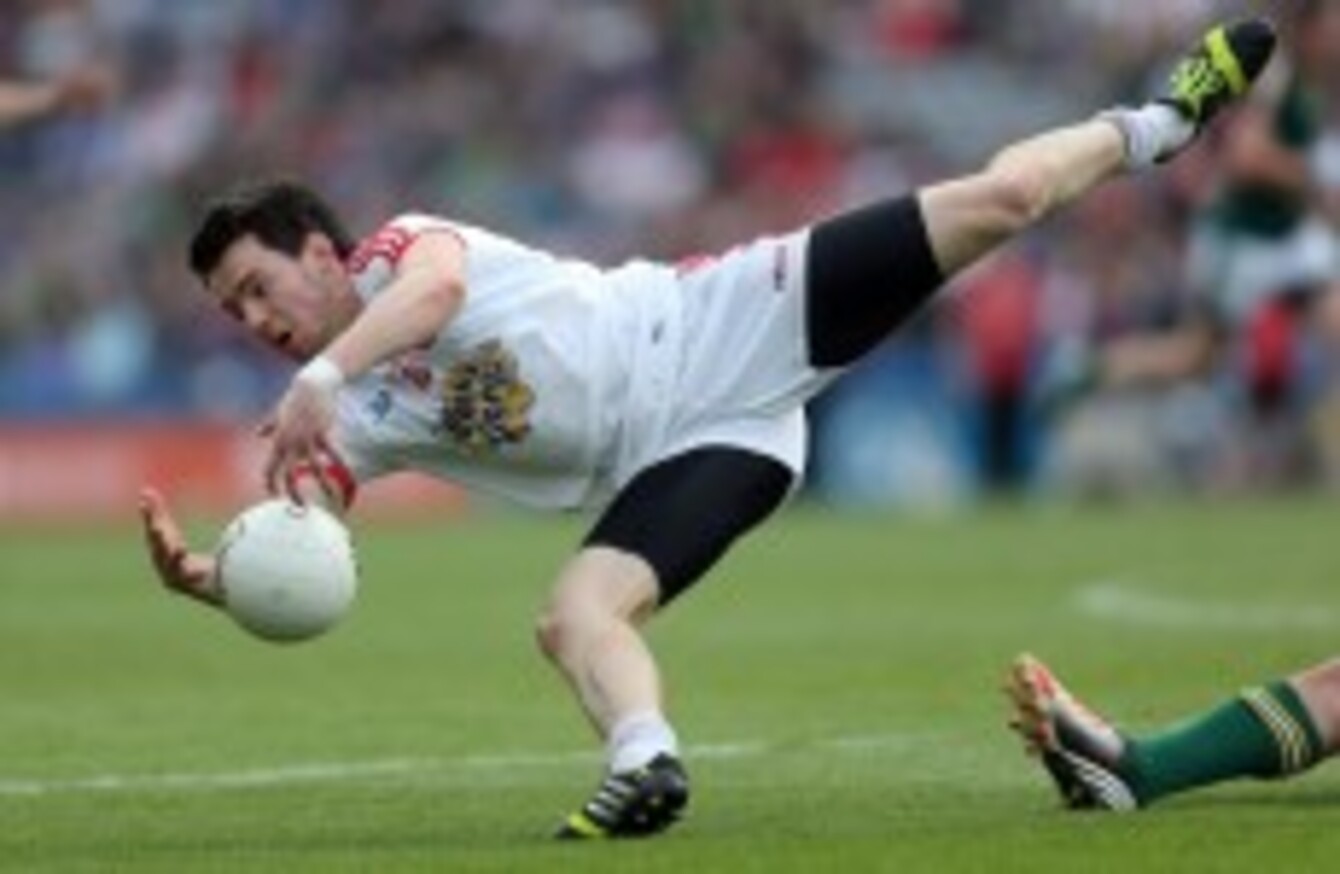 Tyrone's Mattie Donnelly continues to impress.
Image: ©INPHO/Donall Farmer
Tyrone's Mattie Donnelly continues to impress.
Image: ©INPHO/Donall Farmer
1. Tyrone momentum
SO TYRONE'S APPETITE and attitude for a qualifier spin lingers on. When August football is reached, one championship objective has been completed. Tyrone would have liked an Ulster title to put with it, but when they left the provincial race on May the Red Hands settled for the back door route.
Potentially tricky away assignments in Offaly, Roscommon, and Kildare were cleared. Then when Tyrone faced Meath they had the belief and momentum to dig out a victory.
Monaghan will bring aggression and raw honesty to next Saturday's quarter final. What we have seen, though, over the past couple of months suggests that Mickey Harte has stitched another gritty and gutsy team together. Tyrone won't go down without a fight. That is a certainty.
2. Donegal still there
When times are tough, what must you do in Championship football: basically it is simple, you hang on in there. Donegal went to Carrick-on-Shannon on Saturday night to face a seriously edgy battle. Laois were bubbling along nicely in the qualifiers gathering hope and confidence.
So a grim start ensued, men put behind the ball and the tactical duel on the sideline was the main show. It even got physical there too. Donegal had the stomach for it and six days after failing to post a third Ulster in a row that was noteworthy.
Laois made Donegal get down and dirty. That is precisely what Jim McGuinness' charges did. Colm McFadden endured a frustrating afternoon when Monaghan bolted the defensive doors firmly shut, but in a tight match his six point haul out of Donegal's 0-14 total against Laois was hugely relevant.
The willing accomplices Michael Murphy and Paddy McBrearty got in on the scoring act too. That brought encouragement for Donegal.
3. Winning is all that matters
The fourth round of the qualifiers is a Saturday traditionally loaded with tension. How Tyrone and Donegal performed wasn't of the utmost importance. All that truly counted was the end result.
Tyrone played beautifully in bursts when beating Meath. Recovering from the concession of a seventh minute goal to Eamonn Wallace Tyrone ruled the rest of the first half. Even though Mickey Newman flicked a few frees between the uprights Meath were only allowed craft two scoring opportunities from play. Stingy stuff.
Then at the opposite end Tyrone were given Meath a scary tutorial in how to convert taking 11 from 15 scoring chances. When the pressure mounted after the restart with Meath improving Tyrone only took 6 from 15, but it was enough.
Donegal's 0-14 total wasn't particularly polished either, but at this stage the fact that it was sufficient will satisfy Jim McGuinness. Donegal are in the last eight and they are draining the Monaghan loss from the system.
4. Cavanagh class
The enduring excellence of Sean Cavanagh was a sight to behold at headquarters on Saturday. Every time Tyrone needed a lift Cavanagh seemed to supply it. Midway through the first half Cavanagh reeled off four points in a Tyrone burst of five without reply.
Then in the second period when Meath were suddenly buoyed up by Mickey Newman's penalty and questions were being asked of Tyrone's resolve a familiar thing happened: Cavanagh embraced the responsibility. Substitute Aidan Cassidy, who was effective, levelled and then Cavanagh curled over a splendid free.
Tyrone had the lead once more and they didn't relinquish it. The all action midfielder from Moy made sure of that.
5. Harte on the line
Leaving Ballybofey in May with Donegal smiling and Tyrone reflecting on what might have been Mickey Harte walked away adamant that there was something in his current crop. His conviction isn't misplaced.
Tyrone should have a say in who wins the All Ireland, and hey will be quietly confident of taking another scalp or two. Whoever defeats them from here on in will earn it. That is because Harte has once more proven to be a cool customer at playing his hand.
Conor Gormley swept up breaks as Meath struggled initially. Peter Harte can knit the play; his pass for Stephen O'Neill's point midway through the first half a flash of real quality. The Cavanagh brothers have the understanding and nous to rattle any midfield partnership still in the hunt for Sam Maguire.
Further up the pitch Mattie Donnelly's perpetual movement and Darren McCurry's tasty left peg continue to flourish. Harte isn't claiming Tyrone are the finished article, but they are undoubtedly improving with road.