MÁIRE NÍ BHRAONÁIN was in her last three years of playing for Galway when she began cutting her teeth in broadcast journalism.
A graduate of Irish and Drama Studies in Trinity, Ní Bhraonáin was a perfect candidate for TG4 to add to their coverage of Ladies Football. They patched her straight into the co-commentating and sideline analysis roles, putting her at the core of the live action.
There was plenty of variety in the job. One week might bring her to a game where her native county was playing; another might involve watching a game where Munster teams were competing.
Ní Bhraonáin, who also works as a secondary school teacher, was playing a supporting role for TG4 in those days, but there was an opening for an anchor position last year and she slotted seamlessly into the vacancy.
"Studying Irish and Drama was a great degree to have with the presenting and you can't find much more drama than going to Ladies Football matches," she tells The42 about her work with TG4 and Nemeton, ahead of today's TG4 Ladies Football Final.
"It was just a fabulous honour to get and I suppose a great time to be coming into presenting, because so many people had that appetite for watching live sport. For Ladies Football, the heights players achieved was incredible in difficult conditions. There were long gaps where they weren't able to train collectively."
This year, all 63 games have been available to watch live, with 50 of them streaming on the LGFA portal and 13 of the biggest clashes airing on TG4. It's made for a brilliant season, says Ní Bhraonáin.
"With all the games being available on a broadcast platform, it's incredible. Similarly with highlights, it's just a huge learning facility for players to have that access.
"In terms of analysis, we have great inter-county stars with us. It's a pleasure working with them because everybody sees something different and then you're putting your heads together to see what the outcome might be."
Without realising it, Ní Bhraonáin has been preparing for this promotion since first coming on board with the Irish language station, always absorbing advice from McElwain and fellow GAA presenter, Mícheál Ó Domhnaill.
I suppose a big tip I picked up is you can have your clipboard with the pages, but if the ink starts to run, maybe to have it laminated or bring a plastic pocket.
"They might be small things but you want to give people the best broadcasting experience you can."
Combining her TV duties with her teaching responsibilities can be tricky, especially when last year's Covid-delayed championship overlapped with some of her school term.
But Ní Bhraonáin has learned to organise her time, and sees her individual jobs as separate workdays. Being settled in the same school for the eight years certainly helps too, while there are also some 6am starts which give her a chance to squeeze in some extra prep.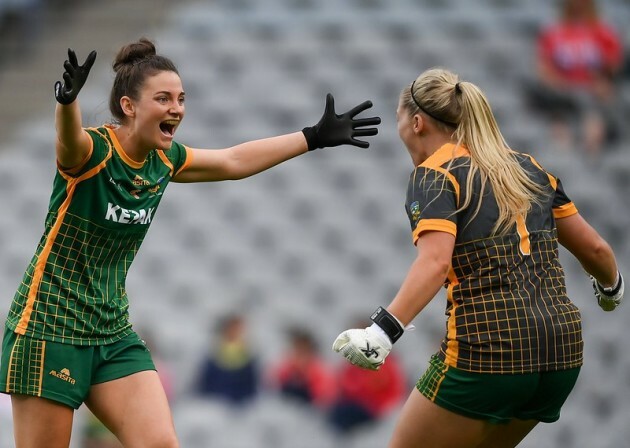 Stephen McCarthy / SPORTSFILE Meath's Máire O'Shaughnessy and goalkeeper Monica McGuirk celebrate following the semi-final upset of Cork. Stephen McCarthy / SPORTSFILE / SPORTSFILE
In just her second year at the helm for TG4, Ní Bhraonáin will be spearheading the coverage for what will surely be three compelling games today: the TG4 All-Ireland Ladies Junior, Intermediate and Senior Football Finals.
The main event sees defending champions Dublin aiming to complete their own edition of a five-in-a-row, while the challengers Meath have emerged as something of a surprise package in the senior championship this year.
The Royals, who were crowned All-Ireland Intermediate champions last year, kick-started their 2021 season by securing promotion to Division 1. They continued their strong form through the group stages of the championship.
Drawn in Group 3, they began their campaign with a narrow defeat to Cork before picking up a big victory over Tipperary to advance to the All-Ireland quarter-finals where they stunned last year's All-Ireland semi-finalists Armagh.
Their journey brought them back around to face Cork in the semi-finals and they made no mistake at the second time of asking, producing a late surge against Ephie Fitzgerald's side to clinch a thrilling extra-time win.
It is going to very tough for Meath, but they're not really a surprise package," says Ní Bhraonáin ahead of the decider.
"They've been coming for the last number of years, but even in terms of underage, they really try hard to develop a team that will stay together and if you can do that in Ladies Football, it doesn't mean you're going to win All-Irelands but it pushes on that you're not having a team that wins at intermediate level and then suddenly the next year, 10 of those are gone or 12 are gone. It's really hard to rebuild.
Stephen McCarthy / SPORTSFILE Dublin's Hannah Tyrrell. Stephen McCarthy / SPORTSFILE / SPORTSFILE
"So, if you look at and compare from 2020 to 2021, you can just see that the core of that team is the same. Very little change apart from injuries, but that's a huge benefit for Meath.
"Their manager Eamonn Murphy constantly says that they've nothing to fear but I suppose it means they've everything to play for. They're going out there with a great energy from it."
That all being said, Dublin's pedigree can't be understated either. Mick Bohan's charges too have enjoyed a fruitful season so far, adding a second National League title to the one they achieved back in 2018.
They go into the TG4 Ladies Football Final as unbeaten favourites and are backed by a panel of huge depth. Caoimhe O'Connor and former Ireland rugby star Hannah Tyrrell, above, — who has been a sensational addition to the Dublin unit this year — are just some of the names that get a mention from Ní Bhraonáin to illustrate the power in their squad.
"They really aren't relying on just one or two and they have never relied on just one or two but they still have Carla Rowe who had an amazing quarter-final and not started the semi-final.
"They work so hard but no matter how many tackles they get, they still want to achieve more the next game."
While a record crowd of 56,114 attended the 2019 final, it was played out at a silent Croke Park last year. This time around, the showpiece will be staged in front of 40,000 spectators but those who are unable to attend can tune in to TG4 and potentially break the viewing record for the final.
TG4 is now in its 21st year of broadcasting Ladies Football and has been a strong ally for the sport during periods of progression as well as stagnation. Ní Bhraonáin has witnessed plenty of improvements in relation to interest levels in the sport but can still see room for more growth going forward.
"Clubs put that onus on their players to go and support their county, and support the teams that are playing because this is somewhere you could be and something you can push yourself to achieve the same.
"Show them what the day is like and make it an aim that they can push towards. The volunteer in the LGFA and GAA has always been brilliant but at club level, people go and get sponsorship or have Easter egg hunts to try and get money together.
"It's great to see in terms of viewership and attendance, that is improving. But more can be done, I think it's been a good start but it definitely needs to push on. The 20×20 campaign was really good as well. That definitely helped shine a light on it. You might not read about it anymore, but it's important to still feel it and that [the] push is there for supporting your own."
Watch the hotly anticipated TG4 All-Ireland Ladies Football Finals live on TG4 today. Coverage begins at 11.40am with the Junior final between Antrim and Wicklow. Westmeath and Wexford then contest the Intermediate final – from 1.30pm – before Dublin and Meath clash in the Senior final, with coverage starting at 3.30pm.