1. Shane Connolly (Kildare) - Said a lot about his team that not only was he the busiest and best goalkeeper in Croke Park over the weekend, but he was by a distance his team's finest player. With Daryl Flynn on, he had a target for kickouts, his strength has always been under a high ball and he again was composed, and he pulled off two brilliant saves as well, even if one ended up in the net via Eoin Doyle.
2. Neil McGee (Donegal) – Is he the best man-marker in football right now? The semi-final will tell a lot more but after 2011 where he took out some of the better forwards out there, in 2012 he has now taken out the best forward in football. Tortured Colm Cooper from pillar to post, and even if the Kerry man is having a bad season, two points from play in Croke Park was testament to McGee's marking job.
3. Eoin Cadogan (Cork) - Going toe-to-toe with Tomás O'Connor was one of the most enjoyable battles of the entire weekend and while he occasionally resorted to the dark arts, it worked out in the end as the Kildare man played well but was contained by a brilliant defensive display. Cadogan was always close and always hugely physical to the extent a mill nearly broke out in the second half.
4. Frank McGlynn (Donegal) – If anything changed at the weekend, it's the fact his teammate Colm McFadden might have edged ahead of him in the Footballer of the Year stakes, but that isn't to put McGlynn down. He played as a second sweeper effectively and then did his usual ball-carrying and distribution routine while covering huge ground.
5. Tomás Ó Sé (Kerry) - We wonder how he felt when the likes of Ciarán Whelan on The Sunday Game sat there retiring him. There's still so much left in the tank and he's still one of his side's best players so why go anywhere? He relished the physical battle against Donegal and away from defensive duty, got forward as an attacking threat just as he's been doing throughout his career.
6. Karl Lacey (Donegal) – First things first, Declan O'Sullivan has been improving and growing in confidence in recent weeks and beginning to look like the player that was the best link man in football in 2009. And now onto the Donegal man who never gave him in inch, ensured it was one of the least effective performances of O'Sullivan's championship career and saw him pulled after 45 minutes.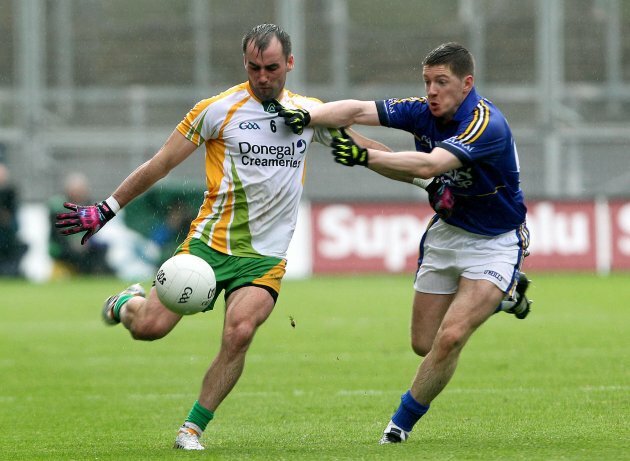 Donegal's Karl Lacey. Pic: INPHO/Lorraine O'Sullivan
7. Graham Canty (Cork) – Only afterwards did we think back to Killarney 2011 when he looked washed up. Yet now, a good semi-final and a good final, and he's potentially Footballer of the Year. Laid down a marker early on Mikey Conway and mentally and physically bullied Kildare's playmaker for the rest of the time he was on.
8. Rory Kavanagh (Donegal) - Not only are they a side that can break with the ball, but with him, Ryan Bradley and Neil Gallagher as midfield options, they can win clean ball too. The middle third wasn't for the weak or scared in Sunday's big game, but that wasn't a worry for Kavanagh as he relished the kickout battle and linked the play.
9. Barry Moran (Mayo) – We reckon that's Man of the Match in every championship game he's played this year and given the totals Mayo have run up in two of those games, that's some going. Letting Kalum King ghost up the pitch for the goal will annoy him but he made amends and completely annihilated the Down man in their aerial battle, giving an exhibition of clean catching.
10. Ross Munnelly (Laois) - The climax to a brilliant year for him and his team. And if they look competitive again, he looked a top-quality footballer again. Threw himself into everything fearlessly, ran back and forth across the 40 all day creating space and winning frees with his clever angles and then in a cauldron of noise, never flinched over a deadball. Finished the day with 0-6.
11. Aidan Walsh (Cork) – Wow. His second-half display was the best of anyone on this team and while he struggled for a while after the arrival of Daryl Flynn, he took Kildare apart from the 40th minute onwards. His pace, power and endurance cut open their midfield and their defence, kicked two from play, assisted others time and again and even stitched a free from 55 on an icy surface.
12. Paul Flynn (Dublin) - No one on the park scored more points from open play but it wasn't just the quantity, it was the quality and the importance of his two clutch efforts. They were heartbreaking scores for Laois but when without the ball, he worked back like the player of 2011 and bulked up the defence. One downside was the overzealous nature of some of his tackling.
Exclusive Six
Nations Analysis
Get Murray Kinsella's exclusive analysis of Ireland's Six Nations campaign this spring
Become a Member
13. Michael Conroy (Mayo) - There's a caveat here that goes with his scoring feat of 2-1. For the rest of this year he'll actually be marked. That's not to take away from the room he ran into and his excellent finishing and it was his best day in his county's colours. The question now is, can he survive in that inside-forward line without the next man on this list.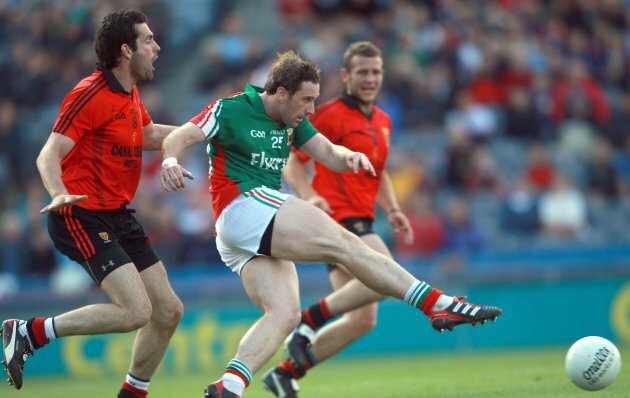 Mayo's Michael Conroy. Pic: INPHO/Donall Farmer
14. Andy Moran (Mayo) – Fifty-two minutes are enough for him to take the full-forward jersey and his loss is enough to make us question the ability of his side to win the semi-final. An unbelievable ball winner as anything that goes near him is hoovered up, and while there was only one point from his boot, he made the entire forward line tick with his passing and vision.
15. Colm McFadden (Donegal) - He's been marked by some of the best about this year but each and every time he's taken the game by the scruff of the neck and dragged his team over the line. If Donegal's game has evolved and allowed him quicker ball in more space with support players, then his game has evolved too and he's far more direct and far more accurate. Game-high, game-winning 1-6 v Kerry.