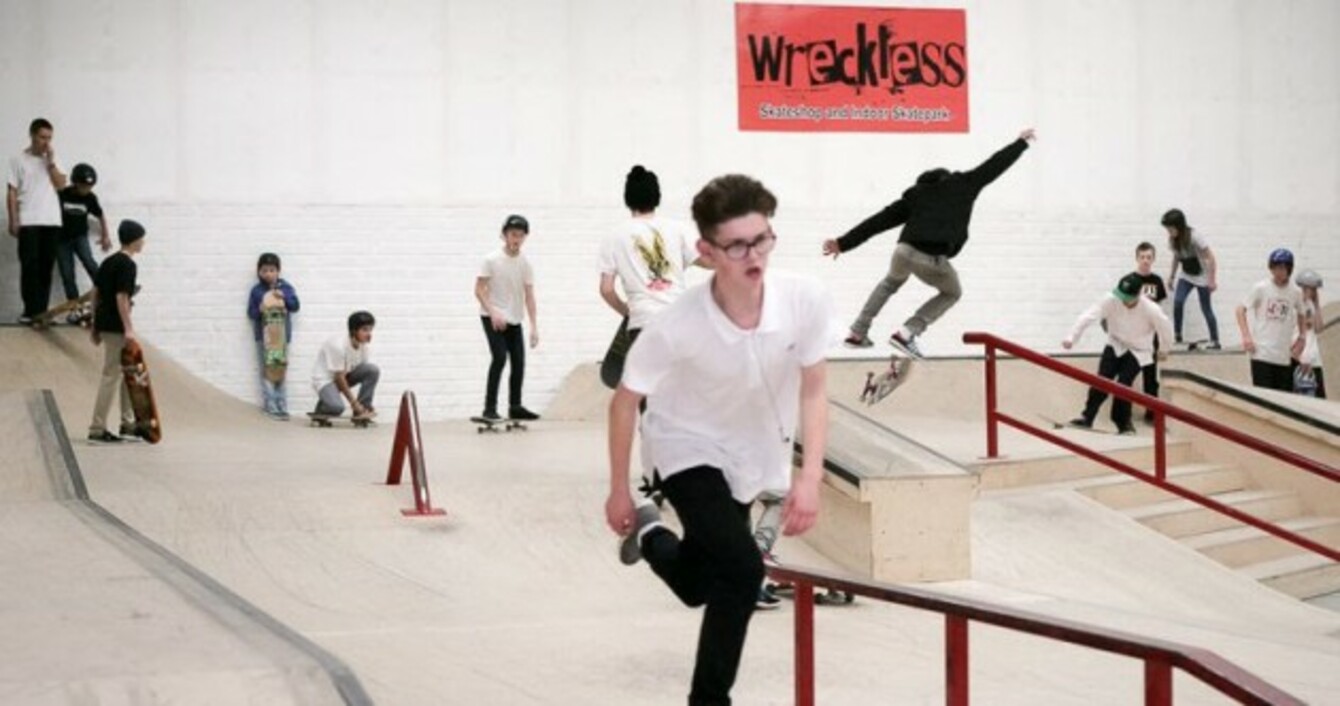 The All-Ireland Skateboarding Championship Final takes place this weekend.
The All-Ireland Skateboarding Championship Final takes place this weekend.
IT'S A BIG day for a certain subsection of the Irish sporting population.
From 1pm this afternoon, the All-Ireland Skateboarding Championship Final gets underway in Gorey, County Wexford, with roughly 60 competitors expected to take part.
This year's event features three categories: under-16, over-16 and sponsored.
Competitors from all four provinces are due to take part having reached this stage via their respective qualifiers, while in spite of the event's name suggesting otherwise, a couple of participants from Britain are also due to feature. While the majority of those taking part will be in their teens or 20s, a couple of people in their 30s and 40s are also expected to be involved.
Although skateboarding has been popular in Ireland for some time, the competition itself is quite a recent phenomenon. The first All-Ireland took place in Limerick in 2008, while a year later, a more formal event with sponsors was set up in the same venue.
Ever since then, it has been an arranged on an annual basis, with the exception of 2012, when the organiser of previous years got a job in Australia and could no longer commit to setting up subsequent competitions.
It was revived in 2013 and taken from its traditional location of Limerick to Cork, while it also was hosted by the Rebel County last year. This year, for the first time, it takes place in Gorey — a town where skateboarding has enjoyed considerable growth in popularity of late.
Grant Masterson, the owner of the local skate shop, 'Wreckless,' organised this year's event with his friends and a larger base of volunteers in the area.
Today's competition is a reward of sorts for months of hard work put in by Masterson and co.
"This year, we opened an indoor skatepark. We had run into some problems with neighbours and noise in Gorey. We took four or five months to move it. We had to disassemble the entire skatepark — take it apart, move it and then rebuild it.
"We got it back open in August and we decided this competition needs to happen again — it's a big event. The previous organiser, Nicky (who is no longer involved), said 'take it and do what you want with it'.
"We contacted all the brands that you see on the poster. A lot of Irish shops and companies are involved, and the American product companies (are also involved).
"Distributors in the UK have given us a lot of products for prizes. Lakai are the main sponsor. They're putting over €500 on board, so that's going to be reserved for the overall winner of the sponsored category."
For those who are not overly familiar with the sport, it is immensely popular worldwide — a 2013 report estimated that skateboarding has 11.08 million participants and is a $4.8 billion market.
There are very few rules and regulations, and winners of contests are determined by judges who must decide on which participant has the most impressive moves and technique, while taking into consideration elements such as the style, difficulty of the trick and use of the skate park. The competitor with the most points from this criteria ultimately is deemed victorious.
Furthermore, it is not just a skateboarding event happening today, rather a festival of sorts, with the All-Ireland Championships at the centre of it. There will also be photo and art exhibitions, in addition to music and street dancers, to add to the sense of spectacle.
Masterson, as well as owning 'Wreckless,' also works with the local fire service, though he has unsurprisingly reserved time off for this big weekend. Skateboarding's popularity in Ireland, he says, has tended to peak and trough in recent years, yet Masterson remains optimistic for the future.
"There are still skate parks being built up and down the country by the local authorities, which is really positive. It all started nine years ago when the first 20 parks got built — that was a pilot scheme that the Department of the Environment did — Dick Roche was the minister at the time.
What are they
really like?
Rare insights on sport's biggest names from the writers who know them best. Listen to Behind the Lines podcast.
Become a Member
"That's where it got going and since then, there's probably another 15 or 20 parks that have been constructed up and down the country, due to the locals' demand. They now see them as being very cheap in a recreational area that caters for a group in society that aren't into the mainstream sports.
"They're more individual people, so they want to do something that's maybe a little bit more extreme, or a bit different. Scooters and BMX have blown up in the last couple of years as well, so all the skate parks are perfect for them. You've got longboarding, inland skaters and even Roller Derby is quite big now.
"The model is there now for local authorities to build them quite cheap — maybe up to 100,000, you have a concrete skate park and that's it. There's no maintenance needed. You pick up a bit of rubbish and that's it. You can't damage them, you can't destroy them. You can put a bit of graffitti on them and that's about it.
"They offer this area for people to go and express their chosen sport and make new friends. Their friends get into it and it becomes a place to go and meet people and hang out, and they're getting exercise as well."
And while there are plenty of positives in getting involved, those who aspire to become the next Tony Hawk face an arduous if not impossible path.
"Like many sports, the equipment is probably the most expensive part of it," Masterson explains. "They can break and wear out and have to be replaced every six or eight weeks.
"If they have a sponsor helping them, they'll be able to spend more time at it and improve and get better. They'll need to attend more competitions or go to more events. It is a hard sport to make a living from. It's not as lucrative as anyone would see with Tony Hawk or guys like that.
"Other guys that are big names in the sport have to go out and bust their balls to make money and travel and make videos and put themselves out there on social media… They have to make time to make videos and cut edits and always be doing something new and fresh. It's a tough game — it's always changing. There's always new levels of tricks and videos coming out."
And this situation is not helped by what Masterson regards as an undeserved level of apathy towards his sport by certain prominent figures in this country.
"In Ireland, it gets a serious lack of coverage — whether it be newspapers, radio or television, they see it as something you get for Christmas and that's it — a little hobby or a passing fad. It's been around for years and it's not going anywhere. There are professional athletes, it is being looked at for the Olympics, but here in Ireland, it does get very little attention.
"It deserves more coverage. It needs funding to help these kids go abroad and compete.
"There is a new Irish skateboarding association, which is is still in the early stages of getting properly recognised by the Irish Sports Council. There's still no official association. We didn't have a governing body, so that's why we had to put so much time and effort into it ourselves.
"The government don't give us a penny. We don't get any tourism money or anything. Yet we are bringing money."
But in spite of all these problems, Masterson remains deeply passionate about the sport that he has spent the last few months relentlessly promoting.
"If you start skating, you'll probably never stop," he says. "It gets into your blood, it gets into your whole lifestyle.
"It's a worldwide culture, it doesn't matter where you go. You will always find skaters and a skate park. They're always there. You'll have a friend, a place to stay and a place to skate. You don't get that with a lot of sports."
For more info on the All-Ireland Skateboarding Championship Final, click here.