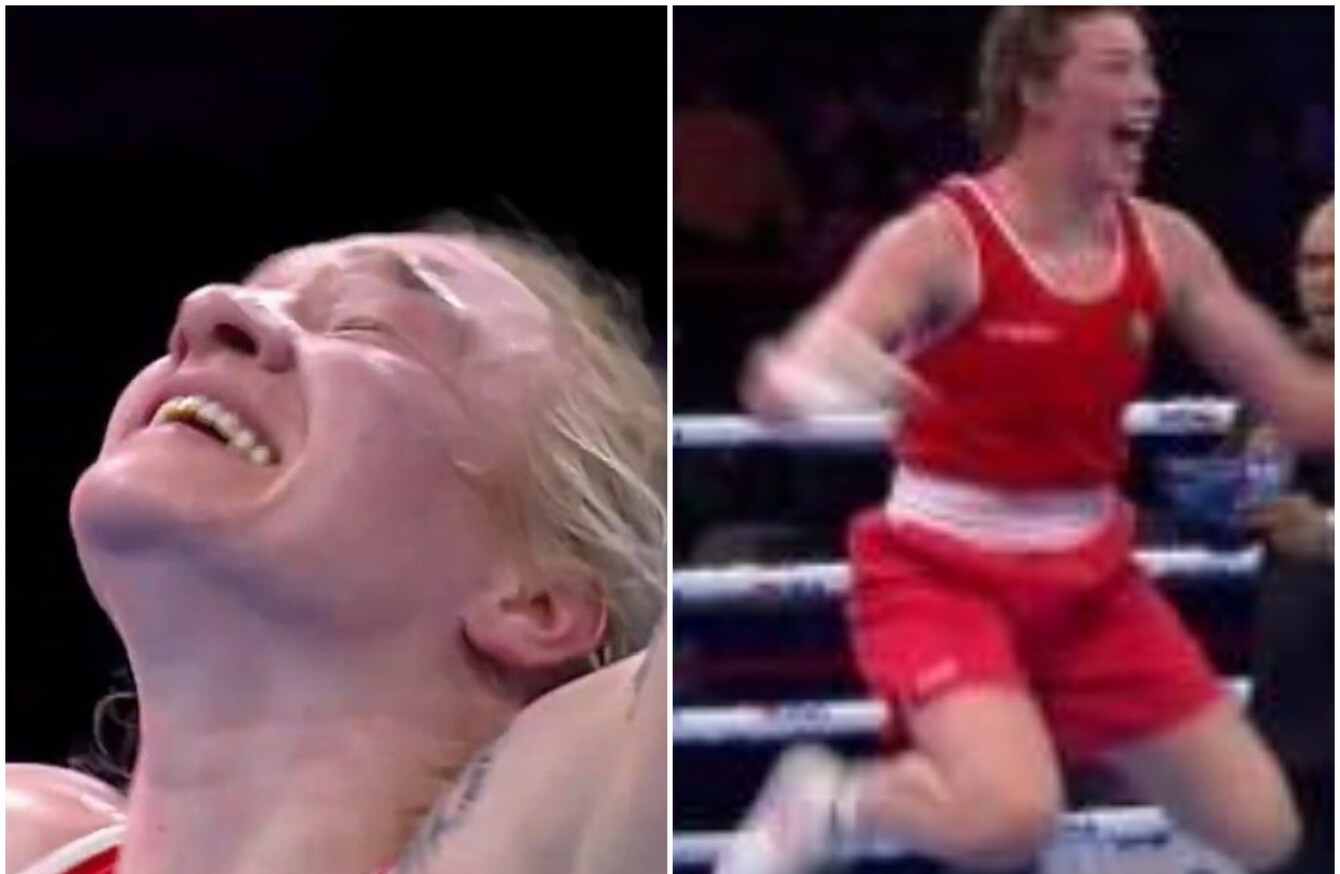 Amy Broadhurst (L) and Lisa O'Rourke celebrate their World Championship victories.
Amy Broadhurst (L) and Lisa O'Rourke celebrate their World Championship victories.
Updated May 19th 2022, 6:35 PM
IT WAS THE greatest half an hour of Irish boxing since Wayne McCullough and Michael Carruth claimed silver and gold respectively at the Barcelona Olympics in 1992.
On this occasion, however, both Irish protagonists took top honours: Amy Broadhurst and Lisa O'Rourke penned their names into this country's short list of World Boxing Championship gold medal winners — which until this week included only Katie Taylor, Michael Conlan and Kellie Harrington.
Three became five in Istanbul.
Just minutes after Dundalk woman Broadhurst, 25, fairly handily beat Algerian opponent Imane Khelif on a 5-0 unanimous decision in their light-welterweight (63kg) decider, Roscommon's O'Rourke earned a hard-fought 4-1 split over Mozambique's Alcinda Panguane in the light-middleweight (70kg) showpiece.
As well as gold medals, each fighter will take home with them €86,000 in prize money. Both Broadhurst and O'Rourke will also be granted funding of €40,000 from Sport Ireland next year, reward for a World Championship podium finish of any kind.
The supremely talented southpaw Broadhurst counts in her personal trophy cabinet 19 Irish titles and five continental medals, including bronze at the 2019 Europeans as a fully fledged Elite. However, she has in recent years operated in the shadows of the world-ruling Harrington, who has Boradhurst's preferred weight division of lightweight — 60kg, an Olympic category — locked down. Or at least, she had.
With Olympic champ Harrington having been entered into these World Championships until an injury ruled her out days before the tournament, Broadhurst competed again up at light-welter, just as she did when she was controversially denied a medal at the 2018 Worlds. That quarter-final robbery in New Delhi is but a distant memory, now.
Conversely, O'Rourke has exploded to world-champion status almost out of nowhere. She moonlights as a midfielder for the Roscommon inter-county team but she is now the world's premier boxer at 70kg.
The Castlerea woman, a younger sister of 2019 European champion and Tokyo Olympian Aoife O'Rourke, turned 20 in Turkey and has become a world champion as an Elite before she has managed to win an Irish senior title: Lisa was beaten by Evelyn Igharo in their national decider last October but avenged that defeat in a sequel at U22 level in February. She was consequently sent to the European U22s seven weeks ago, earning a breakout continental gold in Croatia.
Broadhurst, who was up first this evening, was all smiles as she made her way to the ring, the magnitude of her achievement — a guaranteed silver — having not yet sunk in per a Facebook update yesterday. The pressure to go one better appeared non-existent.
More experienced at Elite level, opponent Imane Khelif — who was beaten by Harrington at the quarter-final stage in Tokyo last summer — was equally cool, swinging her arms and beaming as she trotted towards their place of battle.
The Algerian, like Broadhurst a more natural lightweight (60kg) fighter, boasted a significant height and reach advantage over the Irishwoman. It told early, Khelif's longer levers keeping Broadhurst honest in the opening minute. The Dundalk woman wasn't long doing her calculations and closing the gap, though.
Whereas Khelif edged the first half of the first round, Broadhurst was proportionately more dominant over the last 90 seconds, her backhand left finding its mark. Three of the five judges saw it as such, with Broadhurst edging ahead 3-2 as they went into the second.
Broadhurst carried that momentum with her into the second, stalking and picking her moments with better accuracy than Khelif. She countered sumptuously in the final minute, clipping her rangier opponent off either hand to clearly take the round and motor towards World Championship glory.
Two of the judges actually awarded Broadhurst a 10-8 round for the second. It was harsh on the North African who, while second best, had hardly been run ragged over the three minutes.
In terms of the scorecards, though, her goose was cooked: the final round was processional, and an elated Amy Broadhurst was announced as Ireland's newest world champion about four minutes later.
LISA O'ROURKE - WORLD CHAMPION

Well done Lisa.

This is a phenomenal achievement and we are all so very proud of you.

💛💙 🇺🇦 🇮🇪#RosGAA #WorldChampion pic.twitter.com/E1FXDxWGKX

— Roscommon GAA (@RoscommonGAA) May 19, 2022
Exclusive NZ - IRE
Rugby Analysis
Get Murray Kinsella's match analysis and Garry Doyle's updates from New Zealand exclusive to members
Become a Member
The younger O'Rourke was similarly the picture of confidence as she strutted towards her chance at global honours.
In a close first round, she deliberately ceded ground as she attempted to work out her aggressive Mozambican opponent, but she still managed to routinely beat Panguane to the punch. Over the opening three minutes, O'Rourke landed the more significant, eye-catching shots, particularly off her left. She took it on three cards but Panguane's come-forward pressure was preferred by two of the judges present.
Despite the second round being almost a carbon copy, Panguane was gifted a farcical 10-8 score by one judge, the Algerian, who at this point had her 20-17 down. This disgracefully bad piece of judging was thankfully rendered irrelevant by the reality that, entering the third, O'Rourke was up 20-18 on two cards and the bout was level on two more. Long story short: the Castlerea woman needed to pinch one of those two tied cards to be crowned world champion.
Both fighters were tired but O'Rourke simply summoned something that Panguane couldn't, clocking her more static opponent while remaining on the move herself. Panguane did manage a nice combination halfway through the round which might have turned the tide had it not been met almost immediately by a stern O'Rourke right hand down the pipe.
After a slightly more nervous wait than was the case for Broadhurst, the red-corner fighter was pronounced the winner on a split decision and O'Rourke — in what will soon be known as trademark fashion — leapt to the clouds in jubilation.
As it transpired, she had won it on four of the five judges' scorecards, the Algerian being the outlier. There were certainly no complaints from Panguane, who warmly congratulated the champion.
And so it was, half an hour of Irish-boxing bedlam and a day to rival the very best. Forevermore, this country's short list of boxing World Championship gold medal winners and, indeed, its far broader pantheon of sporting greats, will contain the names Amy Broadhurst and Lisa O'Rourke.