This piece is the second part of an analysis of Ireland's momentous victory over New Zealand at the Women's Rugby World Cup on Tuesday. For more on the Irish defensive effort in their 17-14 success, click here.
********************
The defensive qualities we have highlighted in the first piece of this analysis laid the foundations for this Irish victory, but the standard of much of Ireland's attack was equally as impressive, creating as it did two tries.
While Ireland were quite narrow against the US in their first game – reacting to weaknesses and negating strengths of the Americans – there was far more variety in evidence on Tuesday.
Unfortunately, Ireland are losing attack coach Greg McWilliams to Yale University following the World Cup but in the meantime, the former St. Michael's Director of Rugby is leading a superb attacking effort from Ireland.
They may have been disappointed not to have come away from a dominant opening 20 minutes of the game with a try [although they probably should have had a penalty try, more of which later], but that passage of pressure was vital in the outcome of the win.
Not only did it physically fatigue the Kiwis, but it was also an important psychological marker for Ireland, almost a statement that they were serious opposition. Ireland camped themselves in the New Zealand 22 and repeatedly went close to scoring.
Variety, the spice of life
Ireland's attack kept New Zealand constantly on edge through the variety of options they used in phase play. Against the US, Ireland often relied on short carries one pass out from the preceding ruck or pick and gos from the base.
Those elements were present again as part of Ireland's attack against the Kiwis, and equally as effective at times. We get an early example below, as Paula Fitzpatrick – brought into the starting team for her carrying – produces a 12th-minute bust of the New Zealand defence through a neat left-footed step pre-contact, then a burst of power.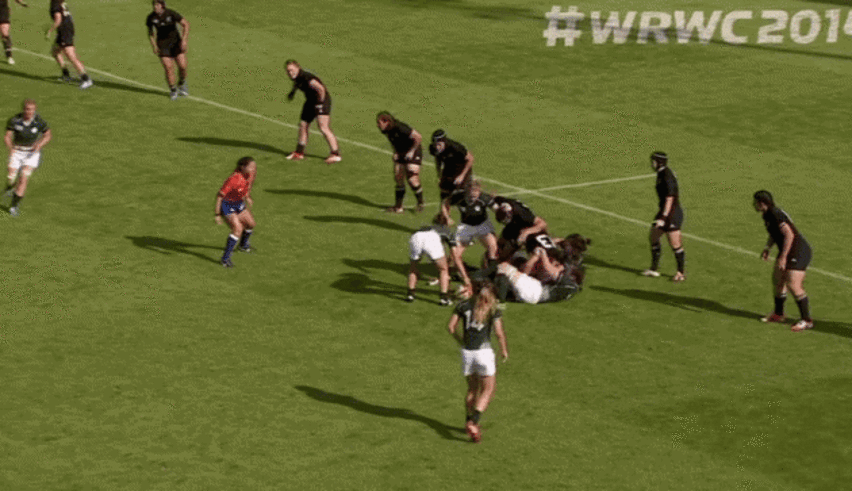 It is notable that Ireland's carrying off scrum-half Tania Rosser was a little wider than what we saw against the US, often targeting the third Kiwi defender out from the ruck and taking advantage of Rosser's passing range.
We also saw more of Ireland's excellent close-in leeching when they opted to pick and go, especially inside the Black Ferns' 22. This was a particularly prominent technical feature of the win over the US, and was repeated here on many occasions.
In the GIF below, we see lock Sophie Spence make a short carry from the base. It is likely the Old Belvedere player would have gone forward regardless, but second row partner Marie Louise Reilly ensures that with a smart leech from the right.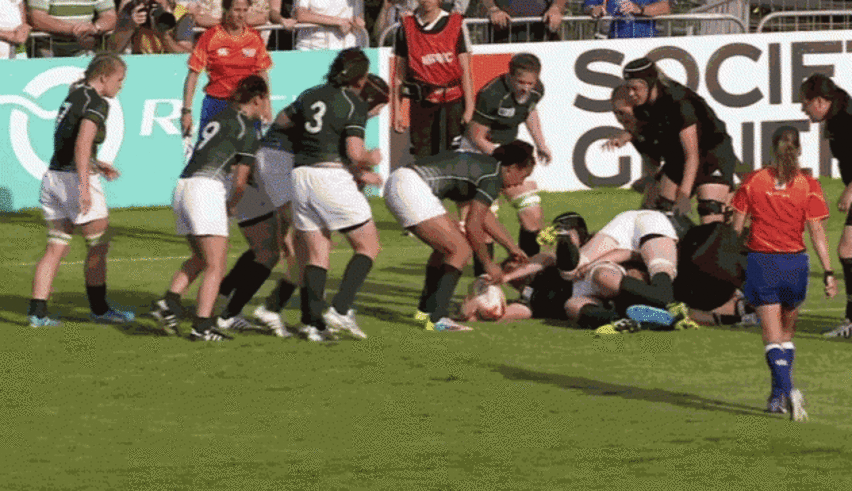 Second five eighth
One of the new flourishes we saw from Ireland in attack in this game was the use of multiple first receivers. While out-half Nora Stapleton was obviously the key player in that area, passing with her usual amount of creativity and intelligence, we also saw wing Alison Miller, fullback Niamh Briggs and outside centre Lynne Cantwell popping up at first receiver too.
That range of first receivers served to unsettle the Kiwi defence, going against what they may have expected and planned for. Cantwell was particularly prominent in stepping into what is traditionally the '10′ position and acting as a playmaking fulcrum.
We see an example in the GIF below, as the Richmond centre fills in for Stapleton, who has been involved in play out on the left. There's nice shape around Cantwell, providing her with a few different options to pass to, as well as challenging the Kiwis' defensive decision-making.
Ireland added lots of mini-plays such as the one above into their phase attack against the Kiwis, even as they headed above phase five. At that point, many teams will have run out of ideas in attack, opting either to kick the ball or revert to very basic narrow patterns.
McWilliams prefers his attack to constantly challenge the opposition defence's concentration, never allowing it to settle into a dominant pattern, something that can tend to happen the higher the phases go.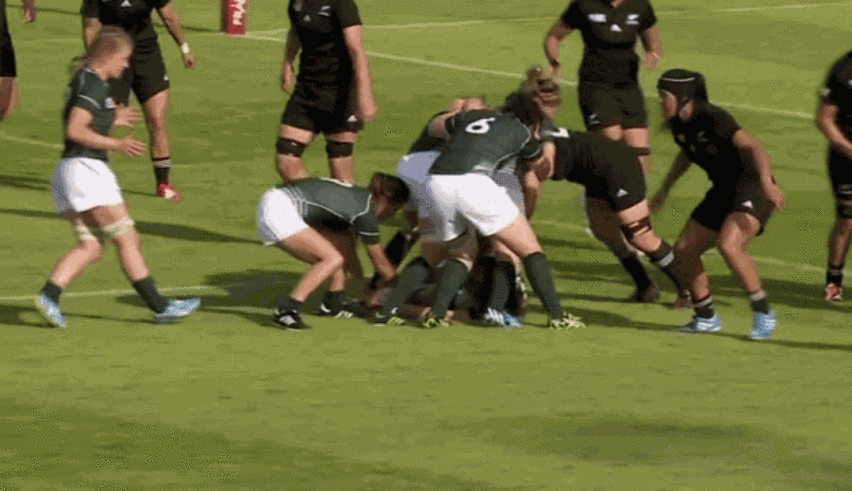 The mini-play above, which Ireland used on several occasions, comes on phase seven of the passage that eventually ended with Heather O'Brien scoring. Fullback Briggs runs a short line off Cantwell, two passes out from the ruck and challenges the midfield defence of New Zealand.
That zone was one Ireland repeatedly looked to test and made several gains in, as well as tying in defenders. Inside centre Grace Davitt ran selfless lines up the middle for the entire first half before Jenny Murphy took over, allowing Cantwell to thrive in a playmaking role.
We saw in the defensive portion of this analysis how Ireland kept New Zealand tryless over a sustained 21-phase attack that lasted 2 minutes and 49 seconds in the second half. The video above shows Ireland grind out a score after a 25-phase, 2 minute 25 second passage of their own attack.
It's remarkable pressure rugby, the kind of '3-minute block' that men's coach Joe Schmidt is a fan of. While it may not be the prettiest passage of attack, it does show a ruthlessness from Ireland close to the opposition tryline.
The try above came in the 34th minute, but Ireland may have been frustrated not to have dotted down prior to that, particularly as they enjoyed so much possession and territory in the opening quarter of the game.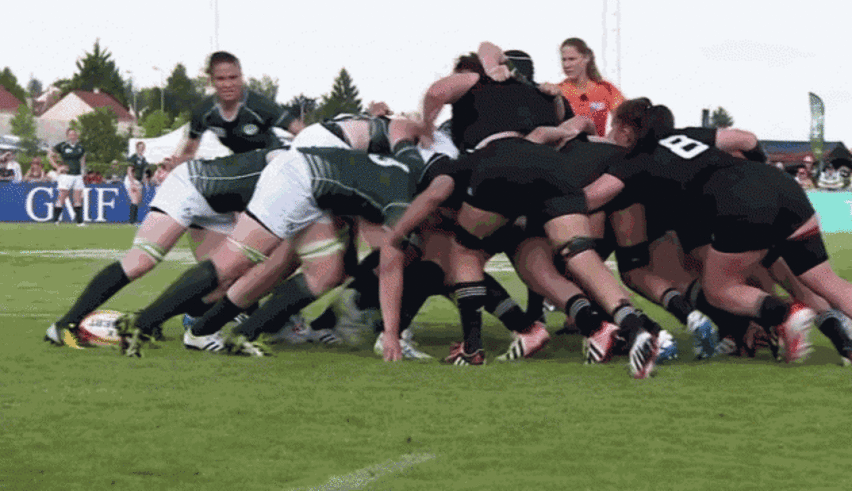 In the GIF above, we see O'Brien get within inches of rewarding that early Irish pressure, only for Kiwi wing Honey Hireme to make a brilliant rescuing tackle. As pointed out in the match commentary by Simon Mannix, it's worth keeping an eye out for Fitzpatrick's clever interference on opposite number Rawinia Everitt off the side of the scrum.
Scrum power
The chance for O'Brien to go close in the example above comes from a strong Irish scrum, giving the No. 8 a prime platform from which to surge forward. That was evident throughout for Philip Doyle's side, particularly as they looked to kick out of their own defensive territory.
Former Munster and Connacht prop Peter Bracken is the Ireland Women's scrum coach, and has been leading a shift in attitude over recent seasons. Gone is the time where the Irish scrum expected simply to cope; now they are looking to dominate.
That doesn't always happen [the US had the better in the first half of that fixture], but Ireland were superb in the scrum against the Kiwis, driving them backwards and striking major psychological blows.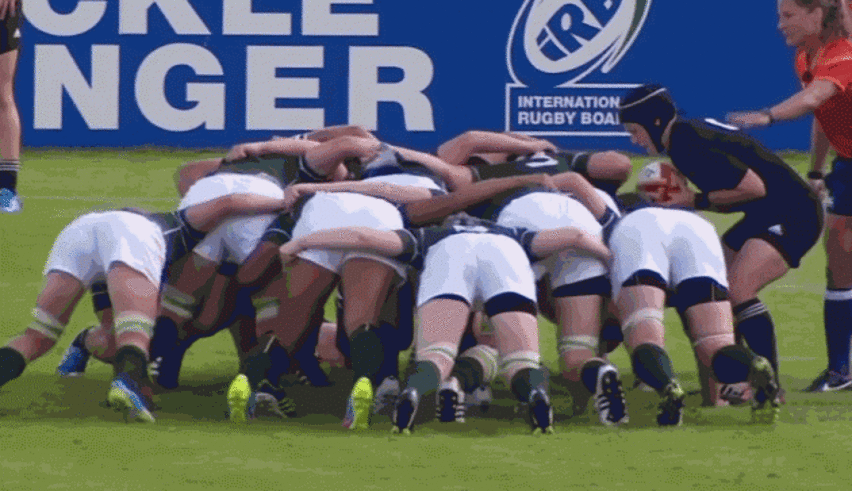 The turnover of New Zealand's scrum in the GIF above comes in the 13th minute, deep inside the Black Ferns' half. As we can see, it's a wonderfully coordinated eight-woman shunt from Ireland, driving through the Kiwis.
Front rows Ailis Egan, Gillian Bourke and Fiona Coghlan are all technically strong, while the power of Spence and Reilly behind them is of great aid. Just minute later, that front five again powered forward and probably should have been awarded a penalty try.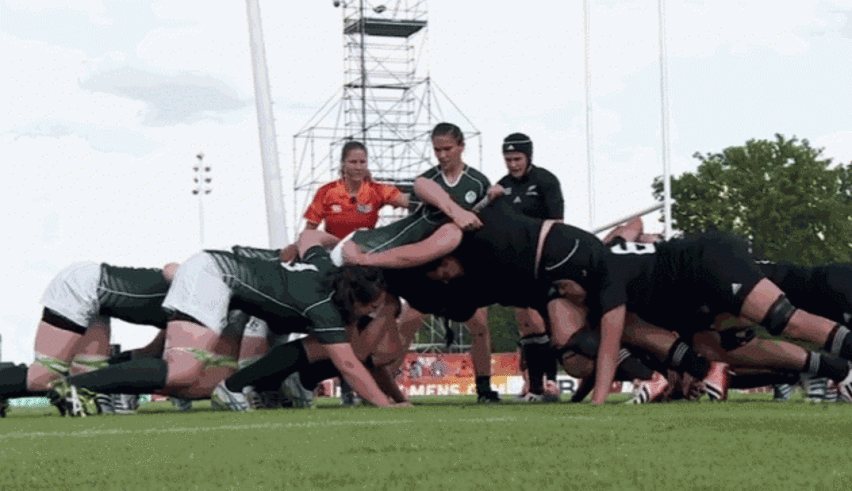 Ireland obliterate the New Zealand scrum on this occasion, driving them back over their own line and it's only a desperate intervention from Everitt that prevents O'Brien from topping it off with a try.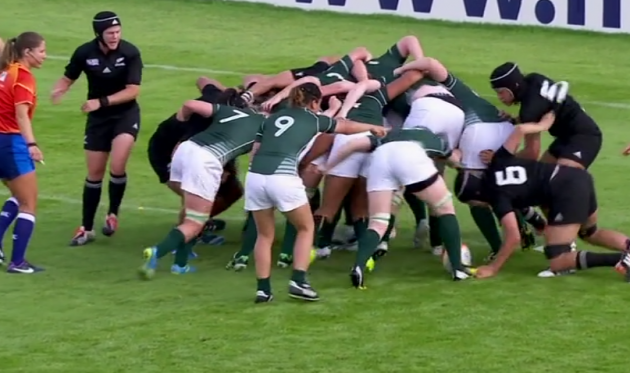 The Kiwi blindside breaks her bind early to fall over the ball, something the referee and tough judges will have been disappointed not to spot. A try in this situation would have been the ideal outcome after Ireland's early pressure, but it wasn't to be.
Still, it's hard to underestimate the mental boost of this scrum dominance from Coghlan's pack early on, as the Kiwis even began to jump the gun with their scrum drive later in the game, as below.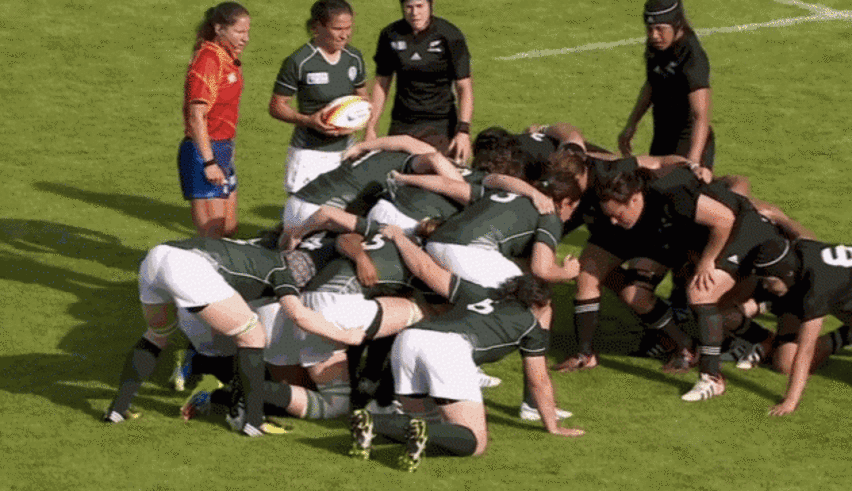 Counter-attack
A prominent feature of McWilliams' attacking game plan for this encounter was the counter-attack, targeting a weakness that the Irish management team – including performance analyst Len Browne – had identified in the build-up.
Ireland kicked a lot of turnover ball and kick receptions back at the US in their first game, but against New Zealand the reaction was to run more of that type of possession, evident from the very opening minute of the game.
"We had often spoken about the fact that when they kick to us, they can often come up in a staggered line," says fullback Briggs, and we get a demonstration of exactly that in the GIF below.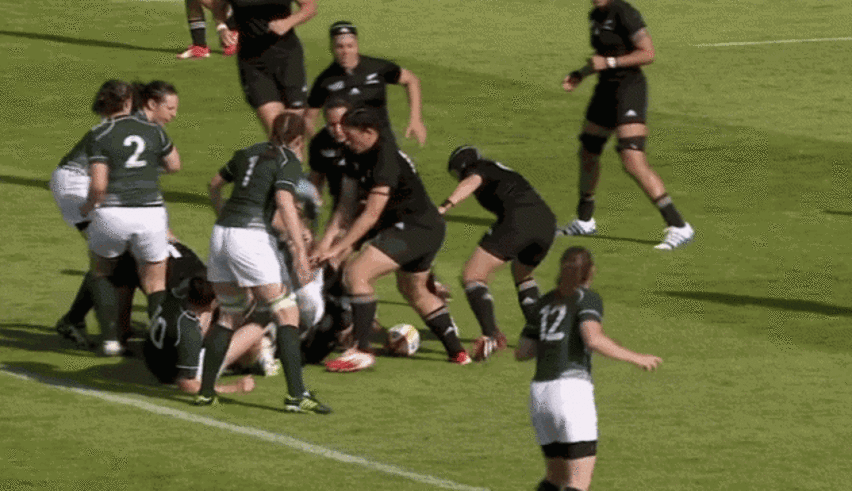 New Zealand kick to Ireland, chase with a staggered line, and Briggs willingly counter-attacks. We see in the image below that two Kiwi chasers have burst ahead of the main line but even at that, the pair are not linked up.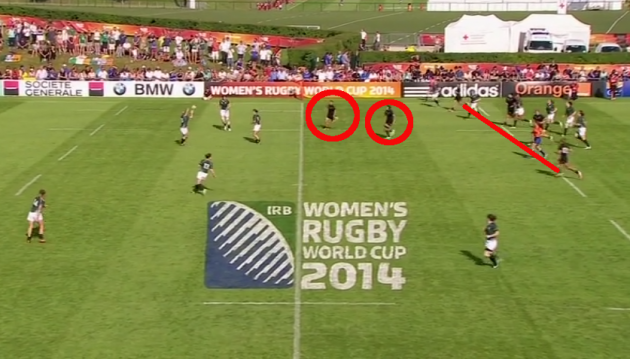 It's an invitation for Briggs to take on the defenders in a one-on-one scenario and win valuable metres for Ireland. The Waterford native continued to seek out chances to counter for the remainder of the game, culminating in the excellent Alison Miller try in the 60th minute.
It's a brilliant flash of attacking from Briggs and Miller, but also lies in that foundation of knowing the Kiwis can present a staggered defensive line. This time, Black Ferns' wing Renee Wickliffe rushes ahead in the attempt to retrieve her own chip kick, creating the dog leg.
While it's Briggs who produces the excellent linebreak, the hard-working Miller is the key figure as she loops in behind the fullback and then instantly recognises the opportunity, bursting to get onto Briggs' left shoulder.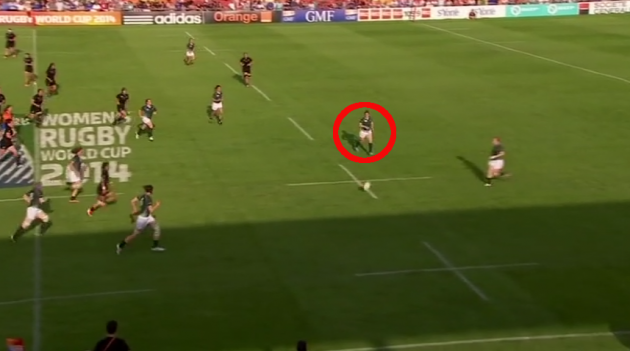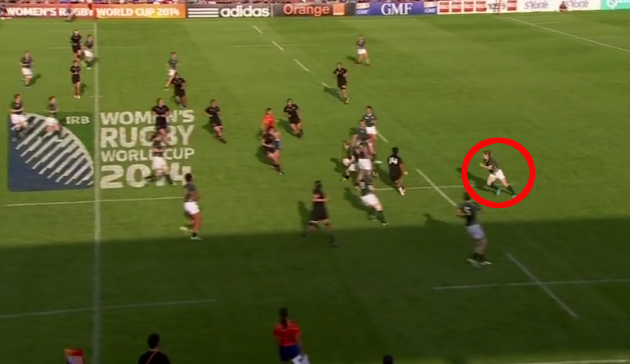 "She [Wickliffe] kicked in and I saw a gap and thought to myself, 'Let's go and have a crack,'" says Briggs. "I think a couple of years ago, we probably would have just kicked it back, but it shows how far we've come as a squad and the belief we have.
"We take teams on, want to attack them and do attack them. Miller is just a class finisher, she's probably one of the best in the world. She left people for dead and I don't think anyone else would have scored bar her, she's just phenomenal."
Contenders
A win over four-time champions has rightly seen Ireland lauded as contenders for this World Cup, a status that will not be surprising to the squad itself. However, there are great tests of their ability to come.
France, England, Australia and Canada – the former two have beaten Ireland in 2014 – have all won their opening games and looked impressive. Meanwhile, the Kiwis would love another crack at Ireland in the latter stages of the competition.
Playing the relatively weak Kazakhstan on Saturday provides head coach Doyle with an opportunity to rest key players ahead of a potential semi-final, and following two physically demanding encounter with New Zealand and the US.
The line-out has stuttered at times, there were linebreak concessions against the Kiwis and Ireland will look to be more ruthless with their possession; the point is that Doyle's side still have space to grow.
With the belief this squad possesses, learning whether they can take that next step should be fascinating to follow.