LEINSTER DELIVERED A strong performance in Saturday's facile win over Castres at the RDS, but they will need to improve again for this weekend's decisive tie with Wasps in Coventry.
There is a sense of growing confidence within the Leinster group and there has certainly been more fluidity in their attacking play in recent weeks, as well as a more cohesive look to the set-piece.
Cathal Noonan / INPHO Devin Toner's pack are begining to click at the set-piece. Cathal Noonan / INPHO / INPHO
Getting carried away by the 50-8 victory over Castres would be foolish in the extreme, however, and Matt O'Connor and his players certainly won't be making that mistake. They will take belief from their ever-improving performance levels, but they are more aware than anyone that further progress is required for the remainder of the season.
The fact that O'Connor is now close to having a fully-fit senior squad has been crucial to the forward steps, nowhere more obviously on Saturday than in the back three, where Rob Kearney, brother Dave and Fergus McFadden showed their international class.
In the pack, competition for places at tighthead prop, hooker, and lock and the backline appears to be bringing about greater individual showings, and O'Connor will plan for this weekend's clash with Wasps with welcome depth.
Coming together
Perhaps most encouraging of all the elements of Leinster's play last Saturday in Dublin was the energetic and ambitious display with ball in hand. It hasn't always been pretty to watch at the RDS this season, but O'Connor's squad threw off the shackles against Castres.
Those "combinations" that the Australian head coach has been talking about all season are finally getting the opportunity to grow, and Leinster certainly looked more like a side with a strong understanding of each other.
It has to be underlined that Castres are an exceptionally poor team, whose away record is nothing short of disgraceful, meaning all the positives we highlight here must be tempered ahead of a far greater test at the Ricoh Arena.
That's not to detract wholly from the excellence of the Leinster performance; you can only tear apart that which is laid before you. Castres' soft defence was ripe for conceding tries and O'Connor's men showed a welcome ruthlessness.
Dave Kearney try
First-phase tries directly from the set-piece are as joyous to be involved in as they are to watch, and there couldn't have been any better start to the Castres fixture than the score below.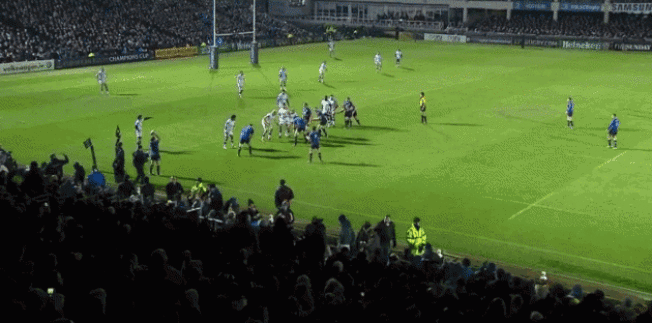 Sean Cronin's throw is perfect, some clever movement on the deck allows Devin Toner to win the ball uncontested in the air and the Ireland lock's release down to Eoin Reddan is highly accurate.
From there, the pre-planned move is carried out exactly as intended, with Jack Conan's decoy line taking Castres out-half Dan Kirkpatrick out of the game [red circle below].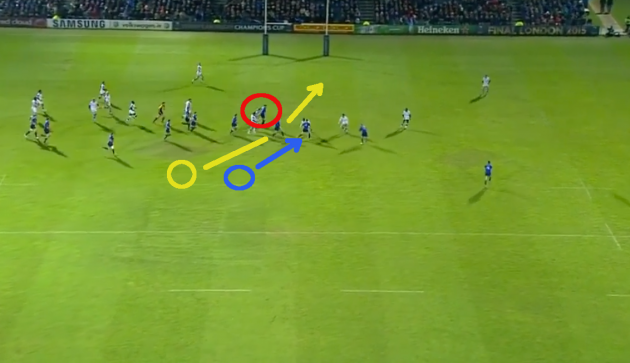 Behind Conan, Ian Madigan [blue] runs an outside arc, drawing Castres inside centre Romain Cabannes with him, before accepting the pass from Jimmy Gopperth. The blocking run of Conan and wide arc of Madigan combine to create the hole Kearney bursts into.
The left wing's running line [yellow] is superbly timed, as he starts lined up inside out-half Gopperth, before arcing behind Conan and into the space his teammates have created for him.
From a Castres point of view, Kirkpatrick has to deal with Conan more aggressively, but the actual timing of the decoy run makes it all the more difficult.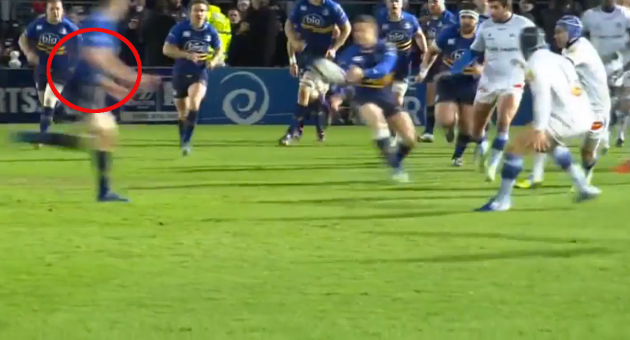 Too often this season, Leinster's decoy runners not looked like viable options to receive the ball. Instead of simply going through the motions Conan is a realistic carrier here, even as Gopperth releases the pass.
It means the decision is far more difficult for Kirkpatrick, who makes the error of sitting down and sticking on Conan. There's still work for Madigan to do after notably accurate passes from Reddan and Gopperth.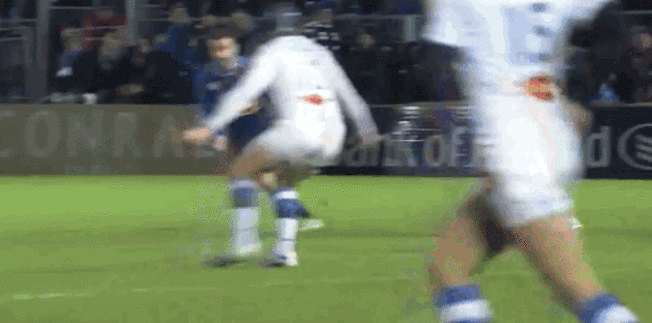 The Leinster centre is almost certainly going to put Kearney into the hole here no matter what, but he adds in an extra layer of deception by keeping his head up, eyes fixed on Cabannes.
Cabannes' peripheral vision picks up Kearney arriving into the line, but he's hesitant to bite in with Madigan himself looking like a running threat. Finally, a word for the finish from Kearney – how encouraging to see a wing back his pace to get the job completed.
Let the boys play
Even though Leinster have played a structured game at times this season, they possess a number of skillful players who can thrive in unstructured situations. We don't really get to see that a huge amount in modern rugby, but there was a sharp reminder in the build-up to Sean Cronin's try just before half time.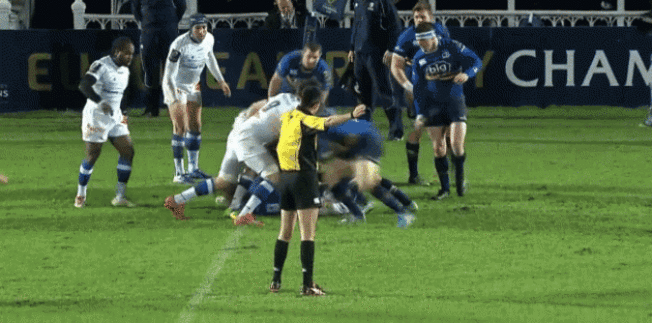 The ball goes loose [above] and Leinster's attacking skill takes over in a flash. In contrast to the first try, there are no pre-called moves or patterns here; it's simple rugby instinct and ability.
The combination between McFadden, Jamie Heaslip, Kearney and Devin Toner ultimately lays Cronin's try on a plate for him, with Castres' excuse for a defence in all sorts of trouble.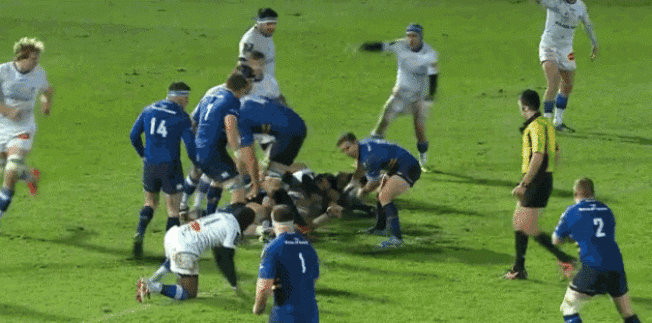 Cronin uses his pace to burst past the miserable tackle attempt from Marc-Antoine Rallier – who is, admittedly, left in a compromised position on his own in midfield – to scorch home for the try.
As a brief aside, it's worth noting the involvement of Fergus McFadden off the ball as Cronin bursts away. Below, we see him flinging Marcel Garvey [a potential defender] to the ground before Cronin receives the ball.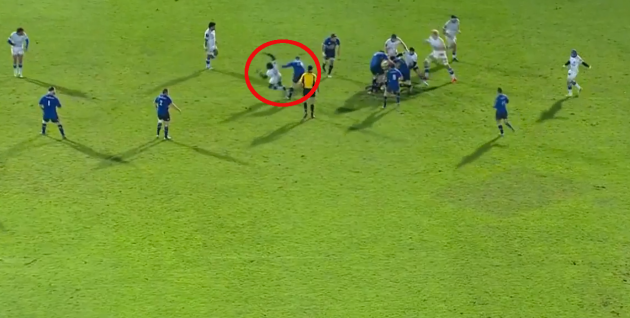 Even as Cronin goes through Rallier's flimsy tackle attempt, we can see McFadden is still niggling off the ball [below].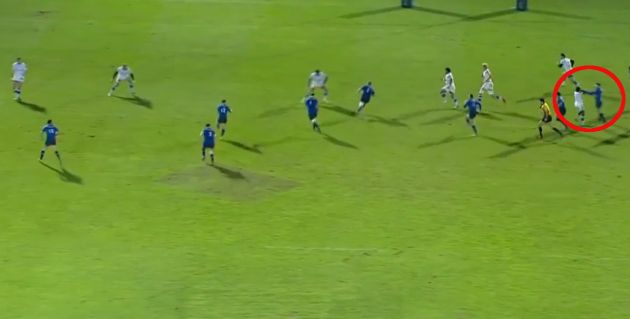 Perhaps McFadden would have been better off getting back into the line to support Cronin in the event that he was tackled, but his niggly actions have essentially removed a defender here.
Garvey was unlikely to be in a position to stop Cronin, but even still it's worthwhile from McFadden. Every team needs these players who confront the opposition, who hassle them, annoy them and get in their faces.
We're more accustomed to the 'enforcer' being a second row, but McFadden plays a similar role for Leinster, as well as being an excellent wing. He niggles off the ball, he takes no shit and he's the kind of player O'Connor appreciates.
Forwards get in on the act
Satisfyingly for forwards coach Leo Cullen and his pack, there was a try directly from the set-piece as Marty Moore dotted down at the tail of a maul in the first half. More encouraging was the manner in which Leinster so swiftly adapted to one of the defensive tactics from Castres.
The example below comes earlier in the half, when Leinster turned down the chance to kick three points and go to the corner instead.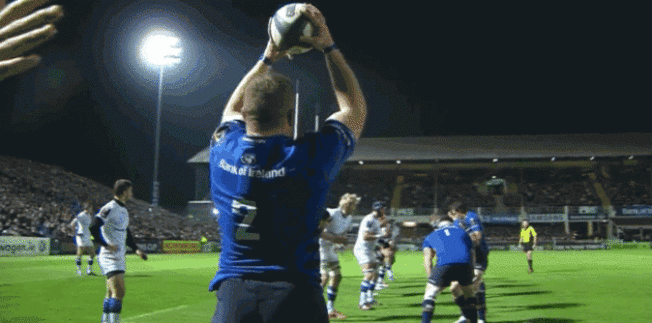 We've seen this defensive tactic more and more in recent times, with Simon Easterby's Ireland pack having used it very effectively in their November Test win over South Africa.
Essentially, the Castres players stand off as Leinster look to form the maul, refusing to engage and therefore ensuring that no maul has formed. That allows prop Ramiro Herrera to shoot around the outside and tackle Jamie Heaslip.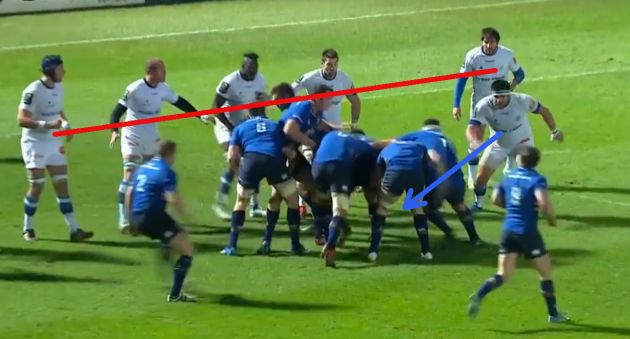 The end result is a failed mauling attempt from Leinster from a position close to the tryline and they go on to turn the ball over in midfield after shifting away from the subsequent ruck.
The next time Castres try to do the same thing, Leinster are far better prepared and react intelligently.
As we can see above, Castres stand off again, but Toner is far more aware this time, keeping the ball in his hands and moving towards the French side's tryline. That obviously means Castres cannot send a shooter around to the back of the maul.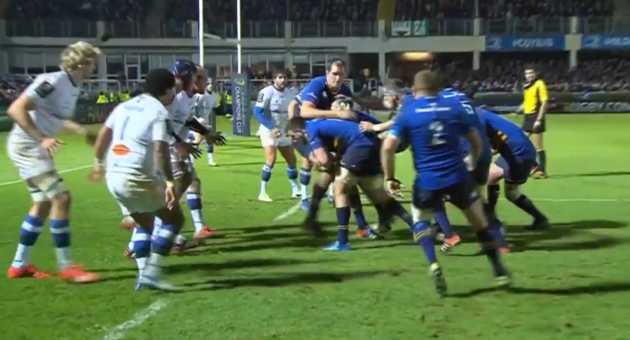 With Toner edging towards the tryline, Castres are forced to engage and that's the point at which the Leinster lock transfers the ball back to Heaslip. From there, the home team show patience in working the score.
There is one brief moment when Cronin becomes somewhat isolated [below].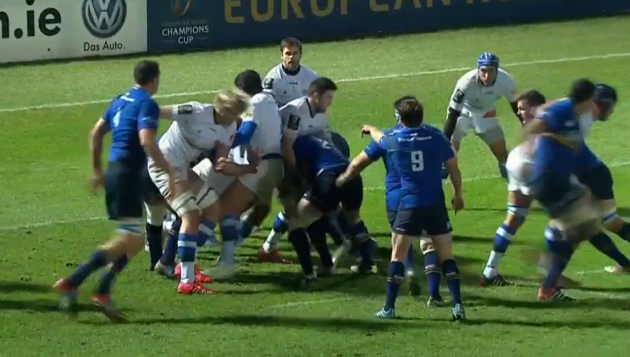 However, the hooker fights superbly to keep the ball available and Leinster soon get excellent length on the maul again, allowing them to guide Moore over the tryline for a hugely satisfying score.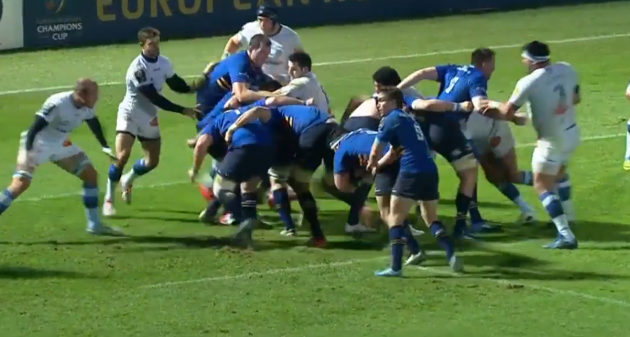 In a more general sense, we are beginning to see a little more variety in how Leinster look to play off their line-out platform. Obviously, there are times when the ball is flashed immediately to the backs [as for Kearney's try], but the maul will remain a vital attacking weapon too.
Cullen's pack have also started to add in a number of shorter moves around the tail of the line-out, involving players 'peeling off' and carrying in narrow channels. Cronin's ball-carrying is a particularly valuable component in the make-up of these plays.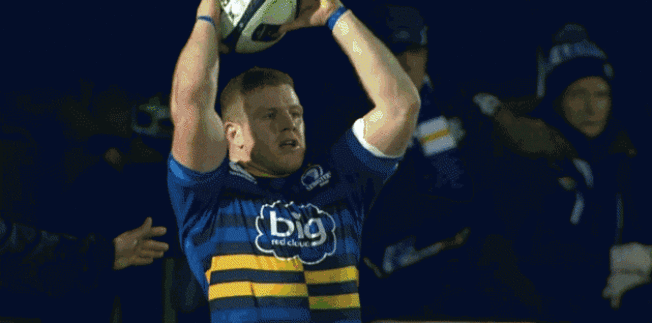 We get one ultimately unsuccessful example above, as Jordi Murphy peels off and then looks to feed Cronin. The idea behind it is straight-foward: lure the defensive team into maul defence and then use Cronin or a back row to get over the gainline by breaking away.
This type of play was particularly evident against Cardiff two weekends ago and is certainly something to watch out for moving forward.
Madigan the playmaker
One of the benefits of having Madigan at 12 is the option of a back-up first receiver when Gopperth is out of the game. Even when the Kiwi is on his feet and alive to play the ball, Leinster have been hoping to use Madigan as the key ball-handling playmaker.
The flow of particular games has meant we haven't seen the Ireland international standing at first receiver as often as O'Connor would have perhaps ideally liked, but we got a nice example of what Leinster are looking for in the lead-up to the Tadhg Furlong try.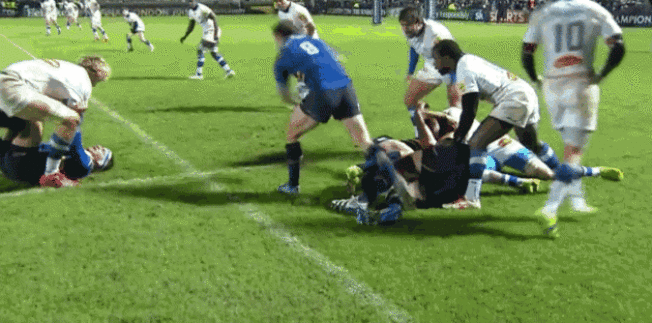 Madigan runs a smooth loop play off Murphy and then slips an understanding pass to Richardt Strauss to make the linebreak. Again, it's something Leinster have looked to do at other stages of the season, but at times when they simply haven't had the quality front-foot ball we see above.
Murphy does well to get a subtle bump on Rork Kockott after returning the pass to Madigan, ensuring the Castres scrum-half is out of the game.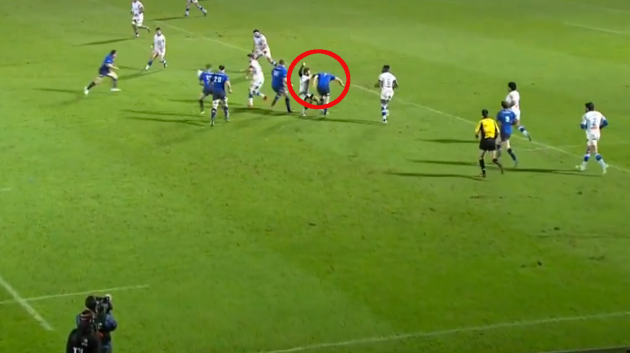 This try is, of course, in part down to some more horrific defending, this time from Herrara, but these little actions like Murphy's all contribute. Way off the ball, there's McFadden again niggling and distracting.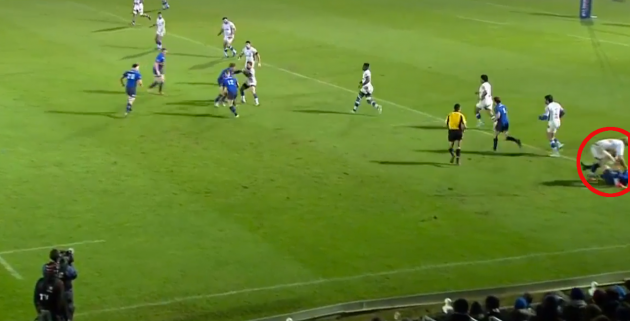 Wasps' defence is unlikely to afford Leinster opportunities like this one, but taking them so clinically is promising for O'Connor's side nonetheless. Lots of the good things we saw from Leinster on Saturday were plays and patterns they have been trying to carry out at earlier stages of this season.
However, the lack of quality, quick front-foot ball has made everything less efficient. Leinster's ball-carriers won the gainline against Castres, allowing them speedy rucks and in turn meaning their attacking patterns were so much more effective.
Case in point below, as Conan makes positive progress with ball in hand and allows Leinster to carry out one of their array of pre-planned moves effectively.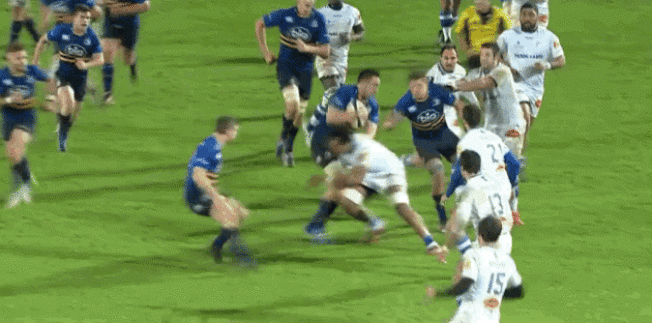 This exact play is something we have seen not working for Leinster at other stages of the campaign, but the speed of the ruck here gives Castres less time to get their fringe defence organised and the move works perfectly.
Typically of their more polished performance, even on the outside edges there are Leinster players looking to add to the likelihood of the play being a success.
As Darragh Fanning begins his run to accept the reverse pass from Luke McGrath, Kearney [circled above] and McFadden wide on the other side of the pitch have their hands in the air, calling for the ball.
They're fully aware of what's going to come next, but it's the kind of tiny detail that can make a miniscule but important difference at key moments. To see Leinster adding this layer to their attack before such an important clash with Wasps is encouraging.
Cut down the errors
Despite the many positives, there were still far too many individual errors from Leinster, particularly in their handling. Examples like the one below were simply too common in the first half especially.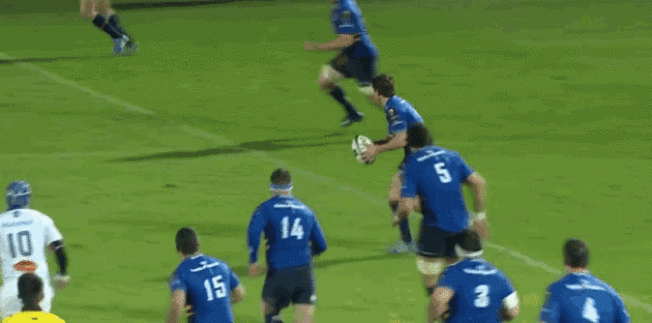 O'Connor's side turned the ball over a worrying 17 times on Saturday, and it goes without saying that such instances are far more likely to be punished by Wasps' array of attacking talent.
While a continuation of the encouragement to take slightly more 'risks' in running the ball is definitely welcome, that has to be tempered with a sensible approach to ball security at the Ricoh Arena.
Winning in Coventry certainly will not be an easy assignment, but this Leinster team are heading in the right direction. Their attack continues to improve as key players get fitter and sharper, while O'Connor and Cullen's coaching ideas are beginning to filter through more clearly.
There will be no over-confidence among the playing group this week after a big win against Castres, but they do feel that their season is on an upward curve that is not going to stop any time soon.