WITH 60 TRIES in their 10 Tests so far in 2016, the All Blacks have been a relentless attacking machine.
Clearly, these five-pointers have been the difference between New Zealand and everyone else in 2016, and we are almost certain to see more of them against Ireland on Saturday.
Before we delve into further analysis of the Kiwis this week, ahead of their meeting with Ireland in Chicago's Soldier Field, it's worth examining how Steve Hansen's men have scored those tries.
Possession platforms
New Zealand's two biggest sources of tries are turnover and kick return possession, which most rugby observers could have confidently suggested without a deeper analysis of each of the 60 scores.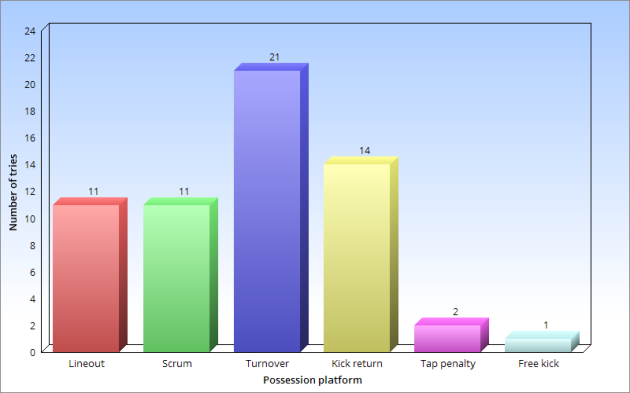 21 of the All Blacks' tries, or 35%, have come from turnovers – a category in which we've included opposition handling errors, breakdown steals, lineout steals and blocked-down kicks.
The Kiwis have scored 14 of their 60 tries, or 23%, after passages of kick return, ie. running a fielded kick back at the opposition.
Essentially, these figures underline that the All Blacks are ruthless at attacking in situations where the opposition is transitioning into defence. Hansen's side are excellent at identifying and exploiting space as defences attempt to organise themselves.
The All Blacks, and New Zealand teams in general, invest a lot of training time into working on turnover and kick return attack, meaning their strike rate in this area is unsurprising.
The only other try analysis of this nature we've completed was based around Ireland's tries under Joe Schmidt from the beginning of his tenure in 2013 until just before the 2015 World Cup.
In that run of 22 Tests, beginning with a win over Samoa, Ireland scored 58 tries.
That analysis last year showed that Ireland had scored 26, or 49%, of their tries from lineout platforms, whereas the above graph shows that the All Blacks have notched 11, or 18%, from that possession source.
Ireland under Schmidt from 2013 through to before the 2015 World Cup had scored 11 of their tries, or 19%, with turnover possession, while they only managed three tries, or 5%, from kick return.
Zero-ruck mindset
The impression when watching the All Blacks has always been that they strike rapidly in the early stages of their possession, and the numbers certainly back that up.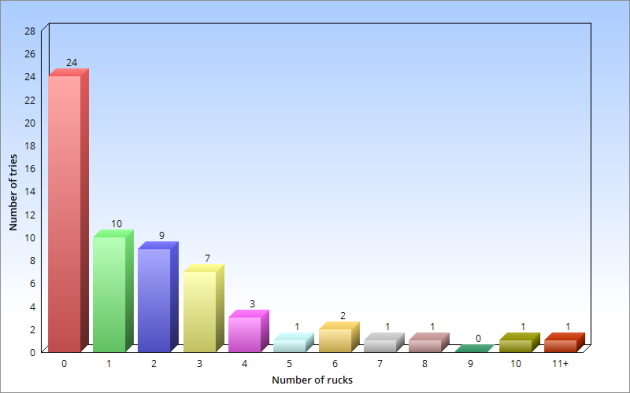 Above, we see a represenation of the number of rucks in each of the passages of attack that have led to a New Zealand try in 2016.
24 of their tries, or 40%, have involved zero rucks.
83% of the All Blacks' tries have been scored after passages of attack involving three rucks or fewer, very much reflecting the mentality they bring in possession.
Hansen's side have a mindset of avoiding rucks as much as possible, ensuring that the defence has little or no time to recover as it looks to get to grips with the All Blacks' play.
It is worth underlining that the vast majority of tries in the sport of rugby come in the very early stages of possession, but the All Blacks excel nonetheless.
Our analysis of Ireland last year showed that 20 of their 58 tries had come on first phase, ie. with zero rucks, although it is fascinating to note the differences in those scores when viewed alongside the All Blacks'.
There are many different types of zero-ruck scores, and a larger proportion of Ireland's came from the execution of detailed starter plays or close-range mauls.
New Zealand do have a high proportion of scores direct from the set-piece, particularly the scrum, but many of their zero-ruck tries have come from scintillatingly-rapid attack with ball in hand in unstructured situations.
Long-range danger
The well-worn phrase is that the All Blacks are capable of 'scoring from anywhere,' and that is another aspect of their try-scoring that is reflected in the numbers, although perhaps not to the extent that might be expected.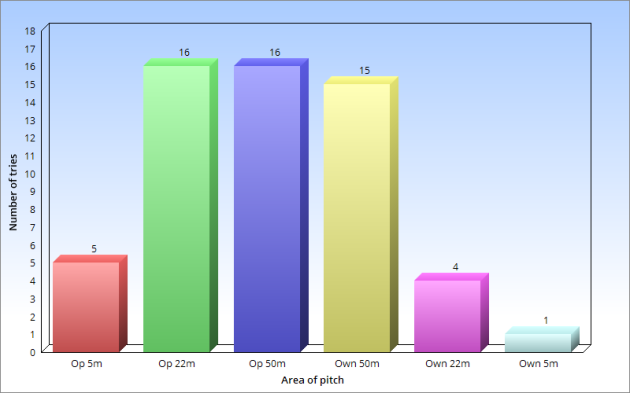 The majority of New Zealand's tries in 2016 have originated in between the two 22-metre lines of the pitch.
They have the ability to strike from deep, and consistently do so from just beyond their own 22-metre line. However, they have not scored a large number of tries from inside their own 22 this year.
That may well change in the coming games, of course, but we have seen the All Blacks bringing an exiting mindset with their possession inside their own 22.
They will attack running space if the opposition clearly shows it, but there is also a desire not to have the opposition camped in their 22.
From the 22-metre line onwards, the All Blacks' mindset of striking with ball in hand is extremely strong and they are a consistent threat.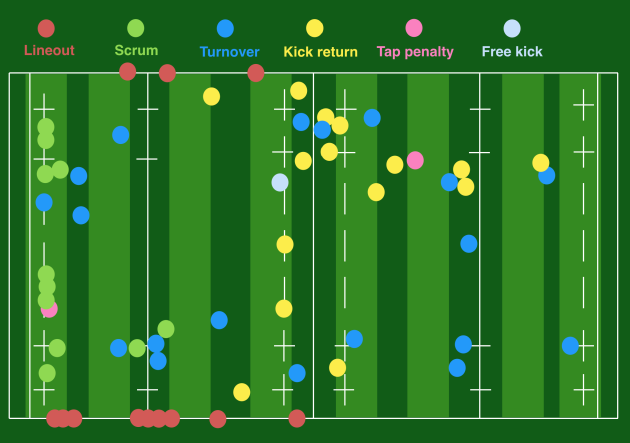 Above, we see a represenation of the location of possession source for each of the All Blacks' tries this year, as well as the type of platform. The All Blacks' tryline is on the right of the image, with the opposition tryline on the left.
We can clearly see how the All Blacks use close-range scrums to strike effectively, with their flatness to the gainline and simple, clever use of decoy runners often breaking the defence down.
Their kick return tries are understandably focused around and behind the halfway line, where they often gather the ball from poor opposition exits and clinically punish them.
Tries with the lineout as the possession platform have all started inside the opposition half, while turnover scores are distributed relatively evenly around the pitch – the All Blacks will pounce from anywhere with this kind of possession.
A question of timing
The All Blacks' fitness, combined with the quality of players they can bring off the bench, means they are especially dangerous late on in games.
Analysis of the timing of the All Blacks' tries in 2016 shows that 50% of them have come in the final 30 minutes of games.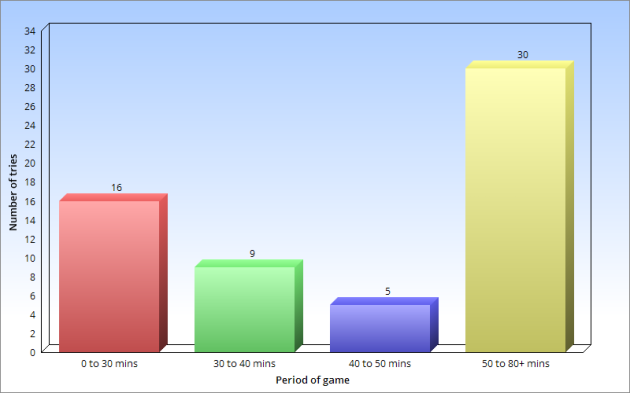 Many teams struggle to deal with the Kiwis' conditioning, bench impact and 80-minute focus, and this is one of the major challenges for Ireland in Chicago and Dublin this month.
Expect Joe Schmidt to fill his bench with explosive, mobile 'impact' players as he seeks to ensure that the trend of the All Blacks' dominating from minute 50 onwards does not continue.
Life of the ball
The All Blacks' passing ability has perhaps been the most enjoyable aspect of their attack in 2016, with all players in their squad capable of delivering the ball accurately to team-mates in space.
43% of their tries have come at the end of passages of attacking involving three passes or fewer, again underlining the All Blacks' ability to strike with clinical speed in the earliest stages of their possession.
However, many of their try-scoring passages of attack also feature a larger number of passes, reflecting the Kiwis' desire to shift the ball away from the point of contact when possible.
With every member of their team comfortable with passing, the Kiwis regularly sweep the ball from one side of the pitch to the other, providing their most dangerous players with one-on-one opportunities in space.
We've included offloads in the above numbers, as they are essentially passes out of the tackle, but it is fascinating to drill into that area a little more.
Over the course of all the attacks leading to the All Blacks' tries this year, they have offloaded successfully 54 times.
More pertinently, those offloads have very often been the key to them scoring, the real point of difference that has broken the defence.
Offloading ties into the All Blacks' mentality of avoiding rucks whenever they can. Their world-class skill level in terms of handling, catching and reflexes also means that the offloading policy comes with lower risk.
Photosport / Andrew Cornaga/INPHO Beauden Barrett has four tries in seven Tests this year. Photosport / Andrew Cornaga/INPHO / Andrew Cornaga/INPHO
Looking back to our analysis of Ireland's tries between November 2013 and the 2015 World Cup, there were only 14 offloads made in the passages of attack leading to their 58 tries, with just four players – Brian O'Driscoll, Chris Henry, Ian Madigan and Jamie Heaslip involved.
In contrast, Malakai Fekitoa, Patrick Tuipulotu, Kieran Read, Dane Coles, Isreal Dagg, Jerome Kaino, TJ Perenara, Ryan Crotty, Sam Cane, Sam Whitelock, Anton Lienart-Brown, Beauden Barrett, Julian Savea, Aaron Cruden, Codie Taylor, Ardie Savea, Wyatt Crockett, Aaron Smith, Brodie Retallick, George Moala, Liam Squire and Ben Smith have all thrown at least one successful offload in passages of attack leading to All Blacks' tries this year.
Those players come from virtually all positions on the field, underlining the uniform skill levels of the All Blacks.
While the offloading threat comes from all angles, captain Kieran Read and centre Anton Lienart-Brown have been particularly effective with their offloading in 2016 and have demonstrated a heightened ability to release the 'riskiest' offloads.
That risk is, of course, somewhat negated by their skill set, with both men displaying their supreme offloading ability in 2016.
We will look at the All Blacks' offloading threat, and the various other elements of their try-scoring ability, in greater detail in the coming days.
The42 is on Snapchat! Tap the button below on your phone to add!