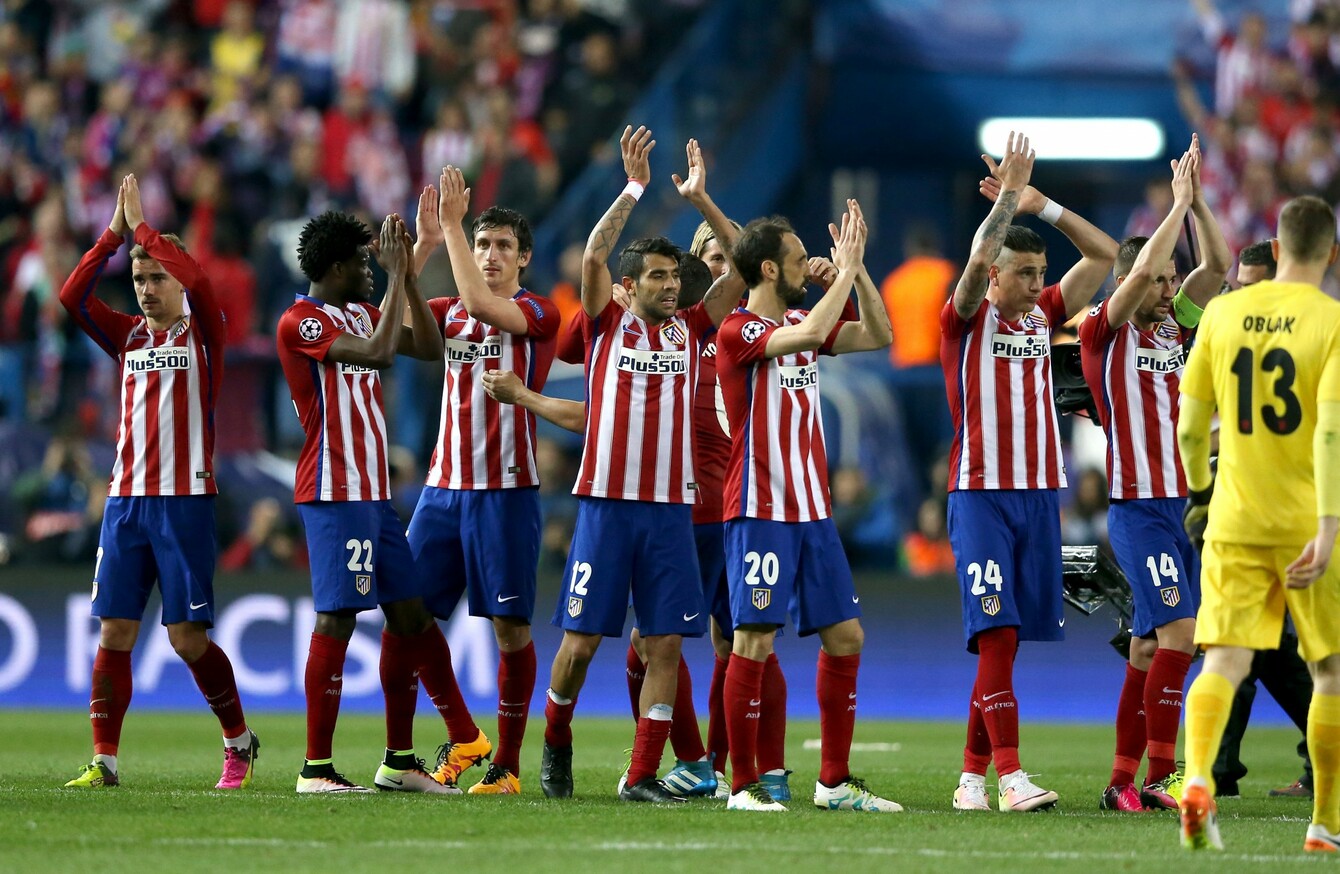 Image: EMPICS Sport
Image: EMPICS Sport
Updated at 8am
Overview
ATLETICO MADRID ARE not the sort of team that's supposed to regularly be in contention for the Champions League.
They are not the sort of team that's supposed to knock Barcelona out of Europe.
Diego Simeone's men are not supposed to win La Liga, as they did in 2014.
Yet despite the odds being firmly stacked against them, Atletico still manage to pull off miracle after miracle, season after season.
The club have been called the "Spanish Leicester City," and there is some merit to the comparison.
Before their unlikely success, many people — including respected Spanish football journalist Sid Lowe — suggested Barcelona and Real Madrid would have a monopoly on Spanish league titles for decades to come.
Like Leicester in England, Atleti are at a significant financial disadvantage compared with many of their rivals.
Until a new deal was reached recently, Barcelona and Real Madrid accrued the vast majority of the TV rights money, with Atletico and other sides receiving only a small portion of the leftover finances.
To put into perspective Atletico's paltry income in the context of the global football market, in 2014, they reportedly earned €42 million from TV rights during the campaign in which they somehow won La Liga. By contrast, Cardiff City, the team that finished bottom of the Premier League that same season, were awarded €74.5 million for their unequivocal failure.
Consider that for a moment: a team that beat Barcelona and Real Madrid to the Spanish title and reached the Champions League final received significantly less funds than a team who were relegated and won just seven of their 38 matches in England's top flight.
Atletico have also had to cope with the loss of several top-class players in recent years, including Diego Costa, Sergio Aguero and Arda Turan.
Yet one factor has remained constant in those years — Simeone's capacity to make his side incredibly solid defensively and difficult to break down.
As Atletico continue to prove, there are no substitutes for hard work, discipline, tactical intelligence and team chemistry — qualities that all the money in the world won't necessarily buy.
Evidence
Before showing why Atletico's defence is so impressive, let's look at the stats to back up the overriding assertion.
Atletico have long been superb at the back, but this season in particular, they are breaking records at will.
Consider the following achievements*…
Atletico have kept 33 clean sheets this season.
In 54 games, they have conceded just 21 goals.
Atletico have earned clean sheets in six of their last seven matches — which have included games against Barcelona and Bayern Munich — and it's the fourth time this season they have gone on a five-or-more-game run of not conceding.
They have conceded just two goals at home in the Champions League all season — both of which came in their second group match against Benfica.
In total, Atletico have conceded just seven Champions League goals this season — a record matched bettered by Real Madrid who have played one game less.
Overall, since Diego Simeone took over, Atletico have earned clean sheets in over 50% of their games — in 135 out of 256 matches, to be precise.
Atletico have never conceded a Champions League goal at home after the 60th minute since Simeone has taken charge.
*Stats via: @Squawka and @WhoScored
Tactics
The image above — of their Champions League quarter-final match with Barcelona — is a classic example of how Atletico tend to set up.
Generally, Simeone's side have some excellent players and quick-thinking attackers who can exploit the best teams in the world on the counter-attack.
Nevertheless, Atletico are technically inferior to the likes of Barcelona, Real Madrid and Bayern Munich, although they are still capable of moments of magic — Saúl Ñíguez's goal in the Champions League semi-final first-leg against Bayern was indisputably one of the best scored in the competition this season.
https://vine.co/v/iPmtlpHq3ne
Yet, these exquisite anomalies aside, when Atletico play a top team, they invariably drop deep and concede the vast majority of possession — in the Spanish side's 1-0 semi-final first-leg Champions League win, the Germans had 74% of the possession, which is an incredibly high percentage, especially for an away team.
The Rojiblancos generally play a 4-4-2 formation, with a high-pressing strategy to begin with.
In addition to two strikers who put in their fair share of work off the ball, they also have two defensive-minded midfielders, while their wingers usually tend to tuck in when they don't have the ball, thereby minimising the space available for opponents to play through them.
Closing the space
Closing the space is something Atletico do particularly well. Check out the clip below and notice how difficult they make it for Barca to play through them.
This example is one of countless instances in this game whereby Luis Enrique's increasingly frustrated side tried and failed to play through their opponents.
There are nine Atletico players visible in this clip, highlighting their tendency to all stick close together in their half of the field while attempting to contain their rivals.
It was a similar story in the semi-final against Bayern Munich.
Notice in the clip below, all the Atletico trademarks — the high-intensity pressing, the attackers defending from the front, and the lack of options and time on the ball for the team in possession.
These scenarios don't happen by accident, nor are they caused primarily by poor play on Barca and Bayern's part.
Instead, they are due to the remarkably consistent intensity of Atletico. Their constant harrying and flawless positioning forces the opposition into regular mistakes, slowly eroding their confidence and morale in the process.
Trust and team spirit
As alluded to already, Atletico have lost their fair share of star players in recent years.
Nonetheless, one of the reasons why Simeone has managed to succeed so emphatically is that he has kept hold of a core group of players that he trusts and who can be relied upon to work tirelessly. They also refrain from engaging in the type of indulgent behaviour that some of the stars of Bayern and Barca seem prone to from time to time.
Moreover, of the team that played in the recent semi-final first-leg, Gabi, Juanfran, Filipe Luis, Koke and Fernando Torres have all spent at least four years at the club (over two spells in the case of Torres and Luis), which is incredibly rare given how modern football clubs are usually akin to revolving doors.
Simeone knows that all these players of his will work tirelessly and routinely sacrifice individual glory for the sake of the team — many have spent years earning his trust. So essentially, they are the opposite of mercenaries — players who have become part of the furniture at Atletico and are consequently passionate and knowledgeable about the team's history and the culture needed to be imposed for it to succeed.
Their influence is such that when one key experienced player is absent, as was the case with 30-year-old defender Diego Godin in the Bayern first leg, their unavailability is not as severe as it might be at other clubs, with several others able to compensate for the Uruguayan star's absence.
In tandem with these experienced players, Simeone has also thrown a few talented younsters into the mix — the likes of José Giménez (21), Saul Niguez (21), Thomas Partey (22) and Jan Oblak (23) provide the type of energy, exuberance and freshness that prevents the team from going stale and ensures the older players don't start to rest on their laurels.
But most importantly, Simeone has turned this promising blend of players into a cohesive unit and a true team capable of beating most sides, including those with significantly better individual players.
Playing on the edge
There is no doubt that there's an edge or element of cynicism to this Atletico team, and it undoubtedly has contributed to their success and perhaps some of their rare failures too.
This attitude extends to their manager, Diego Simeone, who has been a controversial figure from his playing days right up to the present.
The former Argentine international infamously got David Beckham sent off at the 1998 World Cup, as he exaggerated the pain caused by his rival's petulant kick off the ball…
Source: ClassicEngland/YouTube
And most recently, Simeone was banned for the rest of the La Liga season from Atletico's bench, after one member of his team's staff allegedly threw a ball onto the field to disrupt play during a Malaga attack.
Source: Soocer HD/YouTube
This cynicism, naturally, has been evident to an extent in Simeone's teams as well. Professional fouls, for instance, are a frequent characteristic of Atletico's style.
And against Barcelona, over two legs, they committed a total of 36 fouls — seven more than their opponents — in what were both quite heated affairs.
In the first leg against Barca, Atletico received as many as eight bookings, including two for Torres, who was accordingly sent off.
Furthermore, Simeone's side also seemingly target certain key opposition players in an attempt to get them red carded, with a number of obvious attempts to provoke Suarez and Neymar in the second leg of the Barca game evident over the course of the 90 minutes. The video below highlights the close attention and rough treatment of the latter, which definitely contributed to one of the Brazilian international's most ineffectual performances in recent memory.
Source: Cristiano Ronaldo7/YouTube
Resilience
As emphasised by the stat highlighting that they have yet to concede at home after the 60-minute mark in the Champions League under Simeone, Atletico possess remarkable resilience and concentration, particularly given how much possession they tend to concede against the top teams.
Typically, they start off with conspicuous dynamism, expertly employing their high-pressing style, and often managing to score early goals as a result.
However, naturally, as the match progresses, Atletico's energy wanes, and the team simply cannot physically maintain their previous intensity.
Nonetheless, they are clearly adept at handling this scenario. Against Bayern, having established a 1-0 lead, the Spanish side increasingly invited their opponents on to them.
Watch the rigorous concentration and discipline in the clip below, and also notice how deep the entire team — including striker Fernando Torres — find themselves with more than 10 minutes left.
Nevertheless, despite Atleti's increasingly negative style and growing tiredness, the enthusiasm remains and they still are determined and sharp enough to hold their positions and maintain two defensive walls that Bayern struggle to break through.
Similarly, notice the image below, in which all but one of the Atletico players are pictured defending deep in their half in the final five minutes, reducing one of the world's best attacks to a sense of desperation and a creative inertia.
Indeed, the image was a common sight in the second half, as Atletico effectively settled for a 1-0 first-leg advantage and tirelessly fought to hold onto it in the second half.
It may not have been pretty to watch, but once again, Diego Simeone's men's approach proved immensely effective.
Conclusion
Since taking over in 2011, Diego Simeone has gradually turned Atletico Madrid into the best defensive side in Europe.
The Spanish overachievers rarely give goals away cheaply, owing to countless hours and ultimately, years on the training pitch spent honing this meticulous system, with the likes of Gabi, Juanfran, Koke and Diego Godin long since established in the team and aware of exactly what's needed to win football matches.
Like the Arrigo Sacchi-managed Milan outfit of the late '80s and early '90s, Atletico are a well-oiled machine whose defending sets them apart from the pack.
While they arguably don't quite boast the attacking prowess of that famous Milan team, their organisational skills coupled with an unforgiving work-rate demanded by a somewhat obsessive coach means there are some stark similarities between the two sides.
Whereas that Milan squad had a number of influential leaders and meticulous workers such as Franco Baresi, Alessandro Costacurta, Roberto Donadoni, Mauro Tassotti and Paolo Maldini, the likes of Diego Godin, Koke, Juanfran and Gabri are just as inspirational and integral to the current Atletico group.
And as with Leicester in the Premier League, there are more talented teams competing for the Champions League, but when it comes to spirit and defensive solidity, Atleti are surely unparalleled.
Atletico Madrid's defence will be on the field at the Uefa Champions League Final and, thanks to Nissan, you have a unique chance to play your part in Milan on 28 May.
Follow the link below and you could have your name weaved onto the iconic flag, which will be waved in the centre-circle at half-time during the game.