LAST WEEKEND, THE Aviva Stadium hosted one of its most entertaining and skillful games of the season.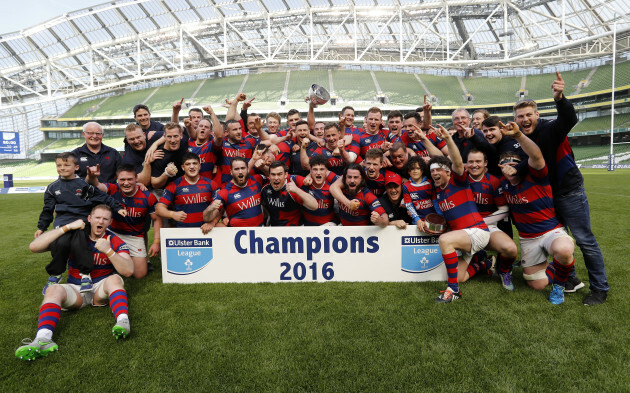 Colm O'Neill / INPHO Clontarf were winners in the Ulster Bank League final last weekend. Colm O'Neill / INPHO / INPHO
Clontarf and Cork Constitution turned up for a thrilling contest in the Division 1A final of the Ulster Bank League, with the Dublin club doing just about enough to emerge with their second-ever title on a 28-25 scoreline.
An absorbing fixture featuring seven tries in total demonstrated exactly what domestic rugby aficionados have been saying all season – the All-Ireland League is home to the most exciting and positive rugby in the country.
On a beautiful day in Dublin, last Saturday's final showed that Irish club rugby is full of quality.
Getting off on the left foot
Brian Hickey's Con side started the game much the brighter and showed real attacking spark with their healthy share of the early possession.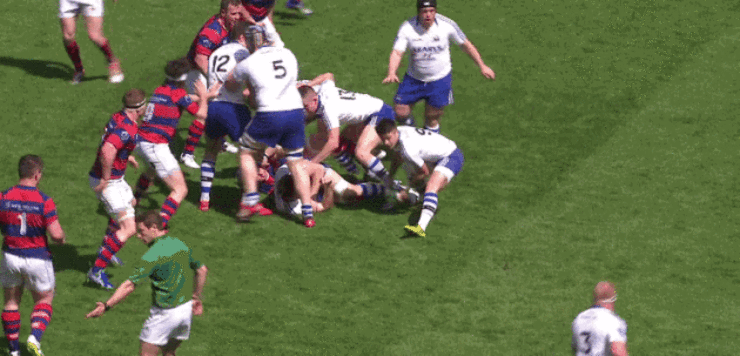 Munster-contracted Darren Sweetnam is the man to make the half-break and offload in the instance above, feeding Rob Jermyn for the bust.
The footwork from 23-year-old Sweetnam is obviously superb here as he sells the outside angle by staring hard to Mick Noone's right shoulder, then bursting back inside off his left foot.
As we can see below, Sweetnam also transfers the ball into his right hand, freeing his left to swat through Noone's attempted recovery.
That free left hand also allows Sweetnam to make a brief fend on Karl Moran as the Clontarf openside steps back in, and Jermyn benefits from a lovely offload – one of many in this game.
Centre inside
One of the most interesting aspects of the positive early attack from Con was their use of inside centre Niall Kenneally as a first receiver.
The Sligo man, a product of the Munster academy, cleverly mixed direct carries with short tip-on passes and offloads to forwards around him from that position off scrum-half Ryan Foley.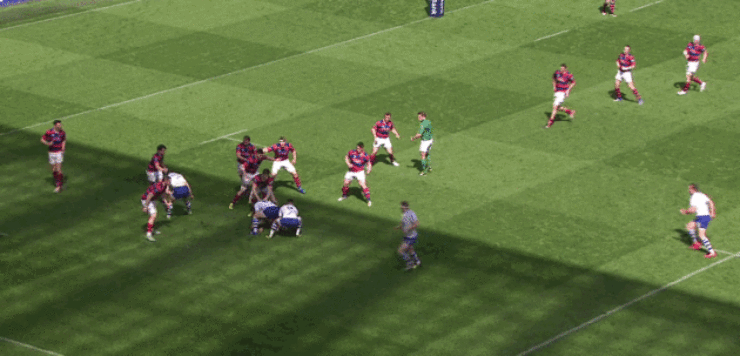 Above, we see Kenneally making a carry and offload to ensure Con's forward momentum continues, while below we get an example of one of the centre's sharp tip-on passes.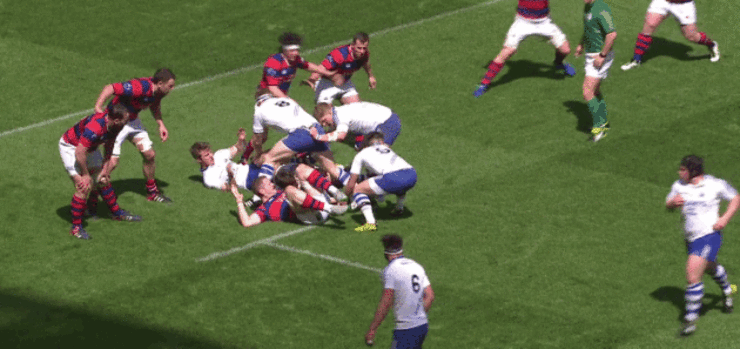 Con's smart use of Kenneally in these situations, as they looked to create pressure closer to the rucks, was highly effective.
An ability to make gains in the carry and combine that with more subtle handling skills saw Con eke out the important 'hard yards,' creating the front-foot ball for the likes of Sweetnam to play off.
We see the impressively-abrasive Graeme Lawlor make a surge in the clip above, but it's notable that it's not a completely simple one-out carry.
Ahead of the ball, prop Gavin Duffy runs a hard decoy line. A tiny detail, but it ensures 'Tarf can't immediately line Lawlor up for a big hit.
Below, we see the powerful Jermyn making yardage close to the ruck for Con as he gets off his wing to take an inside pass from Tomás Quinlan.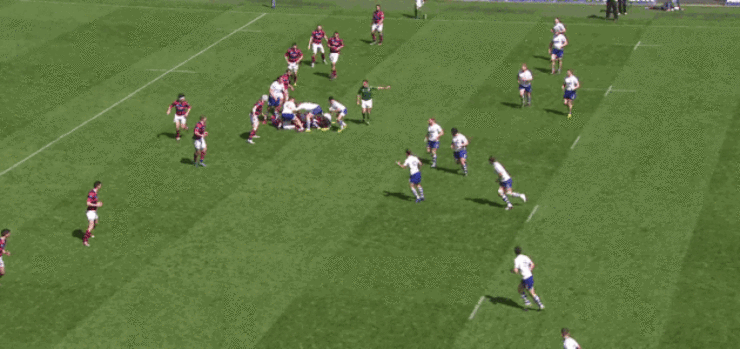 Despite the positive approach and an ability to apply huge pressure to the Clontarf defence in ideal areas of the pitch, Con could not find the score that would reward the impression.
Coming in the side at a ruck, a missed penalty and a handful of other errors meant Con were held scoreless in the opening 20 minutes and the Dublin side's belief clearly grew.
Clinical Clontarf
Andy Wood's men showed Con exactly how clinical they are with an excellent try on turnover ball in the 31st minute.
The experienced Ireland Clubs international Sam Cronin is the man to claim possession for the Dublin outfit, stripping the ball muscularly in the tackle.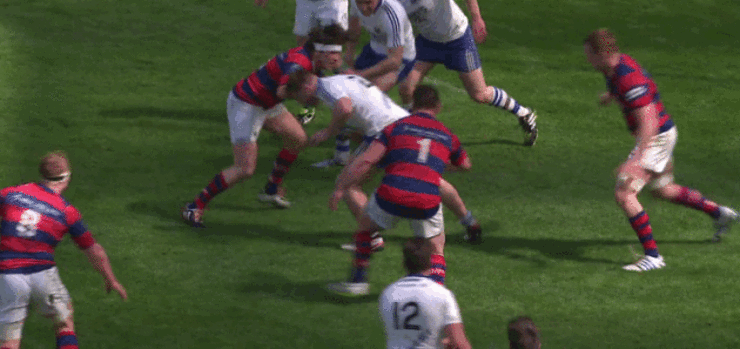 Immediately, Clontarf's outstanding centre Matt D'Arcy recognises the scoring opportunity. His team are obviously in advantageous field position and the turnover forced by Cronin means Con are disorganised defensively.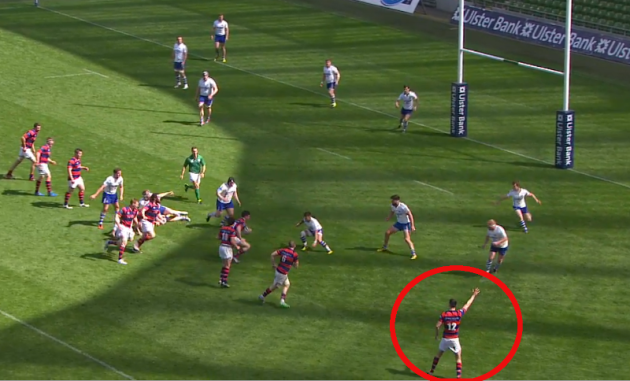 D'Arcy is signalling for the immediate pass post-turnover but Ireland U20 centre Conor O'Brien opts instead to carry at the Con defence.
With a man outside him in space, D'Arcy is frustrated by that decision but he bides his time. A quick recycle from O'Brien's carry means Con simply cannot organise and get their defensive line set as they might wish. D'Arcy pounces.
We so often see on turnover ball that a tight-five forward gets targeted by a back, and that's exactly what happens here.
Clontarf out-half Joey Carbery feeds D'Arcy nice and early with the pass, allowing the inside centre to exploit tighthead prop Ger Sweeney in the defensive line.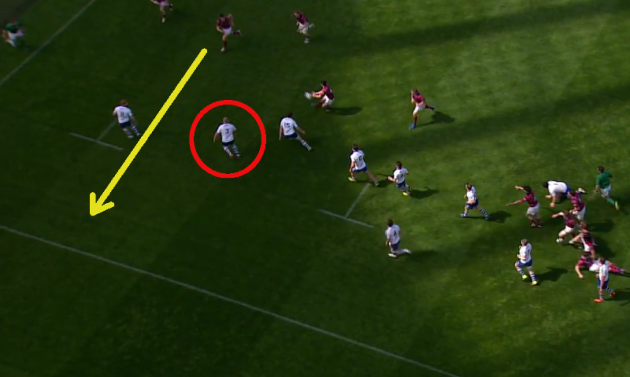 The initial turnover by Cronin, followed by a rapid ruck, means Con cannot swap defenders further in the line and Clontarf are clinical in taking their opportunity.
The Bull breaks from deep
With Con reeling from that turnover try, Wood's side struck again immediately from the restart to put themselves firmly in control of the game. It's a stunning breakout try from Clontarf from just outside their own 22.
The first thing to point out is how swiftly 'Tarf find their shape after receiving the restart from Con.
By the second phase, they have a three-man forward pod [marked in red below] for scrum-half Cronin to hit, with Carbery [yellow] hovering behind to offer an outlet for the second-wave attack.
Noone makes a good decision to carry at the Con line, powering into the tackle and getting good ball placement to ensure the crucial quick possession that his backline thrives on. Again, D'Arcy is the man to take advantage.
20-year-old Carbery perhaps stood out for his footwork, but his passing game was equally as impressive for Clontarf on Saturday. He understands when his midfielders will benefit from time on the ball, and delivers the early pass to D'Arcy in this instance again.
D'Arcy spent much of this season on a development contract with Munster, and his class was clear to see at the Aviva Stadium.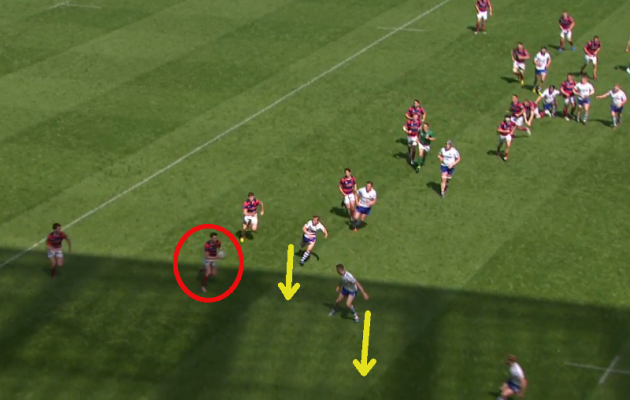 It's a very basic thing, but we can see above that D'Arcy is carrying the ball in two hands. He creates indecision in the Cork Con defence as a result.
Quinlan has indicated to Shane Daly to drift off D'Arcy, but the outside centre is clearly still worried about the threat of D'Arcy's pace. If D'Arcy tucks the ball into one arm for the carry in the moment above, then Daly can commit fully into turning back in and hammering him with his right shoulder.
Instead, there's indecision there as D'Arcy threatens to pass into that outside channel. Therefore, he can glide in between the hard-drifting Quinlan and the late-turning Daly to deliver a sumptuous, delicate offload to Mike Brown.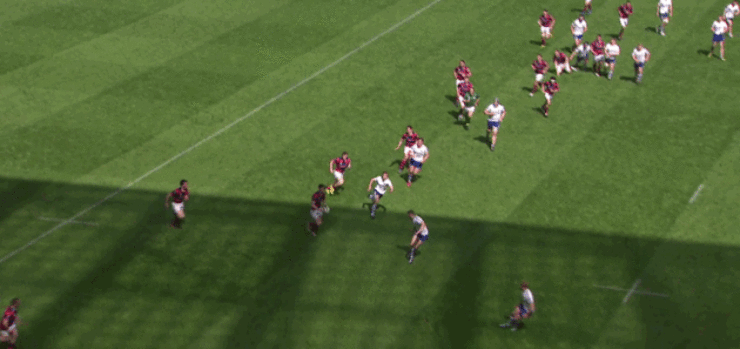 D'Arcy's offload is no throw-and-hope effort. He's won the tackle contest, is beyond the gainline, moving forward, with one arm clearly free of the contact and with a support runner completely open. The perfect criteria.
Brown – who was superb after an early shift from the wing to fullback due to Evan Ryan's unfortunate injury – then does very well to push off his right foot, attracting the covering Foley towards him before he releases the pass to Carbery.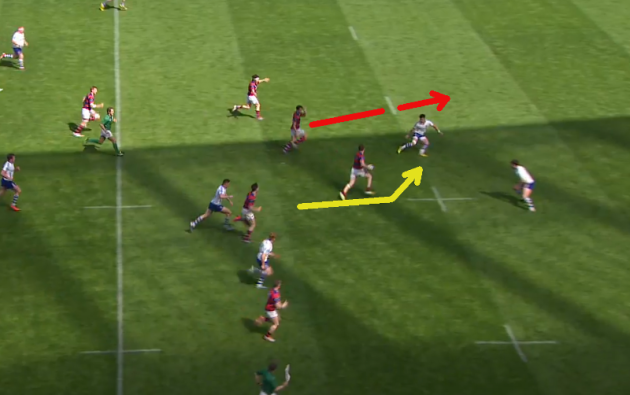 That means that Foley is going to have to pirouette to target Carbery after the pass, with Brown essentially removing both fullback Sweetnam and Foley as truly viable defenders.
The try does, of course, require a sharp burst of pace from Carbery to be sealed.
Turnover repeats itself
'Tarf's third try came from another turnover in contact, with eventual try-scorer Tony Ryan the man to make the intervention on this occasion.
The number eight – who played for Leinster in the Guinness Pro12 this season – rips the ball clear from a tackle and it's notable how quickly Clontarf's mindset transitions from defence to attack.
That's a collective aspect of this 'Tarf team – they sense try-scoring chances immediately when they turn the ball over.
It's exemplified by the manner in which Noone races to the ruck in order to pass the ball away quickly, giving Con less time to recover their defensive shape.
The pass bounces to Carbery, but Clontarf can play at the Cork side immediately. O'Brien makes a very strong carry for Wood's men, showing off his dynamic fend to bust through a pair of tackles and then drop off a gorgeous one-handed offload to D'Arcy.
As O'Brien is making that powerful carry and offload, we must note the work rate of Ryan and Noone.
Ryan [yellow above] is the man who makes the turnover and he's the player who scores the try on this very phase. Noone [red] has made that pass from the base of the ruck and he ends up hugging the right touchline as Ryan receives the ball to score.
It's pure work rate from the back row bruisers and Noone's positioning wide on the right, along with Rob McGrath, makes the decision all the more difficult for final defender Sweetnam.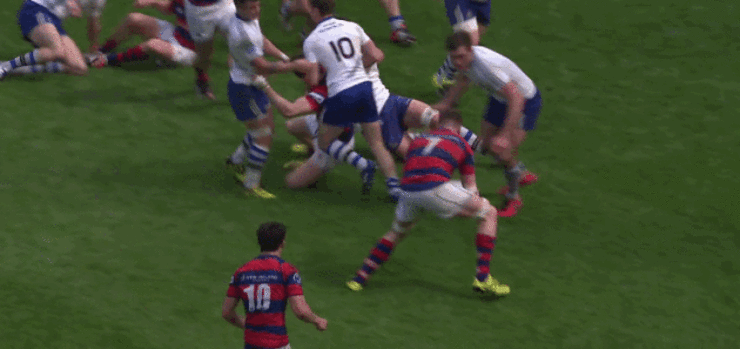 It is worth stressing that the ball in knocked on by Clontarf in this passage, as Brown loses control, but the match officials don't pick it up and with no TMO Clontarf get the stroke of luck.
That said, the SBW-like quality of offloading from O'Brien, Cronin and Moran, as well as a delicious delay on the short pass from playmaker Carbery, means the try is well earned.
Maul muscle
21-3 down, Con could have easily packed it in, but Hickey's team showed their resilience to ensure that the UBL final would be a two-sided contest. Their forward pack fired up for an excellent try stemming from the maul.
Brian Hayes, who was with Aurillac in France for the last two seasons and is still clearly capable of playing professional rugby, claims the lineout ball from Max Abbott's throw to set the platform.
The bracing work from Con captain James Ryan at the back of the jump and former Connacht academy lock Conor Kindregan is absolutely essential to the score.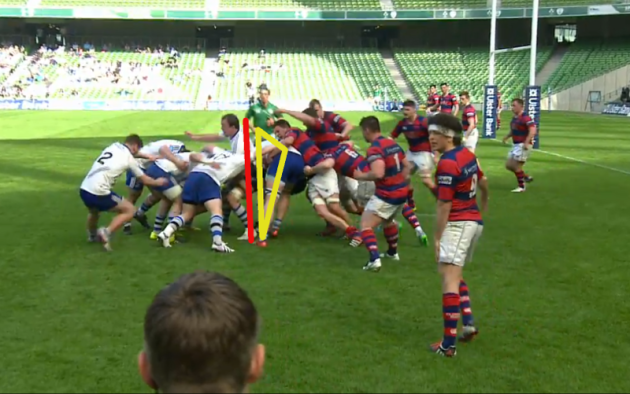 Hayes is marked with the red line above, and it's clear how much of a barrier Kindregan and Ryan [yellow] – after lifting Hayes – create for Con as they set their maul and get good low body positions.
Clontarf can't get to Hayes for a sack or target the ball itself. It's fantastic bracing work from Kindregan and Ryan to set Con off on a strong foot.
Replacement prop Liam O'Connor spearheads the maul as it shifts off to the right and we can see below how Kindregan and Ryan's efforts remove four 'Tarf defenders from the equation.
With that amount of resistance gone and Con well set, they drive powerfully towards the tryline. The maul collapses a metre or two short, but Abbott has the presence of mind to snipe off to the right, even being able to ignore an overlap to his outside.
Heads up
Chastened by the Con revival, Clontarf again found their own attacking spark to create another wonderful try for the prolific Mick McGrath.
D'Arcy's influence was, almost inevitably, all over the score.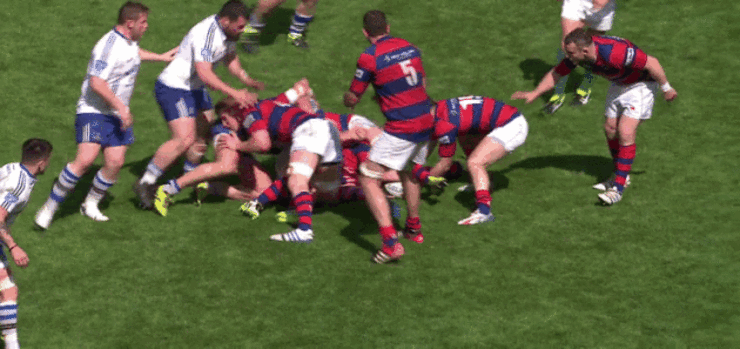 With Carbery out of the game after offloading away to the right, Brown slots in at first receiver.
As the fullback is receiving the ball from replacement scrum-half Peter du Toit, we can see that D'Arcy has his head up to scan the defence.
He identifies a hint of space on Aaron Spring's right shoulder and makes his decision early.
Spring reacts well as Brown passes to D'Arcy, indicating that he's got the 'Tarf inside centre covered and prompting Ryan to drift on.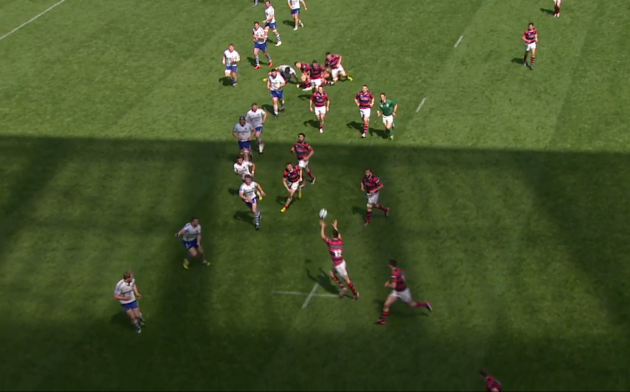 Ryan drifts out onto Noone, who is holding the left-hand width for Clontarf, but that essentially means that Spring is left marking two players – D'Arcy and his centre partner O'Brien.
Spring makes a good read in that situation, but he is stretching to tackle O'Brien after the outside centre's well-disguised run to D'Arcy's outside shoulder.
That means O'Brien can again free his left hand for an offload, finding D'Arcy inside.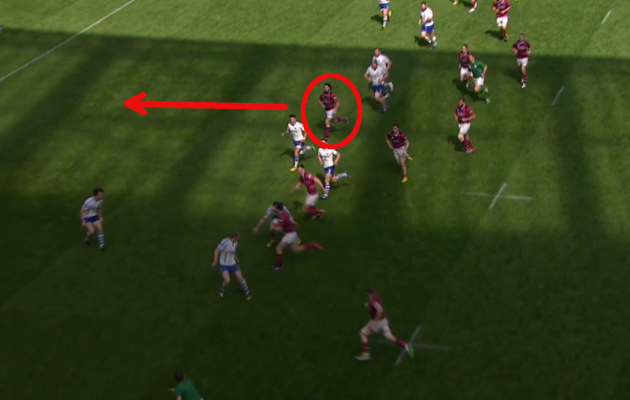 It's worth pointing out the clever off-the-ball running of try scorer McGrath for this try. As we can see above, he gets ahead of the ball after du Toit's initial pass has skipped him.
It's intelligent work as the stocky wing anticipates a linebreak and his early support means he's in position to take the scoring pass from D'Arcy.
Final fightback
Again, Clontarf looked to be sealing the deal with that try, but Con's fighting spirit came to the fore.
Jermyn's power was impressive to break through from close range in the instance above, after dogged phase play in the Clontarf 22, and then Con produced another smart try to ensure a nervy finish to the game.
The final try of the contest came as 'Tarf coughed up possession on kick return, leaving their backfield totally exposed.
We can see above that Carbery and Brown are the two men involved in running back at Con after the Cork side kick deep.
That means that when Brown loses the ball in contact, both of 'Tarf's backfield patrollers [marked in red below] are missing from that area of the pitch. Con scrum-half Foley and fullback Sweetnam are clinical in exploiting the situation.
Foley's kick is superbly-judged and Sweetnam is on exactly the same wavelength as he sprints forward from deep for Con to perfectly time his chase and gather the ideally-bouncing ball for a clever try.
Domestic bliss
Con were back within three points, but Clontarf proved to have enough savvy and composure to see out their 28-25 win last weekend.
The exciting nature of the game was hugely positive for the Ulster Bank League and quite probably demonstrated to a new audience the quality on offer within Irish club rugby.
There are changes ahead for the AIL, with a move to two eight-team divisions and provincial leagues beneath that expected in the coming years, but this final showed again that Irish rugby must continue to lend its support.
The42 is on Snapchat! Tap the button below on your phone to add!