BY THE TIME most central defenders hit their mid-30s, talk of retirement intensifies and they start to have a reduced role in the team.
Rio Ferdinand, Richard Dunne and Jamie Carragher are three examples in recent years of once-great defenders who started to look their age as they moved towards the end of their careers. Even John Terry, arguably the Premier League's best-ever centre-back, has begun to show signs of wear and tear of late.
However, contrary to this trend, at 34, Damien Delaney is arguably in the form of his life. Having started off in the League of Ireland with Cork City and spent time on loan at clubs like Mansfield and Stockport, Delaney's rise to the top level of the game has been conspicuously belated.
Since joining Crystal Palace in 2012 at the age of 31, the Cork native has been a key player for the Eagles, making over 100 appearances for the club over the past four seasons and captaining the side of late. Before joining Palace, he had made less than 10 Premier League appearances (as a youngster at Leicester), and he has played in all four tiers of English club football at some point.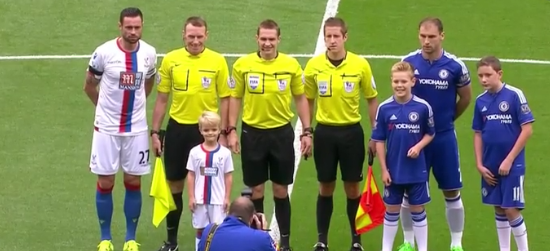 The Cork native has been a virtual ever present in a side that has been built on a solid backbone. In their first season in the Premier League, Delaney played 37 times as Palace finished 11th. Last year, he appeared 29 times, helping the club to come 10th ultimately. And this season, he has played in all four games so far, with the team rising to second place following their shock win at Stamford Bridge on Saturday.
Defence has been a key part of Palace's sudden rise from lower league obscurity. Prior to their recent match with Arsenal, Gunners boss Arsene Wenger singled out their back four as the most impressive aspect of the side. Despite finishing below the top-level teams in recent seasons, they in many cases enjoy a similar and even better defensive record to them. For instance, in the past two campaigns since returning to the Premier League, Palace have on both occasions conceded less goals than Tottenham — a side with much more high-profile players such as Jan Vertonghen and Hugo Lloris in their backline.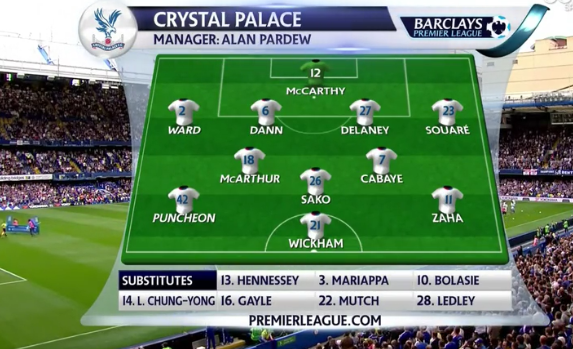 And at the weekend, Delaney once again showed why he's such an integral part of Palace's back four.
Lining up to the left of fellow centre-back Scott Dann, the duo have enjoyed an impressive partnership of late. Palace generally play in a manner not dissimilar to Everton, with James McArthur and Yohan Cabaye sitting just in front of the defence à la McCarthy and Barry at Goodison. The full-backs, Pape Souaré and Joel Ward, consequently have licence to push forward. This tactic was highlighted, in particular, for Palace's second goal on Saturday, with Ward having the freedom to charge into the opposition six-yard box in the dying minutes to score the winner.
Alan Pardew's men are also perfectly set up to counter-attack, with the speedy likes of Wilfried Zaha and Jason Puncheon frequently posing a threat on the break and carrying the ball forward to alleviate the pressure on the defence.
Connor Wickham was charged with the responsibility of leading the line on his own up front, again holding the ball up well at times to slow the play down and take some pressure off the visitors' backline for as long as possible.
No fear
The visitors signalled their intentions early on. Boss Alan Pardew promised his side would show some ambition, and it was certainly evident for their set pieces, with Delaney among the players to venture forward.
However, despite these sporadic instances of ambition, it was clear that the away side's primary objective was to defend. Whenever Chelsea had possession, they invariably set up with two banks of four.
Notice the pic below. Every Palace player bar Connor Wickham is visible and nine Palace players are behind the ball and well inside their own half. This set-up was far from a rarity. The Eagles seldom looked like being exposed and it was largely due to their commendable discipline throughout the 90 minutes.
Similarly, you can see as many as nine Palace players (and not including the goalkeeper) in the pic below. So while they capitalised superbly when chances came their way, there was no doubting that Palace's unlikely triumph was built on a solid foundation and old-fashioned principles such as hard-work, pressing and tight marking, as well as not being afraid to throw themselves in front of shots when necessary (see gif below).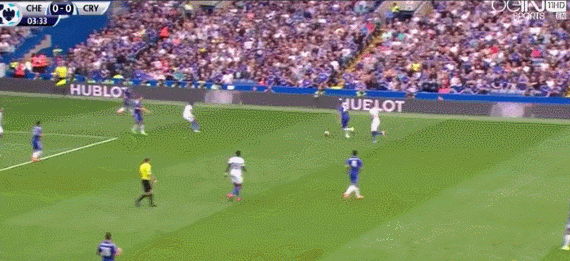 What was also noticeable about Delaney's display in particular was his ability to do the basics well. If there was ever any doubt or danger in the backline, he showed little hesitation in booting the ball away. This basic rule may seem an obvious part to any professional footballer's game, but with pressing arguably more pervasive than ever in the Premier League, defenders such as Dejan Lovren are frequently being caught out owing to their tendency to dwell on the ball in dangerous areas.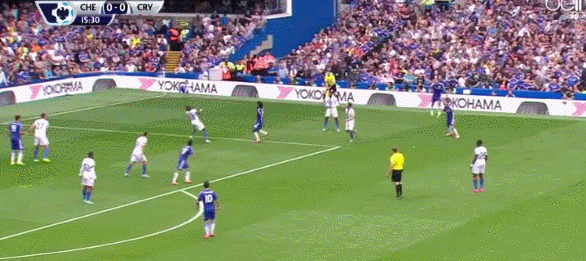 And while the players in front of Delaney often did the work for him, it was obvious that the Cork native was influential in organising this defensive wall. When Chelsea had the ball, Delaney could frequently be seen pointing, shouting and essentially instructing his teammates of what was expected in any given situation.
The clip below is a fine example of Palace's immense work-rate, and how they continually managed to frustrate Chelsea ultimately.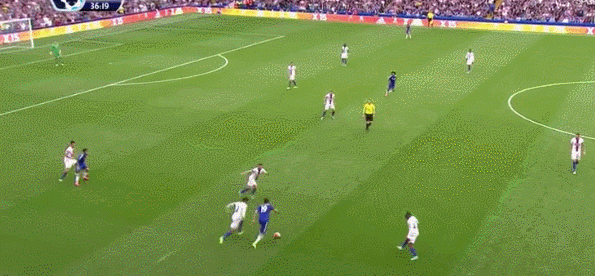 Costa v Delaney
PA Wire / PA Images PA Wire / PA Images / PA Images
(Chelsea's Diego Costa [right] and Crystal Palace's Damien Delaney go to ground during the Barclays Premier League match at Stamford Bridge)
From quite early on in the game, it became apparent that Diego Costa versus Damien Delaney would be a key battle at the weekend. On paper, Costa would appear to have the edge. The Spanish international, when fully fit, is one of the best strikers in Europe. He was signed by Chelsea from Atletico Madrid for a reported fee of £32 million.
Delaney, by contrast, signed for Palace on a free transfer in August 2012 having been released by Ipswich. Not many people would have predicted that Palace and Delaney would have established themselves as solid Premier League performers just three years later. Indeed, the fact that Delaney only signed a short-term contract indicated even the club were unsure if he could make a substantial impact.
Yet on Saturday afternoon, Delaney was the clear winner in this individual contest between himself and Costa. Early in the game, it was obvious that the Spaniard had the superior pace of the two. But watch the clip below and notice how well Delaney deals with the situation. He doesn't panic or dive in despite the striker approaching the penalty area at a rapid pace. Instead, he shows good composure and patience to simply jockey his man and wait until the right moment to block the shot.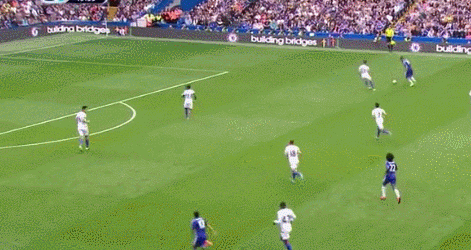 Costa, perhaps partially frustrated at his initial failure to get the better of Delaney, had a mini spat with the Palace defender moments later. The Brazil-born striker was also upset at Delaney's seemingly cynical but still relatively innocuous block on him off the ball. These kind of incidents happen all the time in top-level football, and Costa appeared to exact some revenge on Delaney two minutes later, as the Spaniard bundled over his opponent as he was heading the ball.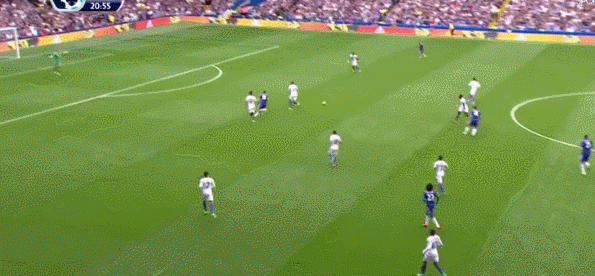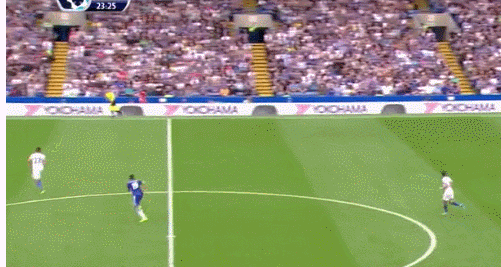 This personal dual continued in the 24th minute, as Costa nutmegged the Corkonian, trying and failing to win a free kick in the process. It was one of the few occasions when the 26-year-old forward even threatened to get the better of his marker.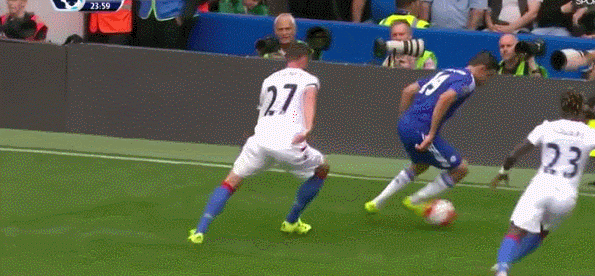 Delaney again made his presence felt in the 25th minute, as he comfortably beat Costa in an aerial dual. There was a similar outcome in the 37th minute, when another Thibaut Courtois long ball was hit in the direction of Costa.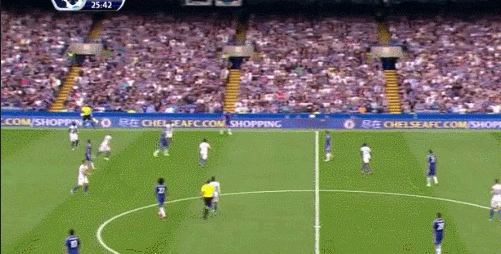 Tellingly, with the Spaniard clearly inferior in the air on the basis of the two aforementioned moments, the long ball up to their striker was not a tactic Chelsea used much thereafter.
Even on the rare occasions when Delaney lost concentration momentarily, he still did enough to curb the threat of Costa. Check out the clip below and notice how the Irish defender manages to get the slightest of touches to divert the ball away from the onrushing Spaniard.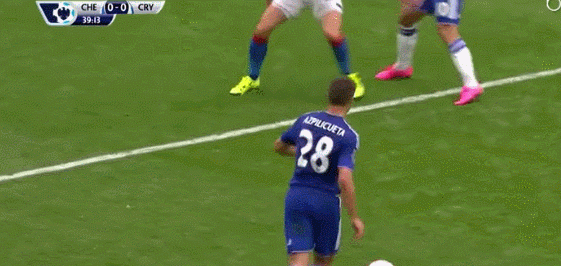 In the second half, Costa saw even less of the ball, as Chelsea's play grew increasingly erratic and desperate. When it did come the striker's way, Delaney was usually on hand to deny Costa any real space to weave his magic.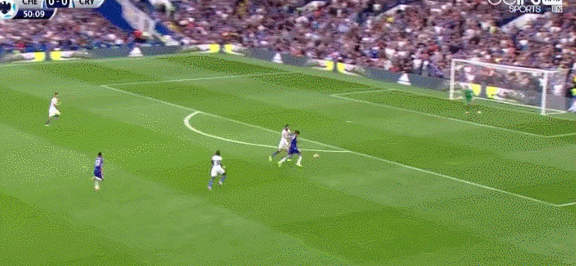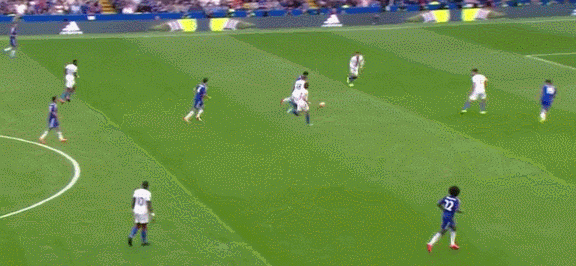 He was also normally goal-side of the Spanish international and even if it wasn't a goal-saving tackle, the centre-back invariably did enough to ensure his opponent continually fluffed chances.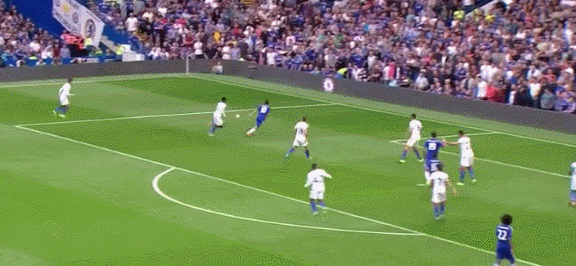 Delaney did everything he could to stop Costa, and naturally, used illegal means on the rare occasions when the Chelsea striker's pace proved too difficult to deal with.
For the most part though, Delaney scarcely had to resort to fouling his rival and Mourinho more or less conceded defeat as far as this individual battle was concerned as early as the 66th minute. Radamel Falcao was brought on to play as the main striker, with Costa going further out wide away from Delaney, and having an increasingly peripheral influence on the game as a result.
Exclusive Six
Nations Analysis
Get Murray Kinsella's exclusive analysis of Ireland's Six Nations campaign this spring
Become a Member
Falcao, however, did ultimately take advantage of a rare lapse in concentration from Delaney, as he darted in front of the defender suddenly to brilliantly head home Chelsea's equaliser.
Reading of the game
Delaney isn't as naturally talented as some defenders. He is not particularly quick, powerful or athletic in the way a player such as Rio Ferdinand might have been in his heyday. But the reason the veteran defender remains a Premier League player at 34 is largely due to his football intelligence and reading of the game.
This attribute generally goes unnoticed but is a crucial asset for any central defender to have. It may look simple, but there is a level of skill behind it. Time and again on Saturday, Delaney was in the right place at the right time, and it was far from a coincidence given how regularly he intervened.
Check out the examples below.
At times, his methods may have been unconventional, but they were almost always effective.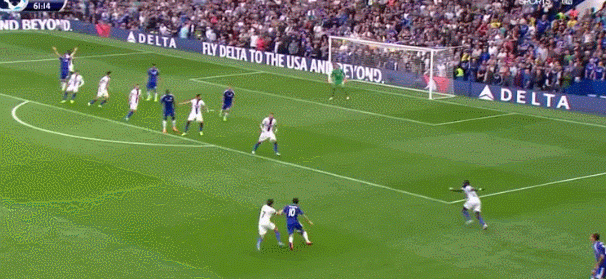 Palace under siege
Palace, of course, took the lead on 65 minutes through Bakary Sako, and could have even doubled their advantage shortly thereafter (see below). The fact that they were willing to break forward in numbers even at 1-0 up says much about the confidence Alan Pardew has instilled in this group of players, as does the character they showed to recover from the equaliser, almost immediately going up the other end and scoring again.
However, in the final 10 minutes, much of Palace's good work was understandably in defence rather than attack, as they attempted to become the second side in 100 Premier League games to beat a Jose Mourinho team at Stamford Bridge.
In addition to replacing Falcao with Willian, Chelsea made two more relatively attack-minded substitutions, with Ruben Loftus-Cheek and Kenedy replacing Nemanja Matic and Cesar Azpilicueta respectively, as they went in desperate search for a goal.
Inevitably, there was somewhat of a siege on the Palace goal in the dying minutes, with the visitors and Delaney in particular still remaining resolute at the back.
Notice the image below, where every outfield Palace player is within close vicinity of the ball in the 84th minute, as Chelsea attempt to launch an attack. For a team who have been chasing the ball for an entire match, it gives an insight into their immense work rate and determination to still retain such intensity so late in the game.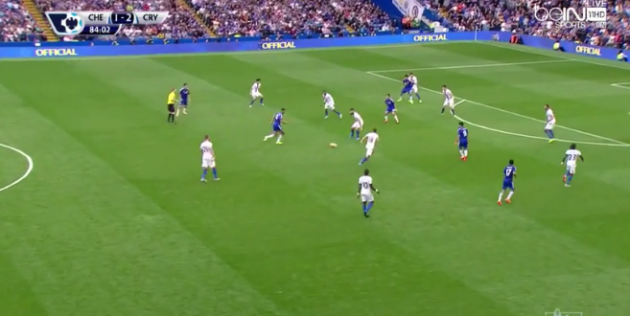 And here's Delaney at the heart of all that was good about Palace's bravery in the final few minutes, with a particularly impressive crunching tackle (see final clip) fittingly rounding off an inspirational display at the heart of the defence.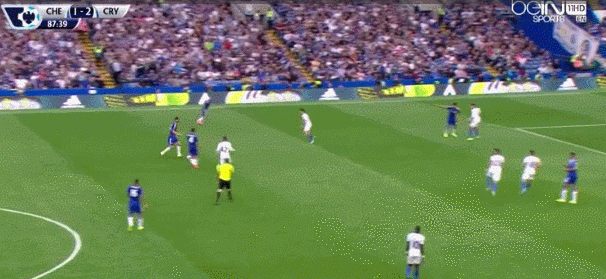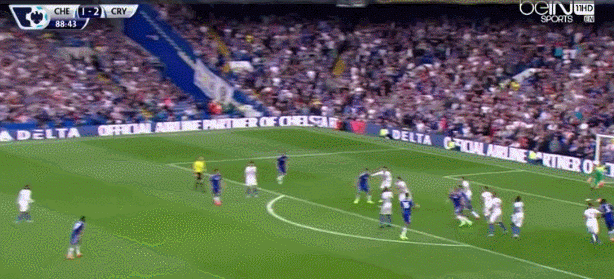 Conclusions
So what Saturday's Chelsea game ultimately tells us is that at 34, Damien Delaney is arguably in the best form of his career.
Chelsea had 64% of the possession at the weekend, and so Palace's work off the ball was vital to their hopes of an unlikely victory. In Delaney, they had a strong leader who ensured the visitors' discipline and concentration levels remained high throughout the 90 minutes.
The Corkonian's good work was at the heart of this historic win for the London club. He did the basics well, and Alan Pardew's side's organisation and tactical set-up was so consummate that few could argue with the 2-1 outcome. Chelsea, far from being simply unlucky, struggled to break down a firm Palace rearguard, and were reduced to relying on half chances for much of the match.
Delaney's good form in recent seasons has led to improved contracts, and the Irish defender is now widely regarded as one of the club's most important players.
Pardew singled out the Irishman for praise after the game, highlighting his value off the pitch, as well as on it.
"We looked a good team today and, if we can keep the team fit, keep the spirit that we have with people like Damo [Delaney] and Scotty Dann, we can have a good season," he said.
Delaney, meanwhile, admitted to loving his battle with Costa on his official Instagram, posting a picture of him with the Chelsea striker and writing:
"I ain't gonna lie… I enjoyed that… Good 'ol fashioned bruiser… #Palaceabu".
From an Ireland perspective, with John O'Shea and Marc Wilson both struggling for first-team football at times this season, Martin O'Neill could surely do with Delaney at the back.
Unfortunately though, the defender recently appeared to rule out any chance of an international return, but Ireland's loss is most definitely Crystal Palace's gain, with Delaney showing no indication that the rigours of regular professional football are catching up with him, despite the player making his debut for Cork City as far back as 1998.
Originally published at 4.22pm