ONE STAT THAT Ireland might not be expected to dominate against a team with the long-standing attacking class of Australia is linebreaks.
Ireland beat the Wallabies 8-1 in that department last weekend in Melbourne and there were a host of reasons for the good return from Joe Schmidt's side.
The fact that they didn't turn more of their chances into tries underlines the fact that Ireland still have to find their most clinical edge in this series but to be creating opportunities is obviously a positive.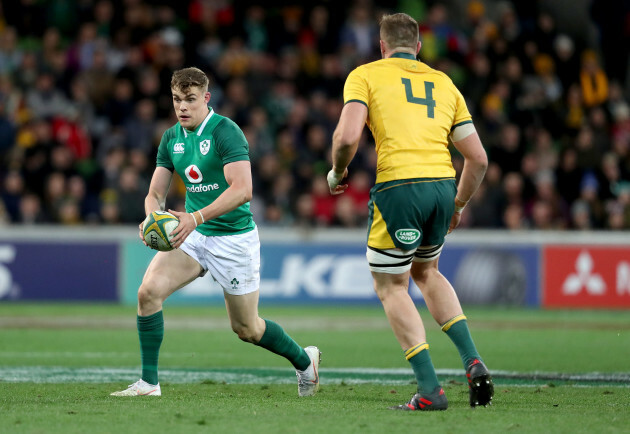 Dan Sheridan / INPHO Dan Sheridan / INPHO / INPHO
Ireland's ball retention was far better than in the first Test, with a more aggressive edge at ruck time, better passing quality and a greater degree of sharpness in the carry and in terms of simple concentration. Their set-piece plays were also more effective.
On top of that, Johnny Sexton and Garry Ringrose returned to Ireland's starting team and demonstrated once again that they are the two most creative backs available to Schmidt.
Sexton provided his usual levels of superb tactical direction and prompting of team-mates around the pitch but it was the performance of Ringrose that was most promising of all for Ireland's attack.
While he didn't have a perfect game – he will have been frustrated with one loose pass and a couple of missed tackles, in particular – Ringrose was largely excellent for Ireland.
The outside centre provided a notable three 'break passes' on Saturday in Melbourne, i.e. he put team-mates away for linebreaks three times.
We saw during the Six Nations how Ringrose's return from injury for the final two games of the championship added an important intelligence to their defence on the outside, while his footwork was effective in attack.
23-year-old Ringrose is also developing the kind of passing game that can make Ireland a greater threat and far less reliant on the playmaking ability of Sexton.
Ringrose was Ireland's joint top ball-carrier alongside Tadhg Furlong with 13 last weekend, but his nine total passes stood out most.
Click here if you cannot view the clip above
We get a good example above, early in the game, as Ringrose frees Keith Earls down the left-hand side.
Ireland looked to exit their own defensive zone by running the ball frequently against the Wallabies last weekend, keen as they were to avoid simply kicking the ball back to Israel Folau.
The communication on the move between Sexton and Ringrose just before this phase is clear, both of them identifying the opportunity and expressing to Furlong what they want from him.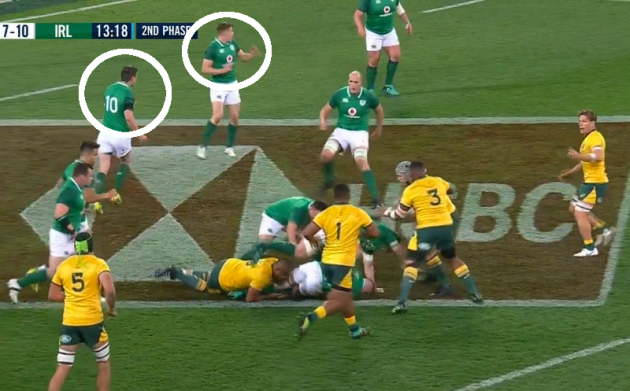 Furlong runs the hard 'front-door' line [white below] off first receiver Sexton, the tighthead prop successfully getting to Michael Hooper's outside shoulder to prevent him from drifting onto Ringrose.
Ringrose, meanwhile, bounces out the back of Furlong to take Sexton's back-door pass [green].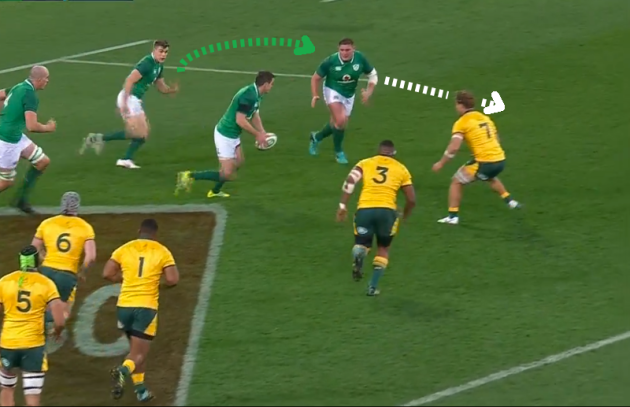 Wallabies centre Samu Kerevi [13 below] looks to have Ringrose well covered but Kurtley Beale decides to bite in from the edge of the defensive line [yellow] and leave Earls in space on the outside.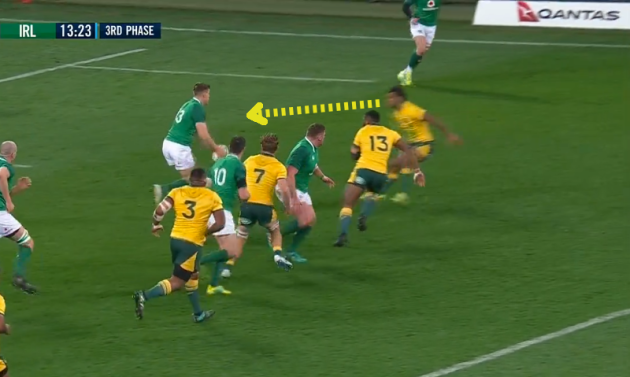 Beale's decision to rush up and in on Ringrose puts the Ireland centre's skills under pressure but he whips away a wristy pass after realising that Beale is biting in.
We get a good example of Sexton's proactive support play here, as he works up ahead of the ball in anticipation of a linebreak from Earls, while Furlong does the same.
Kerevi has continued to drift and while Earls does have some space, it's not an obvious chance to scorch into open field.
Sexton and Furlong both appear to point upfield, seemingly indicating that Earls should kick ahead, but when Earls does so – making a poor connection with the ball – Sexton's exasperation is immediately obvious.
Sexton throws his arms out, even turning towards Earls on the ground with frustration, and perhaps he was hoping for his left wing to sprint forward and offload back inside.
Whatever the thinking on Sexton's part, Ringrose's involvement shows that he is willing to back his passing skill under pressure from a rushing defender.
The Leinster man is also increasingly comfortable at stepping into the first receiver slot, where Ireland have been overly reliant on Sexton at times.
Ringrose's break pass for Furlong's big bust of the Wallabies defence coming towards half-time was a prime example.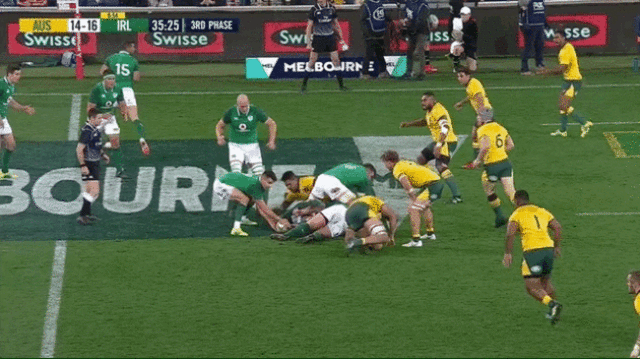 Click here if you cannot view the clip above
It's a fine pass from Ringrose here, but it's worth noting Sexton's positioning on this phase too.
Sexton is on the left side of the Irish ruck and though CJ Stander is in between the out-half and the ruck, Sexton can easily adjust here to accept a pass from Conor Murray.
With Earls outside Sexton and Rob Kearney retreating to join him there, the Wallabies suddenly feel there is danger on that side of the ruck and David Pocock folds over [yellow below].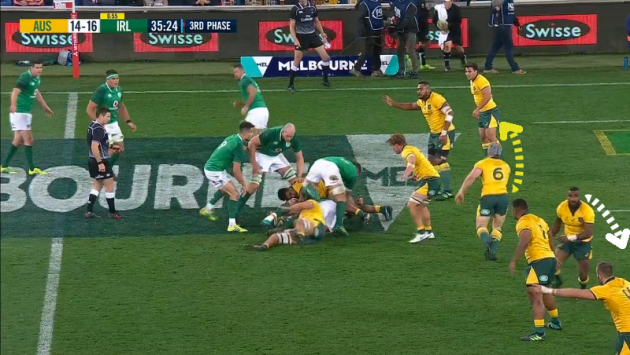 At the same time, Marika Koroibete decides to shift out to the left of the defensive line [indicated in white above], keen to ensure his pace is better used in the wide channels.
The sudden movement close to the ruck means the Wallabies forwards set up in midfield are now dragged infield.
That also means a slight change in defensive roles – i.e. who they are supposed to be marking up on and tackling – just before Murray passes the ball to Ringrose.
Most attacks aim to be a threat on both sides of the ruck, always having genuine options on either side in order to ask constant questions of the defence.
Ireland achieve that here, with Sexton's presence on the left worrying the Wallabies, who end up overstacked there.
Ringrose's presence on the right is key, giving Ireland a first receiver who has the vision and skill to take advantage of the defensive disorganisation caused by the Wallabies' late reshuffle.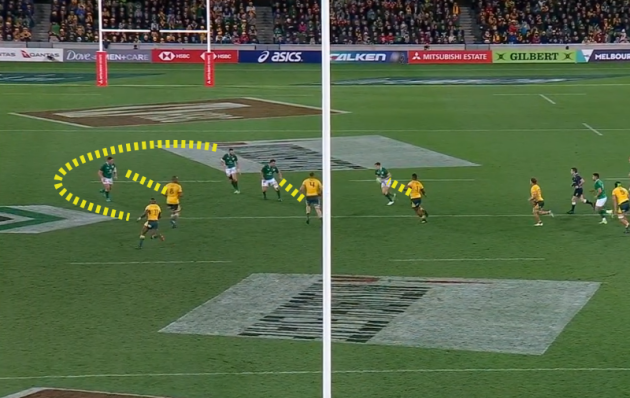 Above, we see a representation of how the Wallabies might have rescued the situation in numbering-up defensively, with Koroibete working around to get into the defensive line and picking up the back door runner, Robbie Henshaw.
The presence of Henshaw offering a back-door option does draw Koroibete into picking him up, but the three Wallabies forwards – stretched even before the phase begins – are ripe for being picked off by Ireland.
Ringrose's pace means he is a running threat to the outside of Scott Sio [who is marked in red below], and that forces Izack Rodda to sit onto his heels, worrying he may have to turn in and tackle Ringrose [indicated in yellow].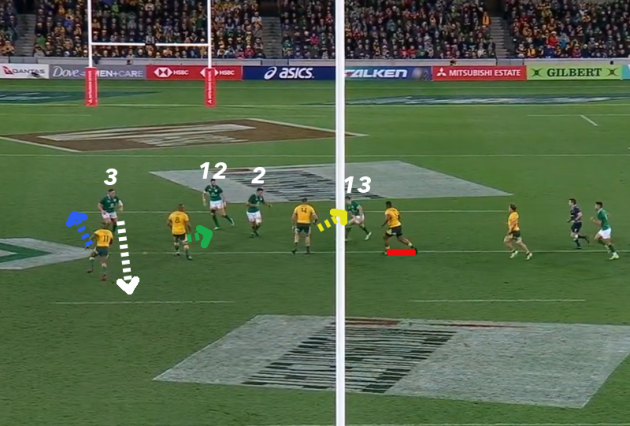 That, in turn, gives Caleb Timu cause for concern about having to bite in [green above] on Niall Scannell [2] and he ends up getting caught completely in no man's land.
Koroibete, meanwhile, has picked up Henshaw [12] out the back and advances up beyond Furlong [3] as he plans to meet Henshaw there [indicated by blue].
The combined defensive malfunction is perfectly taken advantage of by Ringrose, who dummy pumps the ball before releasing a beautiful skip pass across the front of Scannell – who reacts well to leave it – and into the grateful hands of Furlong.
The linebreak is spectacular, but what follows is one of several examples of Ireland failing to take gilt-edged opportunities in this series.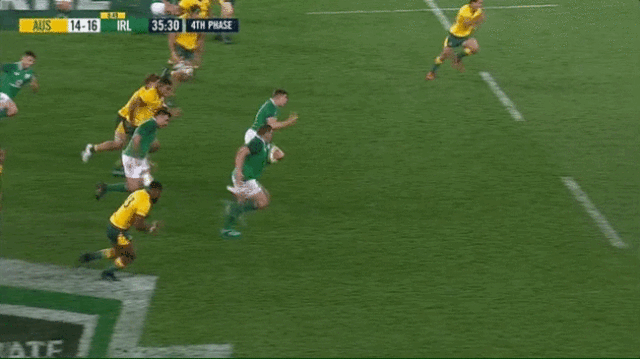 Click here if you cannot view the clip above
Ringrose is proactive after his pass here, working hard up on the inside of Furlong, initially just ahead of him.
As Ringrose allows Furlong to get ahead of him, it quickly becomes clear that a pass back inside to Ringrose is not an ideal option.
As we can see below, Nick Phipps and Israel Folau are both working across from that side of the pitch.
Ringrose reacts intelligently and works across in behind Furlong to get over to the prop's right side.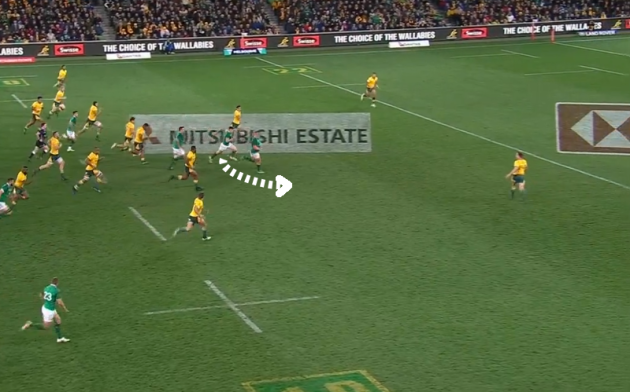 Dane Haylett-Petty is coming across from Furlong's right side in the backfield, and he commits towards the tackle on the prop.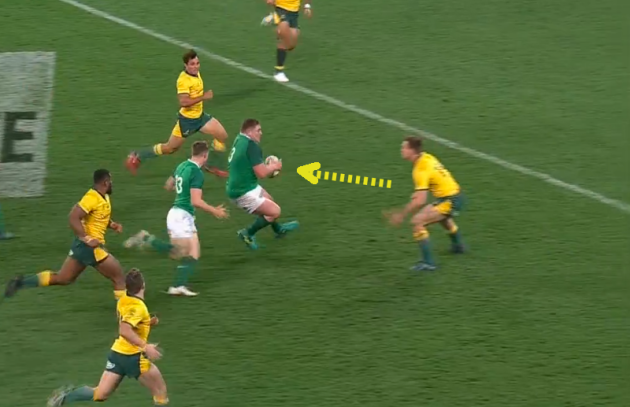 We have the benefit of freeze frames and multiple replays here, making it so much easier, but the pass simply has to go from Furlong to Ringrose in this instance.
While we can see Kerevi [yellow below] is in close proximity to Ringrose as he chases back, there is no certainty that he will make the stretching tackle on Ringrose if Furlong passes.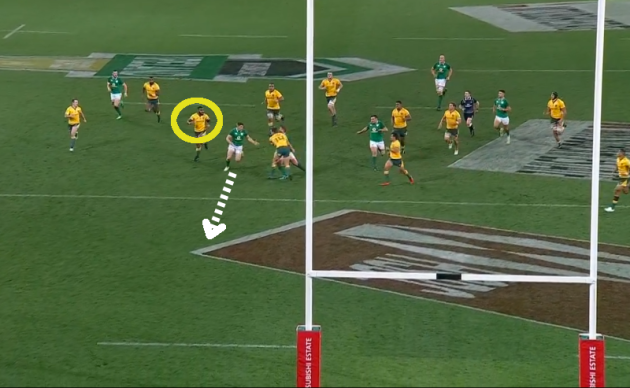 Furlong instead holds onto the ball, smashing into Haylett-Petty and rebounding away from the Wallabies wing.
The Ireland prop picks out Jordan Larmour in space out on the right and attempts to lift a pass over the top of Bernard Foley.
It's literally fingertip stuff from Foley as the tips of the fingers on his right hand get to the ball and prevent the pass from clearing him.
Furlong does well to gather it back in but he has to go to ground and the immediate chance is gone.
On the next phase, Beale and Folau do superbly in defence to rush up aggressively on the outside to prevent Sexton from using Ireland's overlap after he runs a loop off Jack McGrath.
And on the next phase, Murray's kicking skill lets him down as he opts for an ambitious cross-field kick out towards Larmour, instead finding the in-goal area and having to watch the ball bounce dead.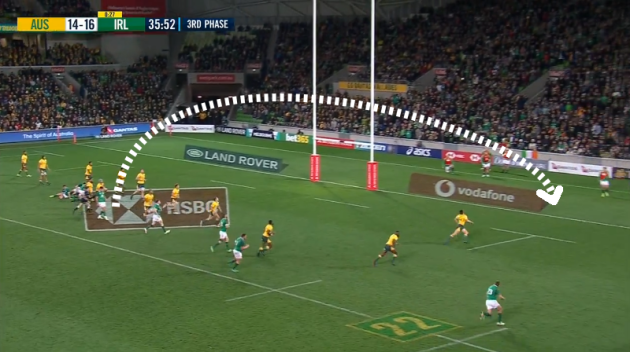 Ireland are down to 14 men in this instance, but even still their inability to finish after Furlong's big linebreak will have deeply frustrated Schmidt.
The review of this passage is likely to have been rather scathing, with Ireland rarely allowing a good result to distract them from a poor process in the same game.
Their failure to finish a number of good chances in behind the Wallabies defensive line has been a theme of the opening two games and Schmidt will be hoping to see a far more clinical edge on Saturday in Sydney.
More positively, the creative influence of Ringrose bodes well for Ireland's ability to continue to create those chances.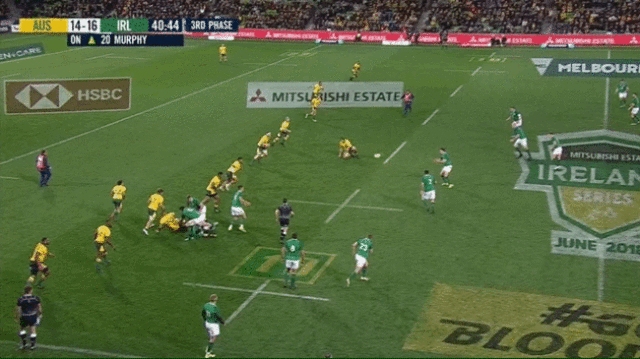 Click here if you cannot view the clip above
Ringrose's offload is part of an excellent phase of attack from Ireland above, beginning with some nice shape off Sexton.
The out-half fires a beautiful skip pass [white below] to Furlong, who opens his body up and drops a pass out the back to Ringrose [green], who initially starts in behind Toner.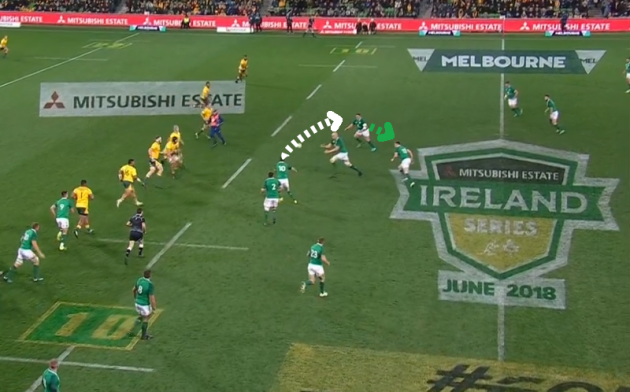 Ringrose, using his peripheral vision and then glancing up after receiving the ball from Furlong, rapidly recognises that Beale is shooting up hard out of the defensive line.
Beale appears to be looking for the intercept and Ringrose steps off his right foot to Beale's inside shoulder – the Wallabies centre spins off without really looking to hammer into the tackle – and offloads in behind Beale to Peter O'Mahony.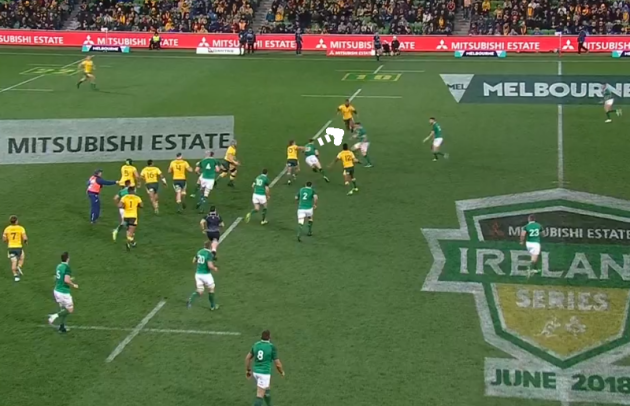 O'Mahony catches the offloading bug and finds Henshaw thundering forward on his right before Haylett-Petty tackles the Ireland centre.
Pocock threatens over the ball and Furlong delivers his stunning clearout, allowing Ireland to continue to apply pressure.
Ringrose gets a pass from Sexton on the next phase and shows his footwork.
Click here if you cannot view the clip above
Ringrose's step and fend back to the inside of Foley gives Ireland even more gains before they move into more direct ball-carrying over the next seven phases.
But, again, they fail to convert as Pocock swoops for a superb turnover penalty after Henshaw makes a direct carry off Sexton.
Rolling the play back a phase, Ireland might reflect that they missed their opportunity to strike wide.
In the shot below, Furlong is in the process of carrying the ball [white arrow] off a Murray pass, with O'Mahony latching onto him.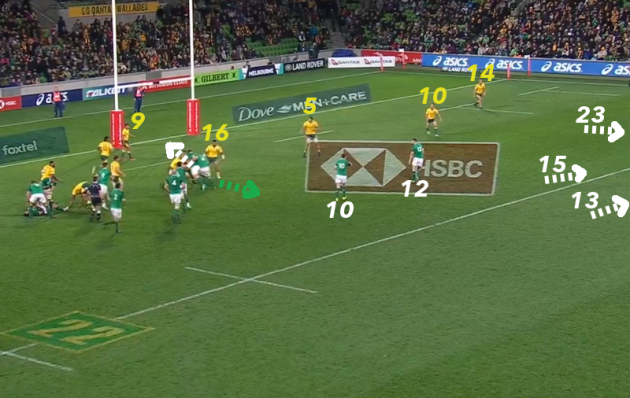 Had Sexton [white 10] lined up in behind Furlong and demanded one of those clever link passes out the back [indicated in green], Ireland may well have been on to score.
Henshaw [12] is present in the backline, while Kearney [15], Ringrose [13] and Larmour [23] are all off screen wide on the right.
The Wallabies, as we can see, are rather exposed defensively, with Tolu Latu [16] a relatively immobile defender, likely meaning that lock Adam Coleman [5], Foley [10] and Haylett-Petty [14] will be majorly stretched.
Phipps [9] is set to sweep across behind them, but even still Ireland would likely have had a chance to pick off a defender rushing up and create at least a decent chance to score.
Instead, they carry hard again on the next phase and Pocock pounces to ensure another wasted opportunity on the back of some fine attacking play involving a streak of class from Ringrose.
The42 is on Instagram! Tap the button below on your phone to follow us!