"A LOT OF the things that on the outside maybe look like they come easy or naturally are worked on incredibly hard."
Sitting down with Al Kellock a week before the Guinness Pro12 semi-finals, we were told about what Gregor Townsend has brought to this Glasgow Warriors outfit.
Ryan Byrne / INPHO Captain Al Kellock leads the celebrations in Belfast. Ryan Byrne / INPHO / INPHO
As well as highlighting the depth Glasgow have built, the manner in which Townsend has developed the players' skills individually and the coach's ability to improve young players at a rapid pace, Kellock underlined that their attacking quality is all about preparation.
The perceived flair and ingenuity of the Warriors are certainly based on reality, and we saw both in their final victory over Munster, but the underlying foundation is all about intelligent coaching and sheer hard work.
Glasgow's delightful ability to offload and beat defenders is a joy to watch, but for Townsend the most pleasing aspect of last night's win in Belfast will have been the work-rate his players showed over the course of the 80 minutes.
Leone Nakarawa stole the show with some sublime offloading, but there were heroes all over the pitch for Glasgow as Munster were blown away at Kingspan Stadium.
Countering
Perhaps the major issue for Munster in their shockingly poor opening 30 minutes was a kicking game that utterly disintegrated. Without the calming influence of Conor Murray, halfbacks Ian Keatley and Duncan Williams consistently put their side under pressure with poor kicks.
To accentuate the difficulty, Munster's kick chase was never a factor in the game, where it so often has been in the past, stifling the opposition, pressurising them inside their own half or simply winning good field position for Munster.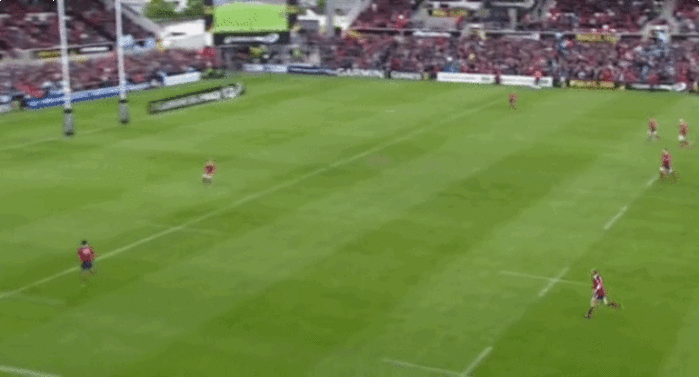 Inside the first minute yesterday, we got a sense of what was to come from Munster in terms of their kicking.
Keatley fields Peter Horne's deep kick in the example above and calls the mark, giving himself ample time in which to find the safety of touch and settle his side down, before perhaps allowing the pack to pressurise Jonny Gray's calling at an early stage.
Instead, his clearing kick skids off the inside of his boot and sits up for the always-eager Stuart Hogg to launch a kick return and pile that early pressure on Munster.
There were many other examples of poor Munster kicking in this game, but the incident below gives us a sense of the organisation and planning that Glasgow bring to their kick returns and counter-attacking.
Again, the quality of the kick from Munster is very low and it's difficult to understand what's going on from Anthony Foley's side in this instance.
As we can see below, scrum-half Williams is present at the back of the ruck and if Munster are going to box kick it is his duty to do so. To be fair, Williams had carried on the phase prior to this, explaining why Keatley steps in to the base of the ruck, but clearly there's time for Williams to get his out-half out of the way and take ownership.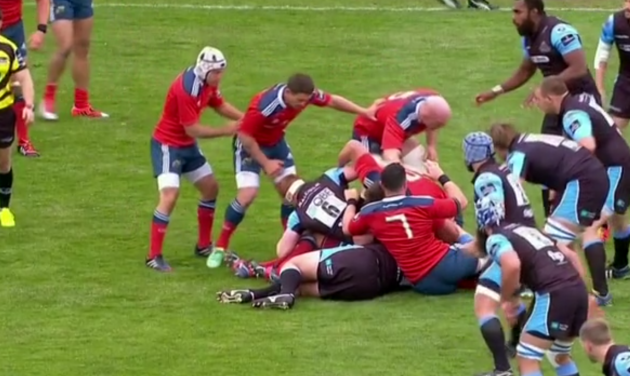 That doesn't happen and Keatley goes ahead with his own box. The kick itself travels too long, but it's the lack of chase that stands out even more from Munster.
In the image below, as Keatley releases the ball, it's evident that the only player in a decent chasing position is Billy Holland, arriving from behind Williams. Left wing Simon Zebo is hovering back deeper, seemingly unaware that Munster are kicking.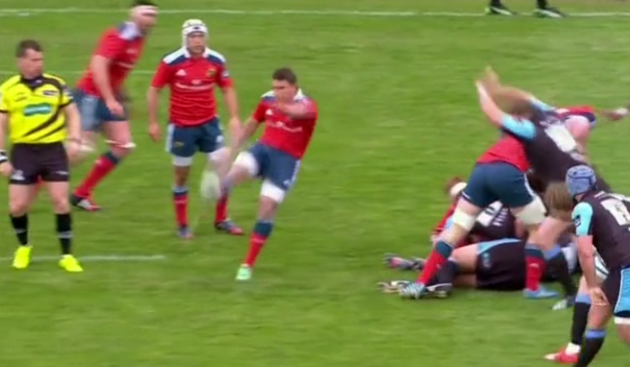 It may well be a simple miscommunication in the high stress of the opening minutes of a league final, but a number of other similar incidents ultimately allowed Glasgow easy access points from which to heap pressure on Munster.
Cleary Munster's poor kick and chase allowed Glasgow to attack with relative freedom, but Townsend's side deserve major credit for both their intent, work-rate and organisation when they did return kicks.
Below, we've highlighted the off-the-ball efforts of centres Peter Horne and Richie Vernon, in the team with previous first-choice midfield pairing Alex Dunbar and Mark Bennett injured, in creating width for the Glasgow kick return.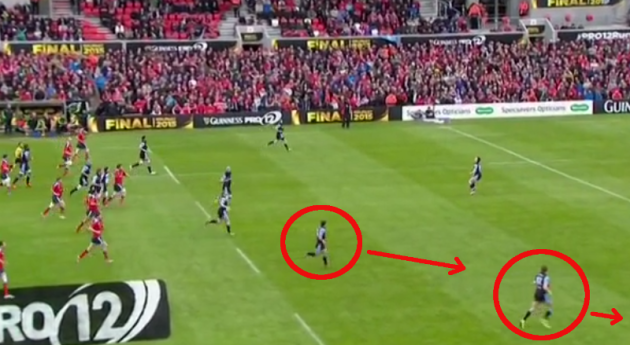 It's this kind of selfless work off the ball that makes operating in midfield so physically taxing, with so much of the game nowadays played in the sky. Up and down the field centres will often go without ever being involved when the ball lands.
As highlighted in this example, the efforts of Horne and Vernon are crucial in allowing Glasgow to immediately threaten and stretch the Munster defence thanks to the width they provide on the outside left edge.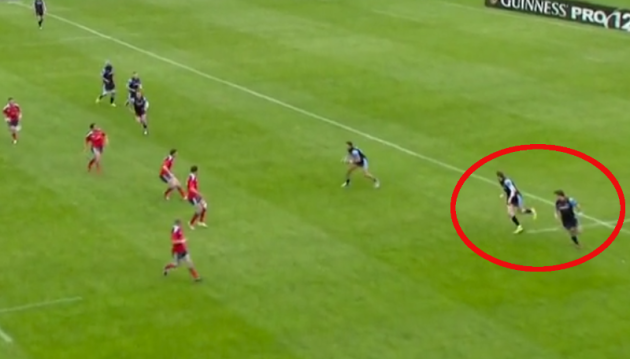 It's very basic stuff in terms of rugby structure, but so is much of what Glasgow do on the pitch. Townsend's men just do those basics better than most other teams and they perform them tirelessly throughout the 80 minutes.
Positive mindset, positive results
The modern game can be a dull beast at times, which partly explains the widespread happiness that Townsend's Warriors are the new Pro12 champions. Indeed, without going overboard, it is massively encouraging to see that a Northern Hemisphere side can be successful with such a positive style of rugby.
Glasgow's intentions are primarily winning ones, but Townsend has always been a rugby man with a fondness for attacking. A daring, risk-taking out-half during his playing days, Glasgow possesses those same attributes and their coaching staff encourage the players to express themselves.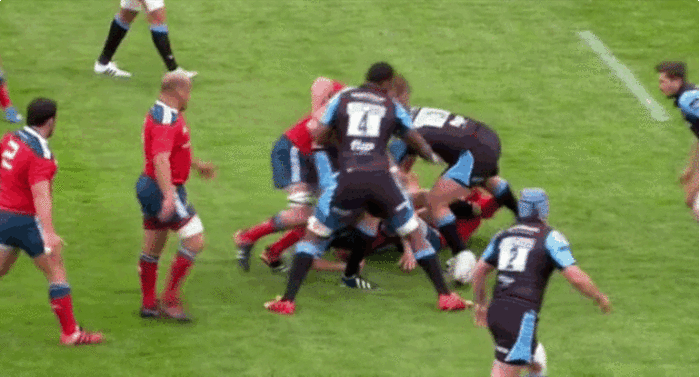 Leone Nakarawa is the finest example of that, as we see in the example above with an exceptional one-handed pass off the deck to launch an attack that almost leads to a score but for the brilliant tap tackle of Denis Hurley.
Nakarawa is far from the only offloader in this Glasgow team, with the likes of Finn Russell, Josh Strauss and Jonny Gray all capable of playing the ball out of the tackle. Indeed, it's a team-shared willingness and duty; everyone buys in.
There were early warning signs for Munster, including the above incident, before Nakarawa turned on more magic for the first try of the game.
Supporting role
The success of any offload is naturally enough down to the quality of the release from the offloading player, but most important of all is the work of the supporting teammate, who obviously needs to be in a position to accept the ball.
Glasgow's first try will rightly be remembered for the break and assist from the sensational Nakarawa, but the support play of try-scorer Rob Harley is equally as crucial.
Glasgow run a target-setting play from first phase after a scrum close to the 22 and then it's a relatively simple play coming around the corner.
One thing to note here is that second row Gray is the man to scoop the ball up from the first ruck and feed Nakarawa. This was a common feature of Glasgow's play and a direct result of their insatiable thirst for tempo in the game.
So many other teams are utterly reliant on their scrum-half to be the player to launch the phase from the back of the ruck, but Townsend has encouraged the Warriors to think beyond that too-easily-accepted commonality.
Nearly every player in the Warriors team is comfortable picking from the base of the ruck and either carrying close in or actually passing away to either side of the ruck. It pushes the tempo of Glasgow's play and kept Munster chasing rucks all day in Belfast.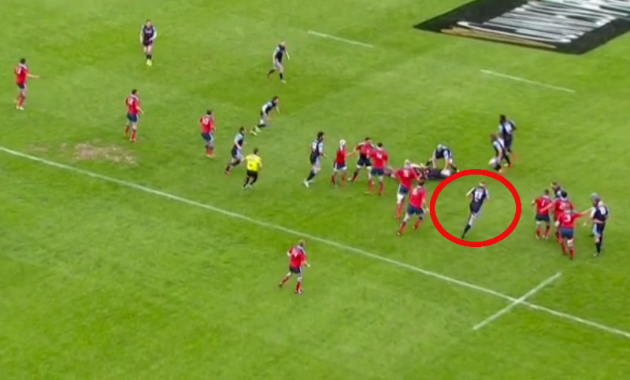 Back to the support play, and it's important to note Harley's starting position on the second phase of the Glasgow attack. We've highlighted him above, actually ahead of the breakdown after the scrum spun up on his blindside. Already he's working back around the corner to trail in behind Nakarawa.
The towering Fijian goes through Ian Keatley's tackle all too easily, but we should briefly point to the poor spacing in Munster's defensive line.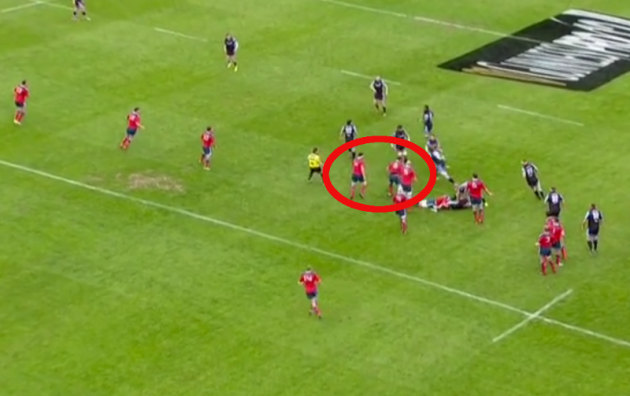 Glasgow openside Ryan Wilson deserves credit in this regard, having tangled with and held CJ Stander ahead of the ball on first phase, delaying his entry into the defensive line. As a result, Billy Holland is very tight to the ruck as well as Stander and Paul O'Connell, while Keatley has started wider, having presumed Holland will shift out slightly.
By the time Nakarawa is running into that hole it's late, but even at that Keatley will be disappointed with his tackle attempt.
Back to Harley we go again, though, and his sheer fight to get in support of the Fijian second row. Below, we can see the moment where the Warriors' blindside actually has to blast through Keith Earls behind the ball.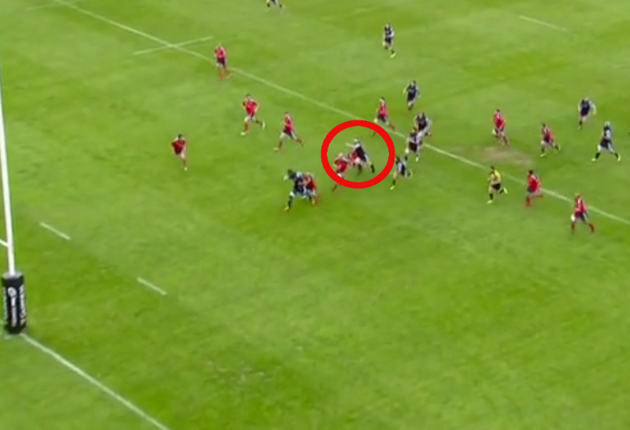 It's not wholly deliberate from Earls after he tried to put himself into Nakarawa's path, but Harley's powerful actions show his desire to be in support, either to accept a likely offload or resource the ruck if Nakarawa does go to deck.
Harley gets his reward with one of Nakarawa's many superb offloads in this game, and then shows power to finish the try after working hard to be in position.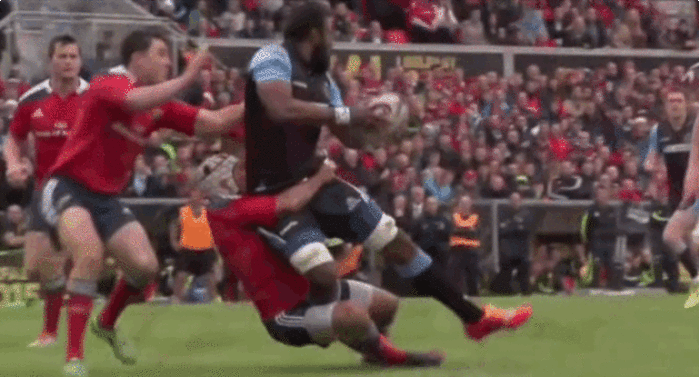 We don't need to dwell too much on Nakarawa's offloading in this article as it's been highlighted to widely elsewhere, but it's worth briefly pointing out how understanding he is in this aspect of the game.
Above is a perfect example of how the Fijian doesn't simply fire the pill into his teammates' hands in desperation to keep it alive. He positively caresses the ball towards the supporting player, leaving it hanging invitingly in front of them and allowing an easy catch.
Rugby skill at its finest.
Grunt
Glasgow's play is not all about offloading and beating defenders through passing and footwork; no team in the world can cope with only those skills. There needs to be grunt to balance the guile and forwards coach Shade Munro has cultivated that attribute in his pack.
We've mentioned already that the Warriors' forward are comfortable in handling the ball, but they deliver in the more rudimentary areas too. Gainline success is not all about power, but it's useful to have a few men who regularly win collisions.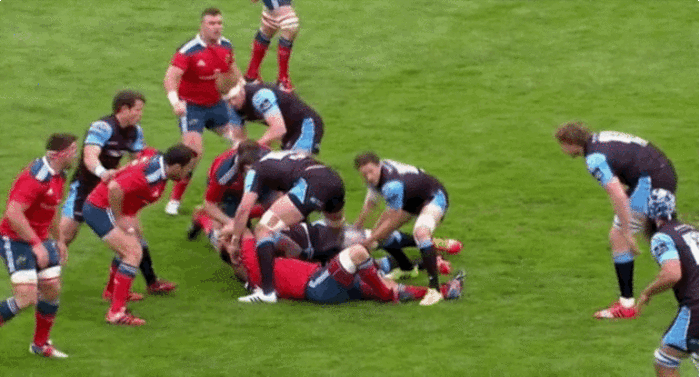 Number eight Josh Strauss is in that mould and his ability to break tackles and eke out metres, getting Glasgow onto the front foot in the first place, allows them to launch their rapid-tempo phase play.
Above, we see him run right through CJ Stander inside the opening minutes, signifying a strong start to what was a dominant win in the head-to-head battle of the big ball carriers.
Dougie Hall, the spectacularly good 21-year-old Gray and openside Wilson took on their fair share of the carrying burden, but Strauss has been integral all season. The South African native's qualification for Scotland later this year will provide Vern Cotter with another back row of excellence.
A big carry from Strauss was at the root of Glasgow's second try, which can be directly linked back to the poor Munster kicking game. As we see in the video above, Munster fail to find touch again after Nigel Owens signals that they are inside their own 22, and the pressure builds immediately.
Expecting the kick to find touch, Munster have no chasers of note and Stuart Hogg is free to find Strauss inside him at his leisure, the number eight building up a head of steam before the contact.
Having searched out the most favourable points to attack, Strauss batters into Dave Kilcoyne's tackle to win big metres first up, and it's important to note that extra thrust for yards even after he's been brought to ground.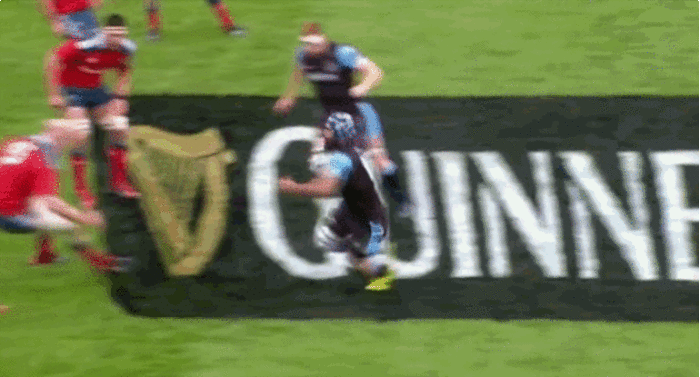 Pyrgos and Finn Russell play a clever one-two close to the left fringe of the ruck to make further metres and keep the tempo high, although the scrum-half is forced to carry into the tackle.
No fear for Glasgow's adaptable pack though, Gray simply scoops it up and continues the forward momentum.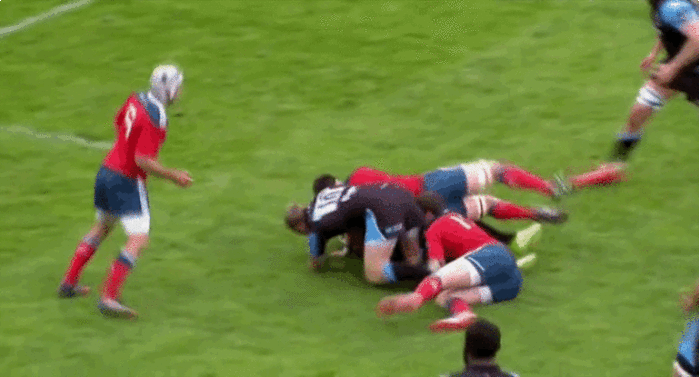 Munster manage to get some sort of shape back on their defence, but again Nakarawa is running onto the ball with space either side of Williams, and he shrugs off the scrum-half's tackle attempt to cause immediate panic.
The quality of the offload to DTH van der Merwe is again of the highest standard, while there's another lovely little detail from the Fijian as Keatley turns in towards him.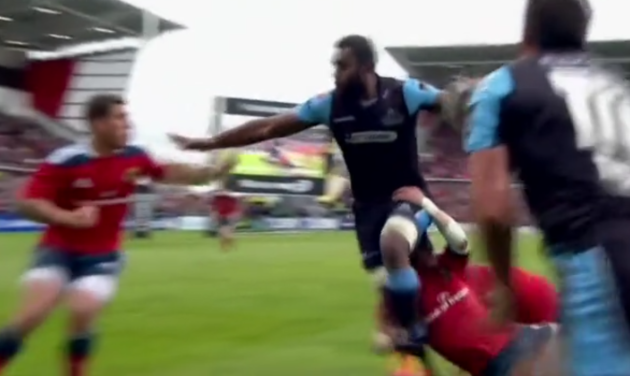 The outstretched right arm above is not about getting a final fend in; Nakarawa actually wants to grab hold of Keatley, tie him into the tackle and free van der Merwe to run in unopposed.
The Fijian is unsuccessful with the attempt but it demonstrates the almost obsessive clarity with which Nakarawa is thinking about his offload, processing the information in a split second.
Van der Merwe is left with plenty to do on the touchline, but fends Keatley's tackle effort off and finishes with composure as Felix Jones despairingly covers across.
Heads up
'Heads up rugby' is among the most clichéd of phrases in the game, but it aptly describes how Townsend and his coaching staff encourage their players to approach attack.
They do of course have systems and structures, exit strategies and kicking plans, but Glasgow don't simply stick slavishly to the pre-agreed method. Backs like Russell and Hogg are constantly scanning defences for opportunities that might run contrary to what they've already called.
It's not just about natural vision, rather another skill that the Warriors have worked hard to improve and encourage. There are certainly players who can assess opportunities and make decisions more intuitively than others, but Townsend continually pushes his men's skills in these areas.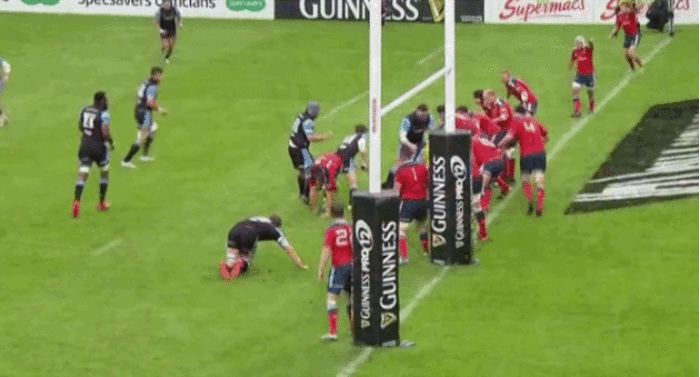 The example above is a simple one, as Russell picks out a forward in the defensive line to finally break the Munster defence after a controlled 13-phase passage of attack against what was a brave effort from Foley's men.
The out-half is becoming increasingly calm and clinical in these situations, as we saw in Glasgow's two recent meetings with Ulster, and here he has the composure to scan the defence for a chink.
He identifies prop Dave Kilcoyne, switches back to the right side of the ruck and then beats the prop for pace. Simple and effective play.
There was a similar example for Glasgow's third try through Pyrgos, with fullback Hogg the man to expose a front row on this occasion.
In terms of numbers in the defensive line, Munster are actually in relatively good shape at the start of the phase. The problem is that hooker Eusebio Guiñazú and loosehead Kilcoyne are occupying a wide channel.
Hogg, always looking for these opportunities, instantly spots the chance and signals to Russell to provide him with the ball.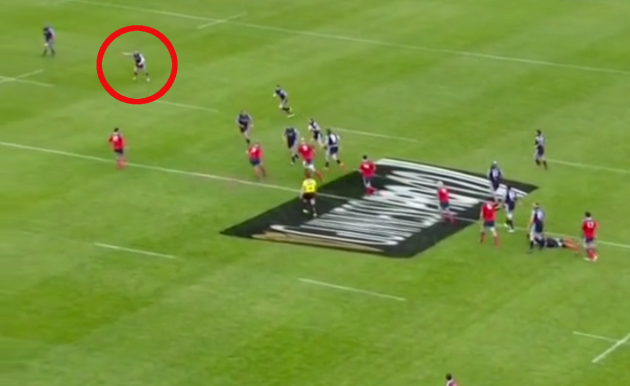 Once the ball is in his hands, Kilcoyne is in major trouble and Hogg easily burns past him with his searing pace. The job is not completely finished, however, and again we see the quality of Glasgow's support play as Hogg has options inside and out to finish.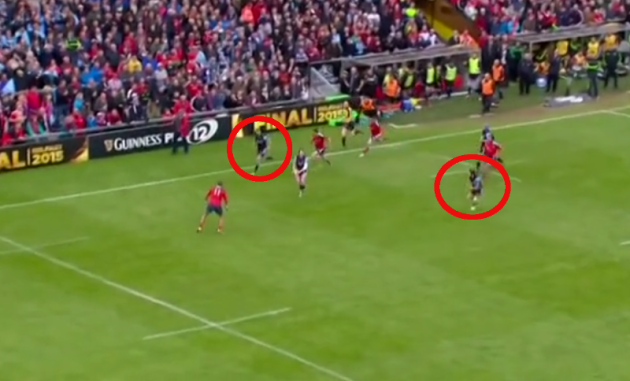 Pyrgos gets one of the easiest run-ins of his life thanks to his effort off the ball, having started in a wide position. The man who launched this phase of attack with a five-metre spin pass from the base of the ruck? Number eight Strauss.
Defensive foundation
The thrilling attacking rugby is definitely enjoyable to be a part of, but one senses that Glasgow take even more pride in their defence.
Defence coach Matt Taylor has led the superb work in this area since joining the club in 2012, getting huge buy-in from the players. We've mentioned often before that a hard-working defence is the sign of a happy team and the Warriors underline that.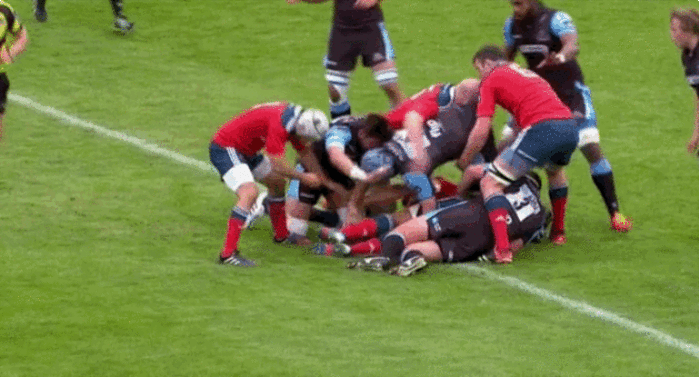 They generated good linespeed whenever possible against Munster, getting up hard off the line but crucially staying connected. They do employ individual shooters at times, like every other side, but more often than not they maintain cohesion.
We see that above as they come off the line, read the play well to ignore Munster's unconvincing decoy runners, then got a good contact on Denis Hurley, with out-half Russell showing his combative streak with a strong shoulder into the Munster centre.
For all his attacking prowess, Russell provides equal amounts of energy when defending, as do his teammates.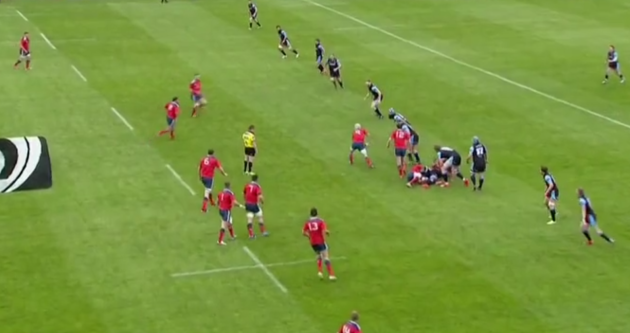 Even when Glasgow are breached or turned over, they usually react swiftly to regain their shape in defence. The above image comes just seconds after Munster have robbed the ball at ruck time, but already Taylor's men have formed a solid bank of bodies.
We get a sense of their willingness to work hard in defence in the clip below too, a truly pivotal moment in the game as Glasgow lead 7-0. A Munster score here would have entirely changed the nature of the contest.
Offloads from Donnacha Ryan and Andrew Smith then a brilliant pass from Jones leave the Warriors in all sorts of trouble when the ball arrives into Earls' hands on the right wing.
Our feeling watching the game live was that the Munster wide man should have backed himself to sit van der Merwe down with his footwork and beat him on the outside, but he instead opts to cut back inside.
It's very easy to make suggestions of that nature when you're not playing in the pressure of a Pro12 final, but Earls might reflect on a missed opportunity despite van der Merwe's pace.
Earls scythes inside, where the covering tackle of Hogg and Pyrgos manages to halt him, before he offloads to Zebo. For a split second it appears that the Ireland wing will burst over for the try, but Roussouw de Klerk arrives from out of shot to save the day.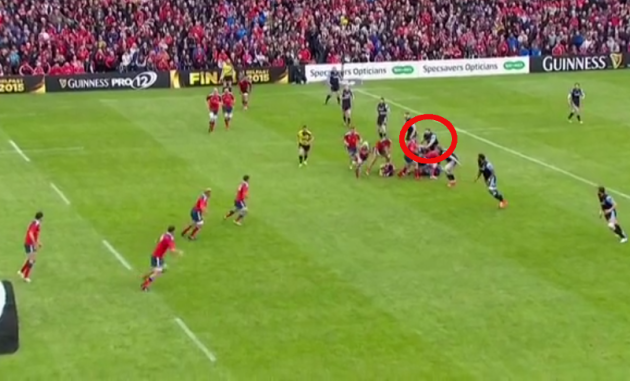 Above, we've highlighted de Klerk's starting position as this phase of play begins, and he covers all of 20 metres to get back into position to halt Zebo. Pyrgos aids the tackle but you'd have backed Zebo to burst through if it was only the scrum-half to beat.
For Glasgow's tighthead prop to make this impact underlined the work-rate that the Warriors have been bringing to their defensive effort all season. Four tries were pleasing, but restricting Munster to just one was perhaps even more satisfying.
More to come
Having topped the regular season table in the Pro12 and been the dominant force in this final against Munster, Glasgow's first title is throughly deserved. Foley and his players, as well as the loyal supporters who have stuck by the team despite some difficult moments this season, will be hugely disappointed but a Scottish victory is good for the league too.
Dan Sheridan / INPHO When the dust and hangovers settle, Townsend will be thinking of Europe. Dan Sheridan / INPHO / INPHO
Townsend and his talented coaching team have led year-on-year improvements from this Warriors group, although they were left downhearted by the failure to advance from their Champions Cup pool this season.
The next target is therefore obvious and with their rate of progress and abundant quality in both attack and defence, it would be no surprise to see Glasgow competing in next season's European play-offs.
For the Irish provinces, it appears that there is some catching up to do.