SUPER RUGBY HEADS into the qualifiers round this weekend and there's an absolute humdinger in store as the Highlanders host two-time champions the Chiefs in Dunedin [08.35 Irish time on Saturday].
It's been an entertaining ride for Jamie Joseph's Highlanders up to this point, with their rugby having been consistently thrilling and always full of ambition.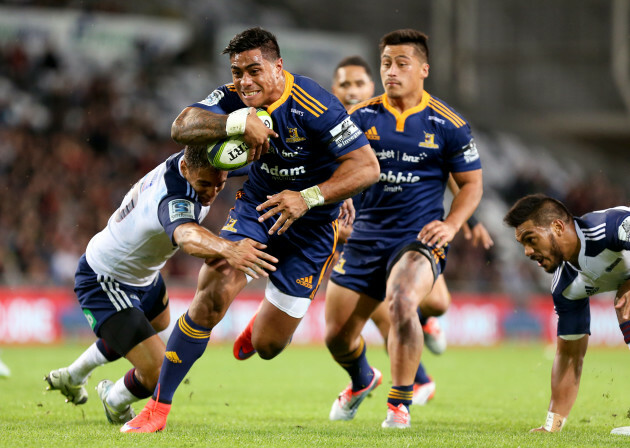 Photosport / Dianne Manson/INPHO Malakai Fekitoa hopes to return from injury this weekend. Photosport / Dianne Manson/INPHO / Dianne Manson/INPHO
Their endless attacking threats will give them confidence against the knock-out know-how of Dave Rennie's Chiefs. That's not to suggest for a second that the Chiefs don't possess major attacking dangers of their own; that quality is well known.
However, it's the Highlanders who have captured many people's attention with their multi-optioned attack, one that relies heavily upon the talent of individuals like Aaron Smith and Ben Smith but also shows the coaching quality of Joseph and assistant Tony Brown.
Brown is in his second year as the franchise's attack coach, having impressed at ITM Cup level as head coach of Otago previously. An 18-times capped All Black out-half before hanging up his boots, Brown played Super Rugby for the Highlanders as recently as 2011.
The 40-year-old's name has already been circulated among Leinster's professional games board in relation to their vacant head coaching position and it seems clear that his trajectory in the coaching world will only continue to rise in the coming seasons.
The Highlanders' exceptional attack this season has very much been a continuation of the efforts that brought them into last seasons' qualifiers and also of the approach Brown had with his Otago side.
It has been the ideal meeting point of coaching excellence and a group of players with outstanding attacking ability for the Highlanders this season. The Chiefs have been forewarned as Brown and Joseph prepare their men for the Highlanders' first home play-off since 1999.
EMPICS Sport Brown scored 36 points against Italy at the 1999 World Cup. EMPICS Sport
Brown played for the Highlanders in that '99 Super 12 final defeat against the Crusaders in Carisbrook. This time he'll be on the other side of the white line and perhaps an even more effective weapon for the franchise.
Winging it
One feature of the Highlanders' attack that has impressed this season is their use of wing pair Patrick Osbourne and Waisake Naholo from set-piece possession.
Osborne and Naholo are powerhouses physically, both standing over 6ft and weighing more than 100kg. Their dynamic strength and pace make them superb finishers and a quick scan of YouTube will show their ability to score wonderful individual tries.
The Highlanders have harnessed the power of their wings by making them gainline merchants on first phase from set-piece.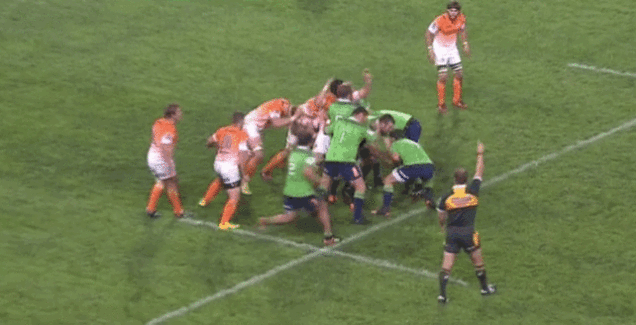 We get an example above as Osborne hits the ball up directly from a lineout platform, bursting well beyond the advantage line and setting up the front-foot possession that eventually leads to a try for the Highlanders.
It's simple but effective from the Kiwi side, as John Hardie arcs away from a dummy maul set-up and allows Osborne to run directly into a highly-favourable collision with Cheetahs scrum-half Tian Meyer.
Naholo is used in an almost identical fashion above but from the other side of the pitch, Dan Pryor the man to hit the wing on this occasion.
Whatever about Naholo's obvious power, his pre-contact footwork here is typically excellent as he dances to the outside shoulder of Sharks flanker Ettienne Oosthuizen [yellow arrow below], running at the branches of the tackler rather than the trunk.
It's also worth noting how Sharks out-half Fred Zeilinga is briefly hesitant to bite back in to assist Oosthuizen in the tackle. His attention is attracted to centre Richard Buckman running a hard line outside Naholo [red arrow] for a split second.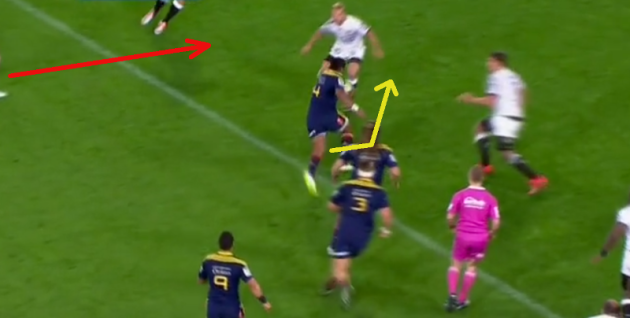 Below, we get another example of that excellent footwork Naholo possesses. Osborne is similarly strong in using his even greater bulk in an affective fashion by creating good contact situations.
It's Naholo who has deservedly attracted many of the headlines though. Having been discarded by the Blues previously, his form this season has led to suggestions of inclusion in the New Zealand squad, which has in turn seen Naholo seemingly back out of his pre-contract agreement to move to Clermont next season.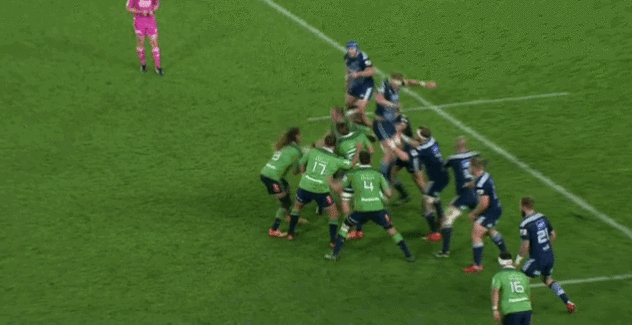 Naholo's power in contact is clear above, but it's the fact that he has his head up, seeking out a soft shoulder to step inside and the subsequent footwork that really impresses.
Every single team the Highlanders come up against is fully aware that Brown's attacking system uses the wings as first-phase options in this channel from both scrum and lineout platforms.
Options
That's where the intelligence of the Highlanders' multi-optioned attack comes into play. Their wingers are more than simple battering rams to win the gainline; Brown has empowered them to make decisions that hugely stretch the defence.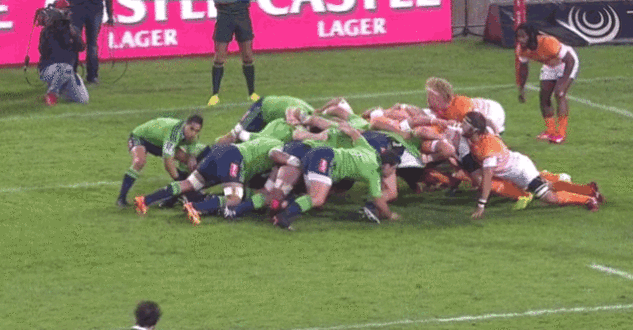 We get an excellent example above against the Cheetahs, as Osborne gets the ball in a now familiar first-receiver position from a close-range scrum.
The South African side will have seen Osborne pick up massive yards from this exact position countless times this season and they're clearly very concerned about the prospect of the 108kg wing barreling forward with a big carry.
But Osborne has other options.
He can of course still make that simple carry [indicated with the red arrow above], and we can see that the Cheetahs have already committed two defenders to halting him in that regard.
There's the second option of dropping off a short pass to Buckman [yellow], and Osborne can also fire the pass out the back door to the deeper-lying Lima Sopoaga [blue].
In this case, Osborne's decision is perfect as the Cheetahs bite down in the narrow channel and leave space for out-half Sopoaga to find Naholo with a superb diagonal kick.
We'll return to that kicking ability Sopoaga brings to the party, but the point here is that the Highlanders' first-phase attack structure is not just about those big hit-up plays from Osborne and Naholo.
Above, we see Naholo firing a pass out the back of Buckman as the Highlanders play off a lineout from right to left.
Sopoago then has another bit of structure outside him as he sends his pass to Malakai Fekitoa behind number eight Nasi Manu and in front of flanker Pryor, the back-row pair forming a nice tunnel.
It's through this simple, multi-optioned approach that the Highlanders are getting the best from their imposing wing pair on set-piece attack.
Sopoaga upswing
At the age of 24, Highlanders out-half Sopoaga has entered a new dimension this season, meaning that he too is increasingly being seen as a potential New Zealand player ahead of the World Cup.
The Wellington man has directly credited former out-half Brown with having had a major effect on his game, as the pair have developed an extremely close working relationship.
The result is that we're seeing more and more excellent touches like the one above from Sopoaga, with his short kick helping Osborne to send fullback Ben Smith in for a try against the Blues.
As we saw earlier for that excellent Naholo try, Sopoaga's short kicking game is a major threat for the Highlanders, and it's something Brown has greatly encouraged in his out-half.
Time and again we've seen the Highlanders make up those always-difficult final few metres to the tryline through intelligent and accurate short kicking. It's a risky venture, of course, but like much of the Highlanders' play, they often get their reward.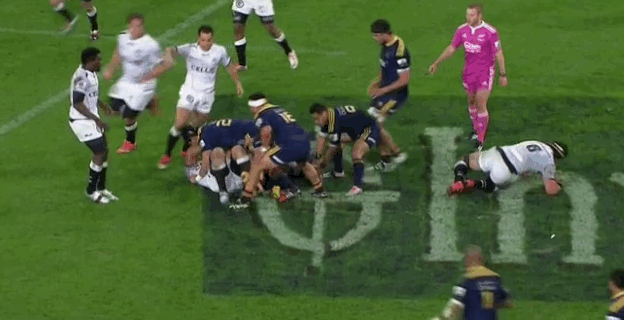 Sopoaga has always been a creative attacking player, as highlighted again in the instance above, but under Brown he has matured into a better decision maker. There's generally been a more ideal blend to his game, mixing up his own running ability with short kicks and an impressive range of passing.
The Highlanders' thirst for tempo, their desire to keep the ball alive, is ultimately what suits Sopoaga and the rest of this squad, meaning he has thrived this season, even if there have been some off days.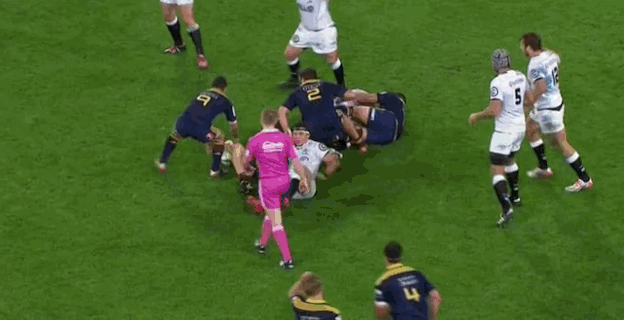 In the clip above we see Sopoaga's ability to create opportunities for others in the lead-up to a try for Osborne. This score also indicates a handful of other elements that have featured in the Highlanders' season so far.
Second row Mark Reddish, previously an unheralded player, is comfortable enough to shift the pass on to Sopoaga after receiving the ball from scrum-half Aaron Smith.
Again, there's a bit of simple shape outside Sopoaga as Pryor runs the flat decoy line [red below] and Fekitoa shapes to bounce out on a wide arc behind Pryor [yellow below].
The temptation here, and sometimes the best option, is to fire an early pass to one of these two players, but Sopoaga spots that JP Pietersen [circled in blue] is shooting up out of the Sharks' defensive line.
Sopoaga is patient and calm enough to hold the ball until Pietersen bites down on Fekitoa as Pryor gets an ever-so-slight block on Sharks lock Stephan Lewies ahead of the ball.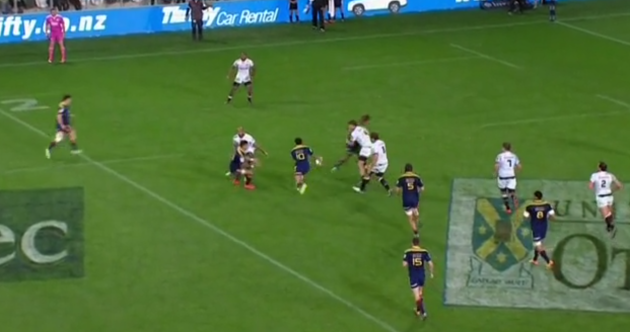 Sopoaga then delivers a gorgeous one-handed pass behind Pietersen out to Buckman, who produces a typically no-fuss draw and pass to put the unstoppable Osborne into space near the tryline.
It's the most simple of shapes from the Highlanders in attack, but it brings out the very best in the creative Sopoaga, as their system under Brown has done all season.
With a success rate of almost 85% off the tee, the Highlanders out-half has also been delivering with his attractive head-down technique when kicking at goal.
Tempo
We've already mentioned the Highlanders' thirst to bring tempo to the game, their craving to force the opposition to repeatedly shift around the pitch at high speed.
Strength and conditioning team Andrew Beardmore and Simon Jones deserve credit for getting their players into the best possible condition for this approach, but once again it's a style that absolutely suits the profile of this group.
Quickly-taken lineouts, rapid counter-attacks and a consistent inclination to run the ball back after they field opposition kicks are traits of this Highlanders group and Brown has encouraged those aspects.
In-game interviews are rarely very revealing in rugby, but to hear Brown say that his team didn't look like they were going great at the set-piece during one game this season, and that he'd told them to simply throw the ball out of touch quickly and play to their strengths, was refreshing.
We get a taste for the Highlanders' desire to bring tempo into the game in the video above, as the world-class Aaron Smith takes a quick-tap penalty and hares into the opposition half to lay the foundation for a scintillating try.
From start to finish, it takes the Highlanders 18 seconds to score, underlining their preference for rapid and clinical attacking. That doesn't always come in the form of quick-tap penalties of course; their counter-attacking and kick returns are similarly quick.
The above try also highlights a number of the key aspects to their attacking game, starting with the vital influence of scrum-half Smith.
Smith is constantly looking for holes in the defence around him, his head always up scanning for any chinks he can run at. Here, he bursts past a couple of slow-moving forwards and then fires an exceptional left-handed pass to Ben Smith.
The fullback, another who has had a superb season, carries the ball on towards the 22 and then shows off an impressive skill that he has managed to turn into a habit.
The covering tackle from Pietersen knocks Smith to the ground, but with support not on the scene in a split second, Smith releases the ball, gets back to his feet, scoops the pill up again and then drives forward into contact.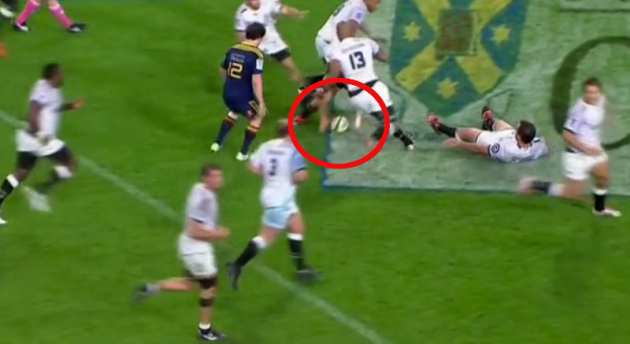 It's a clever skill we've looked at before, and it just buys the Highlanders enough time to arrive at the next breakdown and ensure quick ball for scrum-half Smith to fire away a perfect pass to Sopoaga.
The out-half then gives us another demonstration of his short-kicking game, this time sending a sumptuous touch directly into the hands of the waiting Naholo.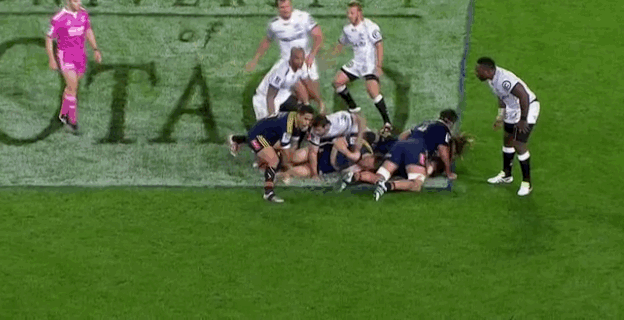 It's an inch-perfect kick from Sopoaga to allow Naholo to go through Odwa Ndungane's desperate last-ditch tackle attempt, but the actions of Aaron and Ben Smith in the phases prior to the last one are essential.
Countering
The personnel in the Highlanders squad means that if they weren't performing strongly on the counter-attack, something would clearly be amiss.
The likes of Ben Smith, Osborne, Naholo, Sopoaga, Aaron Smith and loose forwards like Pryor are built for countering from both turnover ball and after receiving opposition kicks, while outside centre Fekitoa is another prime candidate in this sphere.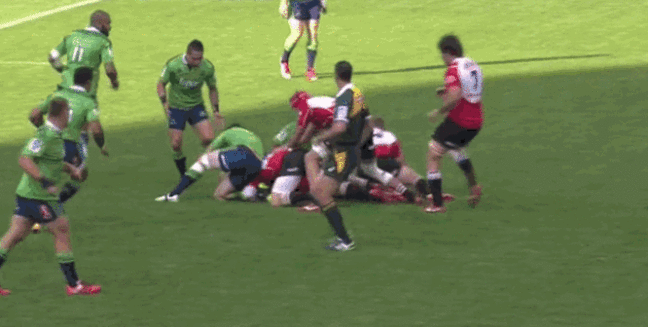 The New Zealand international shows his quality in the instance above, as he scorches past a trio of unfortunate Lions defenders, all the while holding the ball in one hand as if it's a peanut.
Not the best example for any young players out there perhaps, but a sensational illustration once again of how quickly the Highlanders can hurt you when they burst away from turnover or penalty situations.
The video above is another excellent demonstration of their countering ability and we could dedicate an extensive article to the Highlanders in this area, but it's one in which all of the New Zealand side excel in truth.
The Chiefs will have their own ideas of punishing Joseph's side on the counter in Dunedin, making it an even more exciting match-up.
Offloads
The Highlanders were actually the least frequent offloaders in the New Zealand conference of this year's Super Rugby with a total of 174, but they are very often highly accurate with their offload efforts.
It's another aspect of their ability to keep pace in the game, negating the need for breakdowns when there are clear and obvious offloads on.
The clip above provides a fine example as Smith hits Osborne close in to a ruck in phase play, with the left wing getting his hands free to offload.
The crucial point here is that Pryor is running an intelligent support line and fully expecting the offload as soon as he recognises that Osborne is heading for a favourable collision.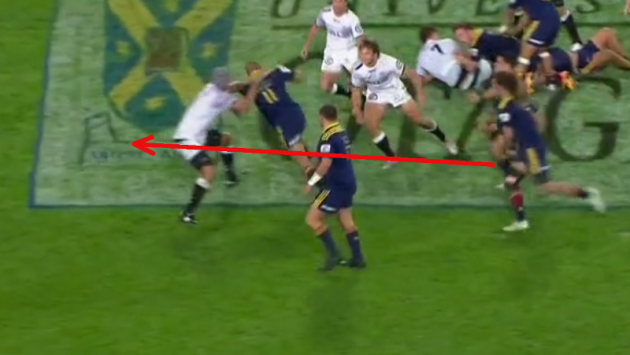 Prop Brendon Edmonds then repeats the trick by running a support line for Pryor, giving him a firm call for the offload as the flanker hits the deck.
Special plays
Anyone who watched Otago play in the ITM Cup under Brown will have been aware of his ability to come up with inventive starter plays that oftentimes completely baffled the defence.
Several of those plays were utterly out of the left field, and some might have thought Brown wouldn't be bringing them unto Super Rugby, but fortunately that hasn't proved to be the case.
The smooth play we see above from the Highlanders this season is a variation on the supreme try we see from Brown's Otago side in 2014 in the video below.
AllBlackFans / YouTube
While Otago head for the inside route by switching play back against the grain, the Highlanders' try comes by shifting the ball away to the outside right channel.
The play begins with a three-man lineout, before scrum-half Smith finds centre Buckman as the key linking player in the middle of the pitch. Either side of Buckman is a prop, while John Hardie runs a switch line inside him and Sopoaga drifts wide behind the centre.
Whereas Otago opted to play the switch [by hitting the player on Hardie's line], the Highlanders move the ball to Sopoaga just at the point the Cheetahs are starting to bite inwards.
The Cheetahs actually do reasonably well in defence initially, holding off from overly committing to Buckman and getting number eight Willie Britz in a position to cover Sopoaga, but out-half Francois Brummer is attracted in to Sopoaga [red arrow above] and they begin to be compromised.
The danger is only amplified when Fekitoa runs a superbly-timed decoy line in front of Sopoaga's pass, taking Cheetahs centre Michael van der Spuy out of the game [red circle above] and providing the Highlanders with a numbers-up scenario on the outside edge.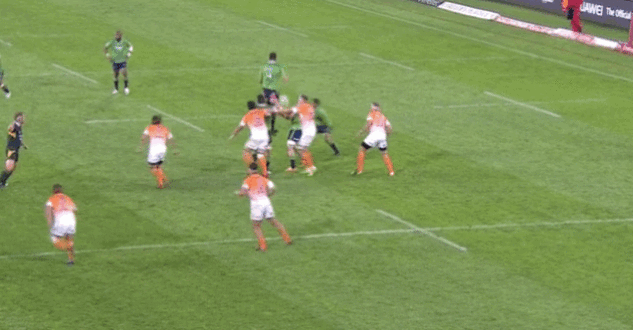 It still takes exceptional handling from the Edinburgh-bound Nasi Manu to allow Ben Smith to send stand-in wing Ryan Tongia running into space. The rugby league convert then has to produce a sublime chip and gather to score, but he's allowed the space to do so by Brown's brilliant starter play from the initial lineout.
The Highlanders players have bought into Brown's attacking ideas with total conviction and it's obvious how much they are enjoying playing under the attack coach, as well as Joseph.
Listen out for the ref mic during the Highlanders' games and you'll hear yelps of joy as they cross the tryline. Demoralising for the team that has just conceded maybe, but also an articulation of the sheer satisfaction of carrying out their coaches' plays to perfection.
Simple skills
For all their special plays and explosive athletic strengths, perhaps the thing that most stands out about the Highlanders is their basic catch-and-pass skills.
Manu provides an excellent demonstration of that ability for Tongia's try above, and there are others littered throughout their season.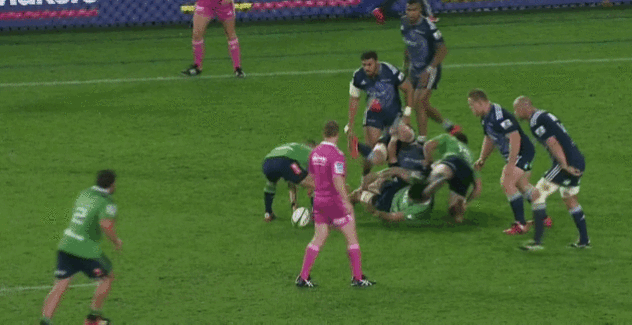 Above, it's centre Buckman who flashes a quick pass across his body in the lead-up to an Osborne try in the corner.
In the example below, there's less requirement for quick hands from the Highlanders and instead we see the ability of Sopoaga and Osborne to really pose questions of the defenders with bursts of footwork before they shift the ball on.
It might not seem like a whole lot on first watch, but those little staccato steps just force the defender to be slightly less comfortable in their decision-making, fixing them and allowing Hardie that outside space to send Manu on the rampage.
His offload, the best example of that skill possible, is then sublime as Smith arrives in on a brilliant support line. This aspect of Smith's play is something we've looked at in his New Zealand performances before, but it's equally crucial to the Highlanders' success.
We'll likely look at Smith in more depth in another piece at some stage this summer, but it goes without saying that he is exceptionally important to Joseph's side. His passing is on another level to other nines across the world.
Threats everywhere
Ben Smith is another player whose threat doesn't really need to be dwelled upon in this piece; those who have watched the All Blacks or Highlanders play at any stage in the last number of years will be well aware of his quality.
His counter-attacking incisiveness is always impressive, while his short-kicking game only adds to Sopoaga's strength in that area.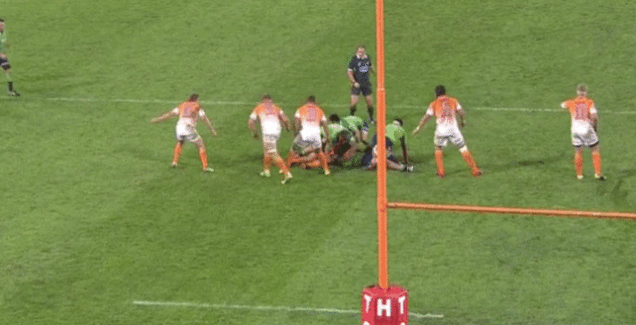 While Smith is frequently and deservedly lauded as the attacking genius that he is, perhaps a more unsung Highlanders hero is Richard Buckman, who has provided a crucial direct element to their attack this season.
We've already seen that the 'Barracuda' has a deft set of hands, but he also brings a combative edge to the Highlanders' classy backline. His ability to straighten play up is crucial as a counter-point to those around him.
Buckman does the straightening job for the try above, flicking away a superb offload to Smith running another good support line for a Highlanders try that seems relatively simple compared to others they've scored this season.
Buckman's solidity balances out his skillset nicely, and the same could be said for the Highlanders' forward pack. They too suit a high-tempo approach, but their efforts in the tight have been strong this season so far.
The Chiefs will fancy their chances of getting on top up front and doing enough to match the Highlanders away from the set-piece, but with Brown again orchestrating the likes of Sopoaga, Osborne, Naholo and the Smiths, it should be a hell of a lot of fun either way.