http://www.facebook.com/The42.ie/videos/1258960880833065/
Originally published Tuesday, 21.55
YOU GET YOUR options from the opposition.
So says Steve Hansen, who learned this philosophy from his father Des, also a rugby coach in his time.
The sentiment refers to every action a team takes on the pitch during a game, of course, but can also sum up what a team does in preparation for any contest.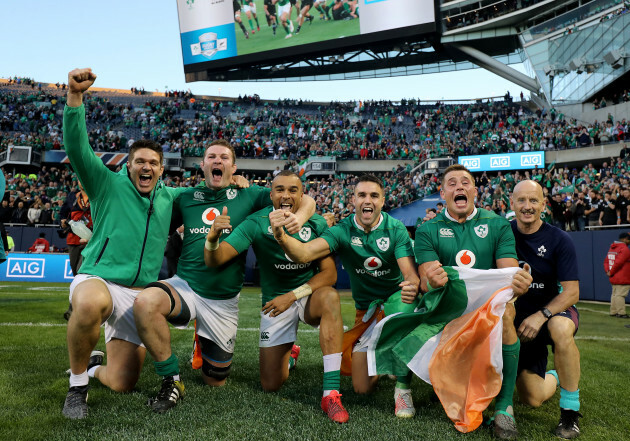 Dan Sheridan / INPHO Ireland's Munster contingent celebrate their win. Dan Sheridan / INPHO / INPHO
Take a look at the opposition, pick out a weakness and go after it ruthlessly. Joe Schmidt's Ireland have become famed for this methodology and their first-ever win against New Zealand last weekend saw the latest example.
Shorn of their three best locks, the All Blacks looked to have a potential weakness in the maul and lineout, and Ireland exploited that to major effect.
That was just one element of the historic win, as Ireland's handling, defensive technique, and sheer work rate allowed them to produce one of their finest performances under Schmidt.
Anything you can do…
While nothing in rugby is guaranteed, it does border on being a certainty that the All Blacks are going to score tries.
That means you're going to have to produce a whole lot of points to win. Reflecting these near-facts, Ireland took a try-scoring mentality into Saturday's contest at Soldier Field.
A try-scoring mentality doesn't simply mean a team runs from everywhere and offloads freely – Ireland had three offloads through Andrew Trimble, Jared Payne and Jamie Heaslip – however.
In Ireland's case, it partly meant rejecting a handful of possible opportunities to take three points in order to kick to touch and use their maul – a primary attacking weapon – to break down the All Blacks.
Above, we see a representation of what Ireland did with the penalties they won inside the All Blacks' half during Saturday's game.
Clearly, they did take the gimmes in terms of adding three points, but the other three penalties they sent down the line to touch were probably within Johnny Sexton's range.
With 10 minutes on the clock and Ireland trailing 5-3, Dane Coles collapsed a maul just inside the All Blacks' 22, around 12 metres in from the touchline. Very kickable from the tee, but Sexton went to touch and Ireland mauled over for their first try.
This wasn't just about getting any sort of lead; it was about attempting to open scoreboard space with five or seven points. A healthy lead heading into the final 30 minutes – when the All Blacks score 50% of their tries – was a clear part of Ireland's plan.
Early in the second half, with Ireland 25-8 ahead, Rob Kearney was tackled high by Joe Moody around 45 metres out from the Kiwis' tryline but in a relatively central position.
Attempt to tack on another three points? Not in this game. Down the touchline they went, and less than a minute later Simon Zebo crossed for Ireland's fourth try.
Direct method
The quality of Ireland's maul had a major influence on the outcome of this game, with their first try coming directly from this source, and their fourth also being built on the maul.
There were some slight hiccups at the maul – indeed, Ireland dropped the ball on their very first attempt inside the New Zealand 22 – but they largely made big metres and big statements in this area of the game.
Ireland's maul summed up their mentality of attacking New Zealand, of taking the game to them and being physically dominant at every available opportunity.
Ireland's opening try, scored by Jordi Murphy, is a wonderful example of their direct mauling success against the Kiwis.
Ireland call a six-man lineout on the five-metre line after the decision not to take a shot at goal.
CJ Stander is the 'reciever' for Ireland, standing in a position often taken up by a team's scrum-half if they plan to attack by passing to their backs off the top of the lineout.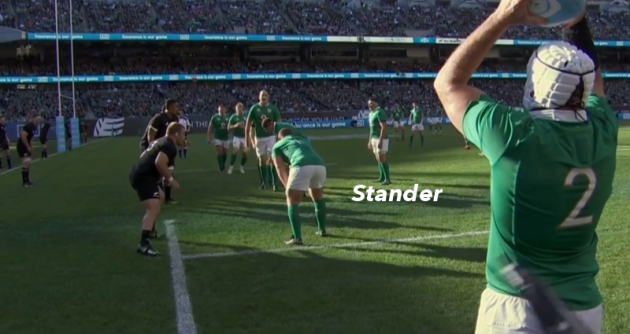 A forward in this position often indicates that a team is going to maul, although New Zealand, Ireland and many other teams also use it as a dummy, often accompanied by their scrum-half standing at the front of the actual lineout, then dropping out to pass.
In this case, Stander is going to be the man who accepts the ball from lineout target Devin Toner, who steps forward following a dummy jump movement by Donnacha Ryan.
Toner is lifted by Jordi Murphy at the back and Jack McGrath at the front for a succesful take and transfer to Stander.
The ball is almost dropped to the ground – as it was with Ireland's first maul attempt – and assistant referee Ben Whitehouse points that out to referee Mathieu Raynal before the TMO review of the possible try.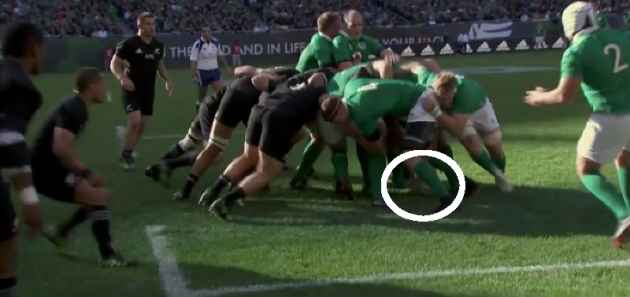 "Before that [the grounding]… potential knock-on," says Whitehouse. "I didn't see if he gathered it before [it hit] the floor."
The TMO clears a possible knock-on, appearing to feel Stander catches the ball before it actually hits the ground and therefore never loses possession of it.
While the transfer is happening, Ryan's movement after his dummy is crucial. He steps back out of the lineout and then joins the maul to the left side of lifter McGrath.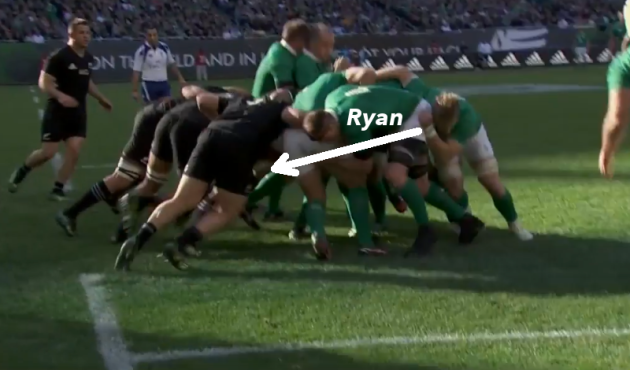 Ryan is essentially the spearhead for Ireland's shift away to the left touchline. By splintering off in this direction, Ireland are negating the Kiwi's counter-drive onto lineout catcher Toner.
The movement of the two men who start at the very back of the lineout is crucial to this maul's sucess too.
Below, we can see Jamie Heaslip and Tadhg Furlong at the tail of the lineout.
Heaslip steps back out of the lineout early, and his role is to arc all the way around receiver Stander to the front, as we see below.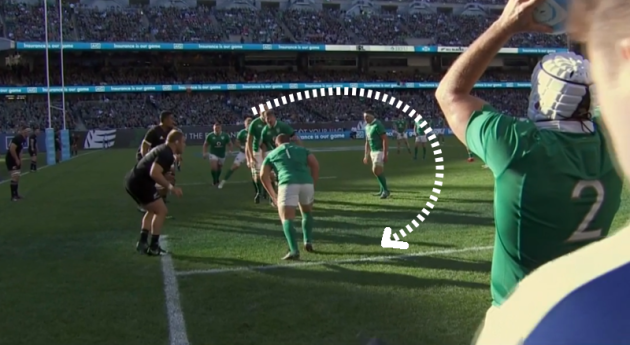 Heaslip's designated job is to then bind onto the forming maul just in behind Ryan, providing power behind the spearhead.
Heaslip's positioning means he is to the right of Stander, providing protection on that side of the maul.
Furlong, meanwhile, does a similar job on the other side.
Again, he comes from the rear of the lineout.
Furlong doesn't need to make it all the way around to that left edge of the maul, but his role is perhaps more difficult as he must negotiate his way through a more congested area than Heaslip.
Furlong arrives in behind lifter Murphy and catcher Toner, then slips up on the inside of both players to get to Stander's right-hand side.
Below, we can see that Furlong has done that, with his arm circled binding onto Stander.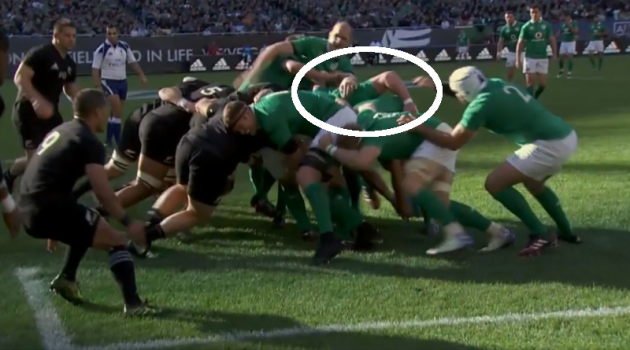 The image above underlines exactly what Ireland are doing. As the New Zealanders counter-drive on Toner, Murphy and McGrath, the other Ireland forwards have created what is essentially a new maul, ready to shift off towards the touchline.
As it does so, hooker Best joins in to accept the second transfer of the ball back from Stander.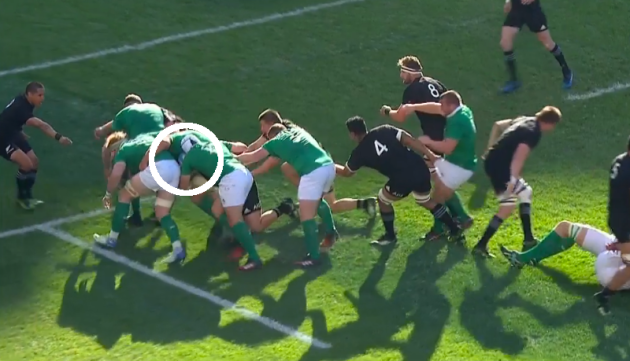 There's a real threat of Ireland trundling straight to the line at speed here, but New Zealand's receiver, Kiearan Read steps in to slow them as Owen Franks looks to take Stander to ground by targeting his legs.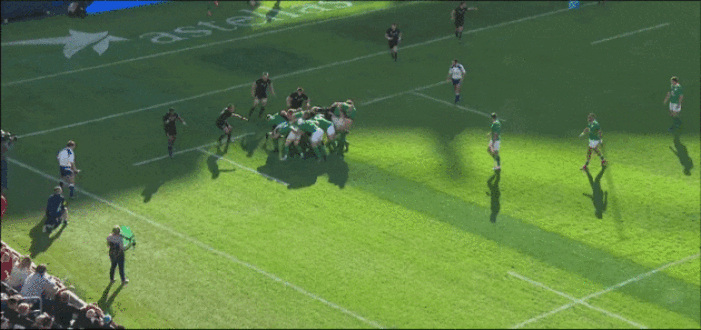 Furlong manages to regather his feet after tripping over Franks on the ground, while McGrath and Toner arrive to add their bulk.
As the retreating New Zealand players also re-engage, the touchline suddenly becomes a danger for Ireland. Some teams in this instance may have simply kept the foot down and hoped to get to the tryline before the touchline, but Best and McGrath opt to pirouette back infield.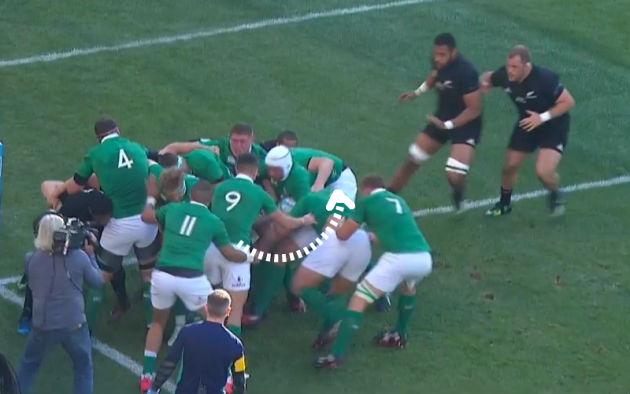 This again acts to bring Ireland's drive away from where the bulk of the New Zealand counter-drive is happening.
Best provides the buffer between New Zealand and the ball, while Murphy is able to join in and steer from behind.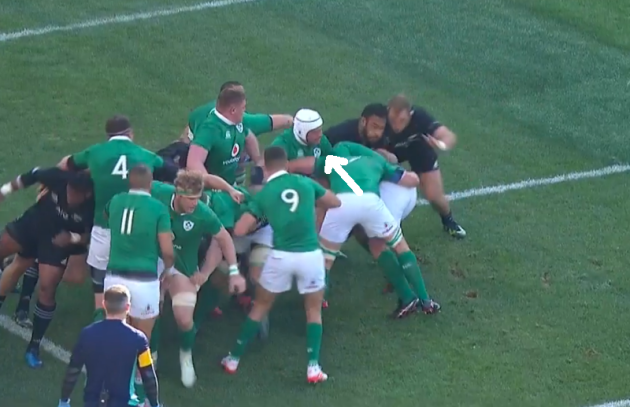 Toner and Furlong turn to lean into this new Irish trio, while Ryan re-joins from the back to add his own final shunt of power.
Franks and Patrick Tuipulotu do their utmost to drag McGrath and Best out over the touchline, but with a final burst, Murphy is able to fall over the tryline and ground the ball with his left arm.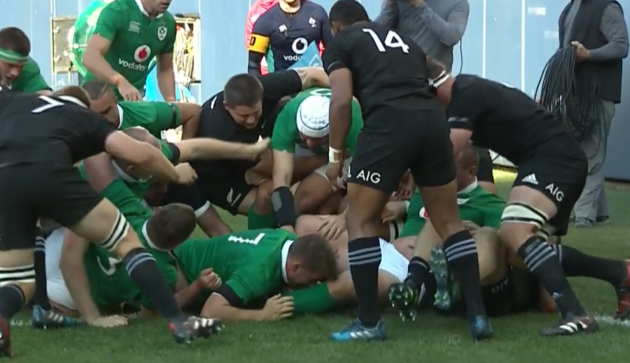 While this try is about power and directness from Ireland, there are also many subtle aspects to it. The various moving parts mean that Simon Easterby's forwards had to carry out each of their roles with perfect timing.
The result is a deeply-encouraging early try and a sign of things to come at maul time, where Ireland were dominant all day at Soldier Field.
Lineout disruption
Ireland's success at the maul was all about their own organisation and execution, but it certainly didn't help New Zealand that they were missing Brodie Retallick, Sam Whitelock and Luke Romano as second row options.
Without some of their leading maul defenders, it was a smart place for Ireland to focus on attacking the All Blacks, as was the lineout itself.
Easterby's pack did have one or two errors on their own lineout, but they contributed to a substandard Kiwi lineout display that denied them access into the game at crucial junctures.
Above, we see the Kiwis' first lineout of the game, which they shorten to five men as Sam Cane slots into the receiver position.
Toner reads the play superbly, with Read – New Zealand's key jumper – not even moving before going up for the ball. With McGrath and Ryan lifting, Ireland lock Toner can't quite get to the ball but he does enough to put Read off and the ball flies loose.
Canes gets to it first, but Ireland tailgunner Best – the defensive 'receiver' – hounds him down and makes good contact to put New Zealand on the back foot. A potentially excellent attacking platform – that 'access' – is denied by Ireland's competition.
Minutes later, New Zealand have a lineout inside Ireland's 22, still trailing 10-5 on the scoreboard.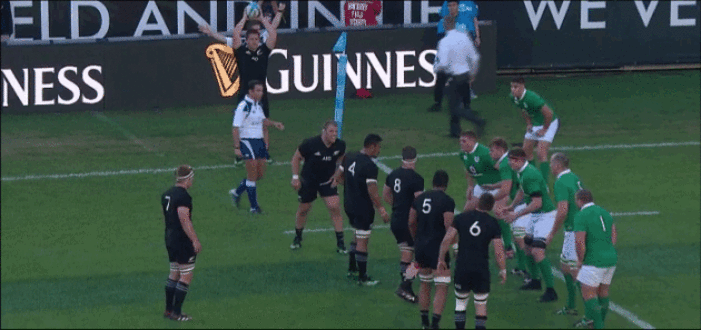 Dane Coles had a rare off-day with his throwing on Saturday and we can see as much here, as his dart goes over the top of Kieran Read at the front.
That said, the pressure from Ireland is apparent again.
Murphy's read of the situation is excellent.
The Ireland openside identifies Jerome Kaino dropping out of the lineout and moving towards the rear, but catches Read coming forward in his periperal vision.
Murphy makes his decision and steps forward to front lifter Furlong, with Ryan making the same read and getting in to lift from behind.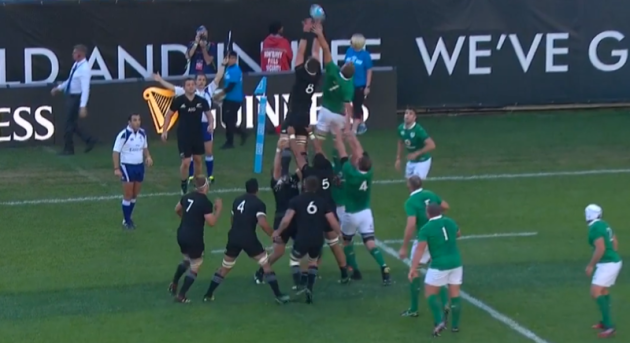 The ball goes over both Read and Murphy, and Stander slides in to gather, thundering back to his feet for a leg-pumping carry to initiate an attacking passage that ends with a penalty for a high tackle by Liam Squire.
A brilliant linekick from Johnny Sexton then provides Ireland with a lineout platform in New Zealand's 22 that ends with Stander scoring Ireland's second try.
That end result only serves to accentuate how New Zealand's troubles at the lineout denied them access into the game as Ireland built an important lead.
The Kiwis did begin to win ball more cleanly as the game developed, but it was noticeable how they often threw to the front of the lineout, even when playing off the top. Such ball is not ideal for backline attacks.
Ireland had a handful of issues at lineout time – including Scott Barrett picking off one in the second half – but they were clearly the better team in this domain and, along with the maul dominance, it went a long way towards ensuring success.
Eye on the fringe
Ireland's second and third tries both came from wins on the fringes of rucks.
Stander's score actually originated at a scrappy lineout, which Murphy just managed to tap back to Ryan on Ireland's side. Toner and Payne then put their hands up for carries in the New Zealand 22, before Rob Kearney rolled back the years with a vital linebreak.
As Sexton comes around the corner after passing to Payne, we can see him identifying George Maola in the New Zealand defensive line – a man with only four caps and a reputation as more of an attacking threat than a sharp defensive reader.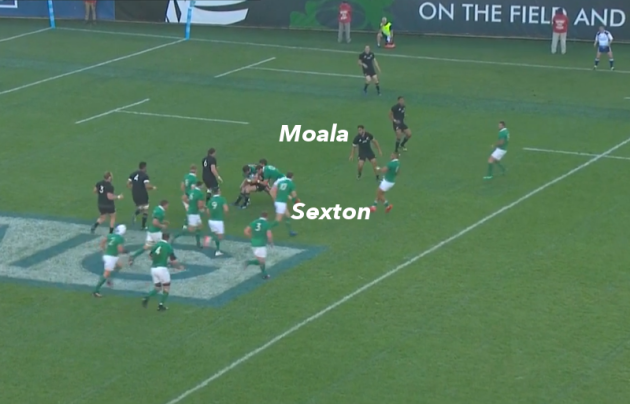 Sexton's mind springs into action and he calls for a screen play to his right, whereby Kearney will run a hard, flat line short off Sexton and Simon Zebo will bounce out behind Kearney.
Sexton wants to put Moala in an uncomfortable position where he has to make a split-second decision.
That's exactly what happens as Sexton receives Murray's pass and takes the ball at the line to challenge Squire directly in front of him, leaving Moala to ponder the possibilities of Sexton making a short pass to Kearney or a screen pass out the back door to Zebo.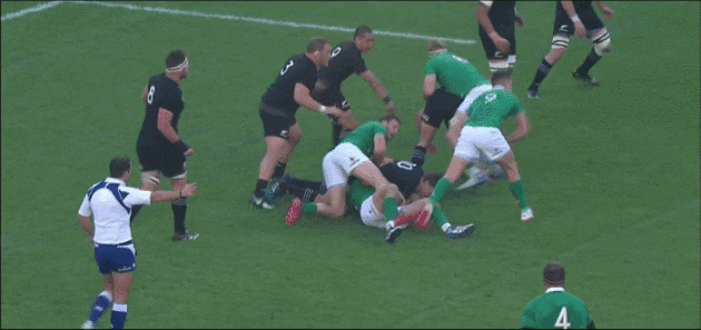 The movement forces Moala to do the one thing that every midfield defender does their utmost to avoid – sitting down on their heels even before the pass has gone – as we see in the image below.
The line from Kearney is excellent, but Sexton's contribution is perhaps the key. He delays his pass just enough to sow the doubt in Moala's mind, and while he does that he opens his body up and shapes it as if he's going to pull the pass back to Zebo.
It's quite subtle but enough to sell the idea of a screen pass to Moala.
On top of this technique from Sexton is the fact that Ireland have already used screen plays on three occasions before this point. For two of those, Sexton was the player to throw the screen pass as Ireland attacked wide channels.
The bait has been laid and Maola bites.
Kearney's footwork in behind – after he gets through the desparing arm of Moala – is exceptional as he almost stops in order to power inside to the left and through the tackle attempt of the sweeping Aaron Smith.
Read does fell Kearney a metre short, but Ireland aren't going to be denied. Zebo, Andrew Trimble, Furlong and Murphy plough into the ruck – taking Conor Murray in with them – and Stander is over the ball.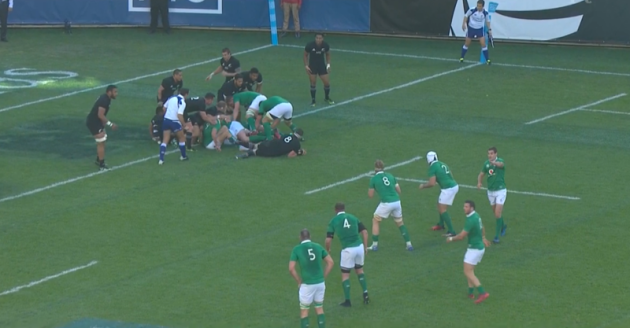 We should note that Ireland are set up to attack to the left of the ruck, with Sexton organising the options wide left of the shot above. This is where the ball is expected, but Stander takes responsibility.
A metre out, he backs his strength and technique.
The wrong decision? Perhaps it is with the benefit of replays and days of thought, but in the heat of the match – where it actually counts – Stander makes certain that his decision is the right one.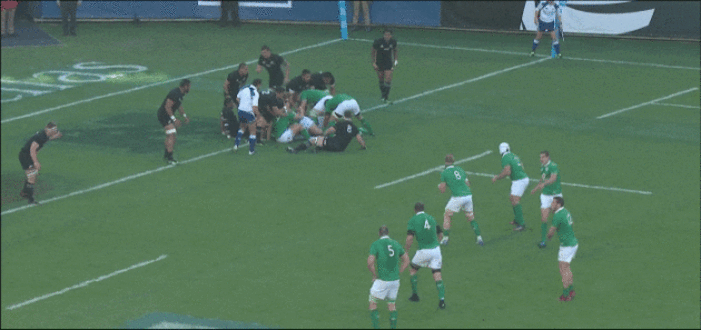 Every team needs players who have the balls to step up and take these shots, and Stander shows that he has the finishing intellect to go along with the mindset.
Clearly, there is a huge amount of brute force involved here, but Stander's body height is pivotal.
He gets incredibly low to the ground, and would fall flat to the deck were it not for the presence of Kaino and Moala in opposition to him. Stander wins the shoulder battle and gets in underneath the Kiwi pair, allowing him to drive his way to within scoring range on the tryline.
A win for Ireland on the fringe.
Murray's try in the 33rd minute also saw Ireland have success to the side of a ruck, albeit in a different manner.
The platform for this score is a sublime Sexton garryowen. We don't often see this kind of kick lauded, but the sheer hang time Ireland's out-half gets on this one is worth underlining.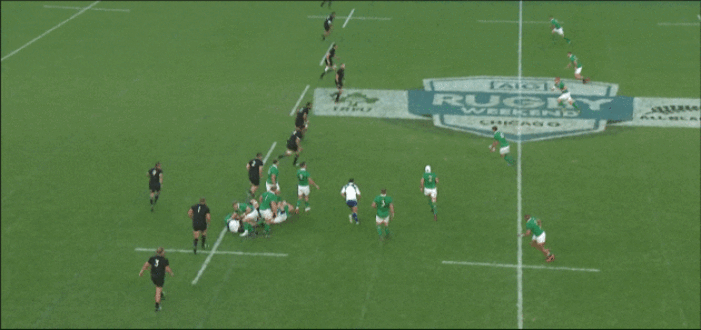 There are five seconds of hang time on this kick as Sexton puts snow on the ball, meaning Beauden Barrett underneath it has a whole lot of time to think about the pressure around him and also to get in front of the landing point.
There's the subtle physical pressure that Zebo applies from behind Barrett too, getting a hand onto him before he leaps. It's just enough to put Barrett off and not quite enough to attract Raynal or his assistants' attention.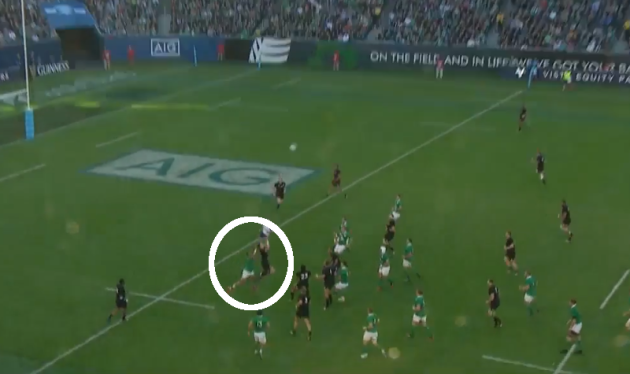 After a bounce, Read swats the ball back to New Zealand's side, but Murray reels it in. Ireland are on the attack.
McGrath carries to the right, before Ireland bounce back to the left – something they did repeatedly on Saturday – and there is a sniff of an opportunity with a four-on-three that the Kiwis do well to negate.
Furlong carries again as Ireland come infield, and then Murray picks his moment to strike.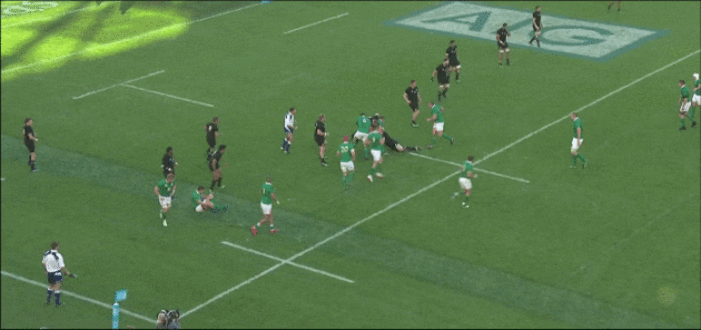 It's a clever dummy and snipe from Murray, but quite a lot happens before the scrum-half makes his move.
Initially, Coles is the Kiwi defender on the left fringe of the ruck.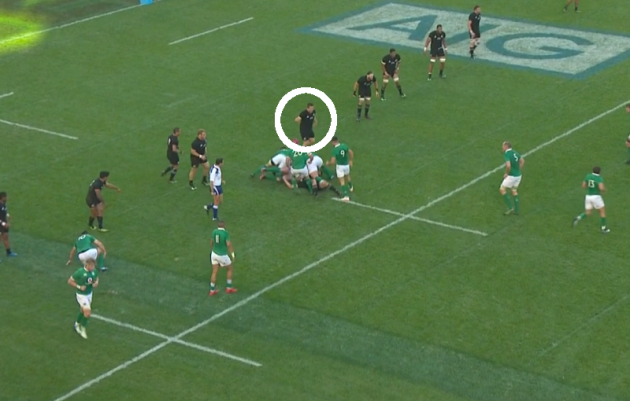 We can see above that he's beckoning for someone to 'fold' from the other side of the ruck, ie. to get across onto the left and add another defensive body there.
Scrum-half Aaron Smith often fills this role for New Zealand. While some teams prefer their scrum-half to hover around behind rucks and then sweep behind the defensive line, Smith very often comes into these areas around the fringes.
As Smith moves across to the left, he calls and beckons to Owen Franks to follow him, calling "Owie" – a nickname.
Franks doesn't react immediately – possibly not hearing Smith – and stays in his position as the right 'pillar' defender, ie. the man closest to the ruck.
Smith arrives to the left side of the ruck and realises that Franks hasn't moved, so he tries again, screaming "Owie!" as he beckons again.
Murray has all the cues he needs here to go for the sniping chance he's been waiting for in this game.
As the Ireland scrum-half scoops the ball off the ground and cocks it as if to pass to his right, we see an absolutely crucial involvement from Stander at the front of Ireland's ruck.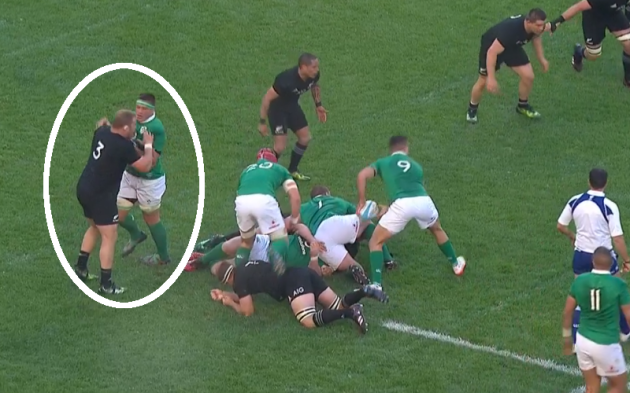 Franks is now attempting to get across to the left of the ruck for New Zealand, but Stander steps out the front of the Ireland ruck and just bumps Franks, blocking his path across to the other side.
Again, it's subtle enough not to draw major attention, but it's enough to open the door for Murray.
The Ireland scrum-half throws his dummy pass to the hard-running Ryan, who does superbly to draw the attention of Coles and Smith – who still appears to think that Franks is arriving on his inside.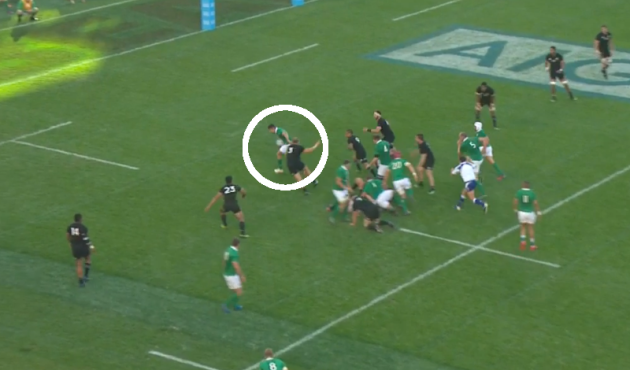 But having been delayed by that vital Stander bump, Franks can't get a shoulder onto Murray and the scrum-half fends his tackle attempt to break clear, sprinting past the covering Barrett on his way to scoring.
There's an element of opportunism here, of course, but Ireland would have been extremely aware of the possibilities in circumstances like this – where Smith steps in as a fringe defender.
Below, we see South Africa taking advantage earlier this year.
On this occasion, Smith's prop – Joe Moody – does fold across, but it leaves New Zealand open to the pick and drive directly over the ruck itself.
Smith's mind works incredibly fast on the rugby pitch and his demands on other players are exceptional. While that often allows New Zealand to be supremely organised around the ruck, it does sometimes mean opportunity for the opposition.
The analysis work down by the likes of Mervyn Murphy and Vinny Hammond might have highlighted as much to Schmidt and his coaching staff, with Murray – taking advantage of the massive benefit of Stander's work – taking his one big opportunity.
Clinical basics
We so often laud the New Zealanders' basic skills, making Ireland's win in Chicago all the more impressive for the fact that they did these things so well.
Ireland's passing and handling was excellent throughout their victory, while their kicking – including that Sexton bomb before Murray's try – was also of an extremely high quality.
Exclusive Six
Nations Analysis
Get Murray Kinsella's exclusive analysis of Ireland's Six Nations campaign this spring
Become a Member
The Jared Payne pass we highlighted on Monday was a prime example of Ireland using their basic skills under pressure.
Sexton and his backline were not afraid to move the ball into wide channels, particularly in the first half, as they looked for opportunities to build the scoreline they needed to before the inevitable second-half Kiwi onslaught.
Even the most basic catch-and-pass was done efficiently by Ireland, as for Zebo's try, when Sexton switched play back down the shortside.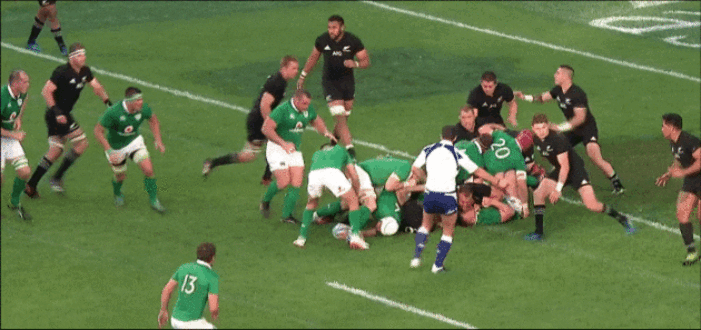 The maul had done the damage in this instance for Ireland, and they probably should have been awarded a penalty try even before Murray passes left in the clip above, the Kiwis having dragged the maul to ground and with Squire having entered from the side.
Ireland are utterly clincial, however, with two simple passes from Murray and Sexton – the out-half drawing in Waisake Naholo well – sending their left wing in for the fourth try.
The sheer power of the preceding maul is the real key, sending the Kiwis back-peddling and leaving them numbers down on the blindside as they focused on stopping the maul.
Defensive muscle
Ireland conceded four tries in this game and, while we have already mentioned that preventing the All Blacks from scoring is always going to be bordering on impossible, they won't be too happy with the circumstances.
We will look at those incidents before the second fixture between the sides in Dublin, but it is worth highlighting some of the good work Andy Farrell's charges did on the defensive side of the game.
There was excellent variety in Ireland's defensive technique, highlighted nowhere more than in the work of Robbie Henshaw, who chopped in low at times, slapped away fends on other occasions, hammered upper bodies when the chance arose, and initiated the choke tackle below – one of two by Ireland in this game.
Henshaw gets to ball carrier Kaino, wrapping him around the ball and leaning his own body back upfield to prevent the Kiwi second row from getting to ground.
Tuipulotu's latch onto Kaino creates the maul – two attackers and one defender – as Stander also piles in to wrap his arms around both Henshaw and Kaino, helping to keep the contest up off the ground long enough for the crucial "maul" shout from Raynal.
Turnover Ireland.
Perhaps the most impressive defensive set – a series of phases where they are defending – from Ireland came around two minutes after this choke tackle, as the Kiwis went through 15 phases and made around 60 metres but failed to truly break Farrell's men down.
New Zealand will virtually always make big yardage off midfield rucks, such is the width of their attack and the quality of their handling and running, but Ireland used the touchline rucks to make the presence felt.
We see as much above, as Henshaw thunders forward and slams into Franks, wrapping him ball-and-all. McGrath is second man in to send the Kiwi prop backwards.
The linespeed is evident again below as Stander rushes up to hit Kaino around the legs, Ryan following him in up high this time.
The communication from Ireland throughout is superb, so that even when they give up metres to the Kiwis in prior phases, they are calm and eager to get some of the momentum back when they can – as on phases like the one above.
Ireland also made excellent reads through this game, as highlighted by McGrath in this passage.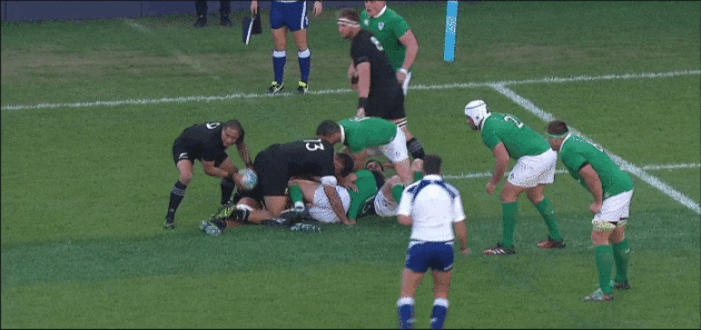 New Zealand send the ball through the hands of Ben Smith to Kaino, at which point McGrath makes his fine read.
As Kaino receives the ball, he's a carrying threat to Toner directly in front of him. To Kaino's right, Franks is running a short line looking for the tip-on pass.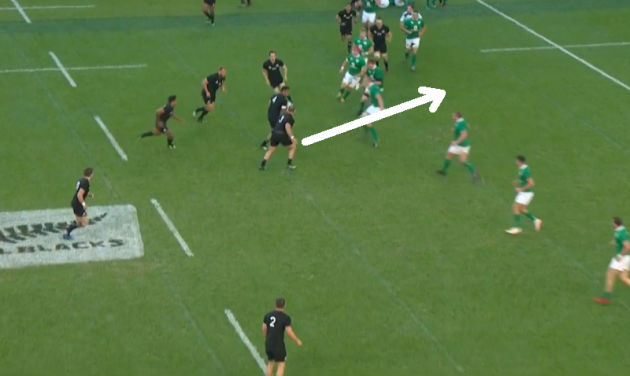 Clearly, it's attractive to McGrath – or any prop in this position – to bite down on Franks' run and look to smash him if and when he receives the ball.
However, McGrath is intelligent enough to read that Malakai Fekitoa is bouncing out behind Franks looking for that screen pass.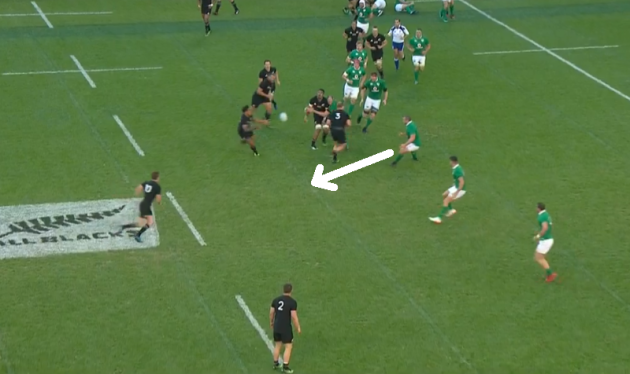 Just as Kaino releases his pass, McGrath superbly readjusts his feet and gets out behind Franks to line up Fekitoa.
That read – after a high number of fatiguing phases – means Ireland's whole defensive solidity is retained and allows Murray to line up his tackle on Barrett, rather than having to step in and defend the threat of Fekitoa.
Even when the Kiwis go to the width and begin to offload looking for opportunity, Ireland's work rate simply doesn't stop.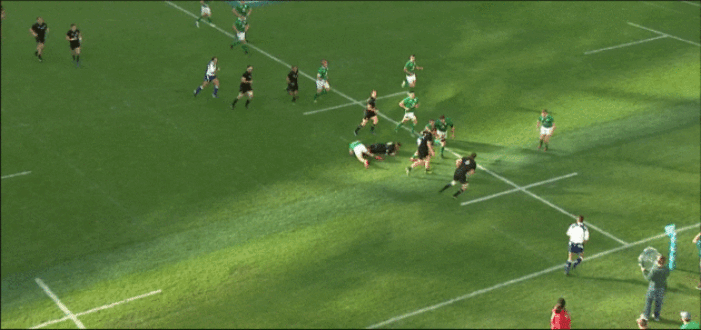 Henshaw is gleefully waiting inside to level Smith when Squire offloads in the instance above, the Ireland centre having worked hard to get across after the ball passed him.
Even though they did make errors in defence against the world's best attacking side, Ireland's work rate and hunger to hammer into the Kiwis never faded.
Two phases after the above hit by Henshaw, Smith simply box kicked the ball away, allowing Simon Zebo to clear to touch. When the All Blacks came back on attack again, McGrath was waiting to strip Barrett of possession.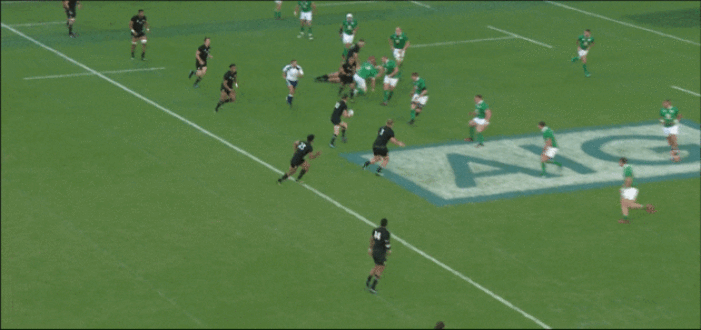 A demoralising spell of attack for the New Zealanders.
Shutting doors
Any team playing the All Blacks is going to get into incredibly stretched situations where their defence is forced into a desperate scramble.
That happened to Ireland and, at times, their last-gasp actions failed to redeem the situation.
However, there were also many examples of Ireland doing just enough to cling on, with several tackles from behind along the touchlines by Josh van der Flier and Trimble standing out.
Trimble was also particularly prominent in shutting doors on the outside edge – something he does consistently well and is being backed to do even more by defence coach Farrell.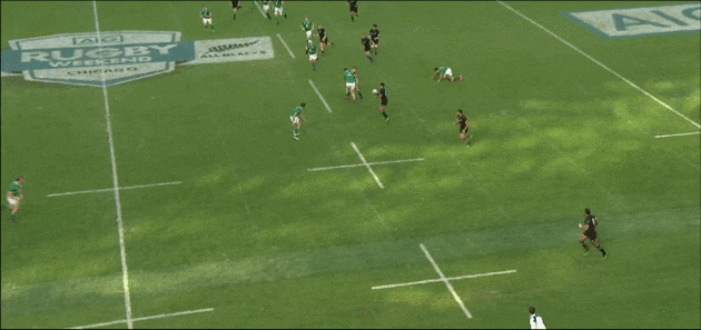 Above, we get one example of Trimble being proactive, rather than passive. The All Blacks spread the ball wide to the right and when it is heading towards Moala's hands, the Ulster wing has a big decision to make.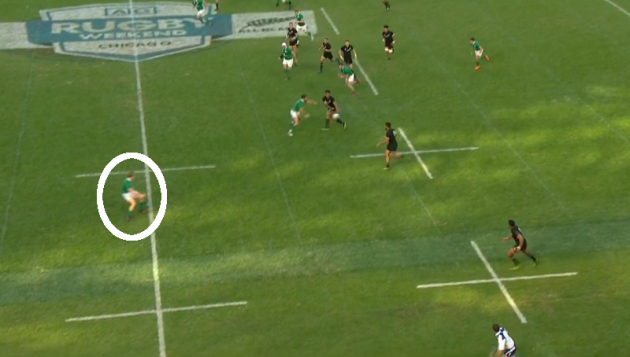 At this point above, he can either hammer up hard on Moala, or sit off completely and hope one of his team-mates can link with him against the two attackers.
Kearney is covering across in behind to take the last attacker, but if Moala can draw Trimble and make an accurate pass to Savea, a try does seem likely.
Trimble backs himself to close on Moala and put the centre's pass under pressure.
Trimble does just enough to force a poor pass from Moala to Julian Savea, who also gets a little flat to his centre, then lifts his head and juggles a poor pass for a knock-on.
Trimble does similarly well in the example below, with his thumping tackle forcing a forward pass on this occasion.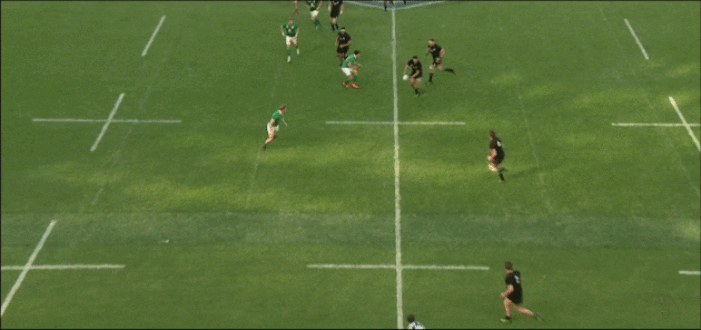 This situation is different in that in comes in phase play attack, rather than the broken-field scenario of the previous one, but the principles of pressurising the passing player are the same.
Again, there is some temptation for Trimble to sit off and drift, even if Murray is covering across to the Coles on the outside, but the Ulsterman flips the situation and cuts down on the time Squire has to execute his skill.
The hounds of Soldier Field
We pointed out in our piece on the Henshaw try that Ireland's defensive chase had been a vital part of their success.
The rabid nature of the pressure Ireland put on Julian Savea in that passage of attack was typical of the kick chase throughout Ireland's famous victory.
Ireland's excellent restart strategy – putting Kearney in direct opposition with Ben Smith just inside the All Blacks' 22 – also yielded hugely positive results as their chase delivered.
Indeed, this superb win by Kearney in the air sparked the period of territory that ended with Ireland kicking a penalty for an 18-8 lead.
Away from the restarts – Ireland clearly won this set-piece battle too – Schmidt's men were similarly effective.
Not happy just to hare after kicks, Ireland attempted to get off the ground as often as possible – as Schmidt demands of them.
Even if that doesn't mean an aerial win like the one Zebo produces above, it often adds that element of pressure to the opposition fielding player and forces errors.
The kick from Murray in the incident above is once again important, hanging in the air for those golden four seconds and allowing Zebo to cover the ground and get into the sky over Aaron Cruden.
The Irish willingness to chase and chase lasted right through until those final minutes, helping to lay the platform for Henshaw's game-clinching try.
It wasn't just back three players and back rows who hounded after the ball for Ireland.
Tadhg Furlong is the man to make the important follow-up hit in the instance above, with Ben Smith returning a deep kick from Murray and beating the scrum-half and van der Flier on his way towards the 22-metre line.
But Furlong, having covered around 60 metres from just to the left of the initial Murray kick, has worked hard into position to halt the All Blacks' fullback.
Not only is there work rate from Furlong, but he brings the technique too, firstly launching his left shoulder at Smith and then dropping to his legs and wrapping tight to bring him to ground.
The tighthead prop typified the Irish collective effort with his actions here – huge hunger and work rate, strong technique in a basic skill and the intelligence to adapt to the situation.
Collectively, those attributes produced a first-ever Ireland win over the All Blacks.
- This article was updated at 9.45am on 9 November to correct the intended target of Johnny Sexton's possible screen pass before Rob Kearney's linebreak.
The42 is on Snapchat! Tap the button below on your phone to add!