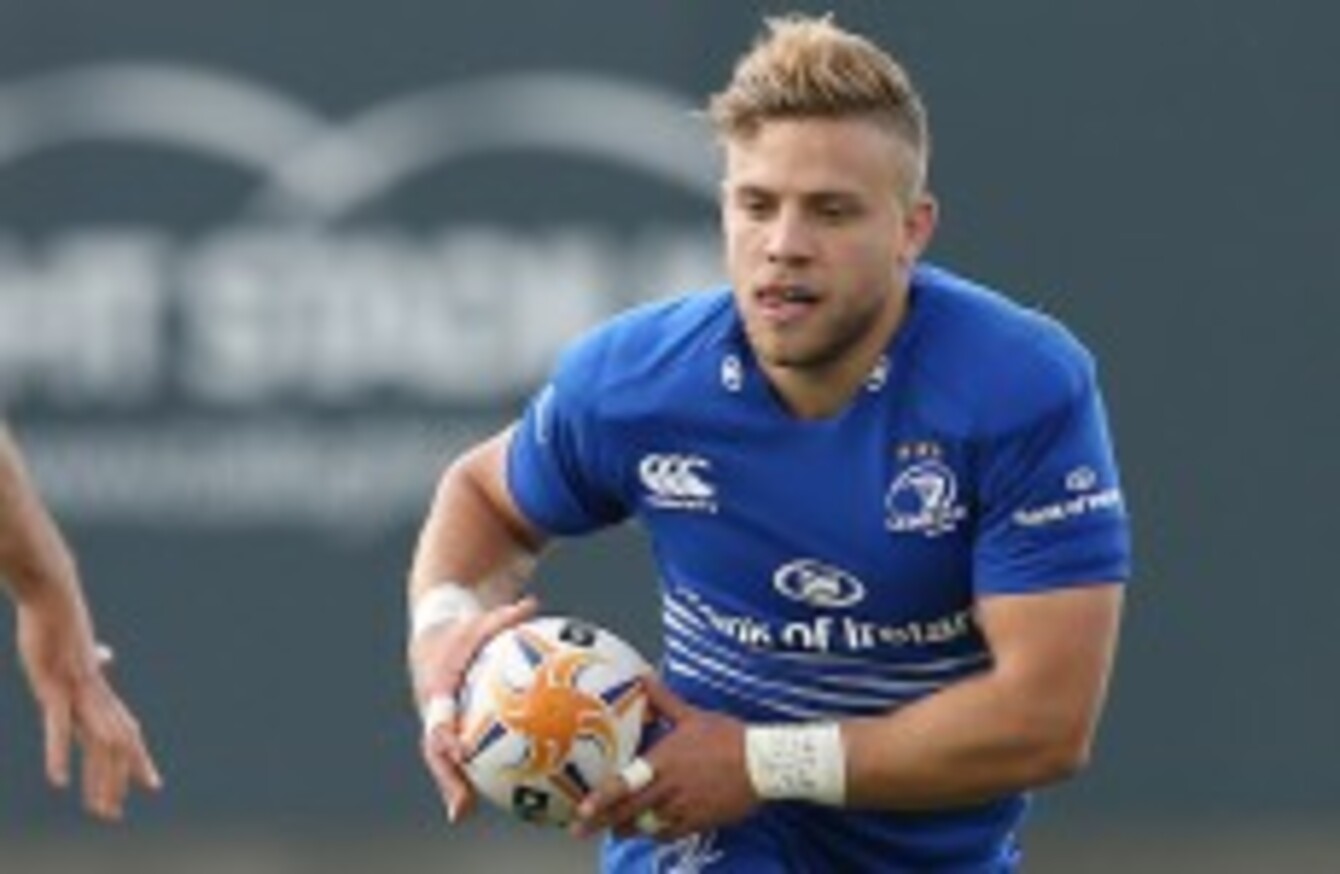 Madigan was in strong form against the Scarlets on Saturday.
Image: Billy Stickland/INPHO
Madigan was in strong form against the Scarlets on Saturday.
Image: Billy Stickland/INPHO
ONE OF THE more interesting aspects of last weekend's Pro12 action from an Irish point of view was Leinster's deployment of Ian Madigan in the 12 shirt.
Given Johnny Sexton's impending return to the province, as well as head coach Matt O'Connor's apparent preference for Jimmy Gopperth at out-half, it's a positional switch that has been the basis for much discussion in recent times.
Madigan didn't start any games at inside centre for Leinster last season, but he wore 12 on four occasions in the closing weeks of the 2012/13 campaign under Joe Schmidt, lining up outside Sexton in each of the four instances and displaying much promise.
The 25-year-old also started at fullback seven times that same season, indicating the extent of his versatility and Leinster's desire to have him on the pitch in tandem with first-choice 10 Sexton.
Back at inside centre against the Scarlets on Saturday afternoon at the RDS, Madigan resumed where he left off in 2013 by delivering a performance that was full of positives, albeit against weak opposition.
Growing trend
One of the most notable trends in top-level rugby in recent seasons has been the growth of the playmaking inside centre. Many teams have shifted away from using a tall, heavy, direct, ball-carrying midfield player at 12 and have instead looked to smaller, more skillful, distributing options in this role.
'Second five eighth' is the phrase on everyone's lips at the moment, a term borrowed from New Zealand rugby, but one that has taken on a reinforced meaning in indicating an inside centre whose passing and vision are major strengths.
The now-retired Aaron Mauger is a fine example of such a player, while Matt Giteau was the fulcrum of Toulon's attacking play in this role in their double-winning 2013/14 season.
More recently, Kurtley Beale lit up the 2014 Super Rugby competition with his playmaking for the Waratahs from inside centre during their run to the title, dovetailing superbly with out-half Bernard Foley, a creative influence himself.
More attacking options
Australia head coach Ewen McKenzie has resisted the temptation to start Beale at 12 in the Rugby Championship so far, opting instead for the slightly less creative Matt Toomua, himself a player who has played much of his rugby at out-half.
However, McKenzie has used Beale off the bench at 12, nowhere more importantly that in the 24-23 comeback victory over South Africa two weekends ago. The 'Tahs man only played eight minutes, but had a huge effect on the outcome of the game.
One of the benefits of having a passing inside centre is the ability to shift the ball to the back three more effectively. Any international 12 can obviously pass the ball competently, but some do it so much more effectively than others.
In the example above, Australia use Beale's presence to do exactly that, with Foley passing to his clubmate behind a screen of forwards and Beale then spinning the ball into Israel Folau's hands.
It's simple stuff and doesn't actually lead to any linebreak, but it shows what playing Beale at 12 allows the Wallabies – and the 'Tahs – to do when Foley and Beale are both present.
Having a strong 'footballer' [a term we use here to indicate a player who appreciates space in the defensive line, selects their pass well, draws defenders and has a high skill level] at inside centre is not all about long passes.
These players are the ones teammates look to run lines off, aware that their intentions will be read more often than not.
We see that above, as Foley again feeds Beale, who flicks a pass inside to Folau. The fullback seemed invigorated by Beale's presence on the pitch in this game and began to run an assortment of clever lines off him [the pair are also teammates at the Waratahs].
Another important point in all of this is that Beale's presence in the centre takes play-calling pressure off out-half Foley. We cannot be certain who is calling the plays in the above examples, but as a man with experience at out-half and strong vision, Beale can call the shots from a little further out the pitch and with a little more time to do so.
Finally, the use of Beale at 12 means Australia and the Waratahs have an outstanding first receiver when Foley is not present to take up that role.
We see an example of that above, as Beale steps in at first receiver to take a pass from scrum-half Nick Phipps and, in turn, releases Tevita Kuridrani with a typically creative snippet of footwork and pass selection.
Perhaps an even more obvious illustration of Beale slipping in at first receiver comes in the clip below, taken from the early minutes of the Super Rugby final this year. The 25-year-old makes three sensational playmaking contributions over three phases, ending with Adam Ashley-Cooper's try.
First, Beale runs a loop off Benn Robinson and fires a glorious long pass off his right side to release Foley wide on the left. Next, he slings a rugby league-style end-over-end pass off his left to allow Wycliff Palu to make further gains. Finally, he pops a short pass off his left to Ashley-Cooper, giving the ball early and allowing his outside centre to do the damage.
It's a stunning passage of creative rugby, showing the range of Beale's passing and the benefit of having a player of his type at 12. With Foley removed from central positions, Beale steps up to assume control and does so expertly.
Madigan's most recent outing
Madigan's outing for Leinster at 12 on Saturday allowed us to see some similar elements to those highlighted above, even if they were perhaps less spectacular.
O'Connor appears to be looking for more width and variety in Leinster's attacking play – something we will look at in more depth elsewhere – and selecting Madigan in midfield would certainly be useful in that regard.
Above, we get an example of Leinster targeting those wide channels, with Madigan acting as the passing conduit in midfield after taking a pass behind the screening Brendan Macken, who runs a fixing line from out-to-in.
The passage of play is not as polished as Leinster would have hoped, but it gives us an idea of what Madigan can bring at 12, firing a strong pass to Sean Cronin on the move and allowing the ball to shift from right to left swiftly.
That in turn means more suitable possession for back three players like Rob Kearney, who was excellent against the Scarlets.
It's not all about the longer passes for the playmaking inside centre though, as Beale showed us in the earlier example. Similarly, Madigan showed some of his short passing skills against the Scarlets.
Again, it's Gopperth at 10 who feeds Madigan in slightly more space and the inside centre makes a smart play, allowing Zane Kirchner to make a clean bust of the Scarlets' defensive line this time. This passage ends with Rob Kearney scoring off his own chip kick.
There are a handful of elements to point out in this instance, beginning with Madigan's pass selection. The weight of his pass on this occasion is ideal, meaning Kirchner does not need to spend too much concentration on actually catching the ball, slowing his stride in doing so.
Furthermore, we get a glimpse of the communicative advantages a playmaking 12 can bring to the mix. As we see below, Madigan is scanning his teammates in the wide channel as he aligns outside Gopperth, communicating with those crucial back three players.
A split second later, Madigan has his head up, scanning the Scarlets defensive line for a second time [below], picking out the potential weakness. Scrum-half Isaac Boss actually has the ball in his hands, but Madigan is looking for cues and clues even at this late stage.
Inside him, Gopperth can focus on collecting the pill from Boss and launching the new phase of attack.
Earlier in this piece, we touched on Beale's ability to release his passes in a timely fashion, allowing men outside him to wreak havoc when that option is the strongest one available.
That was most obvious in the video clip of Ashley-Cooper's try, when Beale resisted the temptation to hang onto possession and make a further attempt to draw in a defender. That is not to suggest that drawing defenders is not the best option much of the time, but there are other instances when an early pass is ideal.
For many outside centres, the strongest skill in their attacking repertoire is running with ball-in-hand, never more obviously than in the case of Brendan Macken.
The GIF above sees Madigan acknowledge that fact and move the ball into his centre partner's hands early, providing him with an opportunity to attempt an outside break in the 13 channel.
Rarely in today's game does an outside centre get such a one-on-one opportunity, and while Macken is hauled down here, it provides an illustration of Madigan's game appreciation.
It's not all about passing
While having a passing option at 12 is certainly attractive, such a positive cannot come at the expense of the other jobs an inside centre is relied on to perform. Being in such a central position entails a range of defensive and work-rate duties.
What are they
really like?
Rare insights on sport's biggest names from the writers who know them best. Listen to Behind the Lines podcast.
Become a Member
Defensively, Madigan has always demonstrated an appetite for contact and rarely shirks a tackle when playing at out-half. His willingness to drive a shoulder into ball carriers was one of the highlights of his excellent 2012/13 season.
While Madigan's defensive display was strong overall against a fairly limited Scarlets attacking performance, there was one error which will have rankled with the 25-year-old.
As we see above, Madigan is in position to rush as part of Leinster's usual aggressive front-line in defence, and bursts up as Rhodri Williams moves the ball from the base of the ruck.
Unfortunately, Devin Toner has not managed to re-align outside Madigan and a clever pass from Williams releases Aaron Shingler for a linebreak into that hole on Madigan's right.
It's not a major issue overall – Madigan was showing a thirst to make a strong hit – but the centre may have been disappointed with his selection of defender to focus on. O'Connor will likely view it as a minor system breakdown for Leinster that perhaps could have been prevented with stronger communication.
Later in the game and more positively, Madigan helped Jamie Heaslip to carry out a strong choke tackle [below], one which eventually led to his second try of the game. These are the gritty elements of midfield play that O'Connor will want to see more and more of from Madigan, should his move to 12 continue.
It was fitting that Madigan's defensive effort in aiding the turnover resulted in his wonderful individual try soon after. The five-pointer also demonstrated the running threat that the 25-year-old brings to the Leinster side.
Madigan has always been a regular try-scorer, with his acceleration and footwork, as well as the vision to spot dog legs and gaps in the defence, allowing him to pose a constant threat from whatever position he plays.
We saw that with his second try against the Scarlets as Madigan darted at John Barclay's inside shoulder to fix the flanker, before stepping violently off his left foot and bursting on an arc outside Barclay, dummying a pass before diving over.
Most teams need their centres to be ball-carrying threats, and while Madigan is not an overly direct player, his ability to break the line means Leinster do not miss out on such a threat when he wears 12.
Another key role for midfield players is around the ruck. With so much breakdown of play occurring in central positions, centres are invariably called upon to hit rucks. Whatever about unleashing glorious passes, every 12 has to contribute in clearing out defending players.
In the build-up to Madigan's first try, we saw a sharp example of his willingness to contribute to Leinster's rucking effectiveness against the Scarlets.
Jamie Heaslip – who provided a superbly rounded performance for O'Connor's side – misses his rucking effort on Williams after a Mick McGrath burst. The No. 8 goes for a tin opener-style clear-out on the Scarlets' scrum-half, but arrives with too much speed to be effective.
That leaves a brief window for Williams to make a steal of possession, but Madigan arrives just in time and clears the scrum-half off the ball. It may not be the greatest example of technique or against the heaviest opposition player, but is shows the centre's awareness of when to hit rucks, something he did well all game.
Several phases after the example above, Madigan's reward came via a cleverly-floated Gopperth pass.
Early days
It's worth stressing again that this was Madigan's fifth start in the 12 shirt for Leinster over the past seven seasons. These are early days if he is indeed set to make a long-term transition from out-half to inside centre.
That said, there have been many positive and promising signs during those outings, both in an individual sense and in terms of the increased options such a move could provide for Leinster's attacking play.
With Noel Reid and Gordon D'Arcy to come back into the mix at 12, Ben Te'o to arrive as an outside centre and several other players vying for midfield spots, the development of Leinster's centre partnership will be intriguing to follow in the coming seasons.
While Madigan was excellent against the Scarlets, he will be called upon to deliver that type of performance consistently this season. At the age of 25 and as a 10-cap Ireland international, he will be judged by exacting standards.