DEFEATS FOR JOE Schmidt's Ireland almost always bring with them major questions about the style of rugby employed by this team.
After Saturday's result in Paris, the Kiwi has suffered eight defeats in 29 Tests as Ireland coach.
The only one of those losses that didn't bring about doubts over Schmidt's attacking strategy was the 2013 heartbreaker against New Zealand in Dublin, a game in which Ireland scored three tries.
Dan Sheridan / INPHO Schmidt and Ireland must ready themselves for a trip to England. Dan Sheridan / INPHO / INPHO
There are certainly elements of truth in the argument that Ireland's approach to attack is limited and negative, but it's not a topic that Schmidt and his squad will spend time on this week and during the the build-up to a trip to Twickenham in two weekends' time.
They have a deep belief in their modus operandi and while there may be the kind of tweaks to the game plan that come with each different opponent and set of weather conditions, it would be naive to expect Schmidt to wipe the slate clean and start afresh for the clash with England.
From Ireland's point of view, the real issue in Paris – aside from the perception that Jaco Peyper was poor in his refereeing – will be that they were incredibly profligate with their use of possession.
For Ireland, the problem in this particular game was not their strategy or what they attempted to do with the ball, but rather how the executed on those intentions.

For a side that constantly speaks of accuracy, this performance was not good enough. It's a Test match Ireland should not have lost, given the vast amount of strong field position they enjoyed and taking into account the fact that France are still finding their feet under Guy Novès.
Les Bleus deserve major credit for a solid defensive effort and their strong final quarter, but Schmidt's men should have had this game put to bed long before then. The defeat will, and should, hurt as much as any during Schmidt's tenure as Ireland coach.
Start as you mean to go on…
Conditions in Paris on Saturday were utterly foul and there must be some consideration of that when we address the errors Ireland made against the French.
Let us acknowledge that catching and passing was particularly hard to do at Stade de France for this game, as were a range of other basic skills. That underlines our analysis, but it's not the reason for all of Ireland's mistakes and doesn't excuse them.
An excellent exit kick from Conor Murray and then a good kick return thrust started by Andrew Trimble drew the first penalty against France after less than two minutes of play, as Uini Atonio was pinged for not rolling away post-tackle.
With that penalty came exactly what Ireland would have targeted: an early opportunity to build pressure in the French 22. However, the throw from Rory Best missed CJ Stander and this lineout set something of a tone for Ireland's performance.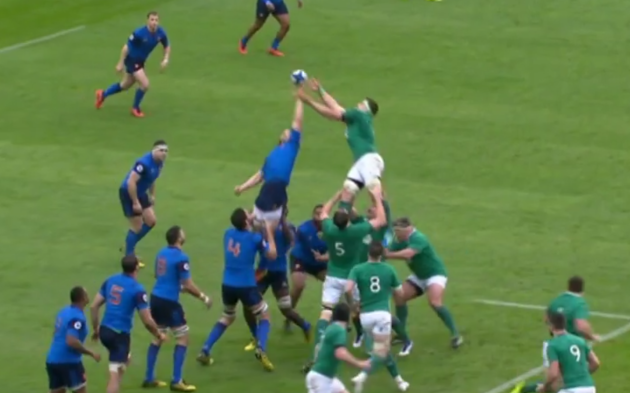 It's a demanding first throw for Best in this weather, but we can see above how the ball is on the French side of the lineout and low enough that Wenceslas Lauret doesn't even need to be at the apex of his jump to get a hand to it.
France cleared their lines, but Ireland came back at them with a far more cohesive and clinical attack.
Ireland win clean lineout possession this time and Johnny Sexton makes a good decision to carry the ball himself in midfield after taking a screened pass from Robbie Henshaw behind Jared Payne.
With France fullback Maxime Médard moving to join the line on the wide left, Sexton identifies that it's essentially a three-on-three outside him.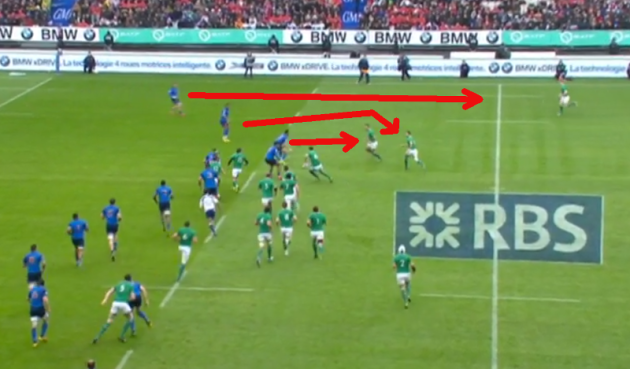 Being too close to the defensive line to kick in behind the advancing Médard, Sexton tucks and carries to ensure Ireland get a good gainline on first phase.
From there, Ireland run a one-pass play off Conor Murray, but there's a hint of welcome difference about this one.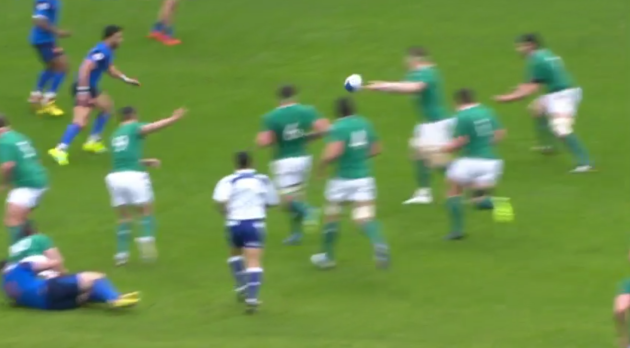 Murray doesn't hit the man one out from the ruck [Jamie Heaslip], instead bypassing him to Sean O'Brien arriving a little wider out form the ruck. As we can see above, Heaslip gets his hands up for a little bit of animation to interest the defence.
It's a small tweak on what Ireland look to do off Murray so consistently, but more of this from Schmidt's men would be positive as they look to ensure that their attack doesn't become utterly predictable when they play off the scrum-half.
Maxime Mermoz actually makes a good low tackle here, but Ireland remain on the move forward. Mike McCarthy carries as they move back to the left, before we see a clever attacking kick from Sexton.
With just a single appearance under his belt this season before Saturday and a well-established record as shaky under the high ball, Teddy Thomas would have been forewarned that this was coming his way.
The hang time from Sexton is perfect, allowing both Payne and Henshaw to arrive in to target the prone Thomas while they are still on the move.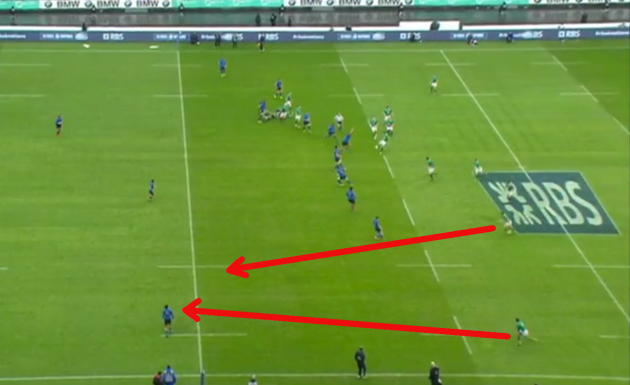 The tactic from Ireland proves successful as Henshaw makes a sublime aerial take of the ball, timing his leap to perfection and soaring in front of Thomas as Payne pressures the France wing from behind.
With penalty advantage already in play before the kick for offside, les Bleus then infringe under the same offence immediately after the subsequent ruck, as Médard shoots up early.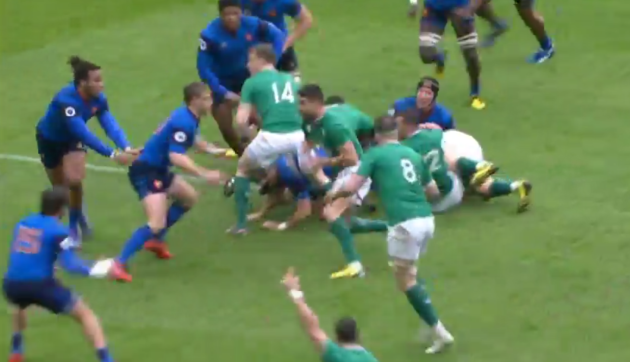 Ireland attempt to secure the try with another cross-field bomb to the right, but Virimi Vakatawa proves to be up to the test as he claims the ball ahead of Rob Kearney. Nonetheless, it's a successful attacking thrust from Ireland from start to finish to win a penalty 10 metres in from the left touchline and inside the French 22.
Ireland opt for the corner, and as with the penalty decision the weekend before against Wales when the tie was still at 13-13, it is a questionable call.
Clearly it's a good thing that Ireland are backing themselves to finish from close-range, but on Saturday they would have spoken about drawing penalties from the French and ruthlessly racking up separation on the scoreboard by taking chances off the tee.
Instead, Ireland kick to within five metres on this occasion and after doing so, they need to get some return.
Try or no try?
Schmidt stated after the game that he believed Ireland should have been awarded a try in the passage that follows the decision to go to the corner.
As with the CJ Stander near-try last weekend against Wales, Ireland opt for a peel play from the initial lineout, although they go to the front this time. Again, the thought process behind the play is intelligent.
As we see below, Nathan White and Mike McCarthy [circled in yellow] drop from the back of the Ireland lineout to present dummy carrying options in that zone, hoping to lure French eyes as O'Brien moves towards the front of the lineout.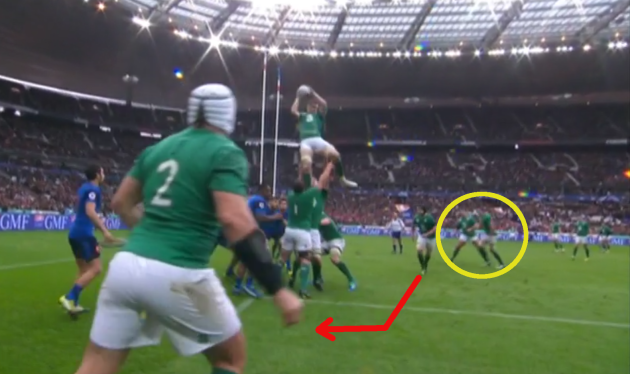 The main reason Ireland don't score a try off this lineout play is that Jefferson Poirot makes a good decision and tackles O'Brien.
The hope on Ireland's part is that Poirot commits into maul defence after Heaslip catches Best's throw [yellow arrow below]. Instead, the France loosehead remains unbound and is in place to tackle O'Brien [red].
O'Brien would likely have gone through Sébastien Bézy here if the France scrum-half was left alone to defend that short side, but Poirot makes a good read and tackle to halt the Tullow man.
Ireland bash up to the right with two carries from Heaslip and Stander, before the action that Schmidt was so unhappy about occurs.
Sexton runs a dummy switch-switch play here, whereby the intention is to lure the French defence into thinking it's a straightforward switch play and biting down on Henshaw. Sexton's plan is to instead leave a pass up for left wing Dave Kearney to arrive bursting onto and through the gap between Henshaw and Sexton.
Ireland's play manipulates the French exactly as it's intended too, with Yacouba Camara and Thomas both committing to tackling Henshaw, and Sexton managing to take out Jules Plisson after passing. The gap is there for Kearney.
But the pass from Sexton is not accurate. Passes on these dummy switch-switch plays are very difficult to pull off as they need just enough weight to hang up for the wing arriving in late, while not floating up so high in the air that the defence can readjust.
Still, Sexton will be disappointed with his effort here. Schmidt's gripe after the game was that the ball hit off Henshaw's midriff, rather than his hands, and that is certainly 100% true.
Peyper whistles to stop play before Kearney gathers the ball and touches down for a possible try. That means Peyper cannot go to his TMO to review the play.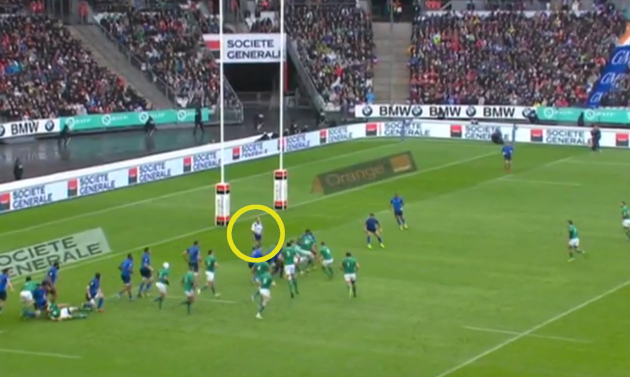 Peyper is in just about the most ideal position he could be in this situation. So either he somehow misses the ball hitting Henshaw, or he feels that Henshaw has been the player in possession of the ball.
"A knock-on occurs when a player loses possession of the ball and it goes forward," reads the World Rugby lawbook before even mentioning the hands or arms, so Peyper perhaps feels that Henshaw has been in possession or at least attempted to be.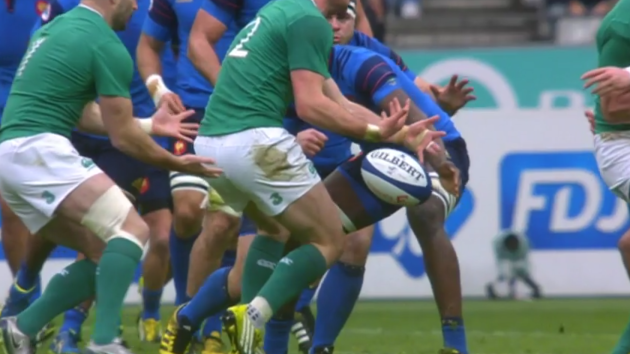 Henshaw does moves his hands at a late stage in an attempt to gather the ball in and Sexton's poor pass is completely directed at Ireland's inside centre. It would certainly be illuminating to hear Peyper's thoughts on this incident, but he felt at the time that it was a knock-on.
Certainly Schmidt's side of the argument has real merit too, but Ireland should be as critical of themselves as the referee in their review. Had Sexton's pass been on the money here, the try was absolutely on.
France had bitten down on Henshaw and Sexton, leaving the hole for Kearney to burst through. Ireland always talk about controlling the controllables and that mindset is the only way they can learn from this incident.
Picky Peyper
That is not to say that Peyper was faultless in his display on Saturday. The South African had a poor game and looked as short of match practice as could have been expected given the fact that he has barely refereed since the World Cup.
It's something of an issue that Southern Hemisphere referees are pitched straight into Test rugby in the opening rounds of the Six Nations, rather than being given some form of league or European competition in the build-up.
Glen Jackson – who took charge of England's win over Italy – actually refereed an Ulster Bank League clash between Clontarf and Terenure the week before in his bid to be match sharp.
Having come up short points-wide after their decision to go to the corner with the early penalty, Ireland needed to find their way onto the scoreboard soon after, but a Peyper decision ended their next attack.
There was some confusion about this penalty at the time, and Ireland will certainly remain frustrated over it.
Peyper's issue is that Jack McGrath breaks beyond the 15-metre line before the lineout has ended.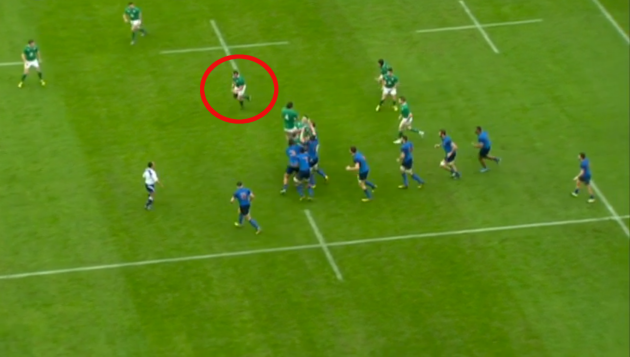 McGrath is circled above and we can see that he has indeed crossed the 15-metre line. Whether or not McCarthy [in the air with the ball] is also beyond the 15-metre line is a question of millimetres, and the vast majority of referees would have been happy to play on here.
To the very letter of the law, Peyper is correct to penalise McGrath if he believes the lineout hasn't ended, but the real issue is that he is not applying that deeply strict officiating to France in this instance.
As we see below, French tailgunner Guilhem Guirado is the first man over the 15-metre line, moving beyond it well before McGrath does and even before McCarthy has claimed the lineout throw.
If a referee is going to be as fussy as Peyper is in this instance, he needs to be certain about his decision. Guirado actually passes directly into Peyper's line of vision before he whistles to signify the penalty but Peyper doesn't question himself.
Ireland have every right to be aggrieved about being denied an attacking opportunity in prime position here.
Sloppy
Ireland's sloppiness in possession began to come through firmly as the first quarter of the game wore on.
Even inside their own half, as above, they made poor errors with ball in hand. McCarthy, who had a brilliant game defensively, just takes his eye off the ball before catching it in this instance.
It's basic stuff, but it denies Ireland the chance to build pressure on the French. Sexton's reaction is characteristically fiery, though none of his teammates react in this manner when he makes errors.
The out-half was one of those who might question his own actions as Ireland failed on their very next attacking thrust, this one inside the French half.
It's a delightful line from Payne that gets Ireland onto the front foot again, as he starts straight, glides onto an unders line and then straightens subtly as he nears contact with Plisson.
It's almost a 10-metre gain for Schmidt's men, who then play out the back door of Henshaw to Sexton, who finds Rob Kearney for the fullback to step inside Mermoz and carry.
Instantly there's a turnover threat from Jonathan Danty, but Sexton doesn't recognise it.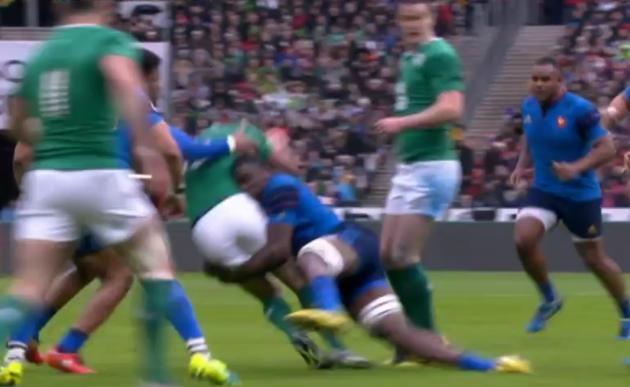 We can see above that the France centre is hovering over Kearney as Camara makes a good low tackle, but Sexton is already thinking about the next phase. Ireland may well have something pre-planned here and it's obviously preferable for the halfbacks not to have to commit to rucks, but there is huge danger for Ireland in this instance.
The priority under Schmidt is winning the rucks before most other things, but Sexton isn't tuned into that thought process here.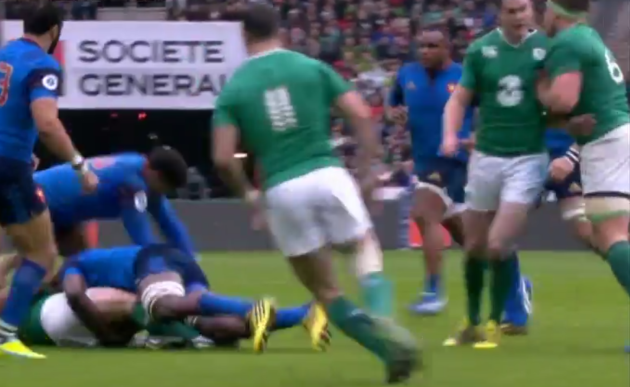 The Ireland out-half actually blocks Stander's pathway into the ruck, as we see in the image above. Danty is already in a strong position just beyond the ball, leaving the space open to Mermoz to swoop in for the steal.
Mermoz arrives from the side here, but Peyper is on the far side of the ruck and therefore can't get a good view on that.
Perhaps assistant referee Stuart Berry could have been more aware from the touchline, but the turnover opportunity is only created because Danty gets into a good position early. Mermoz arrives from the side, but is smart enough to square up his body as he pilfers, painting a legal finishing picture for the match officials.
Ireland's inability to convert visits into the 22 to scoreboard movement extending into the realm of handling errors too, as we see in the example below.
Exclusive Six
Nations Analysis
Get Murray Kinsella's exclusive analysis of Ireland's Six Nations campaign this spring
Become a Member
This error from Stander comes at the end of a strong passage of attack in which Ireland stretch France with width early on, then use a smart tip-on pass to advance into the 22. They revert into their familiar grinding, one-out tactics inside that French 22, but again the issue is not with the strategy, but instead the error in execution.
Stander lost possession inside the Welsh 22 twice in round one and will be tough on himself in demanding improvement in this area.
Lateral and loose
Possession and good territory continued to flow for Ireland in the first quarter, but they remained inaccurate in their use.
A loose French offload attempt gives Schmidt's men an attacking chance on turnover soon after Mermoz's turnover, but they are lateral in their running lines and then loose in contact to lose the pill.
Henshaw and Kearney are the key men tasked with fixing the French drift defence, but both are moving towards the touchline.
Henshaw obviously has to run that outside line to get behind Best and accept the screened pass from Sexton, but he might question whether he could have added in even just one good straightening stride to challenge the French defence, sitting down Lauret and leaving a three-on-two on the outside edge [France do have Médard sweeping too].
Nonetheless, Ireland use the turnover situation to make good yardage, but Payne loses possession a little easily as Vakatawa gets a strong paw onto the ball.
Ireland are fortunate to get a penalty from this attack, due to the recklessness of Yoann Maestri.
This is the phase of the game during which the France lock decided to hit Sexton off the ball.
The foul play takes place directly in Peyper's eye line and within a metre of his position, as we see below.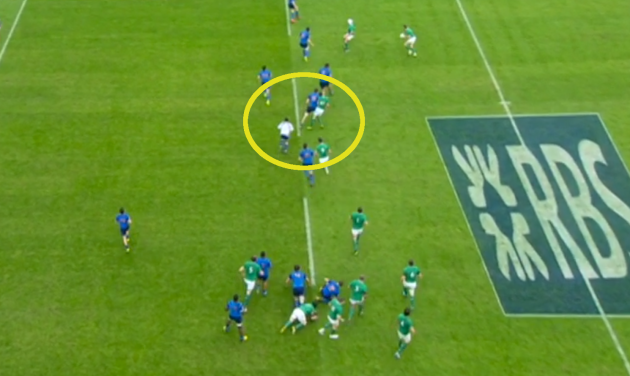 Peyper immediately indicates advantage to Ireland as he almost has to step over Sexton on the ground.
Speaking after the game, Best said he had asked Peyper whether Maestri's actions were worthy of yellow and was told that "the TMO was happy it was just a penalty." It's very easy to argue with George Ayoub's feelings on the incident, given the sheer deliberateness of Maestri's late charge into Sexton.
It's worth looking at the Dave Kearney incident that occurred minutes later here too.
Peyper's reaction to Guirado's tackle is, "Play on… Can you check that George in the meanwhile… Looked ok on-field."
Plays moves on until Ireland win a penalty, with Peyper then asking, "George, did you have a look at that tackle."
Ayoub delivers his verdict and Peyper announces, "Thanks, the tackle was fine."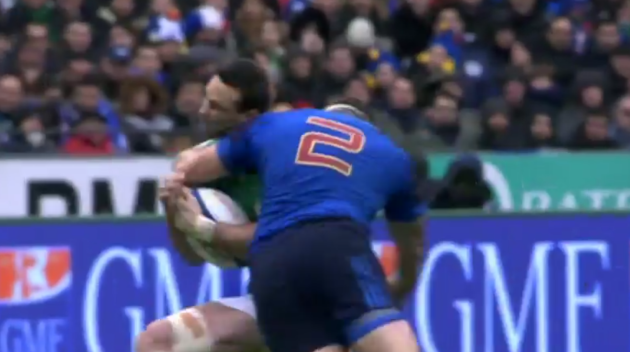 The sheer velocity of Guirado's tackle made it hard to read live, but Ayoub obviously had the benefit of multiple angles on replay here to make his decision.
Ayoub may have felt that Guirado wraps Kearney around the shoulders with that left arm, but the France captain's shoulder certainly makes contact with the neck and face of Kearney as he drives into the hit.
As with the Maestri incident, cases for and against Guirado could be argued here, but it is perhaps less obviously deliberate. Kearney left the tackle in obvious pain in that left shoulder region, but Guirado would argue that his initial contact was around the shoulders.
That said, the laws of the game state, "A player must not tackle (or try to tackle) an opponent above the line of the shoulders even if the tackle starts below the line of the shoulders."
France were certainly lucky not to have at least one man in the bin during the first half.
Isolation
A 10-minute spell with a one-man numerical advantage would have aided Ireland's cause, but the extent to which they were wasteful in possession for the remainder of the game perhaps makes it a moot point.
The attack during which Kearney was hit by Guirado was relatively positive, as Ireland went through 12 focused phases from touchline to touchline and drew two penalties, Peyper playing advantage for the first. Sexton put them 6-0 head and that was perhaps the template for this game in demanding conditions.
But there were far more instances like that below.
Another entry into the French 22 in the clip above, and another departure with empty hands. This time, Ireland set up for a shift maul off lineout target Devin Toner, but Peyper gives them a rapid "Once!" call.
O'Brien's response is to immediately burst away to the right of the maul, but he is isolated as soon as he does so.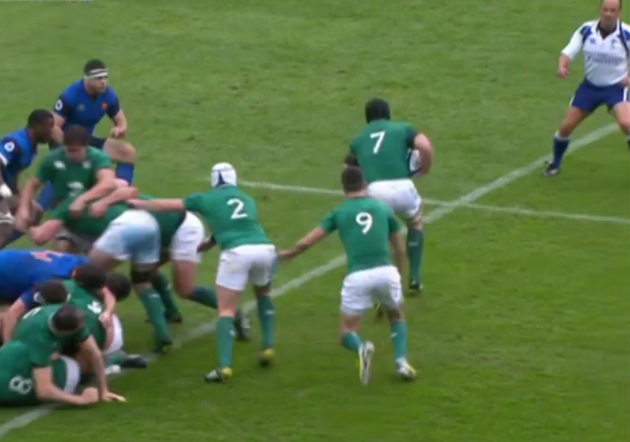 Best is still bound to the maul, while Murray seems to be taken by surprise too. Left wing Kearney – still on the pitch at this point, before the Guirado hit – is the most viable support player as O'Brien enters contact.
However, Kearney is removed from the ruck contest by some smart play from French blindside Lauret, who opts to push into the space beyond the tackle.
Lauret completely removes Kearney from the breakdown equation and that means that with Murray having swept behind where he thinks the ruck will take place, there is a total lack of support for O'Brien. It's not legal, but Ireland have benefited from this type of intelligent play many, many times in the past.
Best might feel he could have reacted earlier, as Camara and Guirado are left in prime position to pounce for another turnover.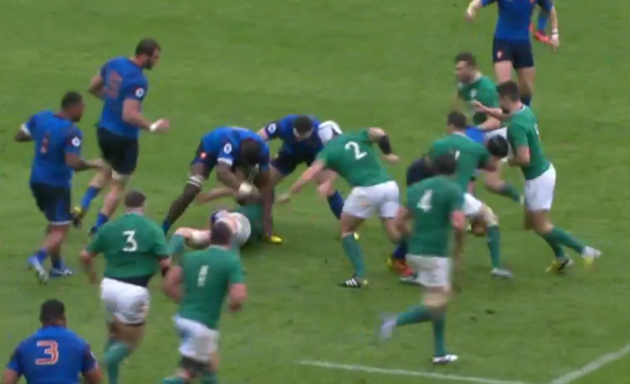 Ireland's ball carriers became isolated on a number of occasions against the French on Saturday in a slightly worrying trend that we saw glimpses of against the Welsh in round one.
Indeed, Ireland's very first attacking opportunity in the second half was ended by another French steal.
It's a fine low tackle by Damien Chouly on Tommy O'Donnell in this instance, but again Ireland are unable to clear the French threat quickly enough.
McGrath is focused on assist tackler Camara here, but Best will feel he could have been more proactive and aggressive in recognising the threat posed by Lauret.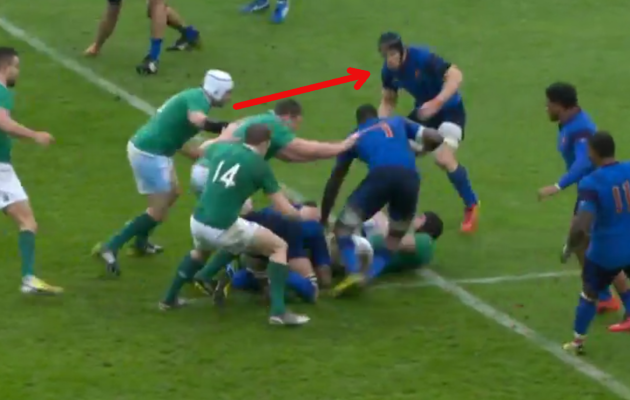 Again, the French are clever, with Chouly crawling into Trimble's path as the Ireland wing attempts to join the ruck.
Below, we see one of Ireland's final attacking possessions inside the French half on Saturday, in just the 58th minute. Again, the issue is the carrier being utterly isolated.
It's a set-piece, so Ireland don't really have an excuse for being disorganised. For a team who places huge store on mapping out their plays in detail and each player knowing their role to an extreme degree, it's not of the required standard.
Ireland break again from the maul, but this time send an inside pass to the scrum-half in a little play that they use regularly.
O'Donnell, Fergus McFadden and Henshaw are all in very poor positions when Murray is tackled and we can see above that it's a ruck they're never going to win. Another turnover and another chance to truly pressurise the French gone.
Kicking game
Given the difficult conditions and the early success over Thomas on France's right wing, the expectation was that Ireland's game plan would involve a liberal dose of kicking. In fact, Schmidt's men actually kicked the ball fewer times against the French than they did a week before versus Wales.
When they did kick the ball, Ireland were somewhat inconsistent. Much of their exiting play was superb and Sexton and Murray did have some excellent touches, but there were other opportunities missed.
Payne does brilliantly to force the turnover for Ireland in the example above, reading Plisson's pass early and shooting up with conviction to tackle Vakatawa and spark a panicked offload attempt.
Ireland regather and hit the ball up through Stander, but Sexton then produces a poor kick. The French defence has reorganised relatively well in the shot below, even if it is dog-legged in midfield, but there is space deep on the right.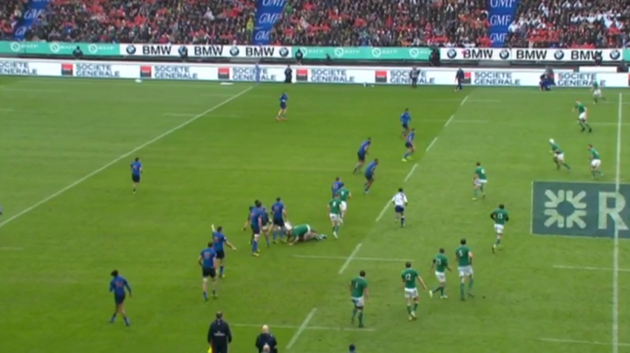 Sexton identifies as much, but his kick will have disappointed the Leinster man. It was something of a surprise that Ireland didn't pursue more kicks in this manner against the French, particularly in the second half when the rain became heavier.
When Ireland did do it well, there was clear evidence of the value of their kicking game.
Ireland run one of their favoured power plays off the scrum in the clip above, shifting the ball wide to the left and having Henshaw drop in behind the attacking line rather than resourcing the ruck. His disguised position is key.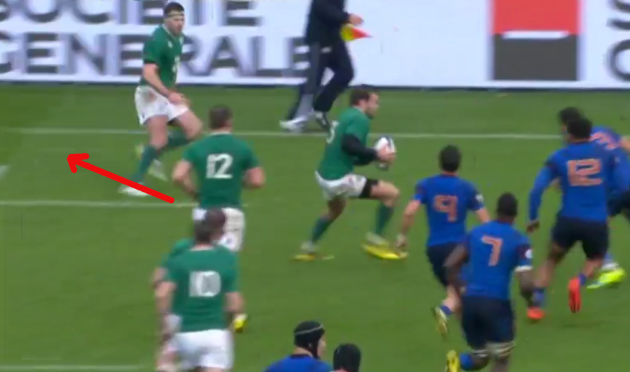 Phase two of the attack sees Murray run a dummy loop around Stander, with the flanker passing to the late-arriving Henshaw on his inside instead of returning the ball to Murray on the loop.
France's pillar defence buys the dummy in shooting up from the line, but fortunately for France, Mermoz has worked around into position to plug the hole and prevent the linebreak for Henshaw.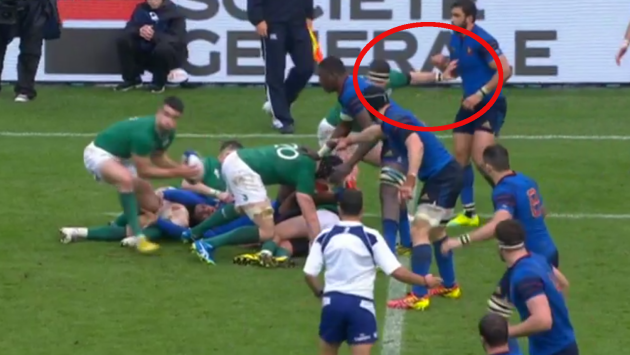 Schmidt might question whether McFadden could have done just slightly more to impede Mermoz over on that left side of the ruck, perhaps stepping forward into his path as subtly as possible.
Henshaw is tackled by Mermoz to ensure the French line remains intact, but after Toner carries, Sexton produces a wonderful kick that forces Médard to clear under big pressure from the chasing Rob Kearney.
The net result from one excellent kick is almost 40 metres of territory and a throw into the lineout. Ireland will ponder whether they could have built further opportunities to kick in behind the French back three in this manner.
No end product
The overriding issue, however, is that Ireland were utterly profligate inside the French 22, as demonstrated immediately after Sexton's kick above had brought them territorial advantage.
Ireland run another Schmidt classic power play to create a half break for Kearney, with O'Donnell carrying in midfield off first phase, the support clearing out efficiently and then Heaslip making a good carry around the corner.
Fullback Kearney, who scored off this move against England in the 2014 Six Nations, is the key man as he performs a role similar to that of Henshaw in the power play above.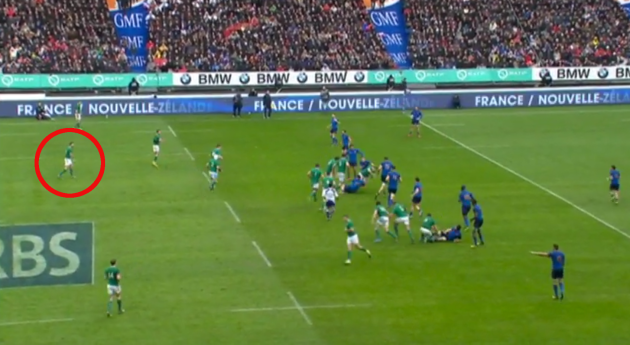 He arrives late and disguised from a deep position as Ireland bounce back against the grain and run another dummy loop play, with O'Donnell acting as the passing hub on this occasion.
Again, Ireland look for interference off the ball to create the opening for their strike runner, with Toner attempting to drag Alexandre Flanquart back into the ruck.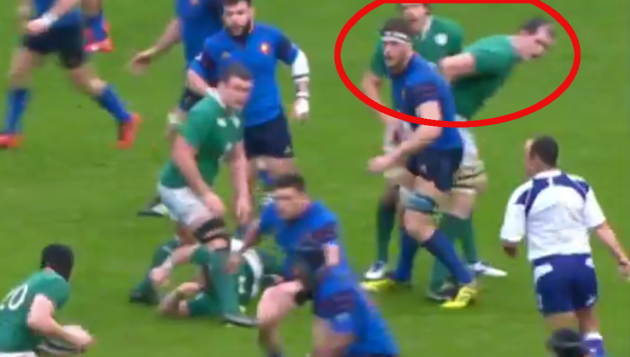 Flanquart frees himself to make a diving tackle on Kearney, however, and it's absolutely vital for France. Pre-empting the linebreak on this move, Sexton has burst through from the left side of the ruck to provide anticipatory support for Kearney.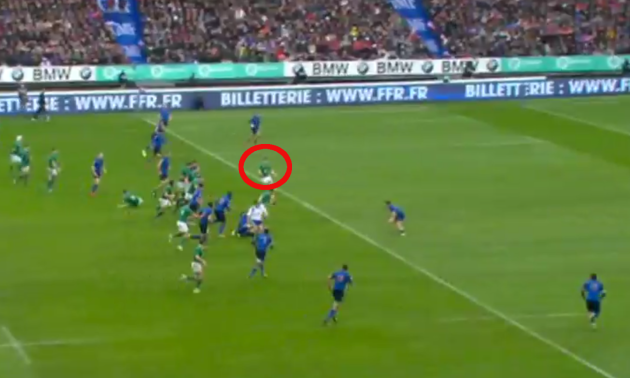 If Kearney breaks clean through, he can draw fullback Médard and feed Sexton to score under the posts. Instead, Flanquart does brilliantly to scrag Kearney.
Even at that, Ireland are very much behind the French here and the defence is going to have to scramble very well to recover. It's already exactly the kind of situation where France concede penalties and with Ireland already 9-3 ahead, a score here would likely seal the win for Ireland.
But Kearney opts to throw a low-percentage offload inside towards loosehead prop McGrath, handing France an immediate countering chance with which they threaten to go the length of the field.
Whatever the belief about Ireland's lack of willingness to offload the ball, this is not the situation in which to throw one. Instead of piling pressure onto France to scramble in defence, Ireland are forced to do exactly that themselves.
Plan gone wrong
The doubts arounds Ireland's attacking strategy are likely to persist for as long as Schmidt remains the head coach, but this wasn't the main issue against the French.
The actual strategy was not the main problem, rather a combination of sloppy set-piece play, simple handling errors, poor passing, isolated ball carriers, rash decision-making and lateral running lines.
The scrum was obviously a huge factor in this result too, as well as the late try concession, and we will delve into those shortcomings in separate pieces.
Ireland will back themselves to improve on all of these things against England in two weekends' time. They will need to if they are to take anything from this Six Nations.