THERE'S BEEN MUCH discussion of Ireland's attacking game under Joe Schmidt in recent times, never more so than in the aftermath of last weekend's defeat to Wales in the Millennium Stadium.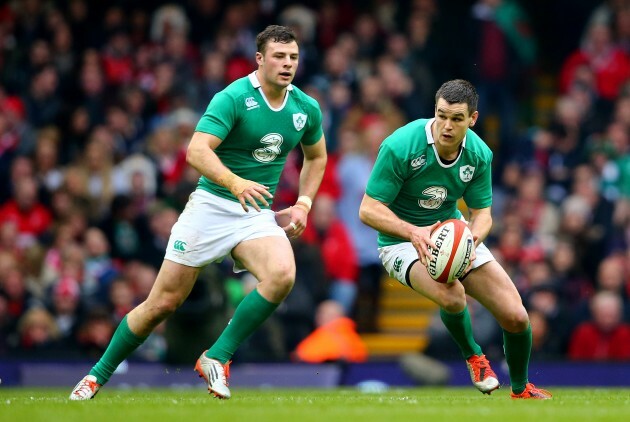 Cathal Noonan / INPHO Johnny Sexton had a rare poor performance against Wales. Cathal Noonan / INPHO / INPHO
While it seems obvious that Ireland could add an element of creativity in phase play, Schmidt's side are certainly still doing good things when in possession of the ball.
The Wales loss shows that Ireland need to be far more clinical in the opposition 22, but it's worth stressing the quality of the defensive effort from Wales. Not only did they rack up an oft-cited final tally of tackles, there was also real excellence in the majority of them.
Some stunning moments of defence kept the Welsh line intact at crucial moments, while Ireland's general inaccuracy on Saturday was restrictive in other instances. Ireland will be better against Scotland, but there is certainly general improvement to come in this area.
* By 'attack', we're referring to the times when Ireland attempt to break the opposition down by keeping the ball in hand.
Schmidt's plans
Some of the most impressive moments of Schmidt's time in charge of Ireland since 2013 have come with the power play tries they have scored.
Think of Rob Kearney against England last year, Andrew Trimble against France in Paris, Rhys Ruddock versus the Springboks or Tommy Bowe's score against the South Africans.
These were highly-detailed, pre-planned strike plays that involved every single player in Schmidt's team understanding their mapped-out role over one, two, or three phases. When the various factors combined, the magic flowed.
Unfortunately, these power plays haven't quite worked yet in this championship for a number of reasons.
France fail
RBS Six Nations
You'll probably remember the incident above from the France encounter, when Ireland ran one of these 'Schmidt plays' and just failed to execute at the final moment.
A fully-fit and match-sharp Johnny Sexton [have Ireland had that in his championship?] would likely have dummied and run the ball himself in this instance, either scoring or allowing Ireland to do so on the next phase of attack.
A try here would have seen Ireland into a 22-6 lead [including the conversion] with 56 minutes played in Dublin, and we probably would have seen Schmidt's side win far more comfortably than they did in the end.
The play was almost carried out to perfection to seal the game, but Ireland's execution let them down at the vital moment.
Italian incision
RBS Six Nations
Ireland did actually execute one of their pre-planned and detailed power plays in round one against Italy, as we see above.
The lineout functions perfectly [giving the platform], the support players are ideally in position to hit the rucks, the follow-up carry is effective and then Conor Murray backs himself to score from close range, even with options for another phase to his left.
Earlier in the same game, Ireland had attempted another of their large menu of pre-planned, multi-phase attacks against the Italians, but this one was unsuccessful.
RBS Six Nations
On this play, Ireland send Robbie Henshaw smashing up in the middle of the pitch on first phase from a lineout and then bounce back down the narrow side on the second phase.
Most sides play their second phase off lineout towards the far touchline again, so it seems that Ireland have mapped out that Italy's forwards will indeed fold around the corner and leave Schmidt's side in an advantageous position on the left.
Instead, the Italians have bodies in place on Ireland's left and are in position to make a dominant hit despite Sergio Parisse buying Murray's dummy lopping line around the passing hub of Rory Best.
Simply put, it oftentimes happens that the opposition read Ireland's mapped-out plays and shut them down before they can even get off the ground.
French read
That's exactly what happens in the instance below against France, as Ireland attempt to run a lineout play that has worked for a Schmidt side in the past.
RBS Six Nations
The intention here is to throw to Toner at the tail beyond the 15-metre line, with the lock then popping the ball down [yellow arrow below] to the arriving Simon Zebo [red arrow] in the space Toner has just passed through.
By throwing beyond the 15-metre line, Ireland essentially end the lineout and that means Zebo is entitled to burst up from his initial position 10 metres behind the lineout.
As with the attempted loop play against Italy we highlighted previously, this is a move that Schmidt is fond of. The Kiwi's playbook is brimming with intelligently-constructed starter plays such as this pair, and he sometimes revisits the old classics.
Die-hard Leinster supporters may recognise this lineout play as the one that led to a wonderful try for Jamie Heaslip against Biarritz in 2013, when Schmidt was in charge of the province.
LeFauconCrecerelle / YouTube
Examine the video above not only for the memory of a breath-taking try, but also for evidence of what Schmidt was hoping would happen against France when Ireland called this play just last month.
In the Leinster video above, we can see that Biarritz do react and attempt to prevent Toner's popped pass [yellow circle below] down to Isa Nacewa [red arrow], but unlike France's Guilhem Guirado, the counter-measure is unsuccessful.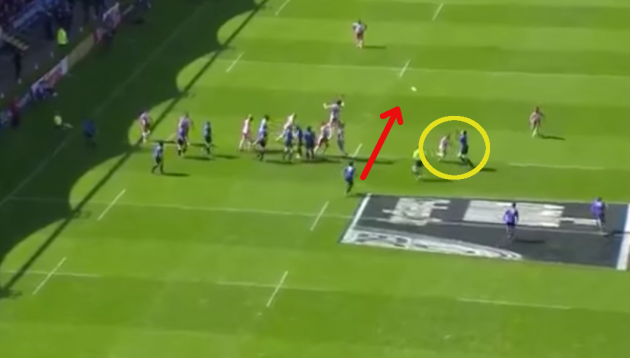 That frees Nacewa to burst through, unlike Zebo for Ireland, and find Heaslip running the most intelligent of support lines [yellow arrow below] having started at the front of the lineout.
Switching our attention back to Ireland's attempt against France, take a look at Heaslip's actions in the image below as the throw from Rory Best sails over the head of the dummy jumping pod of Paul O'Connell, Peter O'Mahony and Sean O'Brien.
In the bottom left corner of the image above, we can see that Heaslip already has his head up scanning the defence even before the ball is near Toner at the tail. The number eight knows exactly his role in potentially finishing off a try chance.
It's an excellent read from France hooker Guirado that denies Ireland the chance to carry out their play, but it's also worth noting the reaction of prop Rabah Slimani at the tail.
Briefly going back to the Leinster score against Biarritz, we can see that the now-Pro D2 side get their rearmost jumper fully into the air [red circle below], buying Leinster's dummy jumping actions in that area.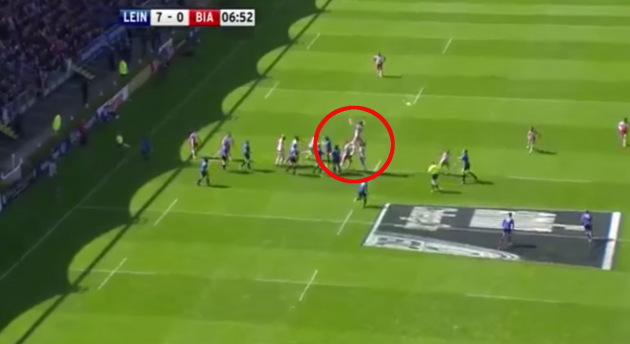 Naturally enough, that ties down both lifters, or more importantly that lifter behind the Biarritz lineout jumper. Now return to Ireland's attempt against France this year, and note how alert Rabah Slimani is.
The tighthead prop sacrifices his lift on Bernard Le Roux before the flanker is really off the deck, recognising that the overthrow from Best is entirely deliberate. That leaves Slimani in a decent position to tackle Zebo if Toner pops down, although we'd have backed the Munster wing to break through had the pass come.
Back to the point we started with – the opposition naturally enough have a big part to play in the success of these Schmidt power plays.
Guirado and France make good reads in this instance, and the weakness Ireland have identified or planned for fails to transpire. On another day against a difference opponent, it might have resulted in a try.
England cling on
Against England too, we saw Ireland attempt a number of promising starter plays from set-piece, but again there was a lack of end result with them.
That said, many of Ireland's set-piece plays served to stretch England, or demanded of them intense defensive focus. Even when an attack is not scoring, it must be asking demanding questions of defenders, forcing them into good decisions.
RBS Six Nations
The incident above most likely sticks in the mind for many supporters, given that Robbie Henshaw was incredibly close to breaking through for Ireland.
Ireland play off a shortened four-man lineout on the right, running Tommy Bowe and Jordi Murphy as decoys close in to the set-piece [yellow arrows below].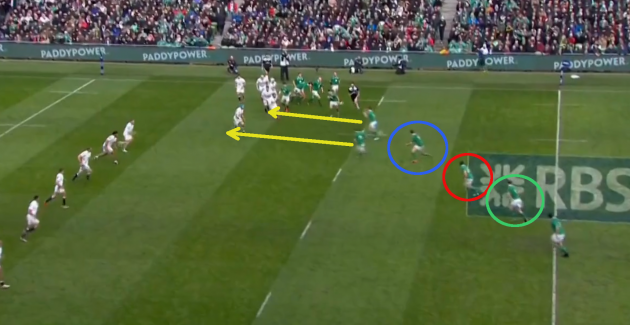 Tommy O'Donnell [red circle] is the central hub around whom the dummy loop of Sexton [blue] will be run, Henshaw [green] instead receiving a superbly disguised short pop from O'Donnell as he turns his back to the English defenders.
Luther Burrell and George Ford both buy Sexton's dummy looping line, being so aware that the Ireland out-half loves to use this type of play to get the ball into wider channels.
Chris Robshaw inside them initially buys Sexton's dummy line too, his gaze appearing to be on the out-half as he travels across the pitch. It takes an amazing last-second reaction from the England captain to get a tackle in on Henshaw.
Actually, this would have gone down as a missed tackle on the stats sheet – therein lies the occasional folly of such statistics. Without Robshaw's 'missed' tackle, Ireland would have had a fine opportunity to score.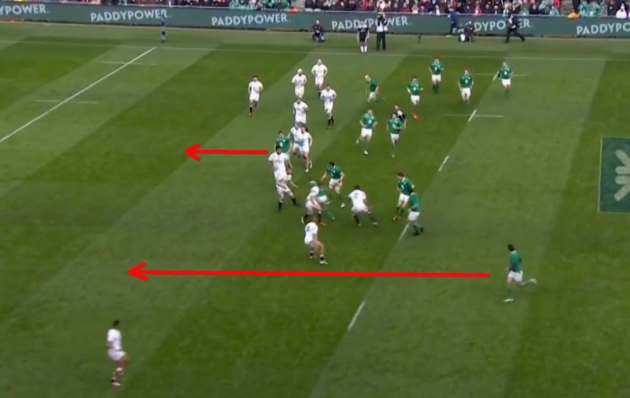 Murphy has continued his line inside and is ahead of play in a position to potentially support Henshaw, while Jared Payne is ideally situated to turn on a burst of acceleration and gets to Henshaw's outside.
England have two players in the backfield in the shape of Alex Goode and Jack Nowell, but even if they had completed a covering tackle, you'd have to back Ireland to finish on phase two against a shattered defence.
Ireland don't cut through cleanly through Henshaw on phase one here, but their second phase is mapped out nonetheless, Sexton hitting Bowe on an inside pass which goes to deck.
Too much power in the pass? Bowe taking his eye off the ball? Either way, it's a failure in execution and means frustration for Ireland.
What of Wales?
Despite some gloom around Ireland's attack post-Wales, they did do many good things with their possession in that game, as well as many bad things.
We'll come to the latter shortly, but let's take a look at an example of the good stuff in the video below.
RBS Six Nations
A strong set-piece is again the foundation, Ireland playing off a scrum that serves up an ideal angle to play off and allowing Sexton and his backs to make 15 metres straight away.
Take note of Henshaw's movement after he passes to Payne. Despite being the nearest man to the outside centre as he enters contact, and therefore the ideal player to hit the ruck, the Connacht man backs away to keep himself out of contact.
The next phase is where Ireland's pre-planned structure is hoping to lead to a clean linebreak against a Wales defence in retreat. Henshaw is the designated strike runner.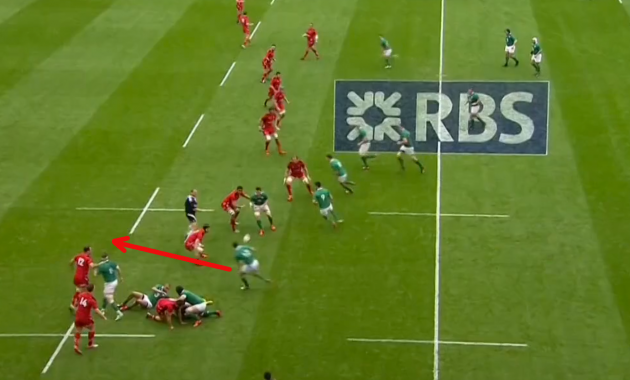 Again, a dummy loop play is involved as Murray passes to Peter O'Mahony and heads around seemingly looking for a return pop.
Instead, O'Mahony passes back inside to the arriving Henshaw, who had dropped off after his pass to Payne to hover in behind the ruck, away from the gaze of the Wales defence.
Henshaw beats the despairing tackle attempt of Sam Warburton on the fringe of the ruck, but Jamie Roberts gets across from the inside to complete a covering tackle. Ireland's plan meant Roberts shouldn't have been in that position, but a small inaccuracy allowed him to be.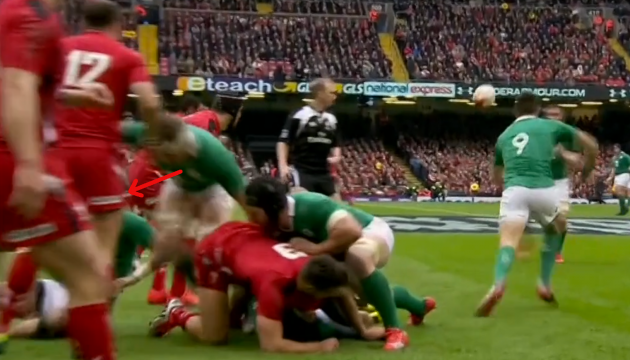 The image above is taken as Murray's pass to O'Mahony is in the air, and we can see Heaslip on the right-hand side of Ireland's ruck attempting to engage Roberts, who has started on the left-hand side.
Heaslip has to make his blocking action stick just that little bit more. He risks bringing attention to himself by actually blasting Roberts off his feet, but a little more contact is needed.
To do so would be illegal of course, but almost impossible for the match officials to spot. Instead, Roberts gets beyond Heaslip and saves what quite probably would have been a try.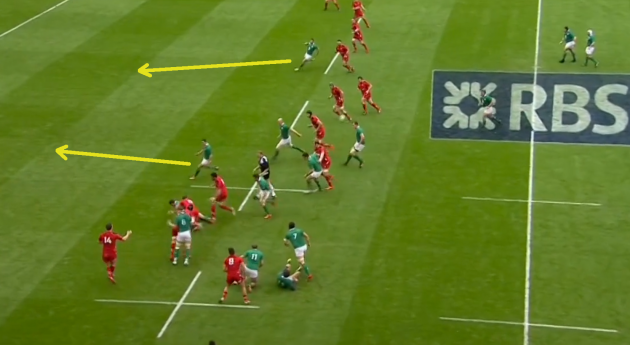 As we can see above, Sexton and Rob Kearney have already burst beyond the Welsh defence on pre-emptive support lines, fully aware of where Henshaw will be if he does break through as planned.
Roberts fights to get into position and makes his tackle.
The above play comes with less than 20 minutes on the clock in the Millennium Stadium and Ireland 12-3 down. Success in this instance would naturally have flooded Schmidt's side with confidence and it's likely we would have had a very different game.
The tiniest detail is off and Ireland fail to score.
Into the phases
More positively, the passage that follows as Ireland drop into their general phase play is extremely effective and in contrast to what we will look at further below.
Jack McGrath loses the gainline on third phase, but then Sexton makes a good decision [in contrast to other times in Cardiff] to carry himself and earn metres, before Simon Zebo and Heaslip also make good contributions.
Next up, Ireland provide Sean O'Brien with a little time and space on the ball [red arrow above] by running him behind a Best decoy line [yellow arrow]. The results are obvious as O'Brien wins the contact and produces that rare Ireland offload.
Too often since his return, O'Brien has been battering into well-prepared bodies on the fringes of rucks. Instead, Ireland must afford him this type of opportunity in phase play, or even manufacture one-on-ones for him.
Do so and watch the collective metres gained and offload stats rise.
Ditto for the very next phase, as Sexton provides Payne with time and space [red arrow below] to make a half-break by screening his pass behind the lurking figure of Henshaw [yellow].
Again, this is when Payne thrives. An extra split second on the ball and he is free to assess the shape of the defensive line and individual defenders and produce one of his excellent late changes of running line.
It's simple stuff from Ireland but it's very effective. The option is always there to hit Henshaw [or Best] for a more direct carry; it keeps Wales guessing until the last moment and makes the contact more favourable for Ireland.
By now Ireland are deep into the Wales 22 and the home side give up their third penalty offence of the passage, Dan Biggar failing to roll away.
Nine phases of attack over the course of one minute, and Ireland have gained around 50 metres of ground. The phase play has been varied, multi-optioned and allowing players to demonstrate their strengths; this is the phase-play blueprint for Ireland.
Unfortunately, it's followed by another failed Ireland set-piece launch play, as Rory Best's throw is off the mark after the penalty is kicked to the right-hand corner. We won't go into detail, but Ireland had a nice mauling play up their sleeve had the ball gone to Toner.
You don't need us to tell you again how different a game this might have been had Ireland been accurate with their lineout detail at this relatively early stage.
We go again
Ireland lost another lineout in the Wales half in the 26th minute, this time due to the Welsh reading their call superbly and stealing through Luke Charteris.
Who's to know what sort of play Ireland had planned for this situation? Another lineout failing costs them another opportunity to claw their way back into the contest at an earlier stage.
Ireland did revisit their dummy loop play later in the same half against Wales, but again it proved unsuccessful.
RBS Six Nations
It's a six-man lineout for Ireland this time, although Murray at the front is not really part of the formation in any real way. O'Brien starts in the receiver position as he does for mauling plays, but that's not the intention here.
A good call from O'Connell allows Toner to win clean ball and Ireland go off the top, Murray looping around to feed O'Brien on an angled run, the openside in turn feeding Heaslip to set up the first ruck.
O'Brien, Henshaw and Mike Ross are designated to clearing that ruck, before O'Mahony comes around the corner to carry, with Payne, Toner and O'Connell supporting. From there, Ireland bounce back against the grain with their dummy loop play.
This time it's Kearney who's the strike runner inside from Heaslip's pass, and this time the detail on the right-hand side of the previous ruck is fully accurate.
O'Connell moves forward from the ruck to block Aaron Jarvis from making his way back across to the left side of the ruck, as Roberts had managed to do earlier.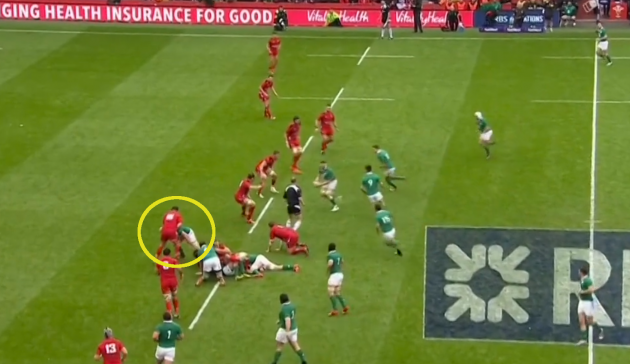 The gap is opened for Kearney to burst into and again, we can see that Sexton has worked hard to get through the defence on his predictive support line for Kearney [red arrow below].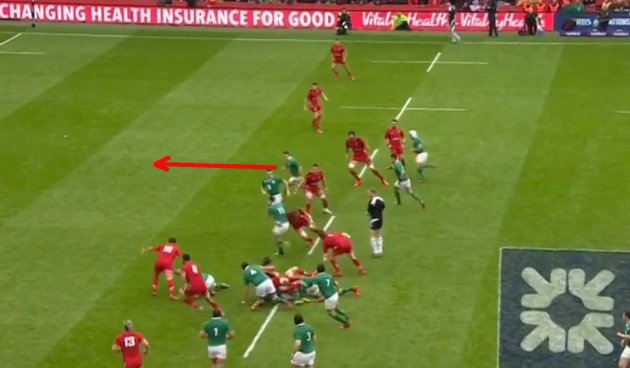 Unfortunately for Ireland, Alun-Wyn Jones makes a sensational read and tackle, having spotted Kearney with his peripheral vision as the Ireland fullback began his run from behind the ruck.
It's an exceptional piece of defending in a Wales performance that was full of them, but Ireland must look at this incident and all others through a self-critical prism. What could they have done better?
O'Connell's block means Ireland have essentially created a two-on-one, Heaslip and Kearney vs. Jones. Is the release of the pass from the Ireland number eight perfectly timed?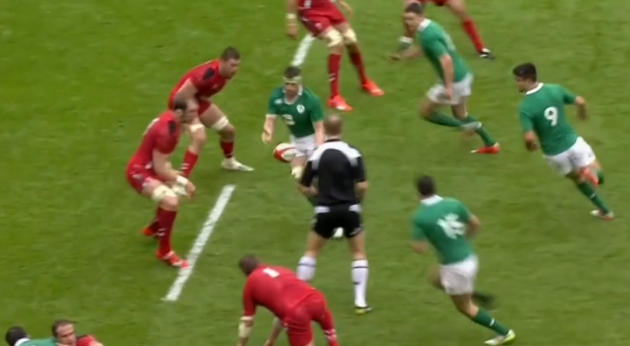 It's unbelievably easy to pick faults in a fluid, high-tempo game when we have the luxury of repeated replays and freeze frames, but Ireland's own review of this incident might ask whether Heaslip sent his pass to Kearney just a hint too early.
Is there space for Heaslip to actually take another step forward? Could he even show inside and go? Every play Schmidt constructs is built with the principle of players being able to override the plan at crucial moments.
Yes, the Kiwi has his players believing that if they follow the plan, they will score tries. But he also encourages them to keep looking, to keep making decisions even within his intensely pre-planned plays. This might have been one moment to do so.
Getting better
Schmidt will see many of the above incidents as missed try-scoring chances for Ireland. Not as clear cut as their refusal to convert that now infamous overlap in the second half against Wales, but opportunities nonetheless.
These power play scores were previously an important source of both points and mental fillips for Ireland, but they have been few and far between in this championship. Encouragingly, Ireland scored a maul try against the Welsh, a previous strength that had been somewhat missed more recently.
For Ireland it's a simple case of executing better on their detail, however tiny that may be.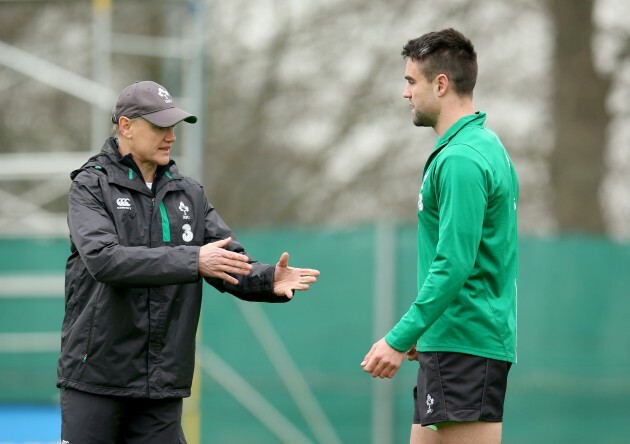 Dan Sheridan / INPHO Schmidt talks tactics with Conor Murray. Dan Sheridan / INPHO / INPHO
It is perhaps slightly worrying that opposition defences are handling Ireland's plays more adeptly, although the likes of Robshaw and Jones make rarely sublime defensive reads in a handful of the above situations.
Ireland will back themselves to execute more effectively, but they may have also realised the need to continue to push their ability to score tries in other ways. Schmidt's pre-planned power plays are not always going to work, as we've seen.
That said, it is remarkable how even one successful play of this type can instil belief in a team and have a knock-on effect on the other parts of their attack.
Ireland's players' confidence in their coach hasn't wavered even a millimetre due to defeat in Wales, but an effective execution of something Schmidt has designed rebuilds that sense of Ireland's that their tactics are impossible to stop.
Phase problems
One of the reasons that Ireland have perhaps been reliant on these highly-structured passages of attack with ball in hand and their territorial kicking game is a slight lack of top-end power in the straight-up carrying stakes.
Some of their phase play against Wales highlighted the issue, although again we must point out that everything here is magnified by the exceptional Welsh effort in defence.
RBS Six Nations
Let's take the above passage of attack from Ireland as an example, although it's a particularly bad one from their point of view. We're not going to delve into this play-by-play, but it's worth taking the 1:12 to watch.
The only real gainline Ireland make is through O'Connell, who fights hard and then wriggles his way up the pitch. Aside from that, Wales are driving the Irish ball carriers backwards, while there's also an uncharacteristic inaccuracy in the loop play out on the right.
This particular passage contains less of the good stuff from the strong Irish phase play we highlighted above, instead relying on simple one-off runners carrying from Murray passes.
It's relatively easier for Wales to defence and they make a series of dominant tackles before Gethin Jenkins wins a penalty for Leigh Halfpenny to kick. Three points conceded on account of some poor phase play; a high price indeed.
How to solve it? One solution for Ireland is to bring any available ball-carrying ballast into the side. That would appear to come in the shape of Iain Henderson and Sean Cronin at present, both of whom can be relied upon to win the gainline more often than not.
That obviously means losing out on the qualities of the incumbent players at set-piece, around the rucks and in terms of mental skills. It would also result in Ireland's bench impact being greatly reduced, shearing it of two of its most explosive elements.
The more obvious and natural solution is to be slightly more willing to add an extra pass or decoy line in front of the defence, providing Irish carriers with more opportunity to win the tackle contest and break the line more often than at present.
Inpho / Billy Stickland There's more to come from Sean O'Brien with ball in hand. Inpho / Billy Stickland / Billy Stickland
That does of course involve slightly more risk, but Ireland's players are skillful enough to add an extra pass, even if it's a simple tip-on on the close-in carries off Conor Murray.
Looking beyond the power, there is also scope to bring an additional creative player into the selection mix, someone in the mould of Luke Fitzgerald or Keith Earls. The footwork and ability to beat defenders of both players might add something less predictable to Ireland's phase play.
That said, it seems likely that Schmidt will stick with the players he has backed so far in this championship, simply asking them to do their jobs better. Ireland will not be as poor in the air against Scotland as they were versus Wales, while an improved showing from Murray and Sexton will also add greatly to their total performance levels.
Ireland's usually excellent kicking and chasing often means Schmidt's side don't need to use their general phase play as a means for gaining good field position. Even at that, it's impossible to break down the opposition on every single possession, and Ireland have done plenty of excellent work in this domain recently.
There is absolutely room for improvement, but that applies across the board after disappointment in Wales.
What to do in the 22?
Perhaps a more pertinent issue for Ireland is their use of the ball in the opposition 22, something that showed up very poorly against the Welsh.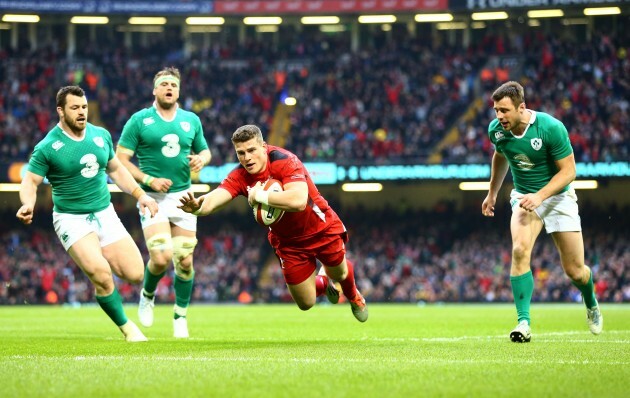 Cathal Noonan / INPHO Scott Williams shows Ireland how it's done. Cathal Noonan / INPHO / INPHO
This problem is not limited solely to last weekend, however, with Ireland struggling in this regard even against Italy in round one of the current Six Nations and intermittently on the tour of Argentina last summer.
Again, it's worth pointing out that it's difficult to retrieve points every single time you visit the opposition 22, but a high percentage of success is often a strong indicator of how likely the team is to win.
This is a perplexing area of the game for many coaches, and something that many invest copious amounts of time. Defending in the 22 means being able to stack the defensive line full of bodies, there being relatively less space in behind to cover in the case of kicks.
Whatever about the difficulty, Ireland will be intently focused on improving here.
The remarkable passage of play on Saturday afternoon from the 49:09 mark until 56.10, when Wayne Barnes pinged Sexton for going off his feet at the ruck, is as good a place as any to highlight the concerns.
RBS 6 Nations / YouTube
RBS 6 Nations / YouTube
Before we address the failings of Ireland here, it's worth pointing out how close they go to scoring at the start of the second video above. A good lineout maul sets up the position, and Ireland run their pre-planned lines off scrum-half Murray.
As ever, it's superbly constructed from Ireland, with Sexton and Henshaw providing the subterfuge to create space for right wing Bowe.
As we have highlighted below, Henshaw's role is to attract out-half Bigger on a decoy line [red circles], while it's Sexton's duty to draw Roberts out and away [yellow] from where Bowe intends to run.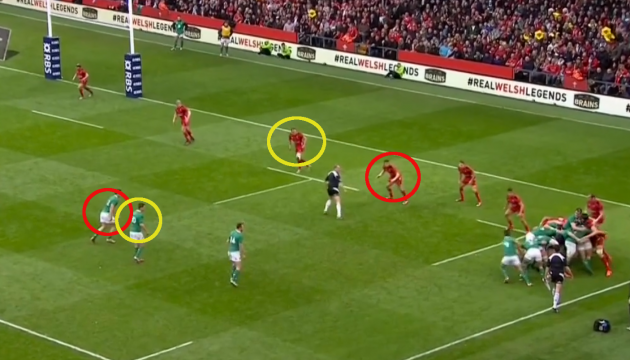 That's exactly what happens initially, as we can see in the image below. At this point, Bowe thought he was in for a try, as did many others watching live.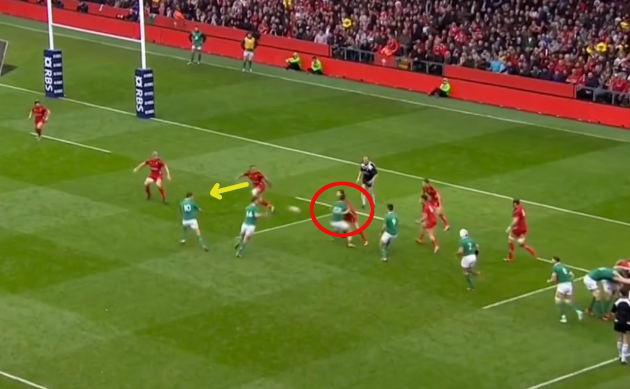 It takes a simply sensational read and re-adjustment from Roberts to save Wales, as he realises he's been drawn by a decoy, that Henshaw has succeeded in blocking Biggar and that Bowe is going to score.
The power to step back inside off his right foot is impressive and then the quality of the tackle is world-class. It's a sublime piece of defending again to keep the Welsh line intact, typically of their performance on D last weekend.
After that promising start, things once again go downhill for Ireland as they resort to the same one-off runners as in the first passage of attack in this extended period of strong field position.
It's simply ineffective against a team as powerful as Wales, although we must consider what exactly Ireland's plan was with their use of one-off runners in this case.
Why didn't they attempt to take slight risks by adding in more passes, an offload even? Part of the answer explains why Ireland are so unhappy with Wayne Barnes this week.
"I think there is concern," said Schmidt post-match when we asked him if he was concerned by Ireland's inability to cross the tryline when they got into the Wales 22.
"I think if someone calculates the speed of rucks in the first half as opposed to the second and the ruck penalties in the first and the second half… [it would be interesting/revealing/tell us a tale - these are our words, not Schmidt's].
"I think we went out with a plan in the second half expecting to accumulate, if we played, a number of penalties. But they didn't come in the second half, so we didn't achieve anything with that strategy, apart from some really good play."
The comment struck us as odd at the time, but there is real sense in the words. Schmidt understands better than anyone that international rugby success partly comes down to taking any points on offer. Milking and converting penalties is a good way of achieving that.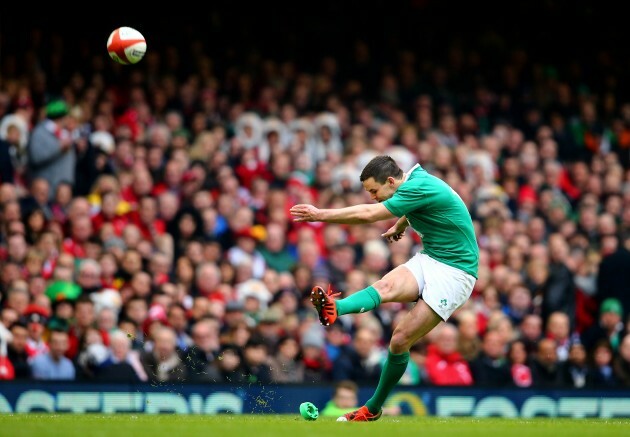 Cathal Noonan / INPHO Ireland hoped to accumulate more opportunities to do this last weekend. Cathal Noonan / INPHO / INPHO
Barnes had been extremely fussy around defensive players rolling away from the breakdown in the first half, much to Ireland's disadvantage. That Barnes was not giving similar penalties for similar offences in the second half – when Ireland had 75% possession – was of major grievance to Schmidt.
There is certainly a point in there, but the refereeing is not something we're going to dwell on here.
Indeed, we would hope that Ireland are not spending energy on being frustrated about a referee beyond the norm when they have improvements to make in the things they can directly influence.
Time spent on video reviews of Barnes is possibly time wasted focusing positive energy on breaking down the Scots.
The low-risk, one-off running attacking strategy didn't work for Ireland in terms of drawing penalties against Wales, nor did it power them over the tryline. As we mentioned earlier, there was a similar story against Italy too.
Learn from the Welsh
Wales didn't spend much time in Ireland's 22 last weekend, but their one big visit resulted in an excellent try, and there may be something of a lesson in there for Ireland.
Notably, it was another Ireland lineout failure following a counter-rucking turnover concession in midfield that afforded Wales the opportunity to build their score; how often do those things happen to Schmidt's side?
RBS 6 Nations / YouTube
Charteris' steal in front of O'Mahony set the wheels in motion, and the attacking play from Warren Gatland's side was excellent. Again, we won't detail every phase of attack, but it's worth pointing out that there were quite a few one-off carries, though many of them were more explosive than Ireland managed shortly before.
Let's look instead at some of the things Wales did differently to Ireland in the build-up to the phases above.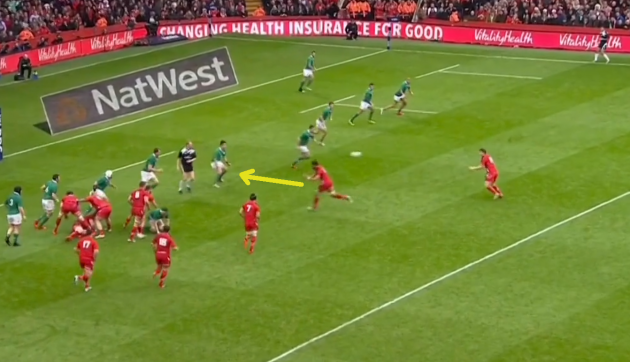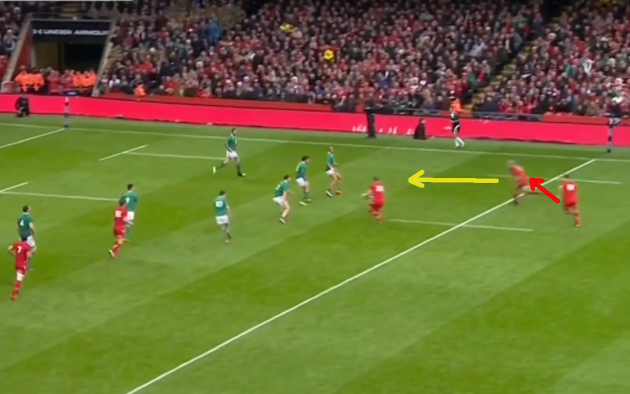 This is phase four of the Welsh attack and already they're adding variety to their play, sending a pass from Rhys Webb behind the decoy-running Taulupe Faletau to Biggar and on to Scott Williams, then behind Jonathan Davies to Liam Williams.
They don't make gainline progress, but it's asking questions of Ireland, shifting their defensive line and forcing them to move across the pitch to fill the space close in to the ruck.
Two powerful carries follow from Sam Warburton and Dan Lydiate, before Wales once again use some lovely structured play to put a back into space.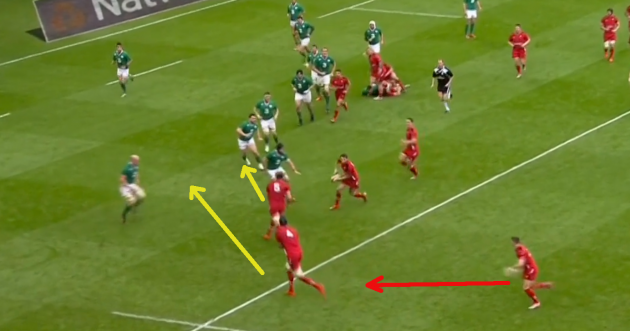 Again, it's relatively simple stuff, with Biggar passing deep to Scott Williams behind two forward runners, but it's positively high-risk in comparison to some of Ireland's play in the opposition 22.
Biggar's pass actually goes outside the Ireland 22, but it allows Williams to again ask demanding questions, forces Ireland to strain to cover and make their tackle. From there, Wales go quite direct but their powerful carriers are able to make yards against an Ireland defence that is fatiguing partly because of the two phases above.
Wales finish with another classy piece of play involving their backs.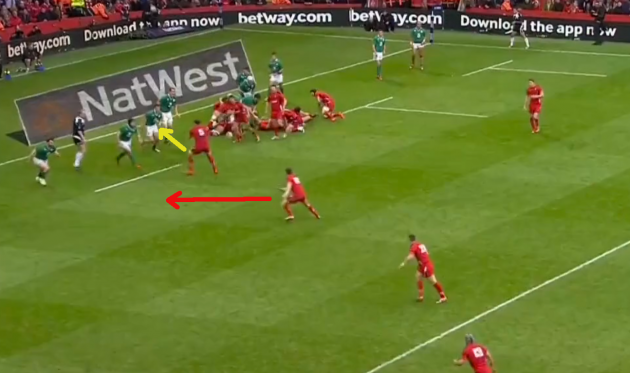 Analysing the Ireland defensive error is not especially relevant here, beyond saying that Heaslip and Bowe's intentions are totally at odds, the former shooting up hard in attempt to shut down the passing play while the latter is drifting out.
The real point is that Wales' attacking play in the opposition 22 is creating the potential for such a defensive mix up.
It's manufacturing the possibility that two defenders have important decisions to make beyond whether they should smash a one-off carrier hard or extremely hard.
Ireland's attack
It seems unlikely that we will see Ireland make any major immediate departures from the strategy they have been using in recent times against Scotland this weekend.
The priority is ensuring their accuracy levels in simple tasks like passing, rucking, lineout calling, lineout throwing, kicking, catching, decision-making and ball carrying are back to and beyond their previous high standards.
In terms of the power plays and Schmidt's pre-planned moves, it's likely that they will continue to be an integral part of the blueprint. Ireland need to ensure that each of the minor details is taken care of and the scores will begin to come again in that sector.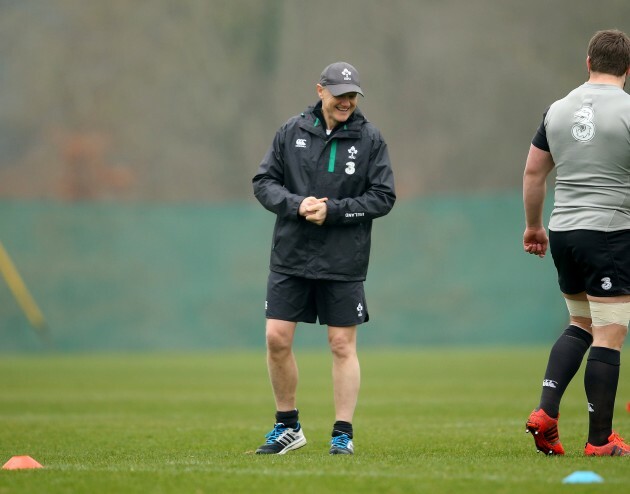 Billy Stickland / INPHO It's all under control. Billy Stickland / INPHO / INPHO
Equally, they must hope that the sublime Welsh defensive effort will not be repeated everywhere they go.
The other big challenges are to be more consistently threatening with their multi-phase play when they get away from the set-piece, most crucially in the opposition 22.
Personnel changes are one possibility in that regard, but more important is variety, still relying on simple, low-risk ball carriers at times but also adding in a little more deception and allowing men like O'Brien to be utilised with a greater time and space.
The doubts surrounding a rare defeat will die away in record time if Schmidt can bring about a strong attacking performance from his team this weekend.