Updated at 17.00
74:00 ON THE clock, and Ireland have a 33-29 lead against the best team in the world.
Joe Schmidt's side have the feed to a scrum on the right-hand 15-metre line, six metres inside their own half. What's the sensible decision here?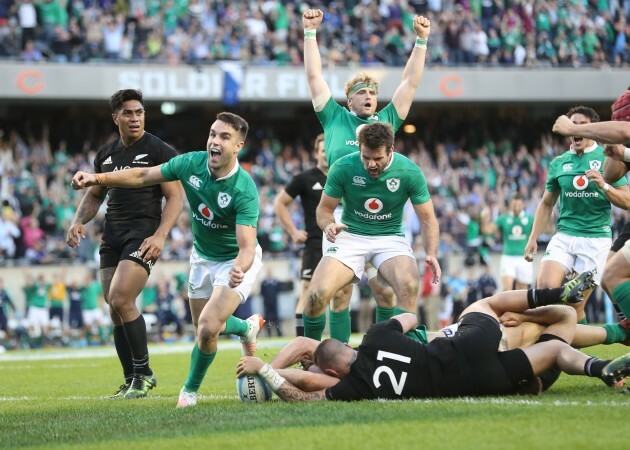 INPHO / Billy Stickland Ireland celebrate Robbie Henshaw's game-securing score. INPHO / Billy Stickland / Billy Stickland
A team feeling the pressure will probably opt to kick deep directly from their scrum-half or out-half, desperate to simply get the ball out of their half as rapidly as possible.
Others might smash the ball up in midfield, pick and jam for a couple of phases, then probe the backfield with the boot. Either of those options and the All Blacks are likely to get good kick return possession – a source they are clinical from.
Ireland are calm, however, and assess the situation in front of them. The All Blacks are playing four-up in their backline defence, including flanker Ardie Savea, who is filling in after injuries.
Beauden Barrett is deep right in the backfield, with Julian Savea covering the left-hand side of the half.
The sensible decision for Ireland is to manipulate and exploit space.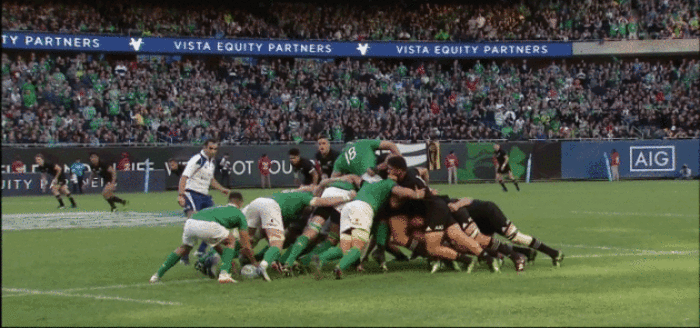 The method is surprising at this point of the game, but speaks volumes of how Ireland managed yesterday's end game infinitely better than they did in 2013.
Ireland's scrum platform is initially solid, before Ofa Tu'ungafasi gets underneath Finlay Bealham and begins to pop the Ireland tighthead up and inwards. Time for Ireland to play away.
Conor Murray spins one of his many perfect passes into the hands of Joey Carbery, who tunnels a pass in between Robbie Henshaw and Andrew Trimble to Jared Payne.
As soon as Carbery throws his delightfully-inviting pass to Payne, the space Ireland are targeting is apparent.
The use of this simple tunnel, with Henshaw ahead of the ball and Trimble behind, ties in the first two Kiwi defenders – TJ Perenara and Ardie Savea, who are circled in white above.
The decoys also do enough to attract Malakai Fekitoa, who sits on his heels for just a spilt second and that in turn means the All Blacks find it very hard to re-adjust and drift, having initially shot up off the defensive line.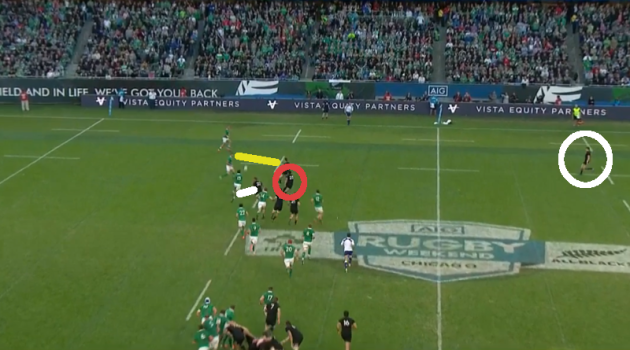 Above, we have frozen the frame just after Payne has released his pass, with the importance of Ireland's decoy running – Henshaw and Trimble's body language and acceleration are threatening – even more apparent.
Aaron Cruden has got outside the decoy runners and lined himself up on Payne, as signified by the white line.
But outside him, Fekitoa's initial split-second sitdown has cost him and he's in no man's land, circled in red above.
Outside him, Ben Smith is therefore lining up on fullback Rob Kearney – the yellow line signifying as much. Zebo sees the space in front of him and Payne throws a delicious skip pass to find his left wing.
Having identified the threat out wide, Barrett [in white above] begins to come forward from the backfield.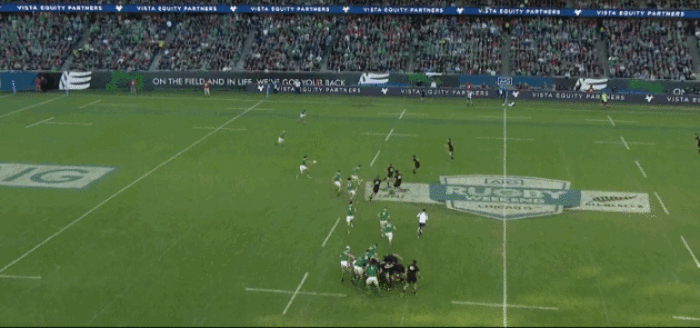 It's an ambitious pass from Payne, with the threat of Smith picking it off, but it's clearly the right decision given where the space is.
At the very start of this passage, Ireland are keenly aware that New Zealand are going to come up with big linespeed, eager to force a turnover. Ardie Savea being part of the backline complicates matters somewhat, and the Irish decoy accentuates that.
At the very base of this play are three excellent passes from Murray, Carbery and Payne – Ireland's basic skill level coming to the fore.
Ireland are also intimately aware that Barrett is going to be drawn up from deep if they can find that space wide on the left, and Zebo executes his kick superbly when the Hurricanes playmaker advances.
Again, this is the execution of a basic rugby skill under the most intense pressure. Zebo puts the perfect amount of weight on the kick, keeping it infield and suddenly creating huge pressure on the exposed New Zealanders.
The quality of Ireland's chase here is wonderful.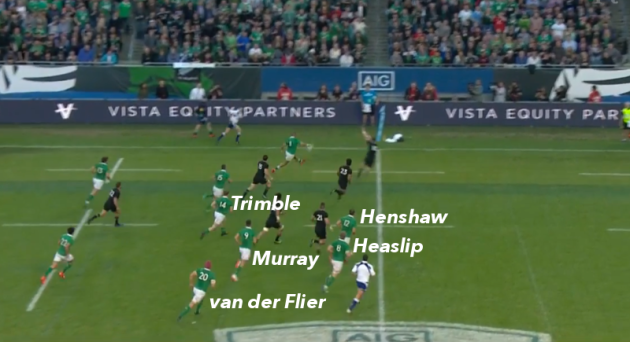 As Zebo kicks above, we can see that Henshaw and Heaslip are actually already ahead of the ball, aware of the pre-called play and taking those cheat lines.
Murray, Trimble and Josh van der Flier are also in close pursuit and play a key role in suffocating the Kiwis as they attempt to recover from being exposed by Ireland's set-piece attack.
Fekitoa is first to the ball and just gets a pass away to Julian Savea as he's smashed by the incredibly hard-working Henshaw. The pass only serves to put Savea under intense pressure, however, as the Irish chase line hounds towards him.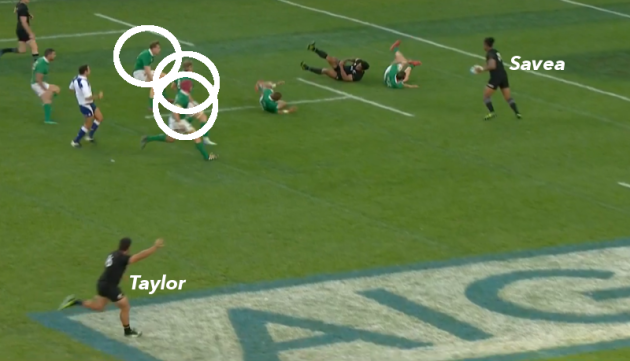 The image above illustrates exactly how Ireland have flipped the pressure back onto New Zealand with their clever attack from the scrum.
We can see Codie Taylor on the bottom left of the shot, attempting to encourage Savea to break out to his left on kick return.
A clear-headed and calm Savea almost certainly would have done that, backing himself to beat at least one player and provide a solid starting point for a New Zealand attack from deep – if not a bust upfield.
But the work-rate of van der Flier, Heaslip and Trimble in behind Zebo and Henshaw stresses Savea and he opts to cut back towards the touchline.
There is no safety on that side of the pitch, however, as Trimble re-adjusts his feet rapidly and Murray ploughs forwards towards Savea.
The hit from Ireland's scrum-half is obviously superb, as he drives his right shoulder into Savea to unsteady him, then wraps down onto the wing's legs as Trimble joins in.
Impressively, Murray initially looks to block as Savea shapes to kick, but the Munster man then responds wonderfully to continue to drive forward and hit 'the Bus.'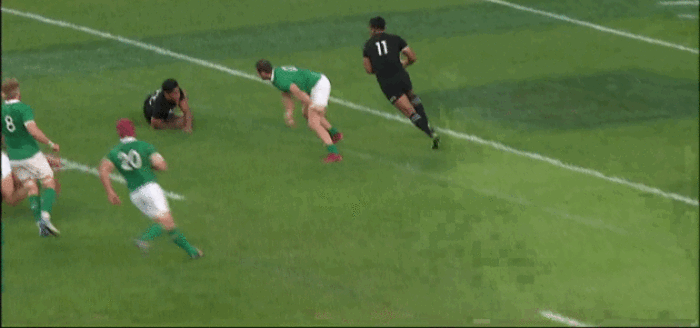 He's bundled dead with Trimble's help and Ireland have another scrum platform, just 16 seconds after Murray has passed from the initial set-piece.
This 16-second passage exemplifies how Ireland have progressed since 2013, when they lacked composure, clarity and perhaps the physical fitness to assume control in the closing minutes. This time, New Zealand are the team scrambling to hold on.
With a scrum five metres out, Ireland move for the kill.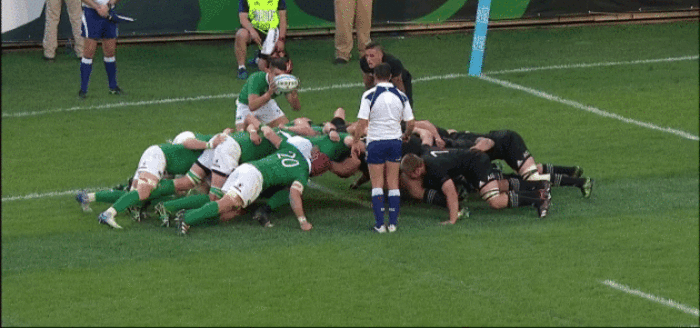 It's simple and effective from Schmidt's men, but there are several things that simply must go right for this try to be scored.
Ireland are keen to attack as swiftly as they can off this close-range scrum, so they use channel one ball.
That is, Sean Cronin hooks the ball between the legs of his loosehead prop, Cian Healy. This sends the ball rapidly down the left-hand side of the scrum to the back, where Jamie Heaslip has re-adjusted his bind to accept the ball.
It's subtle enough from Heaslip to be ignored, and allows him even quicker access to the ball.
The scrum is absolutely key to this try being scored.
Firstly, the speed of ball in and out takes New Zealand by surprise. Secondly, the superb work of tighthead Bealham and the rest of the pack in nudging the Kiwis towards the left touchline further ties them down.
The result is that openside flanker Sam Cane is still bound to the scrum as Heaslip darts off to the right. Scrum-half TJ Perenara is also late getting around from the blindside to cover.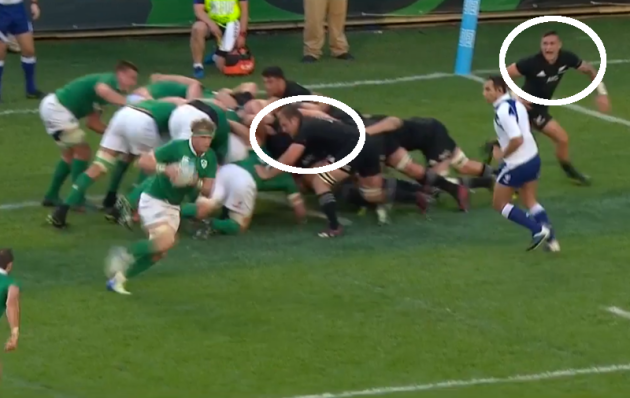 This is all part of the plan from Ireland's point of view, and already we can see the space opening up for Schmidt's side as intended.
Some players might have simply put their head down and charged into that space in Heaslip's shoes, but the number eight is intimately aware of his role in this play and stays on duty.
He accelerates across the pitch to the outside shoulder of Ardie Savea – again a potential weakness as he defends in the out-half slot.
Aaron Cruden reads that Henshaw is going to switch to Heaslip's inside and bites down onto the number eight, but Savea – attracted to Heaslip – reads it too late and can only get an arm to Henshaw as the Ireland centre bursts onto Heaslip's delicate lay-off.
Henshaw's line is sublime. A basic skill done to a world-class standard.
This is a pure switch line.
While some players run a switch line straight back against the grain, the very best players in the world understand that the line is actually an 'out to in to out' route.
So Henshaw is coming back against the grain inside Heaslip to accept the pass, but his destination is laterally in line with where he starts running from.
That means he can get inside the despairing tackle of Savea, before arcing beautifully out behind him and away from the late-arriving Cane and Perenara, both delayed by Ireland's scrum.
Henshaw's power is important, of course, but all the detail is perfect.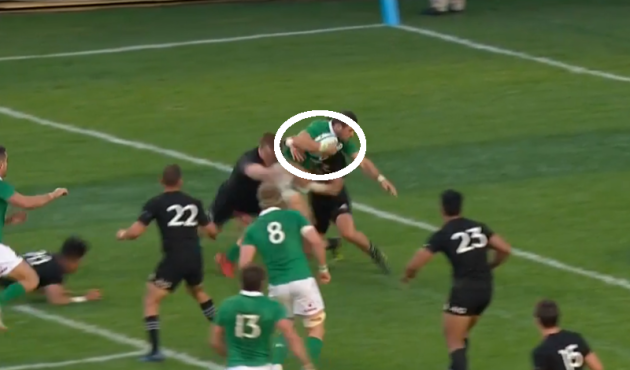 The Leinster centre even manages to plant the ball immediately into his right arm, keeping it away from Cane and Perenara as they come from his left to tackle.
That allows Henshaw to then use his power and running line into the tackle, before he drives his left arm up onto the ball to finish with control.
75:31 on the clock and with Carbery then showing his balls of steel to slot the conversion, it's an 11-point margin. Ireland are in the clear.
This try is a prime example of a team showing utter belief in their plan, and then executing on it with a supreme level of intelligence, accuracy and skill.
- Originally published at 21.40 on 6 November 
The42 is on Snapchat! Tap the button below on your phone to add!