WE'VE COMMITTED TO analysing each of Ireland's tries over the course of this year's Six Nations, but unfortunately Saturday's win over France didn't provide us with any fresh examples.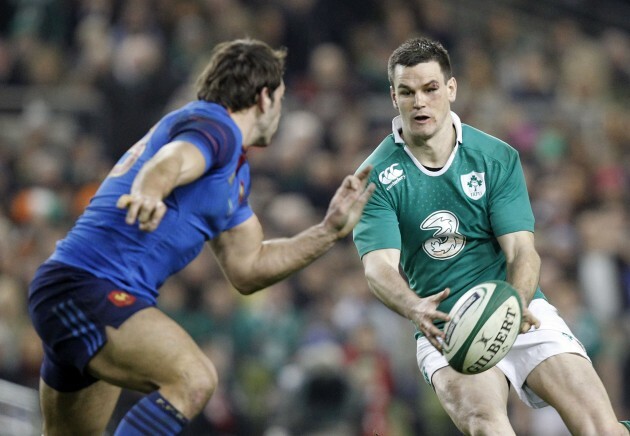 Colm O'Neill / INPHO Sexton releases his pass to Jared Payne. Colm O'Neill / INPHO / INPHO
Joe Schmidt's side conceded a five pointer late in the game – which we'll study elsewhere – but in this article we're going to examine the one real chance Ireland did have to cross the tryline.
Johnny Sexton's overly powerful pass to Jared Payne saw Ireland give up their major try-scoring opportunity at a crucial time in the game. Already 15-6 ahead in the 56th minute in Dublin, this score would have put the outcome beyond doubt.
With the French defence having improved notably since last year's championship, it was never likely Ireland would have copious chances to run in tries. Defence rules in international rugby at present, meaning a ruthless edge is vital for consistent success.
England's defence will be a step up on the French effort again and for that reason, Ireland simply cannot miss whatever try-scoring chance[s] they make for themselves in that game.
Schmidt knows that better than anyone, meaning he is likely to be hammering home the need for his men to be utterly clinical in these situations during Ireland's short training camp in Galway this week.
Solid foundations
RBS Six Nations
The video above refreshes the mind for those who don't recall the details of the incident, or those who didn't see the game. It's the best chance to cross the whitewash that Schmidt's side had all evening and the opportunity is built on strong foundations.
Having earned a penalty when the massively out-of-sorts Damien Chouly came in the side of a ruck to clear turnover threat Payne, Sexton found touch down the right-hand side and made the call for Ireland to run this particular play.
The initial lineout from Ireland is strong, and this was an area in which Simon Easterby's pack did well on Saturday. They lost possession just once on their 12 throws, the standalone failure coming when Sean O'Brien was forced to stand in on throwing duty with Rory Best in the bin.
For this particular lineout, there's some clever basic movement from Ireland to free Devin Toner in the air.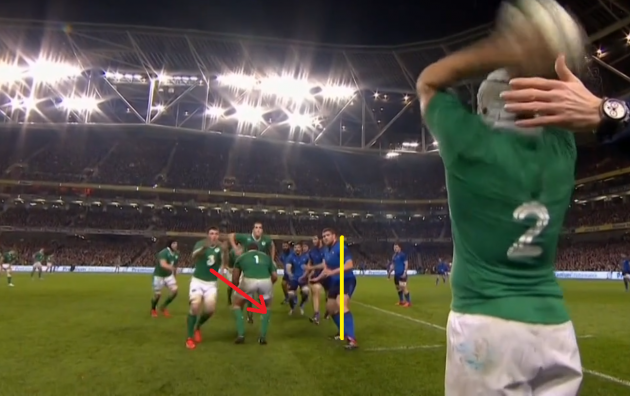 As highlighted above with the red arrow, Peter O'Mahony comes from the rear of Ireland's shortened lineout [Jamie Heaslip stands out of this alignment] and drags Vincent Debaty [yellow] with him.
That in turn means Yoann Maestri has no potential lifter at the front after reading Toner's intentions. It looks like France weren't even interested in getting into the air this time, but the lineout work from Ireland is still solid.
Best's throw is accurate, Toner claims the pill and then makes a lovely one-handed transfer to Sean O'Brien coming in at the tail of the forming maul from the 'receiver' position behind the original lineout.
One of the reasons Ireland have been strong at the maul in the last 18 months or so is that their lineout lifters brace really well, providing utterly crucial solidity right at the front of the forming maul.
We see that much above, as Jack McGrath [red arrow] and Paul O'Connell [yellow] move immediately into bracing duties as Toner hits the ground and transfers the ball to O'Brien at the tail.
That means Ireland then have a tightly-packed and perfectly-formed maul as Heaslip makes his way up to lend his weight to the cause, and the good bracing work by McGrath [1] and O'Connell [5] means that when France do eventually remove those two players and Toner [4], Ireland are able to shift their drive away to the left in an organised manner.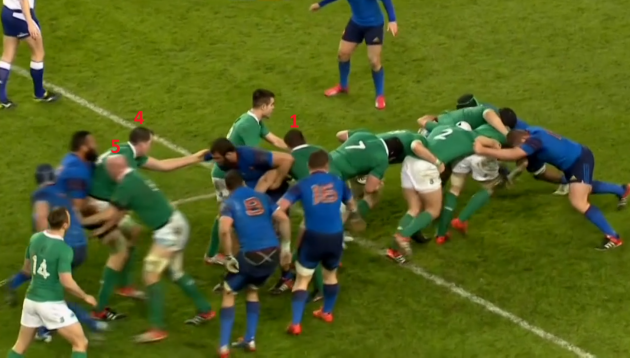 It's an excellent mauling effort and to see Ireland do these basics well is encouraging before a potentially decisive set-piece battle with England on 1 March.
Moving the point of focus
With France's pack tied down, it's also promising to see Conor Murray move the ball away even with that Ireland maul trundling forward. This is the kind of possession backlines across the world dream of, allowing them to run onto the ball against a back-peddling and uneasy opposition defensive line.
It means France's midfield defence is immediately in trouble, and Ireland compound the challenge by sending inside centre Robbie Henshaw on a decoy line short off the arcing run of scrum-half Murray.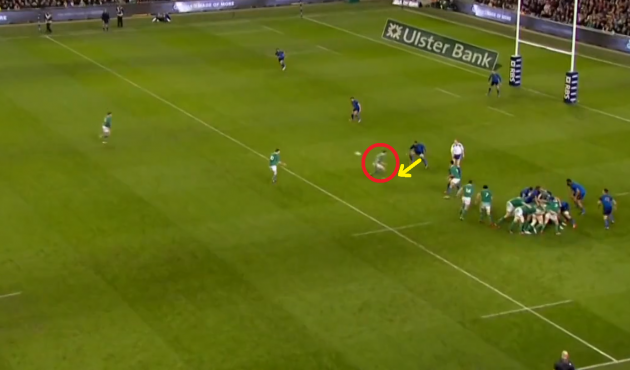 In the build-up to this game, we pointed to France defending Bastareaud in the 12 channel and the potential for Ireland to get at the 120kg man in that exact zone. That's precisely what happens here, as Henshaw manages to sit the Toulon centre down and Ireland play out the back.
What's important to the decoy line working is the fact that Ireland had hit Henshaw on this type of line earlier in the game, allowing him to show his power and forcing the French to be wary of repeat carries of that nature later in the game.
Murray draws in out-half Camille Lopez [who had a really poor game for les Bleus] and sends a crisp pass behind Henshaw and out to Sexton, leaving Ireland in a hugely promising situation.
Numbers up
With Henshaw having attracted Bastareaud inwards, however briefly, Sexton is now running his diagonal line well outside the France 13′s outside shoulder and it means Ireland are left with a numbers-up attacking scenario.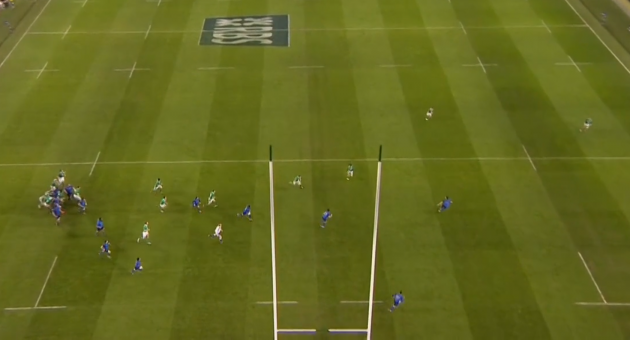 It's essentially a four-on-two in the front line unless Bastareaud can show a massive burst of acceleration to make up lost ground on Sexton, and there's a long passing option for Sexton in fullback Rob Kearney.
For us, Sexton has to throw that long pass at the precise moment above if he's going to throw it at all. He's running the diagonal line across the pitch, meaning he can put real power into the pass and Kearney is deep enough that the risk of Yoann Huget intercepting is at its lowest point.
It seems that possibility doesn't really cross Sexton's mind for long, as he eyeballs the highly-exposed Rémi Lamerat and then begins to straighten his running line back up. Once he takes that action, the long pass to Kearney is far too risky.
Sexton would have to generate massive power through his arms and by rotating his torso to get the ball beyond the intercept danger of Huget once he straightens. It's just so hard to make long passes moving back on that angle; option closed.
Lamerat wins battle of nerve
Sexton's focus now is solely on Lamerat, on for the injured Teddy Thomas and lining up in the 13 channel for the French in defence.
Exclusive Six
Nations Analysis
Get Murray Kinsella's exclusive analysis of Ireland's Six Nations campaign this spring
Become a Member
The Ireland out-half's intention is to draw Lamerat to him, sit him down and then release Payne into the hole outside the Castres centre. What Sexton is looking for are cues that Lamerat has opted to bite in on him, signifying the space for Payne outside.
It's worth going back and watching the original clip towards the top of the article, as it's a sensational bit of defending from Lamerat. When we freeze the frame above, Lamerat has given Sexton that crucial cue that he's ready to bite in on Ireland's out-half.
He's back on his heels, head swivelled towards Sexton and apparently primed to turn his body back in too. Crucially, Lamerat never does so. He keeps his body open, towards the far touchline and with his feet pointing outwards to Payne, never shutting down the option of moving out onto the 13.
Sexton reads the heel-sitting, head-looking-in cues as the sign to release his pass to Payne, but at the same split second Lamerat superbly recovers his footwork and shifts his attention to Payne.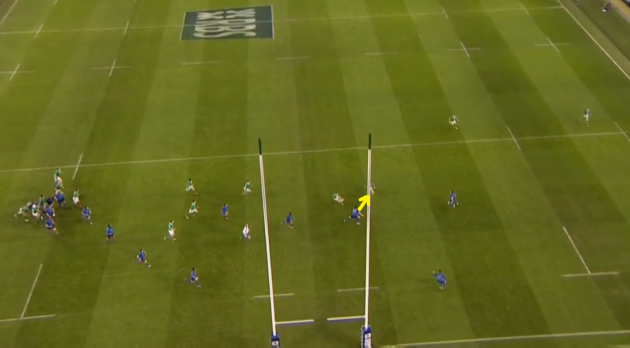 Even if Sexton's pass to Payne in this instance had been perfect, Lamerat has put himself in an excellent position to complete a tackle on the Ireland outside centre.
Sexton might look at the match tape and strongly reflect on an opportunity to run the ball himself at the stage highlighted immediately above. He's well outside Bastareaud, Lamerat has just edged off towards Payne and there's a hint of space in front of the out-half.
We'd actually back a fully match-sharpened Sexton to dummy the pass in this instance, and make that break himself.
RBS Six Nations
Even at that, there's no direct guarantee of the try, although again you would predict that the fully-fit Sexton could beat Bastareaud and work his way across the tryline inside stand-in fullback Rémi Tales.
One could argue that Ireland didn't even need to score directly on this phase of attack. Even a half bust of the French line would have left Ireland in a brilliant scoring situation, which makes the lack of composure all the more frustrating for them.
The positive is that Sexton will likely have another game under his belt by the time Schmidt's side face England, set as he is to feature for Racing Métro in Saturday's Top 14 clash with Clermont.
That should afford him a greater degree of those visual and decision-making skills that can ever so slightly decay without game time. Sexton will back himself to be far more effective in a situation like this one against the English, as would we.
In a game where scoring chances were few and far between, this was the major disappointment for Ireland on Saturday evening.
As Paul O'Connell highlighted after the game, the concession of a scrum penalty immediately after Sexton's error compounded the collective anger, allowing France to relieve the pressure when Ireland could have finished the game as a contest.
Among other elements, being utterly clinical in any scenario such as this one against England is vital to Ireland's hopes. This sort of chance is likely to be even less common against Stuart Lancaster's side.