ONE THING WE PROBABLY didn't expect to see from Joe Schmidt's Ireland in the opening two games of the Six Nations was so much kicking.
As we head into the first rest weekend of the competition, the official match statistics tell us that Schmidt's men have kicked the ball from hand more than anyone. Their 61 'possessions kicked' is two ahead of England's total and five more than France's.
However, it's worth pointing out that both the English and French have kicked a greater percentage of their possession in the first two games, 38.5% and 41.5% respectively. Ireland have put the boot to 35% of their own ball.
Regardless of the stats, it's been obvious to that Ireland have kicked from hand quite often, especially against Wales. Here, we take a closer look at last weekend's kicking performance and examine why it was so effective.
If you can't kick the ball, don't kick it
Bad kicking from hand can be absolutely disastrous, especially against the likes of George North and Alex Cuthbert. Ireland decided in the week before the Wales game that they were going to kick the ball often, meaning they had to have confidence in the men who would be doing so.
The main figure in that regard was obviously Jonny Sexton, whose role at out-half makes him the primary kicker from hand for Ireland. Much has been made of the fact that the 28-year-old's move to Racing Métro hasn't worked out as planned yet but conversely, his time with the Top 14 club proved very helpful against Wales.
Racing have been using a largely kicking-based attacking game plan under Laurent Travers and Laurent Labit so far this season. While Sexton has great creative and running abilities, he has been asked to do more kicking for the Parisians than he might have been used to with Leinster.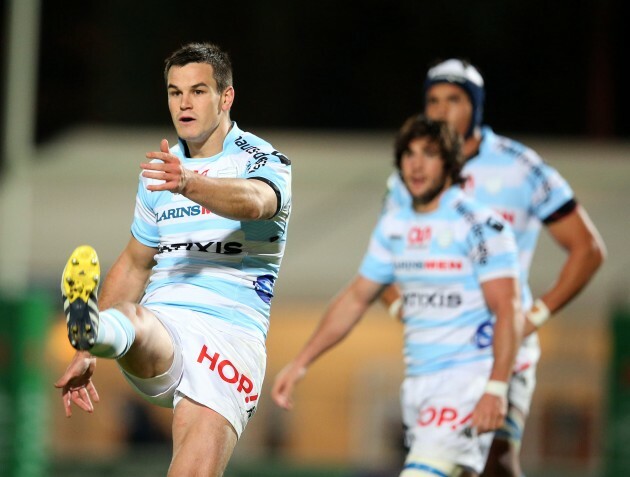 ©INPHO / Dan Sheridan Sexton has been kicking lots of ball from hand for Racing. ©INPHO / Dan Sheridan / Dan Sheridan
As the out-half told TheScore.ie last week, so much practice at carrying out tactical and contestable kicking this season proved useful against Wales.
"The conditions we've been playing in haven't been great and we've had a lot of injuries in the backs, so it came to a time where we decided to play 10-man rugby and those conditions made us do that.
The more you practice it, the better you get at it," he said with a laugh.
Ronan O'Gara was possibly the best tactical kicker in world rugby at his peak, and Sexton has been understandably compared to that standard. His latest performance for Ireland would suggest that the Dublin man is on his way to that level, although he argues that he has always been an out-half who kicks the ball well.
"I think I've been working on it as long as I've been starting. I remember in school being told I was just a kicking out-half and that's why I didn't get picked for the Ireland Schools team. It's funny how perceptions can change over the years."
Practice makes perfect
Whatever the reasons for his excellent kicking form, Ireland certainly benefited from Sextons' boot against the Welsh. After a couple of disappointing early efforts, he started to play the ball in behind Gatland's men with consummate precision and weight.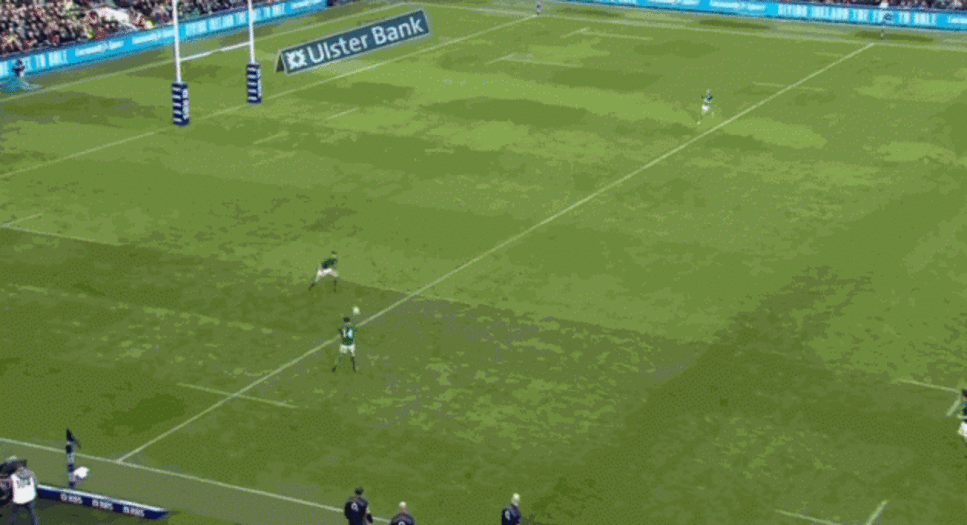 The example above comes late in the first half and demonstrates that Sexton is focused on finding space in behind Wales; Schmidt has sent him onto the pitch with that thought in his head. A situation like the one above – after Kearney wins the ball superbly under his own garryowen [more on that later] – would often see the out-half looking to attack with ball in hand.
Wales have lost an aerial duel, their defence is disorganised and retreating; an excellent chance to strike at pace. Not in this game though, as he instead immediately looks for space to kick into.
In the freeze frame below we can see Sexton searching beyond the foreground for that open field and finding it. He immediately claps his hands and demands the ball from Conor Murray.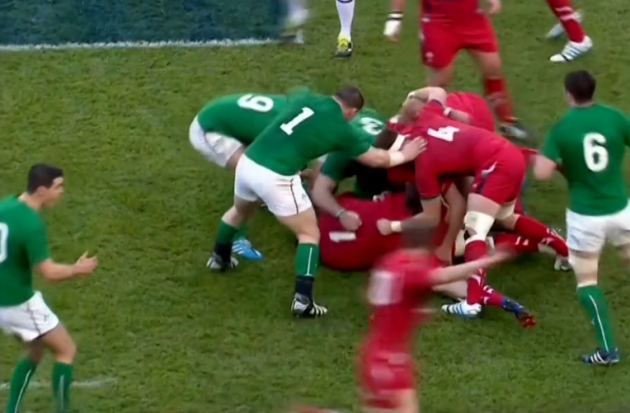 When he does kick, the really intelligent part is in keeping the ball in play. The tight angle means it would have been an impressive achievement by Sexton to roll the ball into touch, but he wants this one to stay in play and thus put Wales under huge pressure.
Rhys Priestland cuts his losses without a second thought and steps into touch. Ireland blasted their way over from the maul for Chris Henry's try on the next play.
Finding space on the field
In the aftermath of the win over Wales, Sexton again highlighted the fact that Joe Schmidt insists on his key playmakers finding space on the pitch. If there is space out wide and Ireland are just in front of their own try-line, the Kiwi will back his players to pass the ball out there.
However, against this Welsh defence, that wasn't really an option. Under the excellent Shaun Edwards, their defensive system is based around an aggressive line coming up at speed with lots of bodies in it and making tackles beyond the gainline.
When they do that, their chop tackle and turnover threat is amplified and they have cut down many teams in that manner. The key thing to take from above is that Wales like to pack their line with defenders, including their wingers.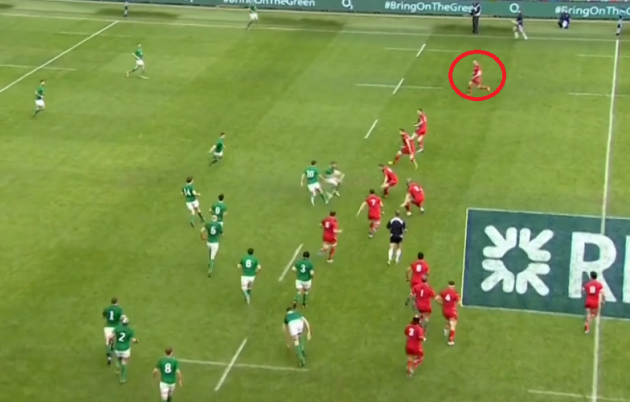 As you can see above, right wing Alex Cuthbert forms part of the front-line defence for Wales, despite the fact that they are inside Ireland's half defending. While Gordon D'Arcy is taking the ball to the line to carry here and there is no threat of a kick, many teams set up with their wing hanging back from the front-line to cover any possible kicks.
When that threat appears unlikely and the attacking team looks to move the ball wide, the wing will generally react by moving forward into the defensive line. However, Wales often operate with their wings in the line as standard.
Closer to one's try-line, it's normal for the defending team to have their wings in the first line of defence [as with Andrew Trimble below]. Obviously there is less space for the attacking team to kick into, so there is less reason for the wing to hang back.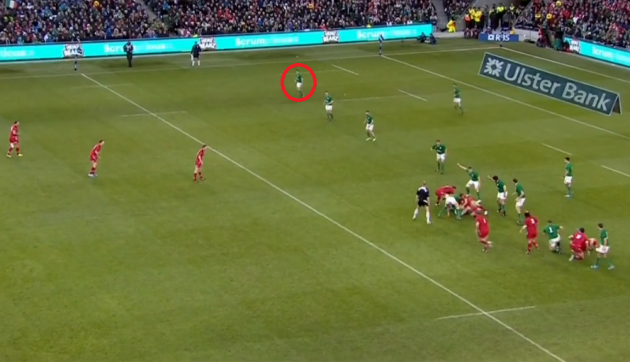 With Wales pushing their wings up into, or closer to, the front-line defence than many other teams, huge pressure is place on Leigh Halfpenny's ability to read the game and position himself effectively.
The 25-year-old is superb in this area and his competence in covering vast swathes of space has helped Wales to excel in recent seasons. However, up against the accuracy of Sexton's boot, the Cardiff Blues fullback simply couldn't do it all.
The video below provides us with another illustration of how Ireland exposed the Welsh set-up.
Again, Sexton does brilliantly to swiftly identify the space and stab the ball into the corner. His kick finds the ground nice and early, meaning Ireland almost win an attacking line-out as Halfpenny is forced to carry the ball into touch.
However, the match officials ruled in Wales' favour on this particular occasion. Freezing the frame after Sexton has launched his well-weighted kick, we can see that Cuthbert is doing his best to get back to help Halfpenny, but having been up in the front-line defence, he's in a difficult position.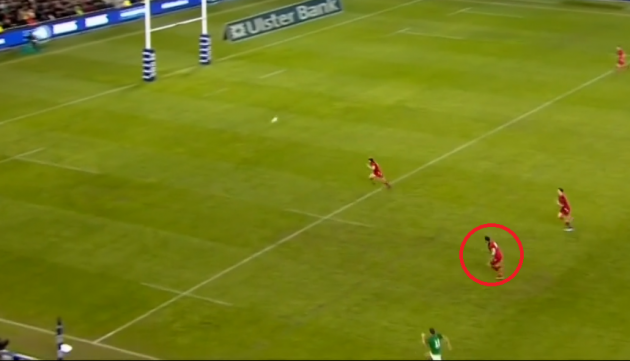 The space is in behind Wales and Sexton is only too happy to take advantage of it, particularly given his confidence in Ireland's line-out and maul. Because of those strengths, Schmidt's men rarely feel that they are 'kicking the ball away', but rather kicking to contest and retrieve possession.
Another example of Sexton's magic before we move on: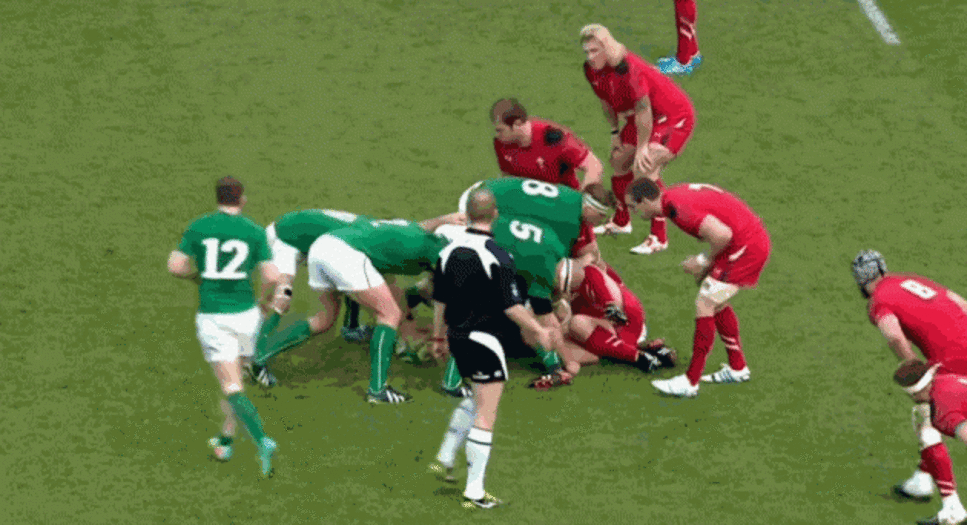 Again, the kick comes from between the two 10-metre lines in the middle part of the pitch, with a Welsh winger pushed up close to the defensive line and vast space for Halfpenny to cover. On top of that, Sexton's kick is literally inch perfect.
Even when Wales did attempt to drop their wingers a little deeper, Sexton was kicking well enough to put the ball over their heads. This really was a superb kicking display from the out-half and it appears that there has been a genuine positive in his move to Racing Métro from a national team point of view.
Exclusive Six
Nations Analysis
Get Murray Kinsella's exclusive analysis of Ireland's Six Nations campaign this spring
Become a Member
Kicking to get the ball back
As mentioned above, Ireland felt confident in the fact that kicking the ball didn't mean 'kicking the ball away' when it found its way into touch. A quick mention for two of Murray's booming box kicks to touch in the first half is warranted, it's an ever-improving aspect of the scrum-half's game.
However, not all of Ireland's kicking was aimed at the touchlines, and not all of it was about the space [i.e. potential weakness] that Schmidt and his coaching staff had highlighted in the Welsh defensive system.
There was lots of high, contestable kicking from Ireland too, playing to one of the major strengths of their back three. Rob Kearney, his brother Dave and Andrew Trimble are all superb at chasing and retrieving those contestable kicks.
As we saw in the very first clip in this article, Rob Kearney is particularly strong in this area. It's not hyperbole to say that the Leinster man is one of the best fielders of high ball in world rugby; his confidence and leap off the deck are hard to beat.
The example above gives us another demonstration of the sheer determination Kearney displayed against the Welsh, going up against Halfpenny – who is also strong in the air – and absolutely dominating him.
Below, we get another example of Kearney's willingness to compete under the high ball, swatting off the competition of Priestland to win possession back for Ireland. This incident actually ended with Ireland winning a penalty to go 19-3 ahead.
Ireland probably haven't used Kearney's excellence in this area enough in recent seasons; not that we are advocating a kick-based game plan in the long term. Still, Ireland could get more from the fullback under the high ball in the future, especially on re-starts.
Even when Ireland weren't re-gaining possession from their contestable kicks, they were putting Wales under great pressure, as illustrated below.
Murray's box-kick is high and goes an ideal distance to allow Fergus McFadden to lead the kick chase [the Munster man did have two kicks that went too long in this game, but overall his success rate was high].
The Leinster wing is typically hungry in getting to Liam Williams as he lands, smothering him immediately and wrapping him up in the tackle. It's worth pointing out that Dave Kearney and Trimble were magnificent in this area too; they did so much work similar to that in the clip above.
In this instance, Ireland are unfortunate not to drive Williams in touch and Wales actually keep possession when the maul collapses as it came directly from a kick reception. Still, Ireland have forced their way back up the pitch and denied Gatland's men the chance to counter-attack.
Trusting in defence…
We have spoken about Ireland's trust in their maul, line-out and kick chase, but Schmidt's belief in his defence was also central to these kicking-based tactics. Ireland backed themselves to defend against Wales inside the visitors' half, trusting that Gatland's side would not manufacture tries when forced to begin their attacks from deep.
But looking to evolve
It seems unlikely that Ireland will kick the ball as much against England in Twickenham. The sheer volume of kicking against the Welsh was based on the space that Schmidt knew Gatland and Edwards' system would offer up.
While England do operate with quite an aggressive line in defence, they are generally a little more cautious than Wales in pushing extra bodies into the front line. If there is space or a weakness elsewhere on the pitch, Ireland will use whatever tactics they feel will best exploit that.
Schmidt will again back his ability to pick apart the opposition game, and his players will hope to carry out the resulting game plan with the same efficiency as they did against Wales.