YOU CAN ALMOST hear it already. The groan as Ireland launch their first box kick or garryowen into the sky at the Aviva Stadium on Sunday.
Kicking the ball too often has become perhaps the single most common complaint about Joe Schmidt's tenure as Ireland coach, though the man himself has consistently argued that the point is exaggerated.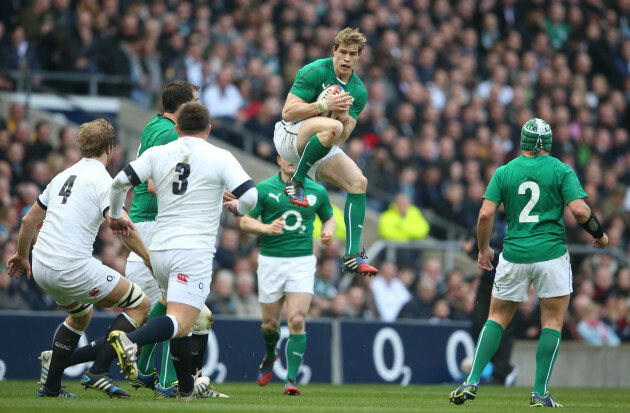 Billy Stickland / INPHO Ireland were the dominant aerial force in the 2014 Six Nations. Billy Stickland / INPHO / INPHO
Whatever your viewpoint and whatever the kicks-per-game ratio says, it is true that an intelligent and effective kicking game has been a vital part of Ireland's back-to-back Six Nations titles under Schmidt.
The same will be true again this season if Ireland are to enjoy further success.
The aerial battle this Sunday is a particularly fascinating one given that Wales emerged as the dominant force in this department in their win over Ireland at the Millennium Stadium during last year's Six Nations.
They needed to be, with Ireland's 2014 victory over the Welsh in Dublin having seen Schmidt's side dismantle the visitors with a razor-sharp kicking game.
It's worth stressing here that this is not the only area of importance in Sunday's fixture – we will look at others elsewhere – but it will be massively competitive as both teams attempt to rule the kicking contest.
Lessons learned in Dublin
The single biggest thing that sticks out about Ireland's win over the Welsh in 2014 is the success of their kicking game that day.
Even today, Warren Gatland still reflects on how his side couldn't handle Ireland's kicking game, so expertly delivered by Johnny Sexton and Conor Murray and which worked clinically with an efficient maul.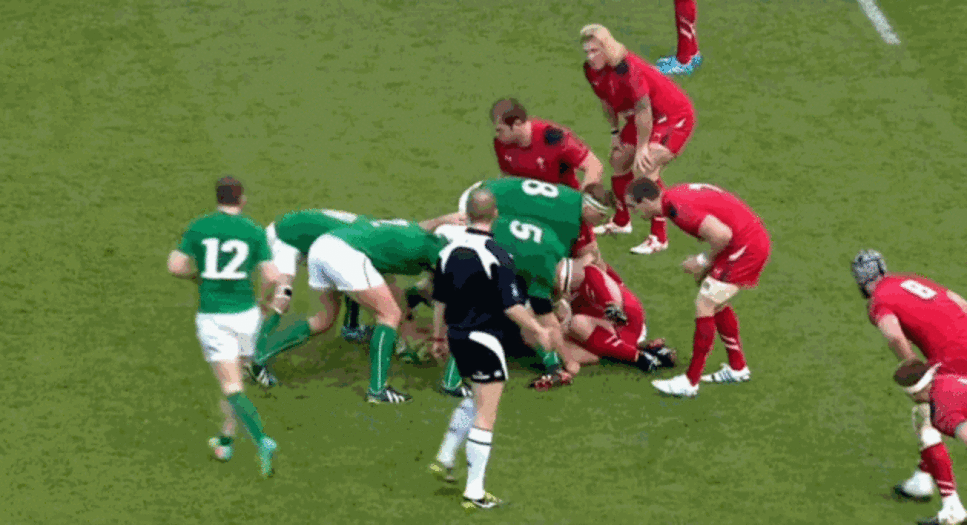 Above we get a fine example of one of the things Ireland did to the Welsh that day. Johnny Sexton takes the ball near the halfway line and sends a long, accurate diagonal kick deep behind the Welsh frontline.
Note who is [or isn't] in the Welsh backfield here. Left wing Liam Williams attempts to scuttle back and gather the ball before it bounces into touch, but he's retreating from the frontline defence.
Wales are well known for stacking their wings in the frontline in order to allow themselves to generate aggressive linespeed, as highlighted below in that same 2014 game.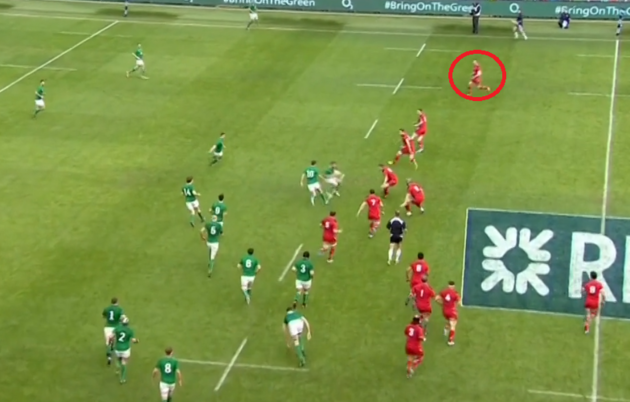 Many other teams prefer to keep their wide man in a 'half' position, giving them scope to either join the frontline when the attack threatens to pass the ball wide, or hang back and cover the above type of kick.
Going back to the clip of Sexton's excellent kick, fullback Leigh Halfpenny is the only player who is genuinely in the backfield when the phase of play begins.
That leaves him with huge swathes of space to cover, but it's a role he has performed superbly for the Welsh for the last few years. There is arguably no better fullback in the world than Halfpenny in the art of reading play and being positioned ideally when he is left to cover big spaces.
Wales didn't always set up in the manner above defensively, but it was a repeated chink in their defensive system that teams like Ireland – with an accurate kicker – managed to exploit.
Working in tandem
There are times when Wales – and every other team in the world – still get caught out in circumstances like those above, particularly in the early phases after a set-piece, but defensive coach Shaun Edwards has tweaked their system more recently to nullify the weakness.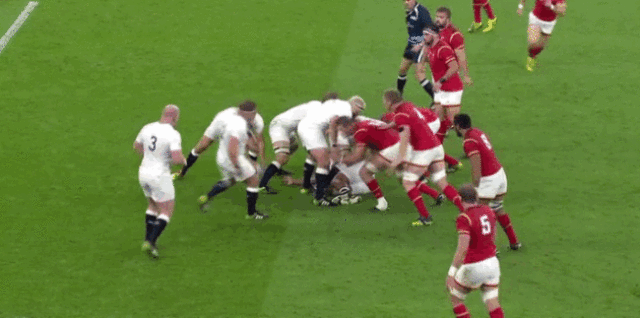 We see a different type of kick in the clip above obviously, as Ben Youngs box kicks during the World Cup, but the focus here is the set-up in the Welsh backfield.
Fullback Liam Williams is the man to field the ball, but note out-half Dan Biggar in a similarly deep position covering the other half of the field.
Even if England hadn't box kicked here, instead moving the ball into their out-half's hands, there would be a far greater difficulty in actually finding space to kick into in the manner Sexton does in our very first example.
Again, it's important to say that this set-up doesn't happen every single time for Wales now, but it is a commonality of their phase-play defence.
Dropping an extra player, most often Biggar, deep means the Welsh fullback isn't under as consistent a positional and attentional strain in the backfield. It also means that the Welsh can largely keep their wings up in the frontline and helping to generate linespeed.
What the Welsh are doing here is highly common – Ireland set up like this themselves at times – but it does represent a slight shift in how Gatland's men defend and how difficult it is to find space against them.
Anscombe invitation
Gareth Anscombe is a superb attacking fullback and is likely to cause Ireland problems going forward, but Ireland will feel they can target him with their kicking game.
Sexton will be scanning the backfield like a hawk in search of instances where Anscombe is left alone, and it would be no surprise to see Ireland actually run pre-planned set-piece plays that aim to achieve such circumstances by dragging the wings up or forcing Biggar to tackle.
When Biggar does drop into the backfield to share the positional load, he is not the ideal target aerially.
Biggar is one of the finest fielders of kicks in the game at present. His retrieval of his own garryowens is peerless and he is an assured set of hands when kicks land on him in the backfield too.
Schmidt's men will certainly feel that Anscombe will be less positionally and physically confident under their kicking game in what is just his third Test start.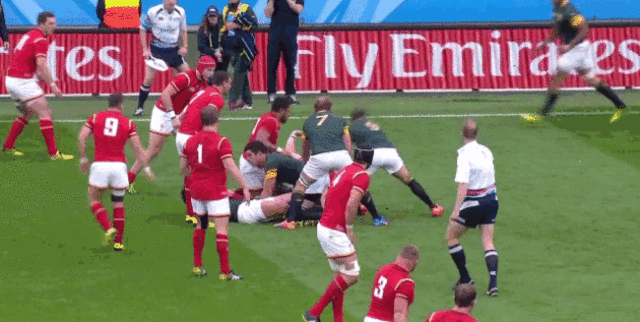 In the World Cup semi-final, South Africa were more than happy to test Anscombe's aerial skills and it is easy to imagine that Ireland will do exactly the same on Sunday in Dublin.
The 24-year-old will look for some protection from the players around him, as he gets in the example below when Australia look to target him with a garryowen.
Jamie Roberts gets a slight nudge on the chasing Israel Folau to send the Wallabies fullback clattering into Anscombe – who again looks less than pleased to find himself under the high ball.
The actions of Roberts are subtle, but his intervention is enough to ensure Folau cannot get at Anscombe and the ball unimpeded. Rory Best is likely to be asking the match officials to watch out for anything along those line, but it's actually something Ireland can learn from themselves.
Tracking
Catching an opposition kick is largely down to the fielding player of course, but those around that player can have an important influence.
Watch Taulupe Faletau's movement in the example above after Sexton launches his kick back at Biggar last year. The number eight moves across the most threatening Irish chasing player, Simon Zebo, and does enough to give his out-half time under the ball.
George North is thinking along the same lines, and his actions are similarly intended to impede Zebo.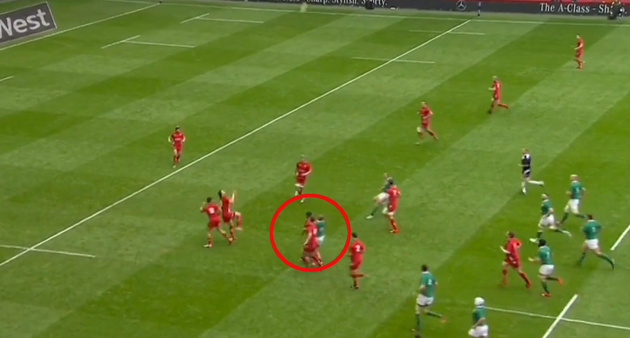 Below, we see a different kicking and catching situation, but the question is whether Jared Payne and potentially Tommy Bowe could have done more to create a favourable catching situation for Rob Kearney.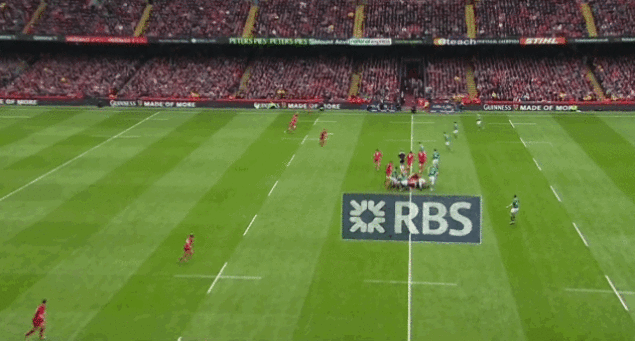 It's still a ball that Kearney should absolutely claim, though his fielding was uncharacteristically poor in last year's Six Nations game with the Welsh. The Leinster man spilled the opening kick-off of the contest, handing immediate possession to Wales.
That period of attacking pressure ended with three points for the home side. Even on that very Kearney failure in the air, one could question whether the Irish players in front of him could have provided more protection and shielding with their tracking movements.
Wales keen for the contest
In 2014, Ireland were widely reputed as one of the most aerially dominant teams in the world. Their kick chase was superbly aggressive and very often retrieved possession in advantageous areas of the field.
It's still true to an extent, but we have perhaps seen a waning of their powers in getting off the ground in more recent times. When you're the best at something, it can be easy to take your eye off the ball and focus on improving other attributes.
Expecting Ireland to win every contest when they're chasing kicks is extreme, but there is certainly major scope for them to improve in this area. The accuracy of the kicking from Murray and Sexton will be essential.
Even reflecting back to the Argentina defeat at the World Cup, an early play built to target the aerially unsure Juan Imhoff failed due to a poor kick. Last year in Cardiff, Sexton's radar was faulty as he kicked poorly or directly into touch on the full on a number of occasions.
Ireland may have been used to ruling the air and the kicking contest in 2014, but the Welsh were markedly better in this department last season.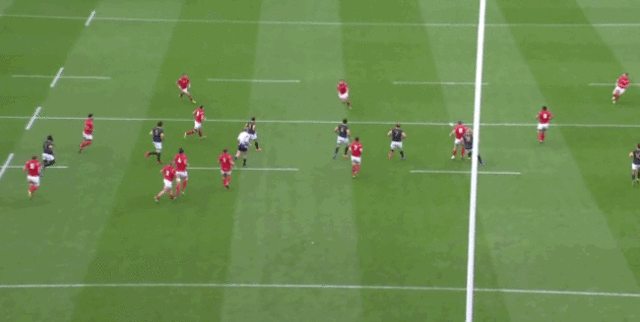 Biggar and the Welsh will have their own ideas about emerging as the dominant force in the aerial game for a second Six Nations in a row. Gatland's side have increasingly looked to the skies as a method of territorial gain and even as a scoring weapon at times.
Ireland need to refocus on the things that made them such an aerial threat during their 2014 Six Nations success. If they don't, the Welsh will overrun them and possible erase the memories of that defeat in Dublin two years ago.