LEINSTER'S ATTACK WAS a central talking point in the aftermath of their 18-15 Champions Cup quarter-final win over Bath last weekend, but the province still feel they are on the right track.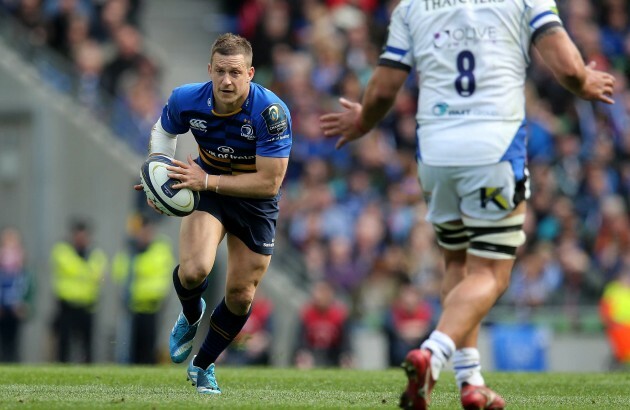 Ryan Byrne / INPHO Jimmy Gopperth and Leinster know they need more in attack against Toulon. Ryan Byrne / INPHO / INPHO
Swift improvements in this area will be needed if Leinster are to pull off a surprise victory over Toulon in the semi-finals. The worry is that many of the issues present against Bath have been there for much of the season.
The disjointed nature of this campaign, with international players coming in and out of the squad and less time between the Six Nations and their quarter-final, has not helped, although two full weeks of training together before facing Toulon will have been beneficial.
The minor matter of keeping their Guinness Pro12 play-off drive alive against the Dragons on Sunday is of primary importance in the coming days, but the Toulon clash looms large.
"We felt that we were very close a few times," says Leinster assistant coach Richie Murphy of the Leinster attack last weekend. "Obviously they gave away a lot of penalties, with six kickable penalties inside their half. That's on the back of probably some good attack.
We felt we created good opportunities and that we didn't probably take the right option once or twice, but that's stuff we've gone through, looked at, players know exactly what they're being asked to do and from there it's about making those decisions.
"In the heat of the battle, hopefully they'll go our way in the next one. You never know exactly when it's going to change from a wrong decision to a right decision, or somebody in the defensive line does something different.
"The big thing for us is that we are creating opportunities."
That much is a positive, but Leinster's ability to change from "a wrong decision to a right decision" will need to happen in a very short space of time.
Missed chances
12 minutes into Saturday's quarter-final, Leinster had perhaps their best try-scoring chance of the game, having made a string of errors during their opening three attacks [a failed lineout, poor grubber kick, and then being stripped of the ball in contact].
We might be tempted to forgive a spurned opportunity this early in a game, but these minutes are every bit as important as the last few. Clinical identification and execution at the end of the below passage and the game could have been very different.
The attacking thrust begins at a superb scrum, which proved to be such a vital factor in Leinster's victory. The initial backline movement is effective too, with Jimmy Gopperth passing out the back of Ben Te'o, allowing Ian Madigan to release Rob Kearney.
Leinster's fullback gets to the outside shoulder of Horacio Agulla to make nice gains, before Jamie Heaslip and Devin Toner carry solidly. Cian Healy is next on the ball and he makes more yardage in what is now a highly-threatening attack.
Bath know they're in real trouble.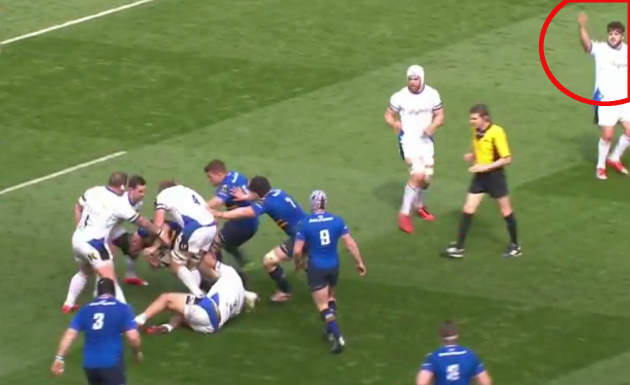 Above, we can see hooker Rob Webber signalling for more defenders to get across to Bath's left side of the ruck, aware as he is that Leinster are numbers up in attack.
A moment later, lock Dave Attwood is communicating the same thing, as we see below.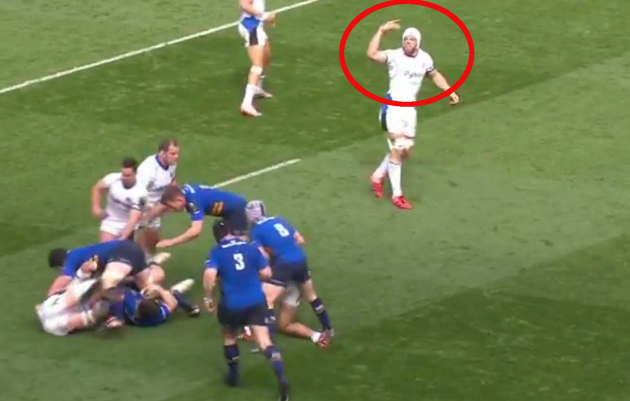 Why exactly are Webber and Attwood so adamant that they need reinforcement on that side of the ruck? How well are Leinster stacked?
If we rewind two seconds, we get an indication of the numbers Leinster have in their favour in attack.
The below shot comes just as Healy enters contact for his carry.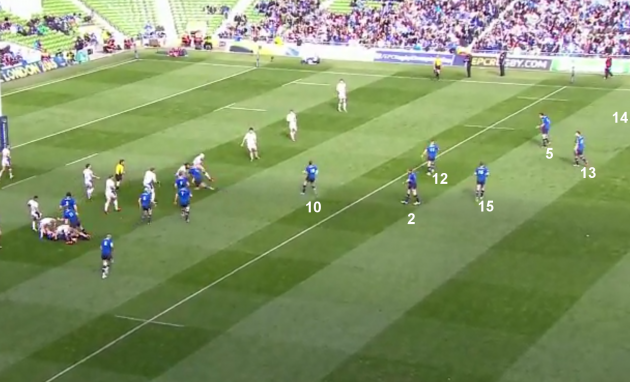 Leinster have Gopperth [10], Sean Cronin [2], Madigan [12], Kearney [15], Te'o [13], Mike McCarthy [5] and Fergus McFadden [14, out of shot wide right] all stacked on that right side of the attack.
It's no wonder Webber and Attwood are feeling uneasy; they're outnumbered and back-peddling. None of their teammates are in position to fold across to join them, however, and the front five pair surely fear the wide pass to Gopperth after Healy carries.
The ball simply has to go from Isaac Boss to Gopperth. If it does, Leinster have a genuine try-scoring chance.
It's impossible to know what kind of communication was being fed to Boss in this instance without having been on the pitch, but we can safely say that there needed to be more.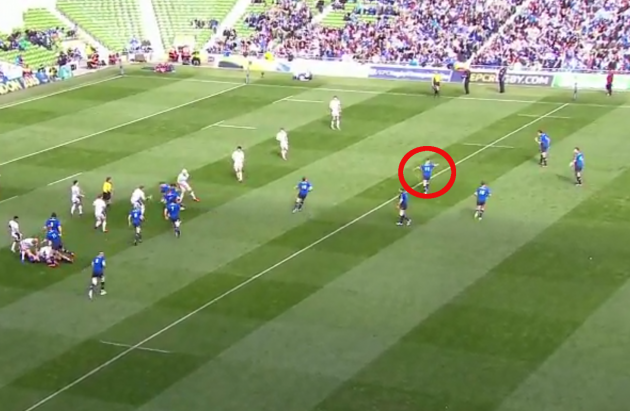 As we've highlighted above and below, Madigan is attempting to organise play as Healy carries, fully expecting to have the ball in his hands on the next phase.
It appears the inside centre wants McCarthy to run a hard, flat line to sit George Ford [standing just outside Webber in the defensive line] down, as he potentially passes out the back to Te'o, but the chat in this area of the pitch is ultimately wasted.
Is Boss under demand from his out-half to deliver the ball in this instance? We just can't know without having been on the pitch, but it doesn't look as though he's in a rush to release the pill.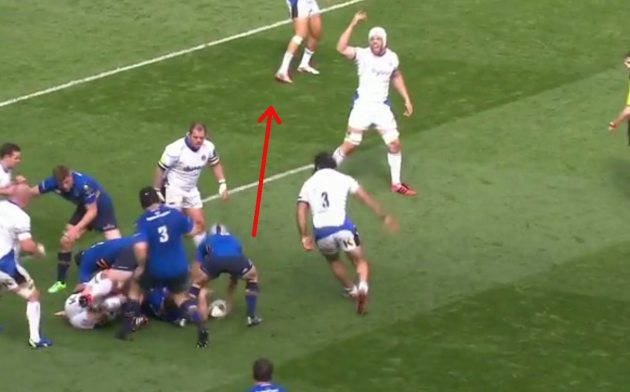 Instead, Boss identifies the above chink in the Bath defence and attempts to manipulate it by running an arcing line, drawing the pillar [Paul James] with him and releasing Jamie Heaslip into what he hopes will be a big hole.
Unfortunately, Kane Palma-Newport [3] has bounced back to his feet in the meantime and smothers Heaslip close to the tryline. Leinster do make metres through their number eight, but the gilt-edged chance is gone.
Even still, the good work of Cronin and Mike Ross opens the back of the ruck and Sean O'Brien is screaming for the ball with only Webber in front of him. Gopperth is acting as the guard as O'Brien shouts "Jimmy! Jimmy!" but the out-half can't react to get the pass away and Bath spoil.
Referee Jerome Garces brings play to a halt and goes back for the scrum penalty advantage. Leinster kick their three points, but will certainly have reflected on missing out on more.
Beating 14 men
Leinster scored six points while Anthony Watson was in the sin bin from minutes 26 to 36, but they also missed another chance to cross the whitewash for a try.
Again, the passage of attack is launched from an impressive set-piece, Leinster using Cronin as a carrier around the back of a dummy maul set-up.
This type of play is something that O'Connor and forwards coach Leo Cullen have cleverly built into the Leinster attack over the course of the season, aiming to take advantage of Cronin's ball-carrying prowess.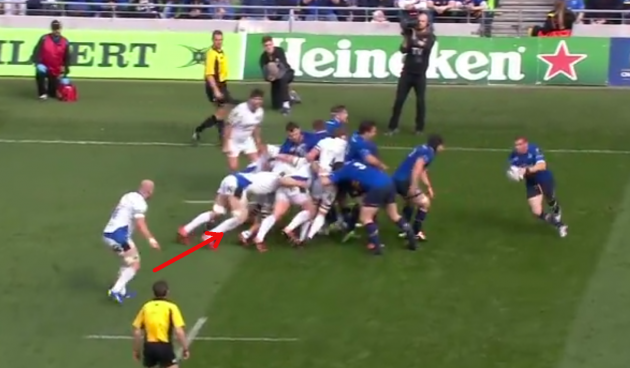 As indicated above, Bath's 'tailgunner' Carl Fearns has been briefly drawn in towards what looks to be a Leinster mauling effort.
That split-second attraction affords Cronin an extra degree of space to run into on Fearns' outside shoulder, as scrum-half Micky Young looks to get up from his starting position 10 metres back from the lineout.
It's intelligent attacking play from Leinster and gets this patterned attack off to a strong start.
The next phase calls for Kearney to carry off Madigan in midfield, before Healy gets around the corner on phase three, as would have been pre-planned. So far, so good, but it's on the next phase that Leinster fall down.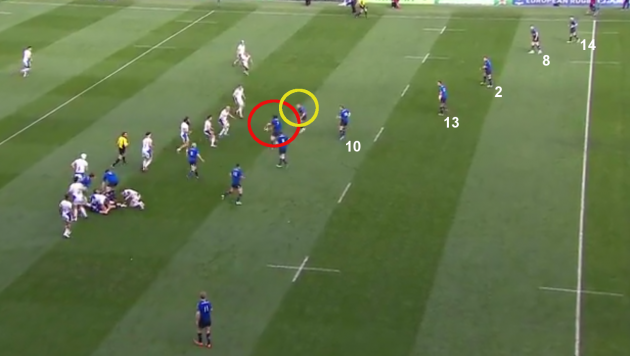 The pass simply has to go from Sean O'Brien [red circle] to Gopperth [10] in the instance above. The numerical advantage is similarly stark to what we saw in the first example: it's an initial 5-on-3, with Matt Banahan covering the backfield.
Leinster have nice depth and width in their line of attackers, more than enough space to exploit Bath's exposed defence.
Madigan [yellow] is the potential screen ahead of any O'Brien pass to Gopperth, and although Stuart Hooper is in a position to get beyond the decoying Madigan, you'd back Gopperth's pace to get outside Hooper and draw Jonathan Joseph into biting in on the out-half.
Whatever way you want to look at it, it's a missed chance for Leinster to at least make some massive gains out on the right. The most clinical of teams would see this as a clear-cut try-scoring opportunity.
Why doesn't the pass go?
Again, we have to ask questions of the communication. Is Gopperth demanding the ball from O'Brien here? That said, we can't simply blame the out-half for his teammates' actions.
How insistent were the men outside him that the ball needed to be delivered to them? Judging by the clip above, Te'o doesn't even get his head up to scan the defence, whatever about communicating the overlap in to his playmakers.
Are the players outside Te'o screaming for the ball? Only Leinster themselves will know the exact root of the failure to go wide, but it's urgently important that these chances don't continue to go untaken.
Leinster did make progress on the phase after O'Brien opted to carry rather than pass, but the annoyance for them lies in wondering what might have happened in that same channel on the phase before.
Improving
The vast majority of teams in the world miss chances to move the ball into space from time to time; it's simply part of the imperfect nature of human beings. However, the very best teams [the All Blacks, for example] miss the tiniest portion of these opportunities.
As triple Heineken Cup champions, Leinster have to aspire to the very heights of the rugby world, so eradicating as many of these misses as possible should be a priority.
The concerning aspect is that incidents such as the two above are not limited just to this quarter-final. Jump back to the sixth pool game of this year's Champions Cup, away to Wasps, and you'll find at least two extremely similar examples.
Leinster are going to have to be near perfect to beat Toulon in the semi-finals of this competition, so it goes without saying that these rare try-scoring chances simply have to be taken.
Good things
It shouldn't all be doom and gloom in relation to Leinster's attack, which offered up some promising signs of increased cohesion.
As assistant coach Murphy indicated, Leinster's attack managed to draw a number of penalties from the Bath defence, as in the instance above.
O'Connor appears to be a fan of 'bouncing back' in phase play, meaning Leinster look to set up a midfield-area target from the initial set-piece and then shift play back in the direction the ball has come from.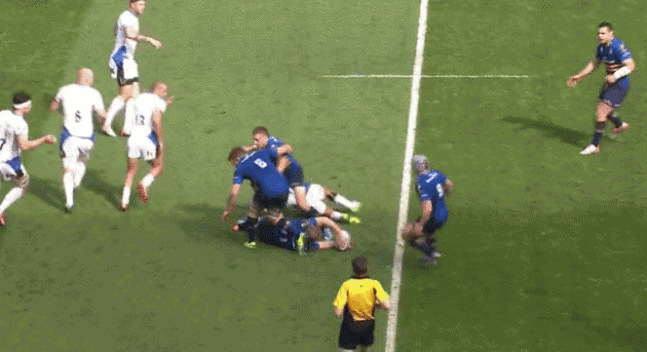 We see here how effective that can be, as Bath's defence works hard to fold around to the left side of their defensive ruck, presuming that Leinster will play around the corner to the right touchline.
Boss instead throws a simple short pass to Cronin back on the left-hand side of the attacking ruck and the hooker has lots of space to run into, getting away a lovely offload to Sean O'Brien.
Webber infringes as Leinster play off ultra-quick ball and it's three points to the home team. Simple, accurate and extremely effective. Opting against taking the three points in this instance would have been knock-out rugby madness.
Leinster actually made good yardage off a very similar pattern in the second half, and it's certainly an interesting part of O'Connor's attacking armoury.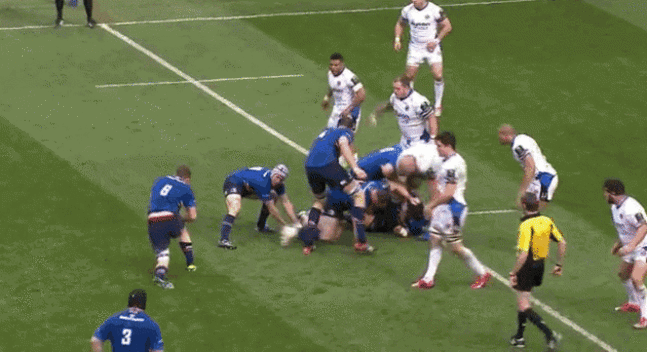 Leinster went close to scoring a try through Zane Kirchner early in the second half [above], only to be denied by a sublime piece of cover defence from Bath scrum-half Young, who worked hard to be in position to knock the South African into touch.
The set-up play from Leinster was excellent, with Gopperth running a loop play off Cronin, before identifying the Bath shooter and passing out the back to Madigan, who then freed Kearney to draw and pass.
We could be critical of the failure to finish here, suggesting that Kearney should have carried the ball himself perhaps, but the reality is that Bath did superbly to recover and make their tackle.
There was similarly encouraging link-up play between backs and forwards in the example above, and this is when Leinster are at their very best. They have a numbers of forwards who are adept in the ball-handling stakes and asking them to blend in with the backline in phase play is smart coaching from O'Connor.
In the above instance, O'Brien and Heaslip act as the linking players in the middle of the pitch, the former taking pace off his run to allow himself time to catch and pass. The more of this type of linking Leinster can employ against Toulon the better.
Among the disappointments of Leinster's attacking performance against Bath were a number of errors such as the one below, where Te'o is stripped of the ball by George Ford.
There were a number of other handling, set-piece and in-contact errors through the course of the 80 minutes that restricted Leinster's progress. Again, it's something that has been evident at various times of the season, but O'Connor will back his players to eradicate them against Toulon.
The closing 20 minutes of the game saw Leinster attempt to play for territory rather than keeping the ball in hand and looking for further scores.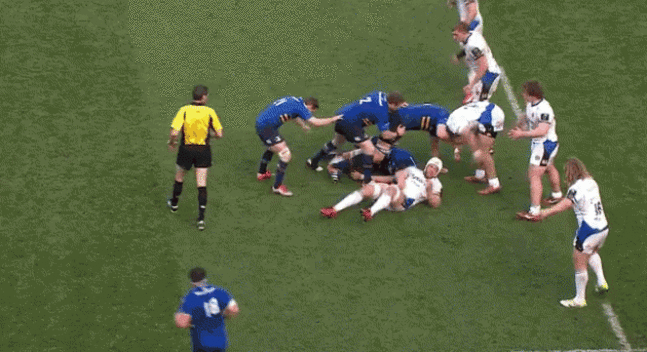 It's easy to criticise such tactics in hindsight, but it's the execution that was perhaps more concerning. A handful of overly-long kicks were chased poorly, as in the situation above, from where Anthony Watson countered to great effect.
Blueprint
A 'total rugby'-esque approach would appear to provide Leinster with their greatest chance of victory against Toulon in the semi-finals. That's not to suggest for a second that O'Connor's side should run everything from their own line.
Getting their exits as accurate as they were against Bath, building on that hugely impressive scrum foundation and beating the French giants at the lineout and maul will all be crucial, but Leinster must encourage their forwards to do more than just one-out carrying.
Yes, the ability of Cian Healy and others to continue to make gainline progress close in to the rucks is vital to allowing others to flourish elsewhere, but it can't be the only attacking tactic.
Last year, Leinster went to Toulon with a game plan that included too much of that type of attacking play, as well as an initial flurry of poorly-executed and well-defended contestable kicking.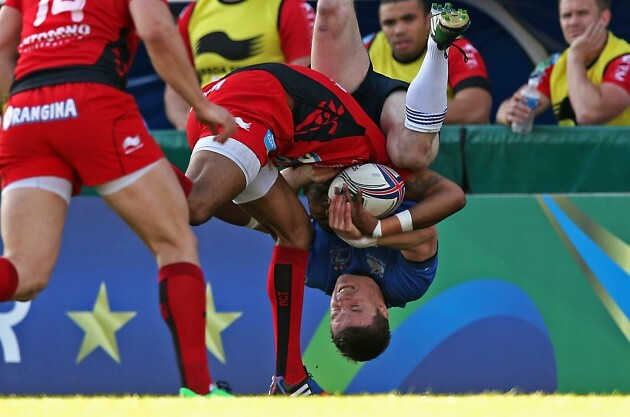 INPHO / Billy Stickland Leinster were well beaten in Toulon last year. INPHO / Billy Stickland / Billy Stickland
Many teams have attempted to beat Bernard Laporte's side with low-risk, kick-focused game plans and have failed. That was the most disappointing element of the defeat away to Toulon last season; the nagging impression that there was more in this Leinster team.
As we've indicated above, Leinster still have the players to ask more questions of the defence in phase play. Having had their international players backs for two full weeks before meeting Toulon will make a difference and should also help them strike more effectively from set-piece.
It's quite apparent that Leinster in their current guise are not the same force as the side that won three Heineken Cups between 2009 and 2012, but such comparisons are largely redundant right now.
The focus is on delivering to the absolute peak of their current potential when they face Toulon in Marseille. It's encouraging for the coaching team that try-scoring opportunities are there, but Leinster must be far more clinical in taking them.
A changed midfield?
As well as getting better at what they've been trying to do all along, Leinster might be tempted by a handful of personnel alterations ahead of facing Toulon.
Gopperth has started all seven of the province's Champions Cup games this season, so it would be a surprise for him not to be at 10 again for the trip to Marseille. That said, would Madigan's playmaking be more suited to a ball-handling approach from the out-half position against Toulon?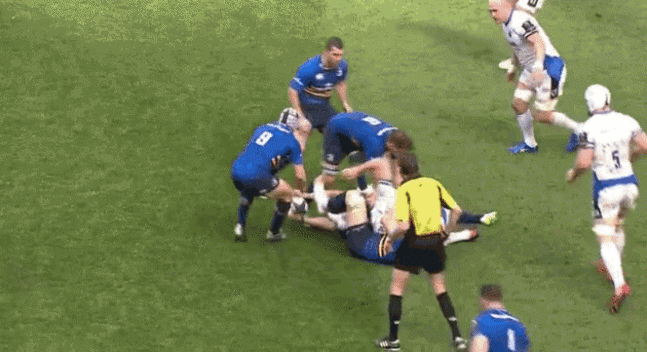 The impression is that O'Connor might value Te'o's physicality against the French side, given that they lost so many collisions in last season's quarter-final defeat.
The Leinster head coach may be tempted to deliver a similar game plan again, hoping that the likes of O'Brien, Healy and Te'o can win more gainline this time around.
As demonstrated in the clip above, Luke Fitzgerald was once again the most dangerous Leinster back last weekend, as he has been throughout O'Connor's time in charge of the province.
Moving the Ireland international into the 13 shirt is something O'Connor will consider, potentially creating the 10-12-13 axis of Gopperth-Madigan-Fitzgerald that we see above.
The make-up of the team is naturally important, but the real key for Leinster is delivering a performance that comes as close to perfection as possible.