THE PERFORMANCE OF Johnny Sexton last weekend bodes well ahead of Leinster's Champions Cup opener against Castres on Saturday.
The 31-year-old was a class above everyone else on the Aviva Stadium pitch in Leinster's Guinness Pro12 victory, continuing to look like a man who benefited from not spending June taking part in a Test series.
Billy Stickland / INPHO Sexton was in impressive form at the Aviva. Billy Stickland / INPHO / INPHO
Sexton's decision-making was crystal clear and he was centrally involved in the most impressive plays from Leinster.
With Sexton leading the way, Leinster's ability to exploit space on the pitch stood out as one of the major differences against Munster, who delivered a sloppy attacking display.
While there were several positives for Rassie Erasmus and Jacques Nienaber to highlight – as they have been keen to do with a squad whose confidence was low when they arrived – their sheer profligacy in possession was a concern.
Even when Munster were not turning possession over through sloppy ball security in contact, they missed opportunities to stress the Leinster defence. Against Top 14 champions Racing 92 on Sunday, genuine improvement is required.
Draw and pass
Leinster should have had the opening try as early as the seventh minute last Saturday, only for Simon Zebo's pace to deny Isa Nacewa.
After Leinster claim a Rory Scannell kick inside their own half, Sexton feeds Rob Kearney with an inside pass to carry, then Leo Cullen's men strike.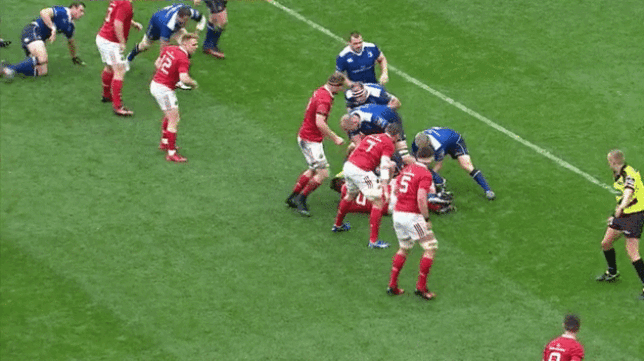 Along with several other passages from last weekend, Munster will be disappointed with how they defended here, but Leinster's attacking basics are excellent.
Below, we can see the scenario from an overhead view.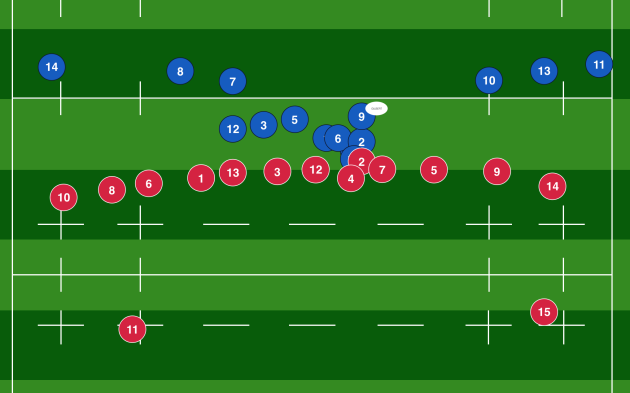 Given a cursory glance, this looks like a three-on-three for Munster to defend, with Billy Holland [5], Conor Murray [9] and Darren Sweetnam [14] marking up on Sexton [10], Garry Ringrose [13] and Nacewa [11].
However, Holland is the second defender to the right of the ruck from Munster's point of view, and he is initially concerned about the threat posed by scrum-half Luke McGrath.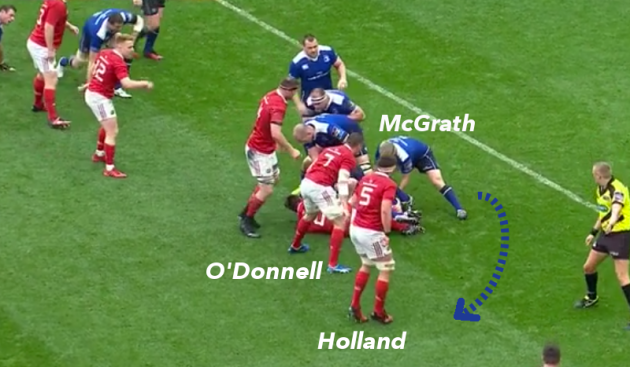 We can see above that Holland is looking in at McGrath, worried about an arcing snipe from the base.
Tommy O'Donnell is present as the pillar defender, but most defences ask this pillar player to hold their position close to the ruck and deal with any late inside passes from the sniping scrum-half.
Donnacha Ryan is also on his feet, just in behind the ruck, and Munster are likely to have asked whether he could have folded onto the right-hand side a fraction earlier to allow everyone in the line to shift out a few steps.
These thoughts all occur within a few split seconds and it means that when McGrath flashes an accurate pass – one of many in this game – to Sexton, the Leinster out-half is viewing a three-on-two situation for the attack.
Herein lies some of the real beauty of this attack, as Sexton recognises that he's nice and wide of Holland. The Ireland out-half accentuates that advantage, and attracts Murray to him with the most subtle of running lines.
Sexton arcs out towards the left touchline, but then straightens as he carries the ball. This removes Holland entirely from the situation and also checks Murray after initially allowing the Munster scrum-half to drift.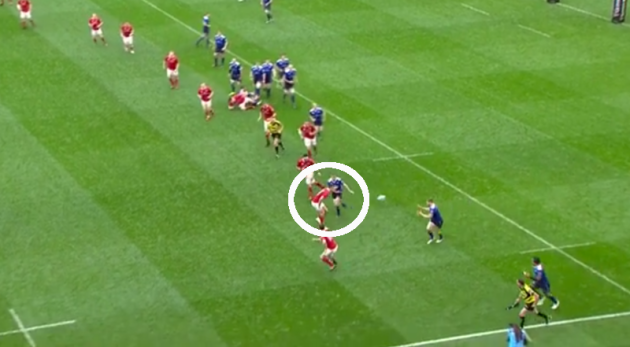 Murray is keen to drift out onto Ringrose as soon as possible, but we can see above that Sexton's clever running line has lured Murray onto him and checked the Ireland halfback.
Suddenly, Munster are at panic stations.
Right wing Sweetnam, who had a learning experience of a game defensively, is in no man's land.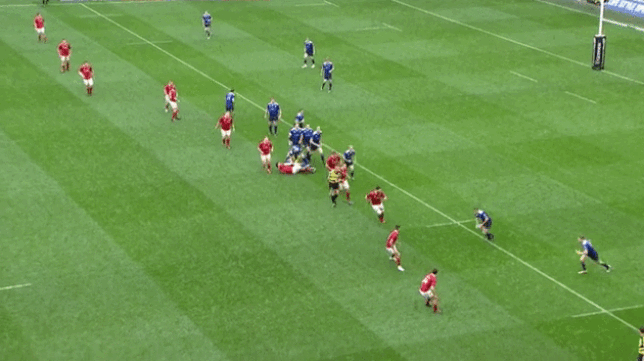 Sweetnam and Murray have initially brought no linespeed, keen as they are to drift, but with Murray attracted onto Sexton, the Munster wing actually begins to back-pedal rapidly.
There is an initial decision for Sweetnam to make in this situation that he will reflect on.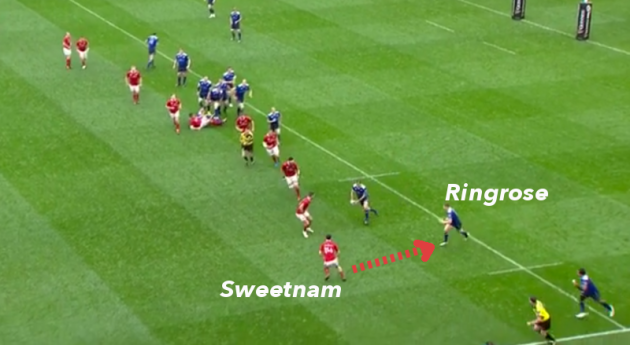 When Sexton gets to the position above, and targets Murray's inside shoulder to check him, Sweetnam has the possibility of shooting up hard and looking to close the passing option off.
That would, of course, open the door for Sexton to fire a flat, hard skip pass to Nacewa on the wing, or float a long pass over Sweetnam's head to his captain. Shooting up at this point would involve some risk for the Munster wing, but it's an option he may take in the future.
As it unfolds here, Sweetnam backs away and does his best to allow Murray to recover and drift hard out onto Ringrose, who has accepted Sexton's pass.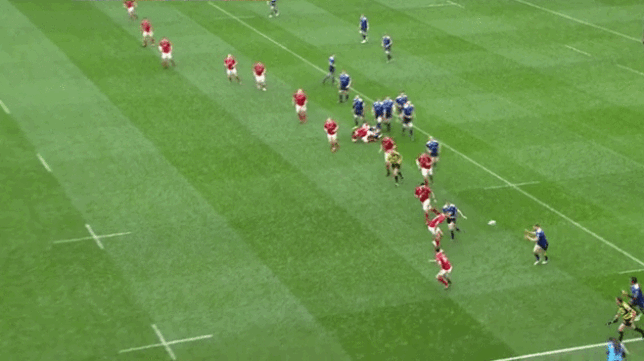 Ringrose's pace is too much for Murray, however, and he takes advantage of Sexton's excellent work to break past the Munster scrum-half, selling the dummy to Sweetnam as he bursts forward.
It's worth noting Sexton's hunger for a second touch as Ringrose is making the break.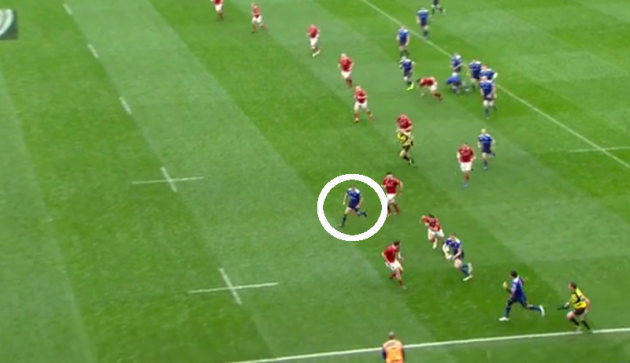 As is so often the case, Sexton is alive ahead of the ball, anticipating the linebreak and putting himself into a good position to provide support for the ball carrier.
Sexton's awareness and understanding of the space in front of him prove important as Sweetnam manages to scrag Ringrose from behind, the Leinster centre reacting by offloading to his out-half.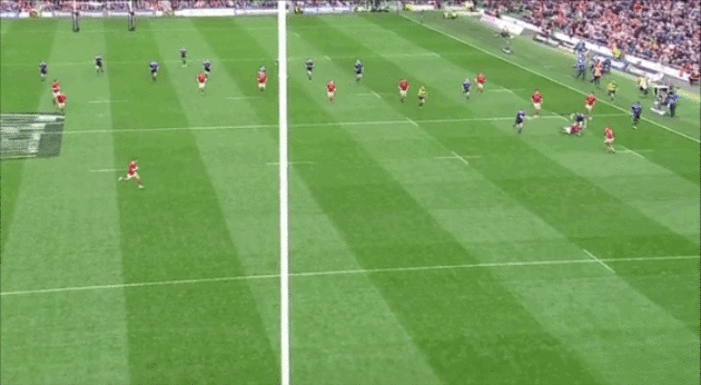 Being the perfectionist he is, Sexton will wonder whether he could have done more here to sit Zebo down even further, but it's the Munster fullback's pace that redeems the situation and means Leinster don't score when they clearly should. 34-year-old Nacewa might not enjoy the replay of the incident.
While this attack didn't result in a try for Leinster, it does highlight their ability to exploit space on the pitch – something Munster struggled to do consistently.
Eyes up
We only have to skip back around 30 seconds in the game to get a pair of examples of Munster missing opportunities to stress the Leinster defence.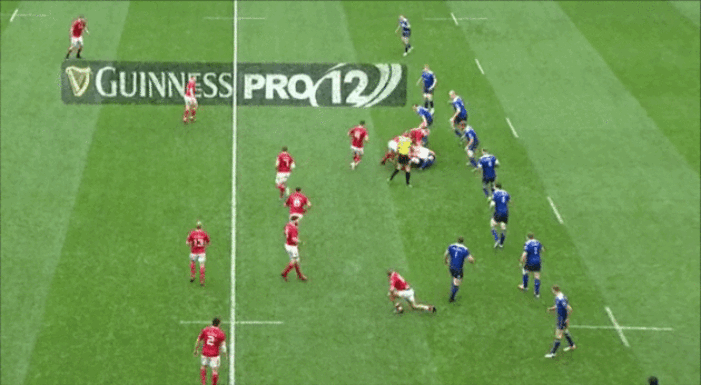 It's not exactly a glaring try-scoring opportunity for Munster but there is always, always space on the pitch. The key is identifying it and then attacking it.
When we get an overhead view, and with the useful benefit of multiple replays, we can see that the space for Munster to attack is wide on their left.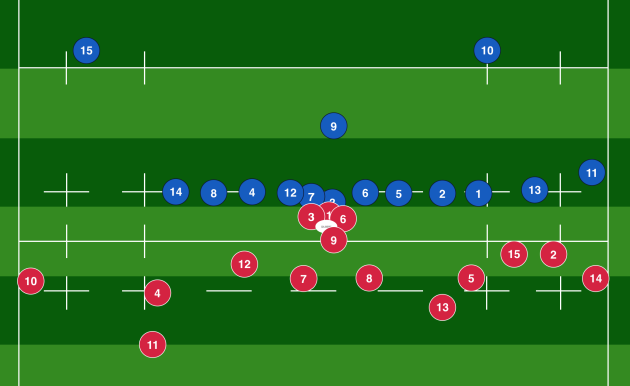 Leinster's defence is tight to the ruck and Tyler Bleyendaal [10] has held nice width for Munster.
Rory Scannell [12] is first receiver and although Munster don't have a notable numbers-up situation, there are certainly enough attacking players on their feet to target the space.
With Ronan O'Mahony [11] tucked in behind Donnacha Ryan [4], Munster could use a simple screen play to allow the left wing to threaten the outside edge of Leinster's defence and free Bleyendaal to make good yardage. Simple hands, with O'Mahony joining the line outside Ryan, might also work here.
On the very next phase, Munster again ignore the space out on the left.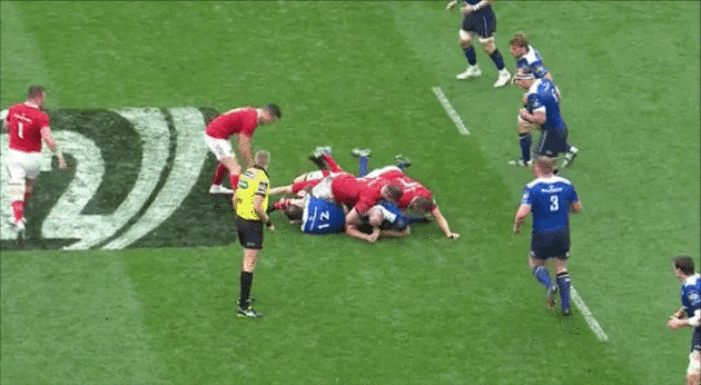 It's early in the game and CJ Stander is understandably intent on making a physical statement against Jamie Heaslip in the defensive line, but even here there is opportunity to stress the Leinster defence beyond having to stop the steamrolling Ireland back row.
As we can see below, Leinster do have McGrath sweeping in behind the defensive frontline. Fullback Rob Kearney is also in the backfield, ready to advance and halt any passing attack.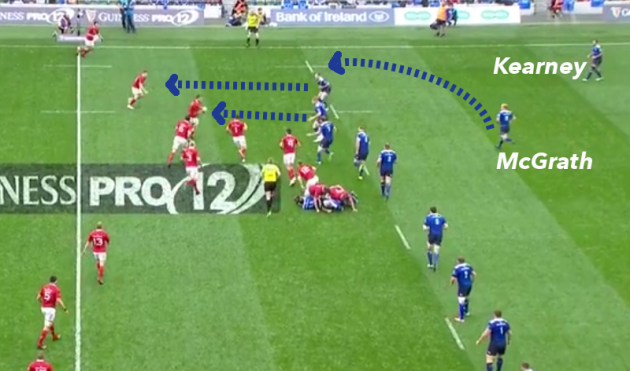 Even still, simple draw and pass from Stander and O'Mahony could put Bleyendaal running into space against these back-up defenders, suddenly forcing Leinster into the kind of uncomfortable situation where errors are common.
These are not clear try-scoring chances and it is easy to point them out after the fact, but Munster will need to take more of these opportunities to stress the defence as their development continues under Erasmus.
Perhaps the most glaring example of Munster's inability to exploit space consistently comes below.
Sweetnam has brilliantly regained a Conor Murray box kick over Nacewa to provide the platform. The aerial win gives Munster with an unstructured situation in which they can attack a disorganised Leinster defence.
The sheer space and opportunity for Munster is clear. With almost the entire Leinster pack still in retreat after the maul Murray kicked from, only Heaslip [8] can even think about folding around the corner.
Munster are numbers-up against Leinster, with space in between the midfield defenders, space wide to the left, and acres of space in behind the Leinster defence – Rob Kearney has been drawn up by the Murray box kick and McGrath has had to tackle Sweetnam.
Basic catch and pass will work for Munster here, even after Keith Earls accepts a skip pass from Stander. It's a glaring three-on-two chance.
Instead, Earls tucks the ball into his left arm and carries, making life for the defence so much easier than it should be.
On the very next phase, Munster are hammered backwards as Jordi Murphy slams into Stander, bringing about a penalty for the defence.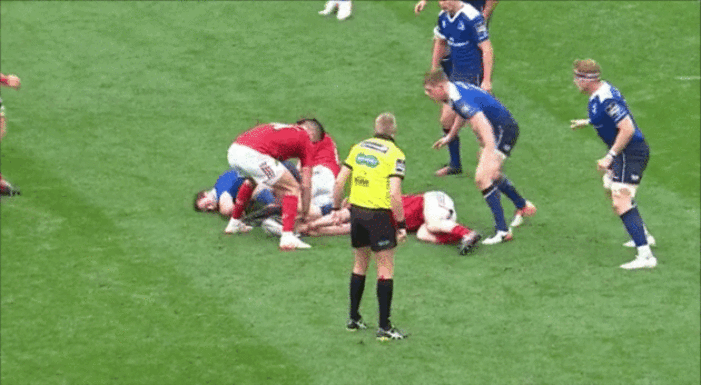 These kinds of opportunity are likely to be few and far between for Munster on Sunday in Paris, meaning they will require a far greater degree of awareness and accuracy in exploiting them.
 Clinical edge
Despite demonstrating their greater ability to target space on Saturday, Leinster also showed that they are still dealing with one of the negative aspects of last season – the lack of an ultra-clinical edge.
The Nacewa chance should have resulted in a try, while Leinster also missed another gilt-edged opportunity in the same half. It is positive to create the clear scoring chance, but against Castres this weekend, they simply must convert.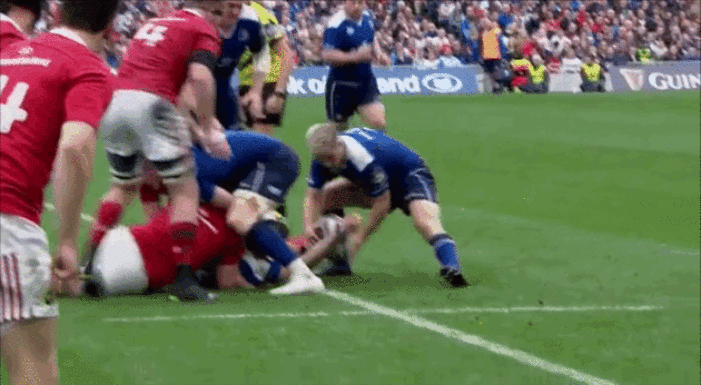 Again, Sexton's intelligence and ability to read play provides the opening for Leinster.
The Ireland out-half is constantly scanning the backfield for opportunities – one of his strengths.
Initially, as Robbie Henshaw carries on the preceding phase, Munster fullback Zebo is covering the kicking space in behind.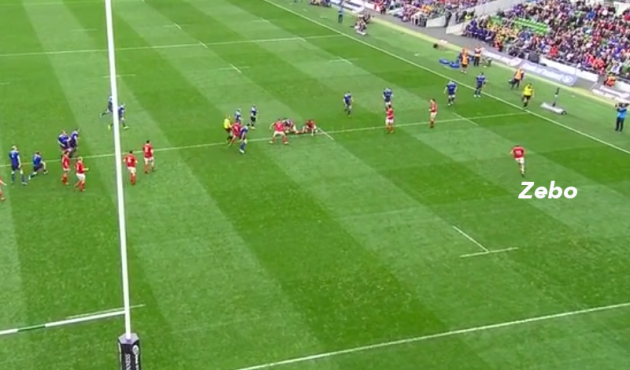 But as Sexton scans for a second time, having assessed the situation directly around him, he can see that Zebo has pushed up into Munster's defensive frontline.
That early movement from Zebo, who is keen to close off any Leinster intention to pass to the touchline, is an invitation to a player of Sexton's class, particularly given that there is no other Munster player to pendulum into the space Zebo has vacated.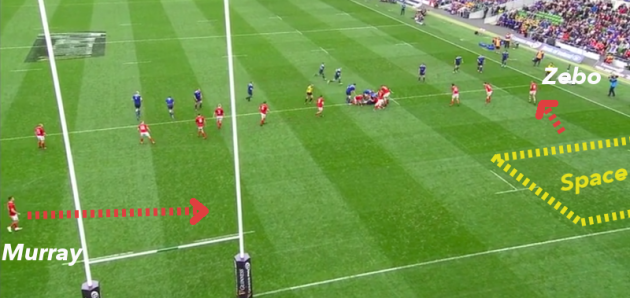 We can see that Murray is in the backfield in the image above, but he has huge ground to make up as Zebo pushes forward into the line. The connection between the pair breaks down and that leaves the kind of space that Sexton thrives on targeting.
His grubber kick, executed so close the gainline, is superb but Ringrose fails to finish.
Leinster's ability to exploit the space is certainly positive, but Leo Cullen and Stuart Lancaster will be keen to see a more clinical edge against Castres.
The42 is on Snapchat! Tap the button below on your phone to add!