Updated 9pm
STUART LANCASTER IS a very modern rugby coach.
There has been a realisation in the Northern Hemisphere in recent years that teams haven't been spending enough time training to attack in unstructured situations, but Lancaster is one of a crop of coaches who are looking to turn that around.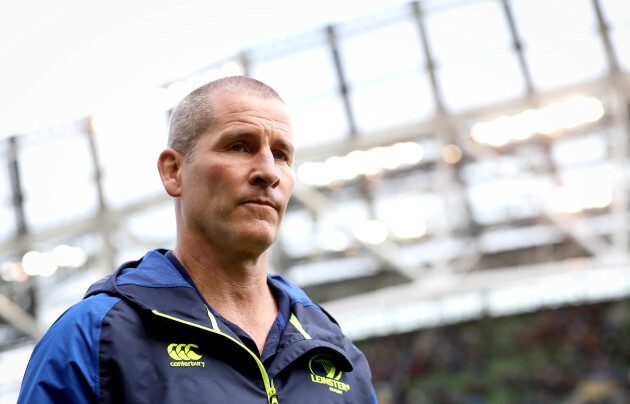 Ryan Byrne / INPHO Stuart Lancaster has had a major impact on Leinster's mindset in attack. Ryan Byrne / INPHO / INPHO
Set-pieces still provide great platforms for try-scoring and should never be neglected, but this season has seen Leinster put far more time and energy into working on their unstructured attack.
"He has an awful amount of experience and he's brought a new dimension to our attack, definitely in terms of just playing the unstructured stuff as well, the stuff that you face in games," said back row Sean O'Brien of Lancaster's impact this season.
That's the way we're training. He's added an awful lot to the set-up."
Leinster's performances on the pitch have reflected the fact that they have changed their training-ground focus, with the players' mindset showing their comfort and enjoyment at opportunities to attack in unstructured situations.
We have already examined Leinster's ever-improving ability on kick return, where Joey Carbery will look to spark them again on Sunday in the Champions Cup semi-final against Clermont, but turnover possession is another clear indicator that Leinster's mindset has shifted.
Similarly, their level of execution so far this season underlines that spending time working on this area of the game is worthwhile.
Strike with intent
Leinster's try through Robbie Henshaw just before half time in the quarter-final against Wasps provides a fine example of Leinster's ability on turnover attack.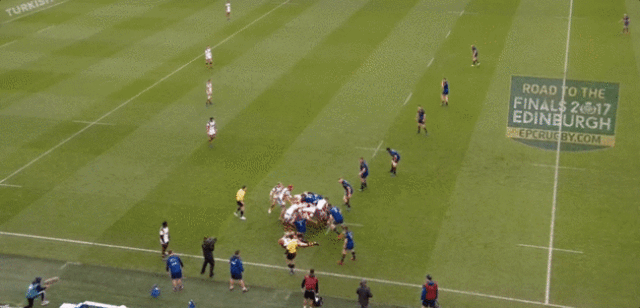 It's a stunning attack from Leinster over the course of nine seconds, with three sharp passes from forwards and an offload to a hard-working support player, with no rucks required between gaining possession and scoring.
It's the kind of try that we're more used to New Zealand teams scoring, but Leinster have been increasingly effective in this manner as the season has progressed.
As with so many things in rugby, this score starts with the unglamorous but vitally effective work of the forward pack as Leinster engage against the Wasps' maul. Devin Toner does really well to force himself through the middle and use those long levers of his to nudge the ball loose.
Dan Leavy is ultra-alert and his first instinct after claiming the ball ahead of Dan Robson underlines Leinster's mindset.
He is not happy to settle for gathering in possession – Leinster want to play directly off turnover ball.
Leavy's one-handed flick off the ground is a sumptuous and highlights another aspect of this Leinster team's skillset, namely their forwards' comfort in handling the ball.
There has been a perception in the past that Irish players are not strong at handling and making decisions, but this score disproves the idea and anyone who watched the helter skelter Connacht v Leinster clash last weekend would have noted this element of the game.
Leavy's skill level in this instance sends Leinster hurtling at Wasps' unstructured and unprepared defence, as Tadhg Furlong gathers in the ball.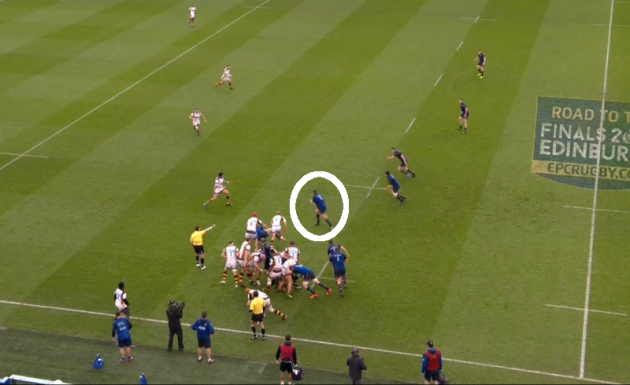 Generally speaking, the tighthead prop is the last person an attacking team would want to see on the ball in this situation – when striking rapidly and accurately is of the essence.
But Furlong isn't like other tighthead props. He is about as comfortable on the ball as any front row player in the world and has consistently demonstrated an ability to make decisions and pass well.
He's getting chat from Sean O'Brien and Johnny Sexton outside him here, but where other tightheads might pass immediately – or at worst see Danny Cipriani and back themselves to carry powerfully – Furlong draws and passes like a back.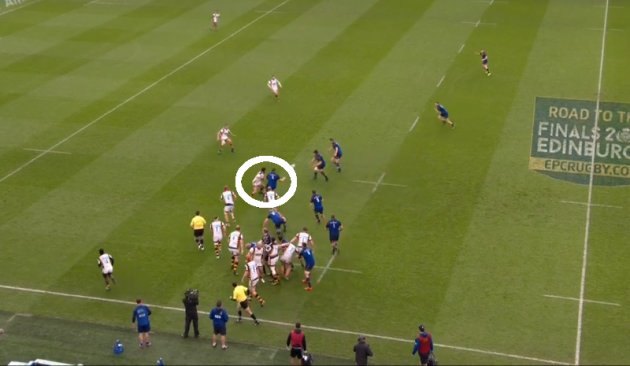 With the ball in two hands, Furlong runs at Cipriani, delaying his pass to O'Brien until he is certain that he has sat the Wasps out-half down and taken him out of the game.
That sends O'Brien thundering forward as Wasps move into emergency mode and again we see a Leinster forward making a fine decision and executing on basic skills of the game.
The clip of the try above shows us that O'Brien thinks about immediately shifting the ball into Sexton's hands, but again there is awareness and evidence of practice.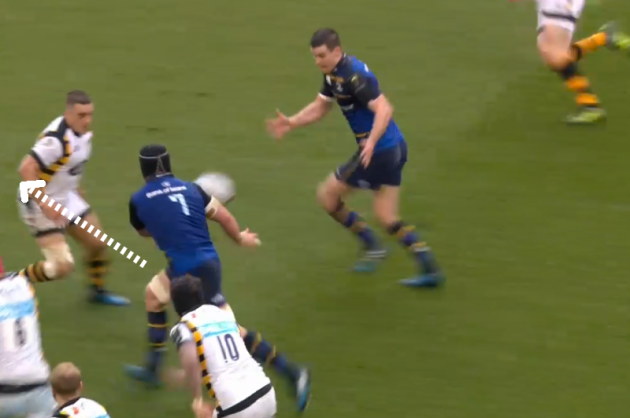 O'Brien holds the ball – again, in two hands – and accelerates at Jimmy Gopperth, running hard at the Wasps centre's inside shoulder to sit him down and ensure he can't drift onto Sexton.
This is simple stuff, of course, but it doesn't necessarily mean it's easy. Furlong and O'Brien have been working hard on this kind of situation in training under Lancaster and they are entirely comfortable.
This scoring passage is actually very reminiscent of various training-ground drills where the attack is overloaded and defenders are sent at them from differing angles and depths in a narrow channel, demanding that the ball carrier reads body shape, draws the defender and decides whether to carry or pass.
O'Brien does this very well and his pass sends Sexton sprinting into space, only for Wasps outside centre Elliot Daly to stretch out and tackle the Leinster 10.
It's a relatively favourable position for Sexton to offload from, in behind the defence and moving forward at pace, but the support on his shoulder is also vital.
We have seen Leinster offload intelligently all season – there were 16 of them against Wasps – and that mindset is important. But having players on the shoulder to accept the ball makes the offload possible in the first place.
Here, we see Henshaw gathering Sexton's offload having worked hard to get to his outside shoulder, though we should also note that scrum-half Luke McGrath could also have accepted the ball.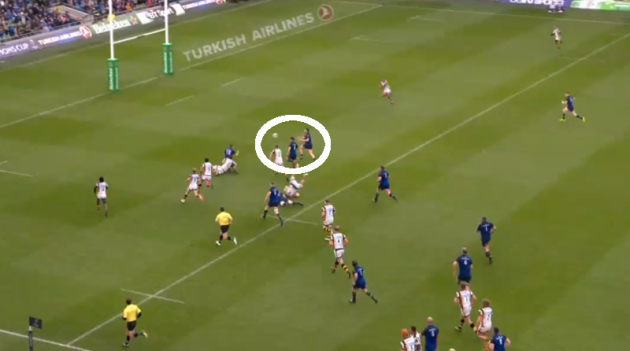 Clearly Henshaw is the better placed of the two support players in this instance, further away from the scrambling defence, but McGrath's hard work off the ball is indicative of the way Leinster are approaching these turnover situations.
As we see below, McGrath starts this passage over on the blindside in defence.
As soon as there is a sniff of a turnover opportunity – a try-scoring opportunity – McGrath takes off, looping around to the openside and providing an additional offloading option for Sexton.
He's not required in the end, with Henshaw diving over for a delightful score, but McGrath's work rate underpins the fact that Leinster are eager and excited about attacking on turnover ball, when the unstructured nature of play favours the brave.
Against Clermont in Lyon on Sunday, it would be a shock if Leinster don't continue in the vein that has brought them back to the semi-finals this season.
The42 is on Instagram! Tap the button below on your phone to follow us!