ANTHONY FOLEY'S FINGERPRINTS were all over Munster's sensational performance against Glasgow on Saturday at Thomond Park.
The most heartwarming aspect of, and perhaps one of the sad things about, their display was that it was exactly how Foley wanted them to play during his time as head coach. It was his ideal game plan carried out to a tee.
Tommy Dickson / INPHO Munster were exceptional at Thomond Park on Saturday. Tommy Dickson / INPHO / INPHO
Direct, set-piece powered, confrontational, physically ferocious, but subtle and intelligent too, drawing on the Munster players' skill sets. All of it built on a foundation of gritty work rate.
Munster's effort at the ruck was simply superb, a clear sign that Foley's return to focusing on that area in recent months was paying off. While the lineout struggled at times, Munster's maul work was largely excellent, both in defence and attack.
Good carries, effective rucking, simple attacking plays, solid decision-making, physical aggression, as well as concentration and work rate in defence. Rugby is a simple game in truth, and Foley preached that more than anyone.
Maul platform
'Axel' would have enjoyed the fact that Munster's opening try was built on the platform of a dominant maul. He, along with many others in Munster, always believed that physically confronting the opposition team in this manner was important.
Munster's powerful maul sends out a clear message to Glasgow - we're here to dominate you - and it's an early psychological blow.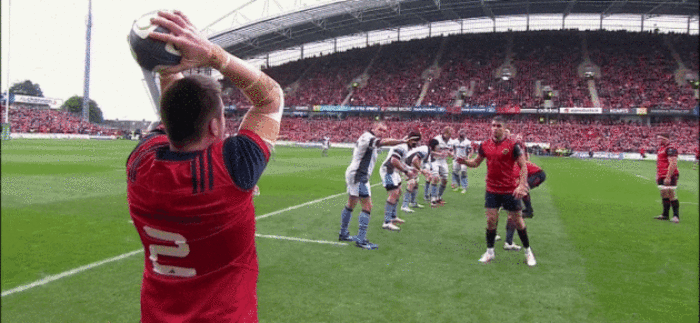 There's clearly a lot of emotion in Munster's drive at this maul, but the technical detail is absolutely accurate to allow that power to come through.
Billy Holland triggers the lineout play with his dummy movement to the front, before Peter O'Mahony is lifted by Donnacha Ryan and Tommy O'Donnell.
Those lifting players are absolutely essential in the success of any maul, as we see in this instance.
Very often, the lifters' jobs at the front of the forming maul are to 'brace,' absorbing the force of any counter-drive from the opposition and allowing their team-mates to organise in behind them.
We can see in this instance above that Ryan [4] and O'Donnell [in behind O'Mahony] actually exceed that duty and manage to drive into cracks in the Glasgow maul defence even before O'Mahony has landed back to deck.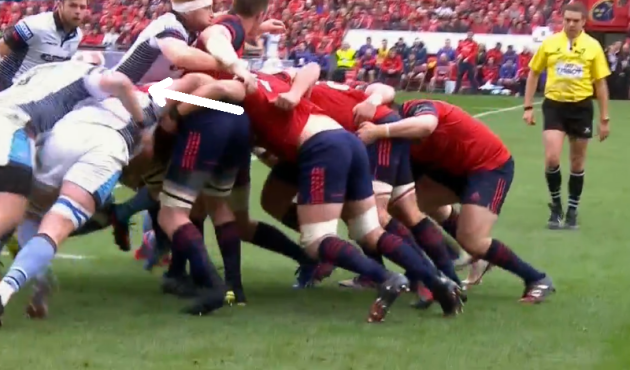 That means that as Munster form a rock-solid, tight unit in behind O'Mahony, Ryan and O'Donnell are already helping them to generate forward momentum, rather than simply being a buffer between Munster and the Glasgow defence.
Dan McFarland's Warriors pack drive Munster infield with their initial effort to halt that momentum, but Munster determinedly shear off and continue upfield.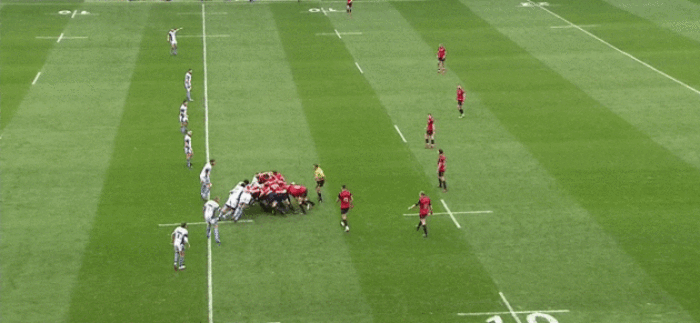 Holland and John Ryan now become the arrowhead, swiping away the Glasgow counter-drive as they intelligently keep Munster pointing towards the tryline. The splinter gives Munster new momentum and suddenly sends Glasgow into survival mode.
There's patience in Munster's approach too, as we note in-form tighthead prop Ryan actually looking back to assess his pack's shape, rather than simply charging forward without thought.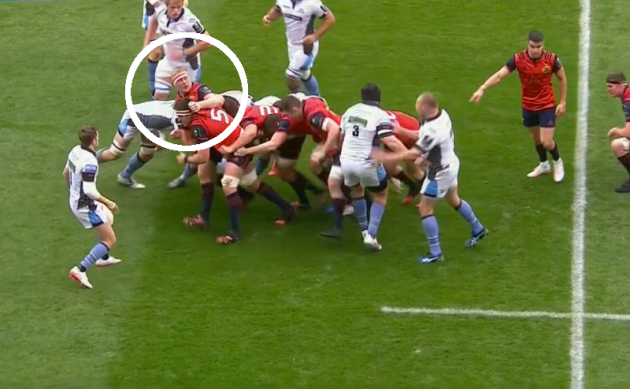 It's a thing of real beauty from Munster's forwards and the maul ends as hooker Niall Scannell breaks off to the left, ensuring that the southern province have gained at least 20 metres from a single maul.
From here, we see some of the rucking work that was such a highlight of Munster's performance on Saturday.
First, Conor Murray clears away a defender after Scannell's surge, allowing Donnacha Ryan to pick and carry rapidly. Captain O'Mahony is the next rucking player and makes a real impact.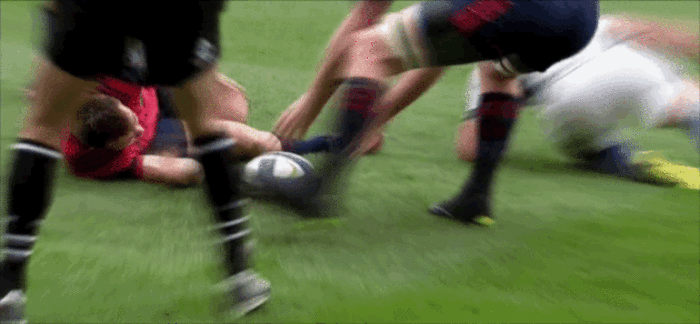 It's an aggressive, dynamic piece of ruck work from O'Mahony to clear the threatening jackal presence of Sean Lamont and the hovering Rob Harley. O'Mahony was brilliant in these facets of the game on Saturday.
O'Mahony is perhaps fortunate not to be penalised for coming in from the side, particularly given that he drives Lamont off to the right.
However, referee Jérôme Garcès, staring directly at the ruck, appears to be content that O'Mahony's actual approach is just about through the gate.
O'Mahony's hunger to clear bodies is rewarded and Munster play through two slower phases to the right as Glasgow recover some of their defensive shape.
There's a second questionable ruck entry from Munster, just before they strike for the try, but again they get the benefit of the doubt as Donnacha Ryan croc rolls Josh Strauss off the ball.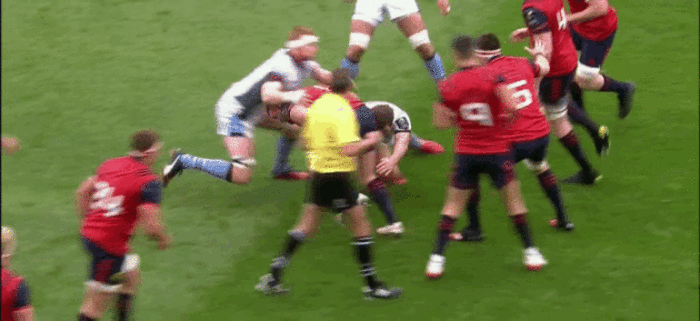 Again, Ryan is coming from the side of the tackle zone but with two Glasgow bodies clearly in the way to block any approach through the gate, Garcès is happy.
With Strauss removed, Munster are ready to strike.
It's a beautiful bit of attacking play from Munster, with an exceptional offload by Keith Earls, but we're more interested in the construction of the opportunity.
Even before Dave Kilcoyne has made his impactful carry on the preceding phase, out-half Tyler Bleyendaal is orchestrating proceedings.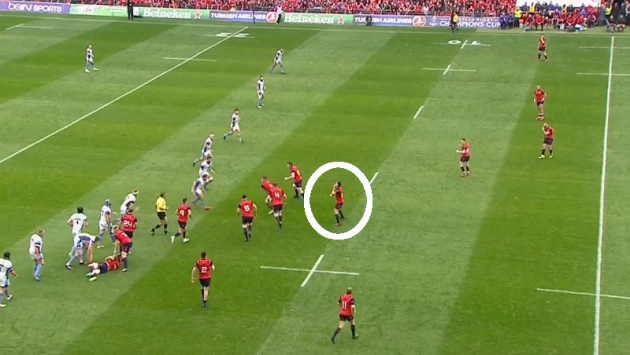 The Kiwi's chat throughout this game was very strong, as he marshalled and directed his team around the pitch with authority.
If we go back another phase, to where O'Donnell is about to carry at Glasgow, already we can see Bleyendaal's influence as he asks Earls to start working infield.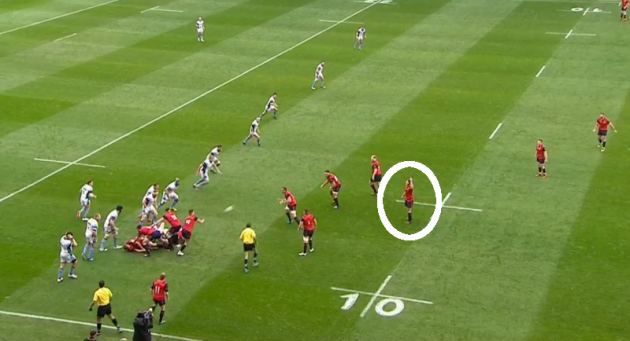 By the time we get to the phase where Munster's backs actually accept the ball from Murray, we can see that Bleyendaal is still calling the shots with the kind of authority that team-mates adore.
He directs Earls up ahead of him to accept the pass from Murray, fading backwards himself at the same time.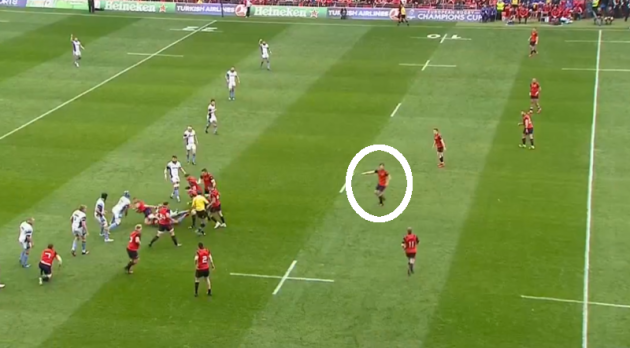 Earls is communicative too, assuring Bleyendaal that he's going to be in position to accept Murray's pass in behind the decoy-running Rory Scannell.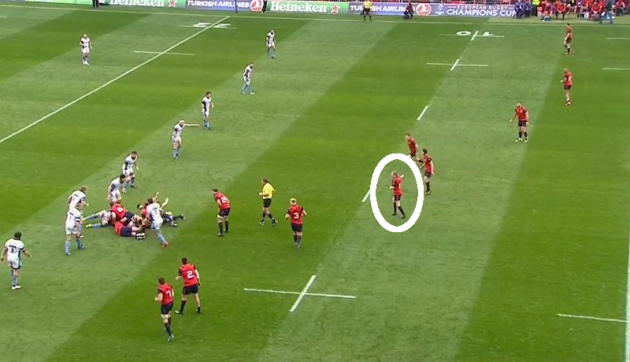 Scannell runs an unders line from a starting position outside Bleyendaal, feeding into Glasgow's probable perception that Munster will want to carry hard at them, over and over again.
Munster certainly did bring that directness, but they were intelligent and subtle in their option-taking too. Murray can, of course, hit Scannell coming on that unders line in this instance, but the Ireland scrum-half identifies the defensive chink and goes out the back.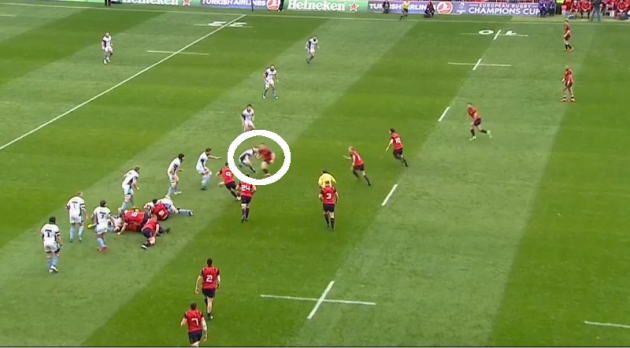 Finn Russell is the man to just shoot up ahead of the rest of the Glasgow defensive line, as he bites down on Scannell and looks to make an impact tackle to eat back some yards for his side.
Murray, arcing away from the ruck, cleverly delays his pass just enough to spot Russell closing inwards on Scannell and he finds Earls out the back.
The gap opened, Earls puts the accelerator down and Bleyendaal reads the situation superbly, intuitively understanding that Earls is likely to be tackled by Sam Johnson but that he will be able to get his hands through and offload.
It was interesting that during a recent visit to New Zealand, three different people who have worked with Bleyendaal in his homeland stressed how brilliant a player he can be, underlining that he has one of the sharpest rugby minds around. We see as much here.
The pace and swerve are hugely impressive, but Bleyendaal is also intelligent in how he transfers the ball across his body.
Note how he moves it to his left as he first swerves around Henry Pyrgos, therefore freeing his right hand for a fend that he doesn't actually need to deliver in the end.
Immediately, the ball shifts back across to his right, in turn freeing his left hand for a fend on Lamont that proves essential to him being able to continue towards the line and score. Fine details, but typical of how Munster got them right on Saturday.
Breakdown ballast
Munster's second try again began in a fashion that did Foley's legacy proud. CJ Stander is the man to make a clean turnover at the breakdown, just after Munster have overthrown a lineout in a promising position.
Stander's rapid reaction and clinical targeting of the ball under pressure from the soon-to-arrive Glasgow players are impressive, but we must also note the work of Rory Scannell to buy his number 24 an extra split second.
Having helped bring Ryan Wilson to ground in the tackle, Scannell then takes up some of the space on Glasgow's side of the breakdown. That means Fraser Brown – second arrival for the Warriors – has to engage with Scannell, rather than Stander. Turnover complete.
Munster play away to the left, with good carries from Niall Scannell and, particularly, Dave Kilcoyne. Murray brings them away from the touchline, where hooker Scannell puts his hand up for another carry.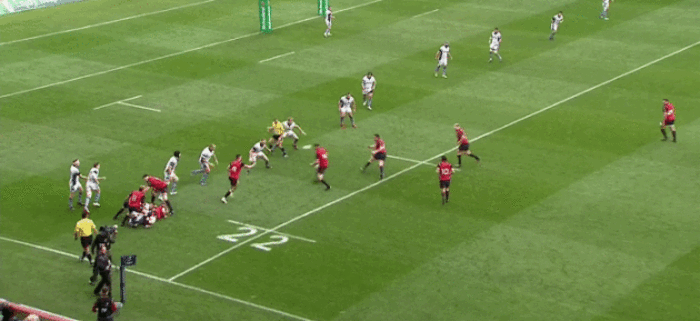 Again, the ruck work stands out from Munster. Tighthead Ryan's access is somewhat blocked by tackler Jonny Gray and he almost trips over the Glasgow lock, recovering just enough to get onto the jackaling Brown for an effective croc roll.
Bleyendaal carries to the right, before we see a surge from openside O'Donnell that typified Munster's ability to get beyond the gainline in this contest.
The footwork, the fend, the leg drive. It's textbook from O'Donnell to bring real momentum into the attack and suddenly put Glasgow under an intense stress as they get breached.
Excellent clearouts from O'Mahony and Holland follow in the next two phases, with Simon Zebo and Stander carrying, then O'Donnell, Zebo and Kilcoyne thrust at Glasgow as the platform from which to strike is laid.
This time, Munster are very fortunate not to concede the rucking penalty just prior to the try, as Holland enters from the side after Kilcoyne's carry.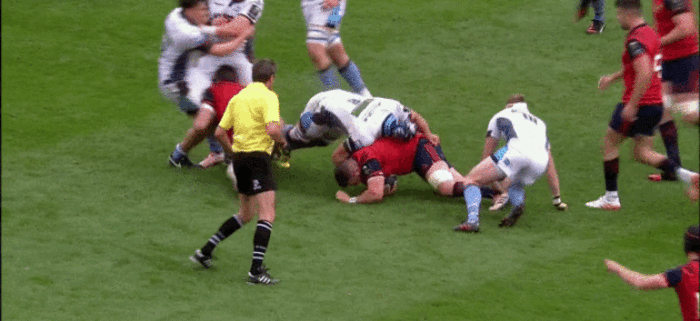 Garcès is on the scene once again and opts not to penalise Holland, meaning Munster can finally go to their backline – ready to pounce.
Again, Bleyendaal has been directing and communication throughout, scanning the defence and providing cues for his team to work around him.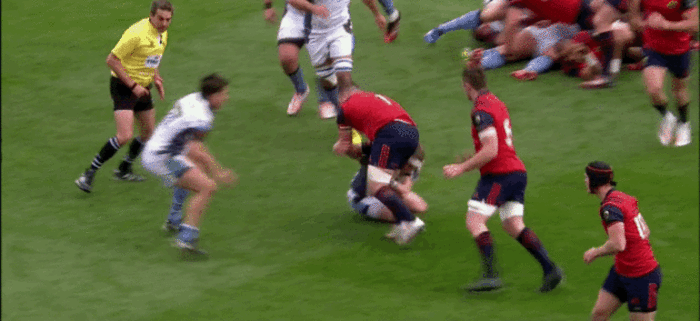 In the bottom right corner of the clip above, we can see Bleyendaal telling Niall Scannell to run the hard, fixing line on his left shoulder on the next phase. Bleyendaal and Rory Scannell, tucked in behind, have already communicated to share their intention.
The delay on Bleyendaal's pass is perfect, as Niall Scannell manages to attract and block Lamont in the Glasgow defence.
Lamont is clearly unhappy about the Munster hooker's actions, but the match officials seem to be content that Lamont had committed himself to tackling Scannell in this instance.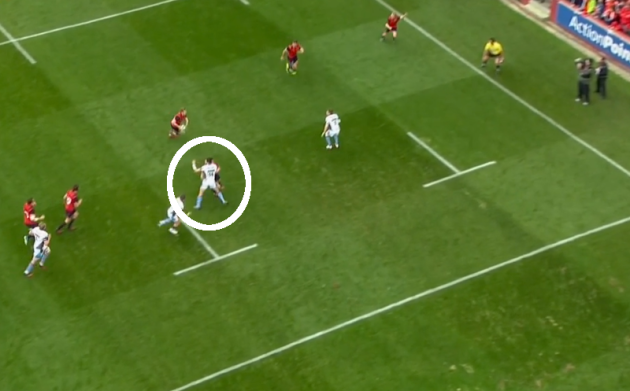 Bleyendaal's calmness on the ball allows him to find Rory Scannell in behind and the outstanding inside centre draws last defender Pyrgos to free Taute for a try he evidently enjoyed.
Set-piece foundation
It was Munster's dominant scrum that provided the possession platform for their third try, coming only minutes after the pack had utterly demolished Glasgow's scrum to allow Bleyendaal to kick the home team 17-3 in front.
While that penalty-winning scrum was destructive, the scrum in this instance is a little more subtle, yet crucial nonetheless.
Ryan pins the tighthead side for Munster as Kilcoyne expends huge energy and power in getting the slightest of nudges up on the loosehead, with Holland and O'Mahony working hard in behind him.
That promotion of the loosehead side by Munster is crucial in allowing Rory Scannell to make the impending linebreak away to the left of the scrum, as the Munster pack's effort means Glasgow back rows Harley and Strauss can only break late and from relatively poor positions.
We can see that Strauss is breaking off at the point above, but Harley is actually still connected to the scrum.
The scrum effort from Munster means that when Scannell steps inside Pyrgos, the Glasgow back row – Strauss and Harley – aren't in position to provide the safety measure.
Scannell seems to be very aware of this as he make his decision to step inside Pyrgos relatively early.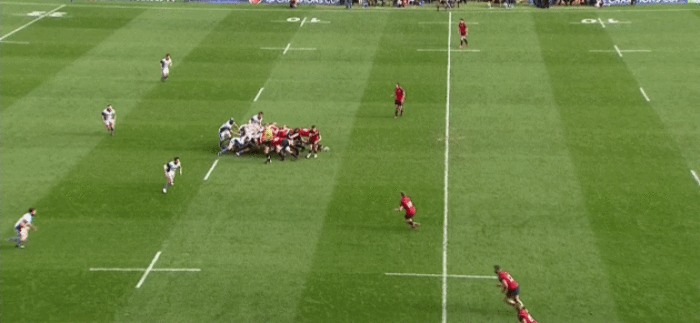 The left-footed step from Scannell is sharp and his drive of acceleration afterwards takes him away from Strauss, before he draws Russell towards the tackle and holds in Stuart Hogg enough to give Zebo an opportunity on the outside.
Zebo's pace is impressive to take take him just beyond Hogg as the Glasgow fullback tackles – the Munster fullback has been clocking new records on the GPS with his speed this season.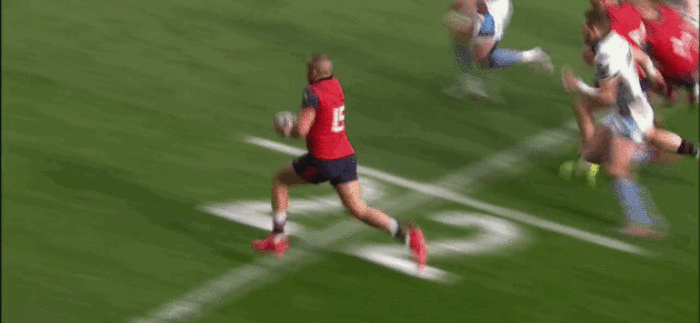 The finish itself is debatable, although Zebo does have momentum on his side and we consistently see referees allowing players to roll forward on the ground in this manner post-tackle, although it is more often a tool to prevent the jackal getting onto the ball.
What is likely to be more frustrating for Glasgow is Hogg's failure to finish the tackle after he has grounded Zebo. Yes, the tackler must release but this is the time where the defender has to make sure the tackle has stuck, or drag the carrier into touch.
That's easy to point out with the benefit of replays, of course, and Zebo deserves credit for his presence of mind in keeping his feet up off the ground and in play.
Demolition job
Munster were relentless in this game, rarely letting the foot off Glasgow's throat and almost constantly pursuing the try when awarded penalties in kickable positions.
Their fourth, which secured the bonus point of course, was a typical example, although such was Munster's scrum dominance that it would have been odd not to go after Glasgow until they and referee Garcès cracked.
After two scrum penalties, that moment arrives on the third Munster drive.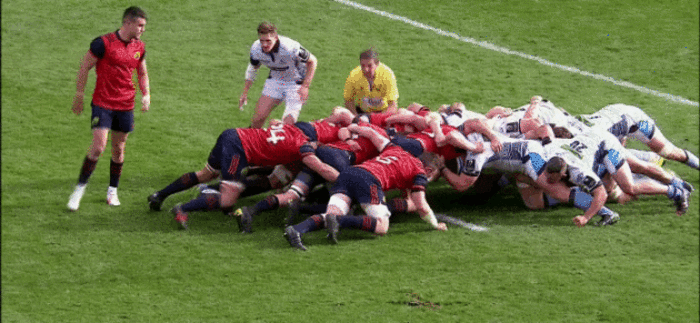 Again, it's the loosehead side of Munster's scrum that leads the way through, but this is an incredibly compact collective effort.
Kilcoyne attacks Glasgow tighthead Sila Puafisi, and although we don't have a good camera view of that side of the scrum, we can see that Munster's loosehead is putting huge pressure on Puafisi with his drive in and underneath his chest.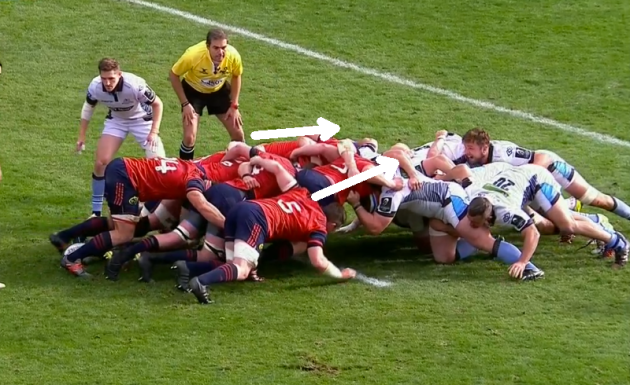 With hooker Scannell also pressuring Puafisi from the right with his drive, Ryan ploughs straight up and through Glasgow loosehead Alex Allen – who had earlier cleverly denied Murray a base-of-post try.
The power comes through locks Holland and Ryan, with Munster's back row also delivering a ferocious, emotional effort that ensures their front row's good technical work is backed up for a precious bonus-point try.
Less glamorous than the previous three tries perhaps, but equally as satisfying.
Closing the gate
Munster's fifth try comes at the end of a 13-phase passage of attack during which their ball-carrying ferocity and rucking effectiveness was again highly apparent.
On 11th phase, we see that even at this late stage of the game, with the bonus point secured, Munster are still fighting for inches.
Stander – who had a team-leading 16 carries – uses his footwork to beat the onrushing Simone Favaro first up, then turns on a powerful leg drive to eat up metres as Donnacha Ryan and Brian Scott latch on in support.
Glasgow do manage to slow the ball, but Stander viciously fights his way out of the choke tackle scenario to get to ground and allow Munster to play to the left.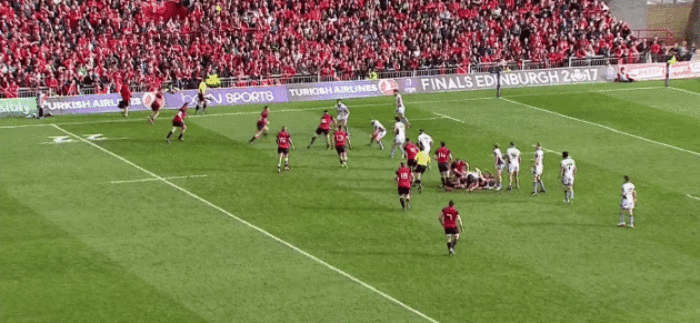 Billy Holland dummies and carries, before we see a crucial breakdown contribution from replacement out-half Ian Keatley.
Initially, we can see above that Keatley is held back off the ball by Lamont, but the Munster man shows determination to drive forward, enveloping Lamont in the process, and shunting him in behind the tackle zone.
Keatley doesn't actually ground Lamont, but he takes him out of the defensive line and closes the corner of the breakdown in the process.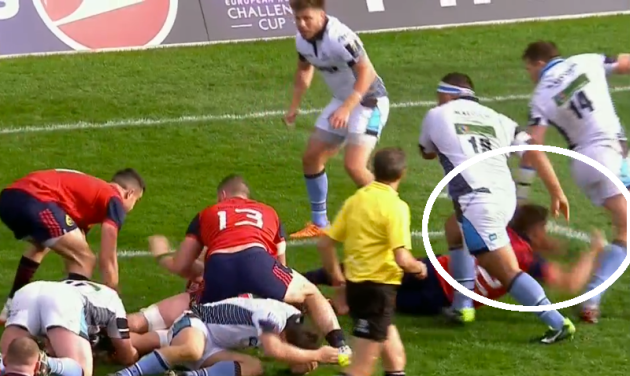 Keatley's actions mean Lamont can't get into the line to offer an important extra body, while the Munster out-half also blocks Puafisi off from getting across to the right side of the defensive breakdown.
Murray doesn't need a second invitation, sniping to the left and drawing in Ali Price for long enough to give Rory Scannell time to finish in the left corner.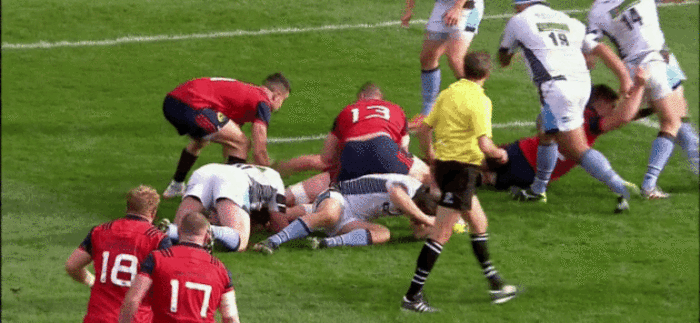 It's clinical from Munster once again, with Scannell using his power well to lean into Price and avoid the danger of the touchline.
Defensive shift
It would be remiss not to mention Munster's superb defensive shift in this game here, given how oppressive a force it proved to be.
The same attributes of ferocity, intelligence, aggression and technical excellence around contact were evident in this aspect of Munster's performance as they channeled their emotion into a superb defensive effort.
The signs were there in Munster's opening defensive set in the first minute.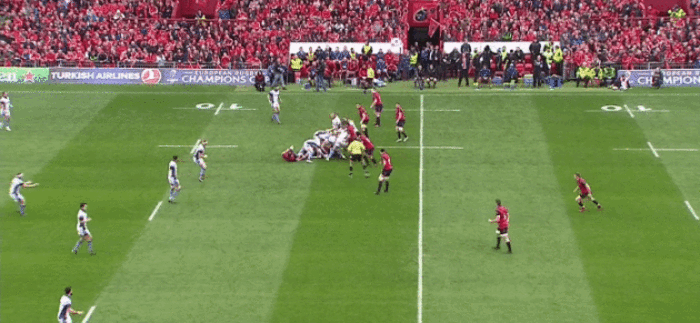 The situation here is that Glasgow have turned over possession with an excellent counter-ruck and clearly there is real danger. Gregor Townsend's side thrive in this type of scenario.
They shift the ball towards the space out wide, but Jaco Taute is proactive in shutting them down. There is no hesitation, no doubt in his mind, as he hammers up from deep looking for the spot tackle on Johnson.
The South African can't complete his initial hit, but gets back to his feet to help ground the Glasgow centre with impact. There's an element of risk in Taute's decision to run up – we can see the numbers outside – but he is so forceful in his actions that he makes it the right call.
On the very next phase, inspired by defensive leader Taute, Stander rushes up to pressurise the Warriors.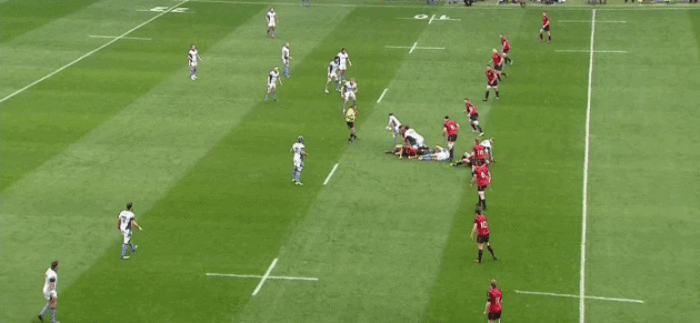 His intent forces Russell into the first of many poor kicks into Munster's backfield – a trend that was often down to that defensive pressure.
Taute made big contacts for Munster throughout Saturday's game, consistently laying down physical markers in a way that Foley would have loved.
Above, he leaves Munster open to the possibility of giving up big space out wide as he hammers up on Russell, but again he makes his decision count.
Yes, he knocks on in the tackle, but this type of impact hit is huge for team-mates and supporters alike. For Glasgow, it's another warning to be wary when in possession.
Munster's reads in defence were largely outstanding at Thomond Park on Saturday, and it wasn't just Taute who impressed.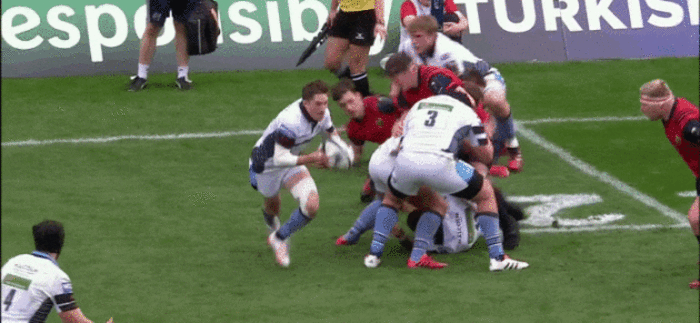 With early organisation and good spacing, Munster can come forward here to engage Glasgow. Rory Scannell is the first to read Glasgow's second-wave play and he shoots up looking to kill the ball on Johnson.
The Warriors centre does well to get his pass away, but still Munster come at them. Earls comes in off his wing to thunder into Alex Dunbar. Earls doesn't get a wrap to complete his tackle, meaning there is danger out wide.
However, we get a superb example of the work rate Munster's defence showed in providing that all-important safety net that allows individual defenders to back their reads and shoot up hard.
Niall Scannell, Taute and O'Mahony are all working hard to cover across and their presence allows Earls to get back and make the tackle he so clearly wants to make, ensuring a big win for Munster on this phase.
The work rate and defensive desire from Munster was nowhere more obvious than in Darren Sweetnam's try-saving tackles on Price and Mark Bennett.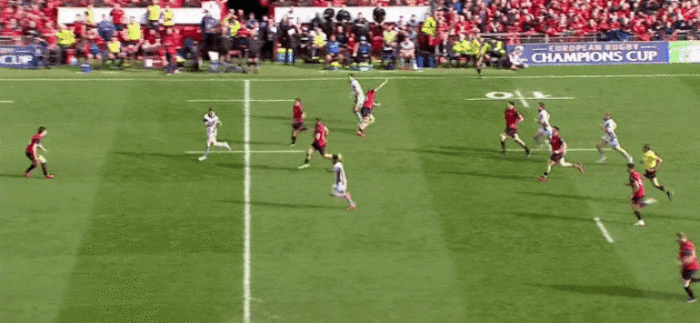 The Munster wing starts in a poor position, although Bennett could do more to draw him in before passing to scrum-half Price inside.
Sweetnam's pace is scintillating as he covers across and forces Price to use the fend that actually knocks the Glasgow man to the ground, underlining the Cork man's strength in the process.
Most impressive is how Sweetnam doesn't dive on top of Price looking to kill the ball. Even in his oxygen-deprived and highly-fatigued state, he has enough intelligence to identify Bennett arriving in support and instead commit to the centre.
At the end of it all, a technically excellent low tackle around Bennett's legs, wrapping firmly and then looking to get back to his feet immediately.
A stunning effort and although Glasgow do go on to score in this passage – Kilcoyne is down injured in the Warriors 22, leaving Munster with only 13 defenders – play should have been halted for Favaro's foot in touch.
Nonetheless, Sweetnam's unwillingness to give up epitomised a Munster performance that will live long in the memory.
The42 is on Snapchat! Tap the button below on your phone to add!