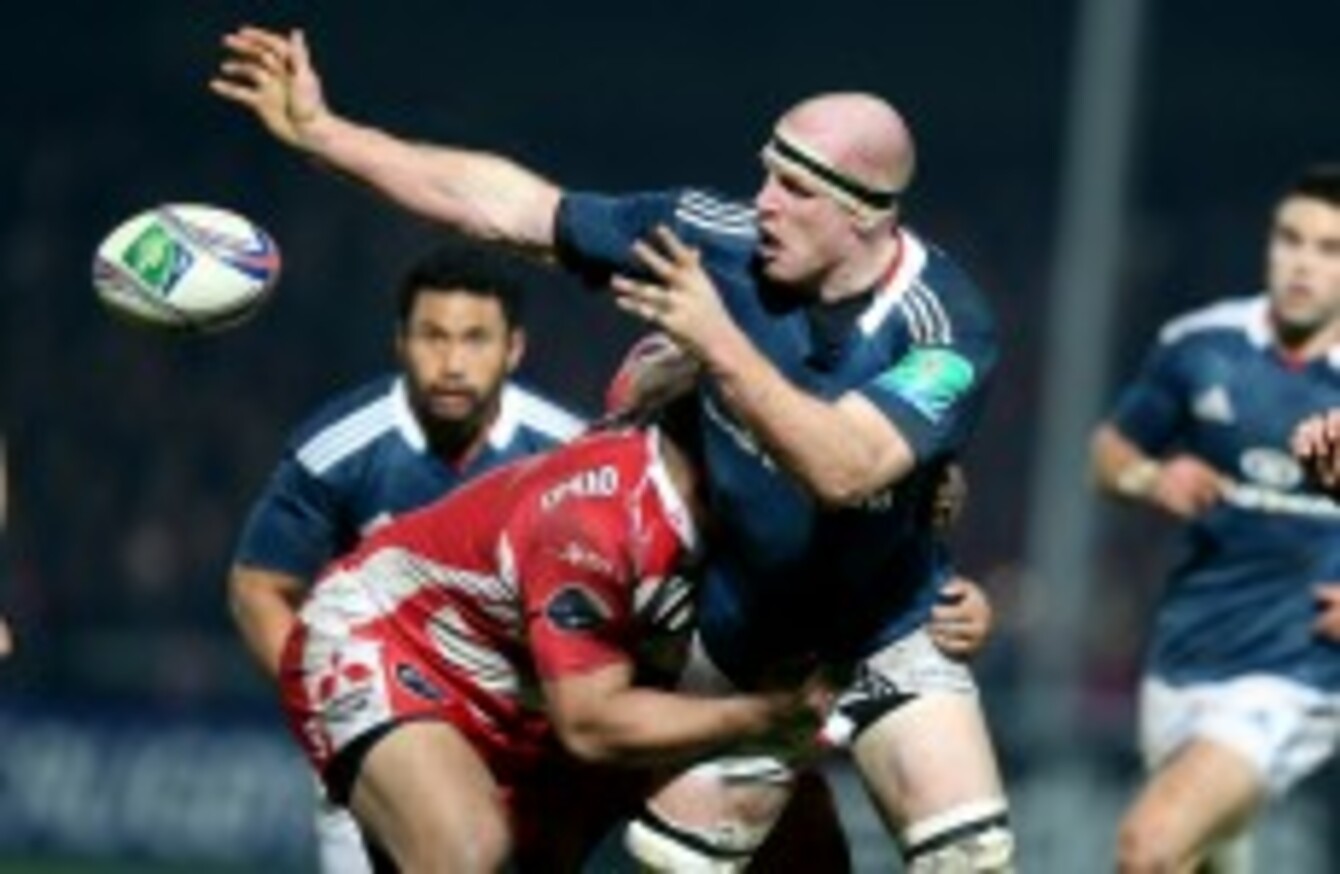 O'Connell led the defensive display for Munster, as well as contributing in attack.
Image: ©INPHO/Dan Sheridan
O'Connell led the defensive display for Munster, as well as contributing in attack.
Image: ©INPHO/Dan Sheridan
MUNSTER'S WIN OVER Gloucester in Pool 6 of the Heineken Cup last weekend once again demonstrated that one of their major strengths lies in close-quarters defence.
Rob Penney is a coach who backs his players to take risks, encourages them to play what they see on the pitch and trusts their judgement. Keith Earls' try would have greatly pleased him, particularly the handling in the build-up.
However, it is on the defensive side of the game that Munster are beginning to stand out, especially in the nitty-gritty in-contact skills that were so evident at Kingsholm. True evaluation must be tempered by the fact that Gloucester are not a particularly good team, but nonetheless, Munster have many reasons to be pleased.
In a game where Penney's players had just 41% of the possession, their defensive efforts won them the four points. Gloucester were, admittedly, blunt and loose in attack but much of that was down to Munster's spoiling and sheer determination.
O'Connell the leader
Paul O'Connell set the tone for Munster on Gloucester's very first attack in the 3rd minute with a wonderful turnover penalty [below]. The 34-year-old clearly demonstrated that his side were going to attack Nigel Davies' men at the breakdown, and this steal got them off to the perfect start.
Those tactics continued throughout the game, with Munster and O'Connell constantly in search of turnovers on the deck. The Ireland captain is incredibly quick over the ball; his awareness, as shown above, is essential to being in the right place.
We talk about 'vision' so often as an attacking skill, but O'Connell is evidence that the description works defensively too. His video analysis, experience and training help him to judge and predict how attackers will fall and allow him into position to steal possession or at least slow it down, both of which he did repeatedly against Gloucester.

The video above shows O'Connell using those skills to 'save' a difficult situation for Munster, after the excellent Elliot Stooke breaks through Damian Varley's tackle. You can see O'Connell
just
hesitate before he goes in; he thinks about standing off, before evaluating the scenario in a split second and deciding to go for the successful steal.
Underlying the superb technique and decision-making O'Connell possesses in the breakdown area is sheer determination. The Limerick man is bloody-minded in going after the ball or just spoiling the attacking side's flow.
The video below offers us a brief glimpse of those mental attributes. Matt Cox steps inside O'Connell's tackle initially, before the lock almost pushes BJ Botha out of the way to get back at the Gloucester player. He goes in for the steal, gets rucked off the ball but then bounces back up to attempt to disrupt again. It's sheer commitment and so typical of the man.

Following the leader
Not to be outdone by O'Connell, there were many other examples of similar work from Munster's players. We've highlighted just two of those in the two videos below.
Firstly, there's the wonderful strip by James Coughlan right out of the hands of tighthead prop Sila Puafisi. It's another example of the determination of Munster's players in contact, but also of technique and awareness.
This is something the players work on with skills coach Ian Costello, and Coughlan was intelligent enough to recognise that Ian Keatley would complete the tackle, allowing him to rip the ball clear.

James Cronin has been perhaps
the
breakthrough individual of Munster's season so far and he had another good cameo off the bench, after replacing the impressive Dave Kilcoyne. Cronin didn't hang about in getting involved, as demonstrated by the steal below.
Again, it's all about the loosehead prop's anticipation, as well as technique and attitude. It would have been tempting for Cronin to launch himself at Charlie Sharples in search of a dominant hit, but he waits and instead snaps into the jackal position over the ball, once Tommy O'Donnell and O'Connell have completed the tackle.

Another dimension with Murray
Conor Murray is an excellent attacking player, whose passing continues to improve with each passing month. He had two poor box kicks early on in this game, but that can be put down to his recent spell on the sidelines with a knee injury; again, it's an area in which he has worked hard at improving.
However, it is in defence that the scrum-half gives Munster another dimension. It is not hyperbole to suggest that the Limerick native is the strongest defensive nine in the world. At 95kg and 6 ft 2ins, he is not a giant but Murray is certainly powerful for his position.
Many scrum-halves are happy to stand off the defensive line and sweep in behind; there is no major issue with those who do, as that is part of the role. However, Murray is aggressive and appears to relish contact, meaning he very often steps into the line to get involved.
In the clip above, we see a fine example of that. The 24-year-old gets into the 'pillar' position at the edge of the ruck, giving Munster an extra defender and allowing them to create the 3-0n-1 situation in contact.
Murray gets in over the ball, looking for the steal, before Billy Twelvetrees recognises the threat and comes flying in from the side to concede a penalty and halt Gloucester's latest attack. The Premiership side would have discussed and highlighted Murray's defensive threat in the build-up, perhaps explaining Twelvetrees' over-exuberance.
The second example of Murray's contributions comes in the video below, and this time he is sweeping in behind the main defensive line. Matt Kvesic bursts through Varley's tackle, but the scrum-half is there to halt him. Murray consistently provides real security for Munster when he sweeps.

The choke tackle
The intention above is not to single out two individuals as the basis for Munster's defensive performance; rather to highlight the skills and attitude which were present throughout Penney's side. This was further illustrated by the team efforts in the choke tackle.
We won't dwell on this area for too long, particularly as O'Connell himself highlighted that it was not a tactic they had focused on before the game. It's a contact skill that Munster, and nearly all Irish teams, have excelled at for years now. Credit again goes to the coaches on this island.
In the first clip [above], it's O'Connell and Varley who effect the choke, and you can see the manner in which they get in underneath the ball. The intention [a technique they have worked hard on] is to make the ball carrier, Jonny May in this instance, worry about the ball being stripped from his grasp while simultaneously worrying about getting onto the ground before a maul is called.
That leaves him vulnerable in both regards and Munster complete the turnover. The clip below is very similar; a relatively weak back [Freddie Burns] gets wrapped up and smothered by a small group of forwards. In this case it's Cronin, O'Connell and Coughlan who do the business.
Dealing with the counter attack
Amidst all the positives, there were a couple of defensive lapses from Munster. That is to be expected, particularly when Gloucester carried the ball no less than 121 times. Penney's men missed 18 tackles but relative to the amount of ball the home team had, that's not too worrying a figure.
On top of that, we must take into account the nature and position of those missed tackles. While we've seen two poor ones above from Varley [who was superb in the tight], there were at least 10 'unimportant' missed tackles from Munster. By that, we mean players slipping off tackles in positions that presented no real danger.
However, Munster did look stretched when dealing with the counter attack. There was an early glimpse of that in the first half, when Murray's chipped attacking box kick was gathered and returned with interest by Sharples [below].
While Munster did chase kicks well in general, their organisation was a little off in this instance. As we've highlighted in the image below, Munster's centres were particularly disjointed. Generally on kick chase, the aim is to follow up with a flat line of defence, especially in midfield.
James Downey and Casey Laulala just get separated on this occasion and Gloucester very nearly managed to punish them.
There was another example of that weakness when Sharples scored his try just before half time. Gloucester countered back from a poor Laulala kick straight down the middle of the pitch and when Elliot Stooke was hauled down after Shane Monahan's offload, Munster were in trouble.
As you can see in the shot below, Penney's side have just four players to the left of the defensive ruck. Gloucester have seven players ready to attack [one of whom is out of shot at the top of the pic], as well as an inside runner [behind the ruck] to hold the defence.
That's obviously not a good position to be in for Munster, especially when you can see that there are plenty of defenders on their feet on the right-hand side of the ruck. There was no urgency or communication in getting across to cover the overlap on the other side, and this was a rare lapse from Munster.
The fact that there were so many examples of sheer determination in covering across defensively through the rest of the game means this example cannot truly be seen as reflective of a trend.
Why even highlight it? Because that is what Munster themselves have likely already done, and they will have been disappointed to concede the try in this manner. This is a team that continues to learn and improve; cutting out lapses like the one above are will be part of that process.
Greater tests to come
©INPHO/Dan Sheridan
This was a hugely encouraging defensive display from Munster, particularly in the tight. The satisfaction will have to be balanced by the recognition that Gloucester were wasteful in possession.
Still, credit goes to Penney's men for their grit, technique and attitude in stifling the home team in another promising sign of development. The New Zealander himself summed it up succinctly:
You could see the scrambling and the effort and the energy to try and breach any holes that were being made; that comes down to how tight the group is and the desperation for each other not to let anyone down.
"It is a great insight into the way these boys at Munster are thinking and how tight they are becoming, to work so hard on defence when often they are selfless tasks and not a lot of them are recognised."
Like rugby? Follow TheScore.ie's dedicated Twitter account @rugby_ie >