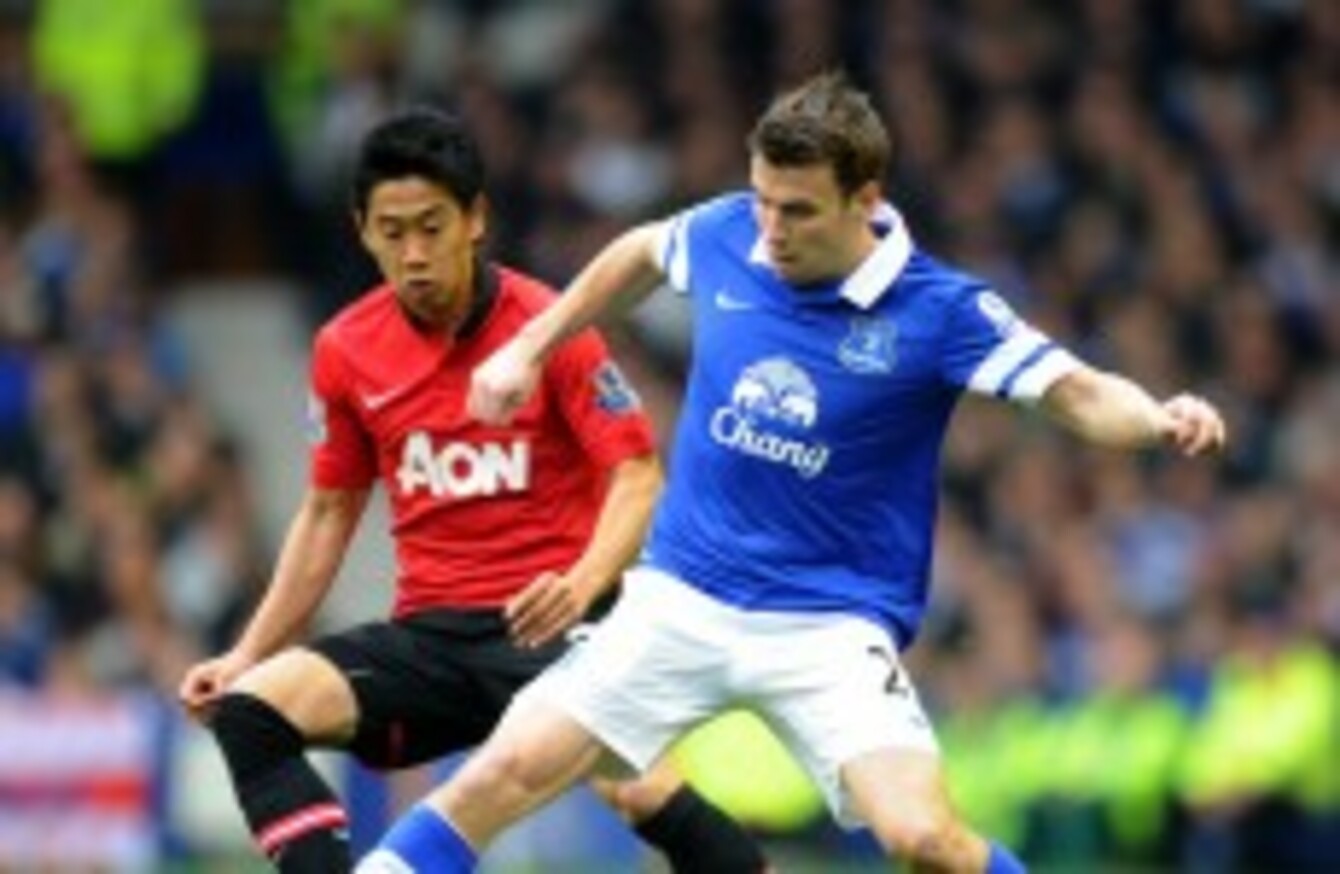 Everton's Seamus Coleman right, and Manchester United's Shinji Kagawa battle for the ball.
Image:
AP
/Press Association Images
Everton's Seamus Coleman right, and Manchester United's Shinji Kagawa battle for the ball.
Image:
AP
/Press Association Images
IRELAND INTERNATIONAL SEAMUS Coleman was always regarded as a player with enormous potential ever since making his Everton home debut as a substitute against Tottenham in 2009-10 season.
However, it wasn't until last year, under the guidance of new manager Roberto Martinez, that he truly flourished and established himself as one of the top full-backs not just in the Premier League but in Europe, attracting interest from sides as reputed as Manchester United and Arsenal as a result, before eventually agreeing a new deal with Everton during the summer.
One of the reasons why Coleman has impressed so much of late is that Everton's system under Roberto Martinez patently plays to his strengths. Of course, he was still regarded as an attacking full-back under David Moyes, but the Ireland international was given far more defensive responsibilities and was consequently rendered much less effective down the other end of the field when played at full-back (though he was sometimes deployed on the right wing by the Scottish manager).
So unsurpringly, the player's recent stats reflect Coleman's increasingly unrestricted attacking prowess. He did manage four goals in 34 appearances for Everton in the 2010-11 season, though this was the year that he was often deployed on the right wing.
He failed to score any goals in the Premier League in the two seasons thereafter, making 18 and 26 appearances in the respective ensuing campaigns (he also managed just one goal in 55 appearances for Sligo Rovers). Yet he was given a new lease of life under Roberto Martinez, and duly scored six times in 36 appearances, a considerable achievement for someone who is primarily a defender.
Yet with Everton's two central midfielders — usually James McCarthy and Gareth Barry — protecting the centre backs, both Coleman and Leighton Baines were given license by Martinez to get forward at will last year, with both at times effectively operating as wingers in the absence of traditional ones in the Everton side.
The one lingering criticism of Coleman, of course, is his defensive capabilities, which have been questioned by some, most notably Roy Keane (when serving as a pundit for ITV last year). He also made one high-profile gaffe in a recent Ireland friendly (more on that later), which along with a few other errors at the back, suggest he still can improve in this area of the game.
When TheScore.ie spoke to Everton coach Alan Stubbs last year, he admitted that defence was the skill that came least naturally to Coleman and emphasised that in recent years, it is the part of his game that he has worked on more than anything else. That said, last season was by no means a disaster in that regard, with the Donegal native's continual application clearly paying dividends. Though Coleman was by no means the pillar of Everton's back four, he invariably looked quietly assured in doing what was needed more often that not.
And the result? Everton finished the season with just 39 goals conceded — a feat bettered only by Man City (37) and Chelsea (27). Such an impressive stat simply isn't achieved without all four members of the backline contributing significantly, and it was all the more impressive given that — Coleman aside — Everton's defence was rarely completely settled, with Sylvain Distin, Antolin Alcaraz, Phil Jagielka, John Stones, Leighton Baines and Bryan Oviedo all featuring at various points.
So inevitably, much is expected of Coleman this year, as he bids to consolidate his already considerable reputation and potentially earn a regular berth in the Champions League with or without Everton.
In this article, for the sake of simplicity, we're focusing largely on one specific performance by Coleman — his man-of-the-match display in Everton's 2-0 defeat of Manchester United — to show how he's become so highly regarded in such a short space of time and why he has been such a vital part of the Toffees' recent progress.
Calmness in possession
People in football sometimes tend to downplay the importance of a full-back (I'm looking at you, Jamie Carragher!), but teams will always struggle without strength in this area. Generally speaking, full-backs see more of the ball than any other player on the field, which is why it's vital the individual deployed there has a cool head and is not prone to giving away the ball cheaply.
http://vine.co/v/MiPqXuIlZUi
Seamus Coleman, luckily for the Toffees, excels in retaining possession and almost always maintains his composure on the ball. Perhaps the most memorable example of his confidence and skill under pressure was not against United but Arsenal, when he showed off some GAA-esque skills (see above), as well as bamboozling Santi Cazorla at one point (see below).
http://vine.co/v/MiPMtqPKA7E
Coleman's quality was also starkly evident in the United match. In the opening minute, he received the ball from a teammate and was subsequently chased down by an onrushing Wayne Rooney. Lesser players would have belted the ball out of play in desperation, yet Coleman had the coolness, intelligence and ability to carry the ball past a slightly overzealous Rooney, before taking the time to realise that there was not much on ahead of him and passing it back to Stones.
So simply put, as with Roy Keane in his prime and all other top players — his decision-making with the ball at his feet is flawless far more often than not.
Attacking threat
It was mentioned earlier that Coleman invariably serves as a utility winger, as well as a defender, and the aforementioned Manchester United clash was no exception. Indeed, he was Everton's primary attacking outlet for much of the game, with their forward play usually emanating down the right flank.
In an attempt to combat the 25-year-old's threat, United had inexperienced full-back Alexander Büttner paired with Shinji Kagawa, who constantly tended to drift into the centre, and Moyes' team were consequently a little vulnerable down that side of the field. And unsurprisingly, Coleman, with his persistent marauding runs forward, took full advantage of this weakness.
The full-back was often the Everton player who was highest up the pitch and could frequently afford to be, owing to the lack of threat posed by United down the left flank (see images above and below).
Although United belatedly noticed the problem and gradually acquired more discipline in this area of the field, the former League of Ireland star had already done serious damage to them by that stage. Their failure to close down space and tendency to stand off him (see below) allowed Coleman to put several dangerous crosses in and make threatening runs at will.
Pace and talent
The encounter last April between United and Everton at Goodison Park, which turned out to be David Moyes' last game in charge of the former, was proof that possession is not necessarily nine-tenths of the law in football. The visitors dominated in this regard, having over 60% of the ball in the first 15 minutes alone, yet they couldn't muster a clear-cut chance until the dying stages of the 90, and had just two shots on target in total over the course of the game.
Everton, by contrast, saw less of the ball, but used what little possession they had to maximum effect, with Coleman the architect of much of this good work.
The Donegal native is one of the fastest players in the Premier League both with and without the ball, and he exposed his more slovenly opponents time and again on the counter-attack.
While United played plenty of pretty, intricate football on the day, it was no match for the decidedly more direct approach of Coleman and company. The Old Trafford outfit could not handle the 25-year-old, as he repeatedly demonstrated his formidable pace and power, as well as showing no shortage of skill.
Source: Top UK Bookies/YouTube
The latter attribute was patently evident amid Everton's all-important second goal. Coleman had given United several warning signals, consistently getting forward and floating a number of dangerous crosses into the box that were eventually cleared, usually unconvincingly. Nonetheless, the Ireland star punished the Red Devils severely on 43 minutes, as his perfectly judged through pass was finished consummately by Kevin Mirallas, leaving the visitors with a mountain to climb in the second half.
Stamina and attitude
Though it may not seem to be asking much for a professional footballer to be extremely fit, Coleman still manages to stand out in this regard.
The full-back was officially Everton's hardest-working player last season, covering more distance than any of his teammates, in addition to having the fastest average top speed.
These stats were reflected in the United game, in which Coleman demonstrated an incredible level of fitness and ability to regularly get up and down the flanks in a manner that was genuinely reminiscent of great full-backs of the past such as Cafu and Lillian Thuram — consummate athletes who would be just as at home in long-distance running as they were in football.
Of all Coleman's many, near-relentless raids down the right flank against United, one stands out. In the 90th minute, with the game all but over at 2-0, he still had the hunger and desire to rampage forward, before hammering in a dangerous cross that Lukaku couldn't quite manage to steer on target.
It was a moment that few people will have remembered from the game, given that its consequences were relatively insignificant, yet it epitomised Coleman's best qualities. Many players, especially those whose primary responsibility is to defend, wouldn't have bothered putting in the effort with the match finished as a contest, perhaps with an eye towards conserving energy for future games. Yet Coleman's intense passion, immense work-rate and sheer love for the game prevented him from taking his foot off the pedal at any stage of the match regardless of the scoreline.
Flaws?
As mentioned already, Coleman has improved immeasurably as a defender since the early days when David Moyes was reluctant to deploy him as an out-and-out full-back.
He was barely tested in this regard against United, given how inept the Red Devils' attack play tended to be. Yet if he is to be regarded as one of the best full-backs in Europe, which many people feel he is at the very least on his way to becoming, then he must be judged by the highest of standards.
Therefore, Coleman still has room for improvement defensively and appears prone to the odd individual error even now. He was, for instance, partially at fault for both the goals conceded in Ireland's clash against Serbia back in March (albeit, it was only a friendly), inexplicably stepping up to play offside for the first one when it was never on and giving possession away cheaply in the build-up to the second (see below)
Source: Levis501/YouTube
And as groundbreaking as his season with Everton was last year, it was also not completely without its flaws.
The below clip shows his own goal during the Toffees' 2-0 defeat to Southampton last April. It was unfortunate but avoidable. Perhaps it is a case of Coleman being overly confident in his ability. Instead of flicking it further away from goal, he ostensibly, ill-advisedly tries to head it intricately either away for a corner or perhaps into goalkeeper Tim Howard's arms, with evidently disastrous consequences.
So these rare lapses in concentration are something that Coleman could do with working on, but in truth, they are just minor quibbles. Critics could surely pick out isolated incidents of inept play from almost any Premier League star last year if they tried hard enough, and most footballers' lowlights package would be far more extensive than Coleman's.
Overall
Ultimately, last season, Seamus Coleman rapidly matured to unequivocally become a top-level Premier League full-back.
His consistent brilliance was acknowledged eventually, as the Ireland international featured in most commentators' Premier League Team of the Season selections, most notably the official PFA one, as well as being included in the XI picked by Sky Sports pundit Gary Neville, who knows more than most about good full-back play.
This season, the pressure will be on Coleman (and indeed Everton in general) to sustain and build upon last year's achievements, though given his admirable talent, experience and attitude, the odds are overwhelmingly in the Irish star's favour to retain the high standards he has previously set.
Source: Patrick Bateman/YouTube
Gifs via 101 Great Goals and IMG Flip