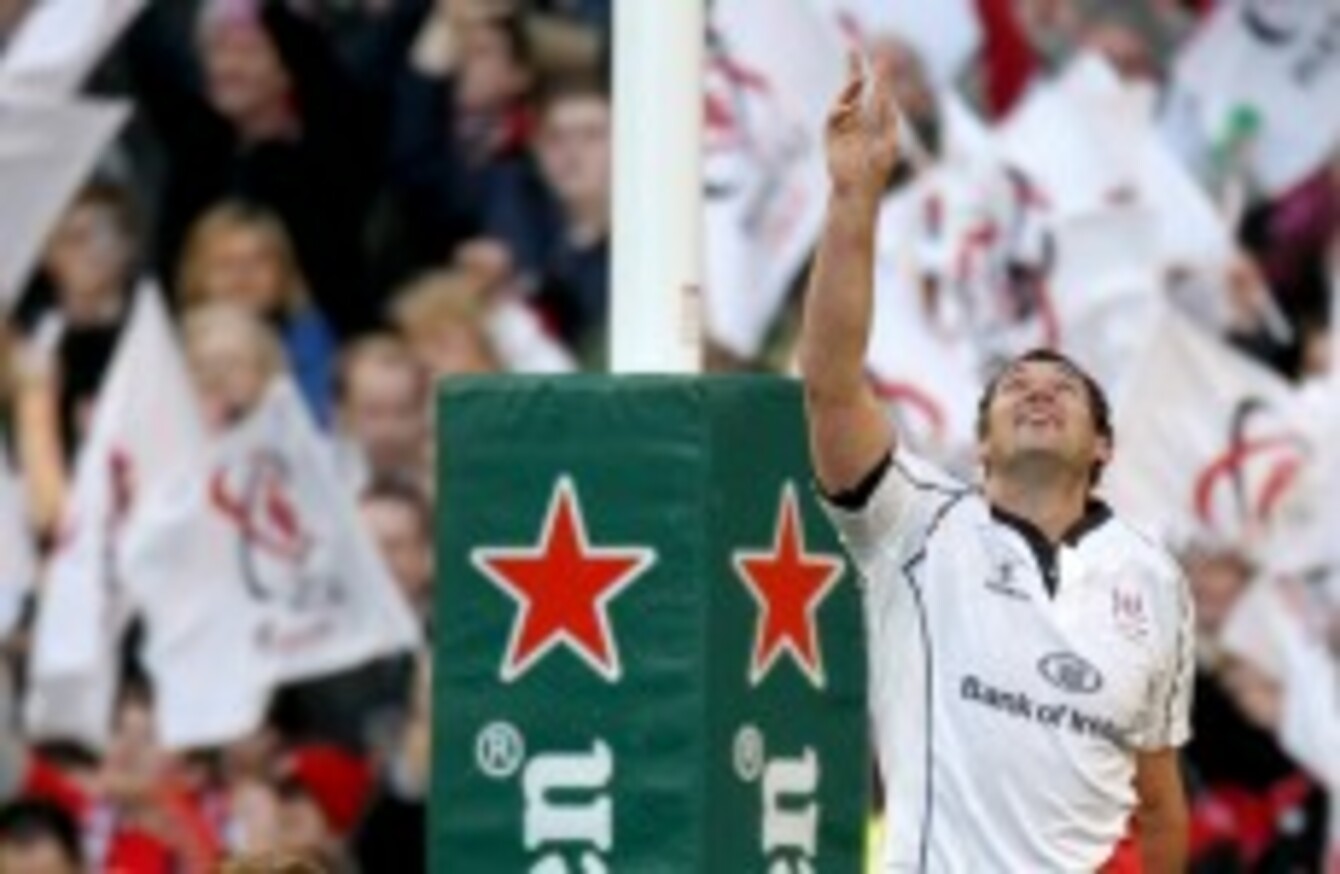 Ulster Pedrie Wannenburg celebrates at the final whistle.
Image: ©INPHO/James Crombie
Ulster Pedrie Wannenburg celebrates at the final whistle.
Image: ©INPHO/James Crombie
AS THE ULSTER supporters like to say, 'There's only Ruan Pienaar'. They will be delighted the South African was in that white number nine jersey at the Aviva Stadium.
It was the 50 and 55-metre penalties against Munster that got Ulster into the last four but the scrum-half was even better against Edinburgh as he landed six kicks from six.
Speaking after the match, the 28-year-old was pragmatic about a 'tough' win. He said, "We did not get too many opportunities in the first-half, which was disappointing. We will need to improve for the final."
The most striking of Pienaar's five penalties came after 65 minutes when Edinburgh came in from the side to stop a rolling maul from going any further.
The South African sized up the posts from the left touchline and, with a breeze rippling his jersey, struck his penalty with such confidence that cheers immediately erupted from the Ulster fans.
Edinburgh coach Michael Bradley remarked after the match that it will not be as easy for Pienaar to dictate the play, as he did on Saturday, against Clermont or Leinster. The Ulster pack, he reasoned, will not be as dominant as they were against the Scots.
Bradley had a point but it is getting harder and harder to doubt the outstanding scrum-half.
Redemption Tom
Pienaar also paid credit to the performance of half-back partner Paddy Jackson, who he said 'played really well' and pinned Edinburgh back with sound, tactical kicking.
Ulster coach was giving out bear hugs like they were going out of fashion following the 22-19 win and he chased down Tom Court for a extra long embrace.
Brian McLaughlin congratulates Tom Court. (©INPHO/James Crombie)
The Australian was immense in the front row and gained two kickable penalties following great shunts in the scrum. The last two knock-out games have been a redemption for Court after he was pulverised by England's front-row in Twickenham on St Patrick's Day.
It was not Ulster's best performance this season but they have shown that they know how to grind out wins.
Two of the key figures in the victory were Pienaar's Springbok colleagues, Pedrie Wannenburg and captain Johann Muller.
Both men combined to make 40 tackles, were part of a go-forward pack and provided a solid platform for Pienaar and Jackson to work off.
Wannenburg tunnelled through the Edinburgh defences for the vital try and came a yard short in the second-half.
Muller paid credit to Declan Fitzpatrick and Willie Faloon as able deputies for the suspended John Afoa and injured Chris Henry. He added:
For the guys to come in a contribute so much towards the victory says a lot for our squad. Normally, the teams with the strongest squads do well in Europe and we showed that today.
Having a deep playing roster helps but a few talented South Africans certainly never hurts.