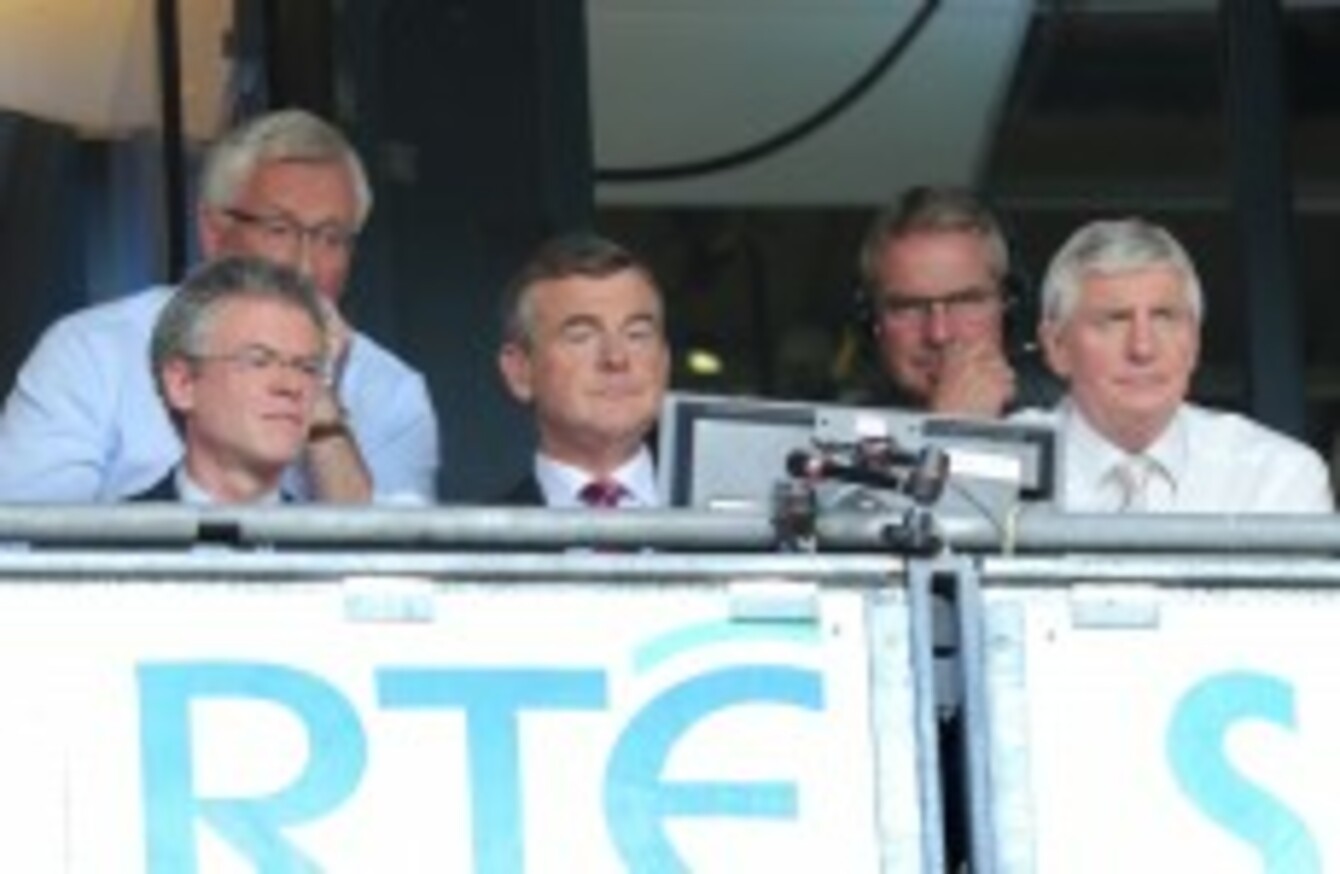 Brolly (left) has defended the RTÉ's GAA coverage in the wake of criticism.
Brolly (left) has defended the RTÉ's GAA coverage in the wake of criticism.
Updated at 21.12
TWO RECENT PIECES of news have prompted significant debate about the state of Irish sports punditry — the somewhat surprising revelations that Sky Sports had won the rights to show games in the GAA Championship this summer, while TV3 have secured coverage for the 2015 Rugby World Cup.
Following these two separate announcements, there has been much speculation as to whether the overall viewing package can be enhanced, or indeed, whether it will be debilitated as a result of these channels stealing a march on their competitors, and in particular RTÉ — normally the go-to channel for most major events in both the rugby and GAA world (and granted, it will still continue to dominate a significant portion of this coverage).
Certainly, Mayo's Aidan O'Shea is part of the anti-RTÉ brigade. Commenting on the recent Sky-related developments, he said: "I think it's positive. The analysis of the game will go up to a new level, that's just what Sky do. HD is better on Sky than it is on RTÉ. I think RTÉ have probably got lazy because it's a bit of a monopoly for them. They'll have to challenge themselves a bit more in their production and probably in their analysis."
"I think they're excellent on the hurling. I've never heard a hurling analyst say, 'that was a bad hurling game'. Dublin and Wexford played in the hurling championship last year and it was a horrible game. They complimented everyone on their effort and said they were trying to do the right thing."
Reading between the lines, O'Shea appears to be castigating what is, in punditry circles, known as "bad-mouthing the product". Like it or not, sport is now both a business and a genuine form of mass entertainment, and thus, the likes of Spillane and Brolly are reminiscent of the critics who tell people not to go see certain movies, only with far greater a platform than the average unimpressed scribbler enjoys.
Sky, in contrast with RTÉ, generally appear keen on refraining from "bad-mouthing the product" — to such an extent that there's a palpable shock on the rare occasions when someone decides to break from tradition, à la Paul Scholes recently (see below). So whereas John Giles will have little hesitation in pointing out that a particular fixture was "dreadful" if that so happens to be the case, Sky at best might meekly suggest that a certain game "wasn't the liveliest" match in the world.
Source: Sky Sports/YouTube
Even the most venerated analysts on the cable broadcaster such as Gary Neville and Jamie Carragher are invariably relatively mild in their criticisms of players — they simply could not get away with the kind of tongue lashings in which Joe Brolly or Eamon Dunphy specialise — because again, doing so would constitute "bad-mouthing the product". And also, because people like Cristiano Ronaldo would surely become aware that someone was regularly calling him a "brat" on national television.
Moreover, writing in the Irish Examiner recently, Donal Óg Cusack largely appeared to agree with O'Shea's opinion, though he did not reserve as much criticism for RTÉ, even if his words appeared to incense Joe Brolly.
"RTÉ does soccer well but the pundit game has been taken to a new level since Sky have teamed Gary Neville and Jamie Carragher together," he said.
This question as to why all pundits can't be more like Neville and Carragher is a common one. Match of the Day host Gary Lineker, however, gave a fairly logical and justifiable response in the face of criticisms of his own show in an interview last September.
"Our show is not aimed at people that think they're technically better than they are because they play FIFA or whatever,"  Lineker said.
"It's aimed at the general public who want to watch the highlights of their teams with a little of bit of a) analysis b) opinion and c) news stories of the day. We also have, obviously, very little time."
While admitting he wished Gary Neville had been hired for Match of the Day, Lineker raises several valid points in defence of his colleagues and ones that RTÉ's analysts could equally reference, namely the aforementioned time issue.
Whereas Neville et al have excessive air time to expand upon their views, Dunphy and others don't quite enjoy that luxury. While George Hook may not exactly be comfortable if asked to dissect a certain team's tactics at length, equally Neville may not be quite so proficient if only provided with a couple of seconds to make a noteworthy point.
Furthermore, before becoming a permanent member of Sky's team, Jamie Carragher had a brief stint working with ITV, and not many people were hailing him as punditry's second coming back then.  Likewise, Roy Keane would probably not have the patience to go into the type of details that Neville enjoys elaborating on, but when it comes to making a witty, incisive and memorable remark, there are few better in the broadcasting game.
Source: navag333/YouTube
The question of relatively young ex-pros versus the so-called "dinosaurs" that RTÉ are sometimes accused of favouring is a similarly pertinent and interesting one. When Shane Horgan started to appear more regularly as an RTÉ rugby analyst, Brian O'Driscoll tweeted: "Finally RTÉ have some professional players as pundits who can give some insight into the game we play these days."
Of course, it may not have been a coincidence that O'Driscoll's thinly-veiled dig at Horgan's more experienced colleagues came shortly after George Hook had revealed another one of his controversial opinions proclaiming that it was time for BOD to retire from international duty, owing to his declining prowess (keep in mind, this was said over a year before his actual retirement).
Hook, in turn, responded with a dig of his own on Twitter, saying: "Brian O'Driscoll believes only Presidents can comment on elections; accountants on NAMA; doctors on obesity; and his mates on rugby."
Yet O'Driscoll is not alone in being perturbed by the faces of RTÉ's sporting coverage — Stephen Hunt once infamously branded Eamon Dunphy a "rat," before interestingly going on to do some work for the station himself, while Glenn Whelan has also indicated frustration with Dunphy's vociferous criticisms of the Stoke and Ireland midfielder.
Similarly, after Dunphy branded Ireland's then-caretaker manager Noel King's team selection "totally illogical" and "like a member of the public picking an Ireland team," the coach responded by launching into a critique of his own that encompassed familiar criticisms. Responding to reservations about his team's display in a World Cup qualifier against Germany, King told reporters: "How many times have you watched that comedy show.
"It's so old, so so antiquated. It's a funny show and that's what they do. I'd be disappointed if they didn't do that.
"Real football people know what went on in this game. We got to the 89th minute and it was 2-0."
Of course, it's hardly surprising that those routinely being criticised are not the biggest fans of Hook, Dunphy and others, yet a wider sense of dissatisfaction is often evident on social media when it comes to this abrasive brand of analysis — sites such as Twitter, for instance, are predominantly populated by (relatively) young people who often express disillusionment with the "old-fashioned" views and ideas promulgated by RTÉ's veteran stars. Usually when, for example, Dunphy says something provocative, such as his contention that Bayern Munich are "overrated," social media experiences something akin to a collective meltdown.
(George Hook has received criticism for his controversial views)
So are these voices of dissent correct? Are the likes of Hook and Dunphy no longer relevant in the increasingly sophisticated, technology-based world of sports punditry? Will the station's authorities eventually listen to the widespread complaints online? Or will we miss them when they do eventually bow out?
Perhaps the answer lies in Linker's reference to Match of the Day not being an "anoraky kind of show". Crucially, RTÉ's TV ratings have shown that viewing figures have often been higher for the soccer panel's analysis than the actual game itself — this could be as a result of one of two factors: people prefer to listen to the commentary of a match on ITV, or punters who aren't especially interested in sport still have a desire to observe Billo and the lads in action (it's most likely the latter answer).
Therefore, perhaps the key to terrestrial TV-based sports punditry is not lengthy video clips and extensive technology-assisted insights into a certain teams' many strengths and weaknesses. Perhaps it is Gilesy staring disapprovingly at Billo and castigating him for yet another "silly question". Perhaps it is George Hook coming out with his umpteenth heartfelt-yet-outrageous opinion or zany biblical reference.  Perhaps it's Brolly angrily questioning Seán Cavanagh's behaviour "as a man," or Dunphy wondering aloud whether anyone would let Steve Staunton "drive the train to Cork". Quite simply, perhaps it's the drama and passion that these individuals invariably evoke — whether you love or loathe them — that makes them so compelling to watch, despite their consistent tendency to bad-mouth the product.
Or perhaps we are in fact about to experience a radically different new breed of younger sports pundit, intent on maintaining a more player-friendly Gary Neville-esque approach, while pleasing the Twitterati and hardcore sports fanatics in the process with an abundance of unique insights into the modern game. Watch this space!